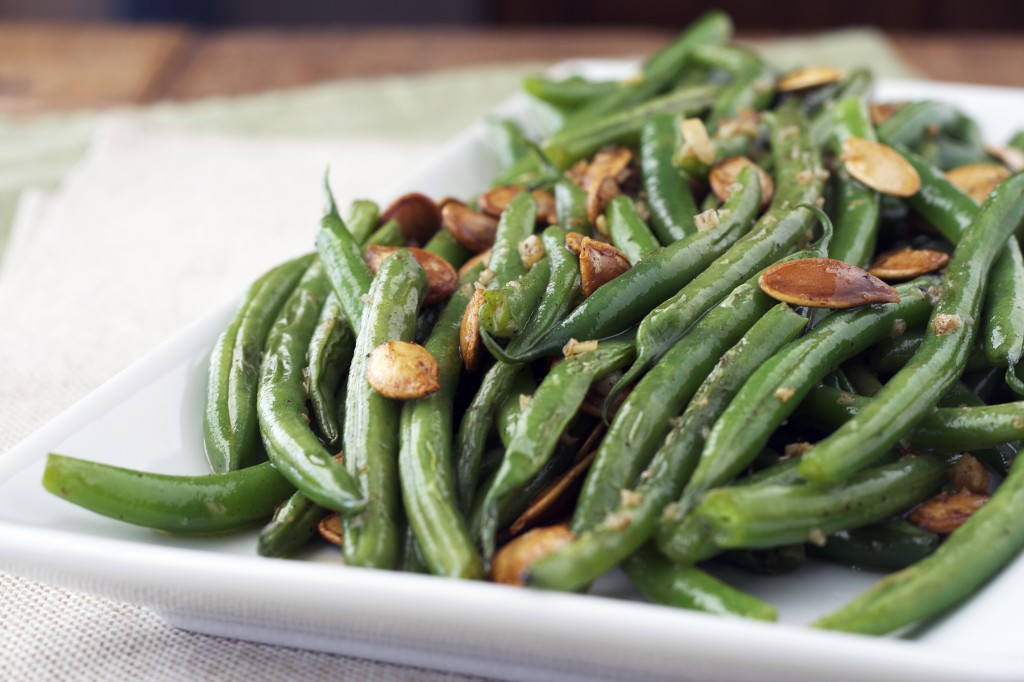 The Thanksgiving table usually abounds with buttery breads, rich puddings, and sweet sides, so I think it's important to add a little color with a few simple, fresh, easy to prepare vegetables. Two of the side dishes residing on our Thanksgiving menu this year fit the bill nicely: green beans with brown butter and pepitas, and a mixed green salad with lemon vinaigrette.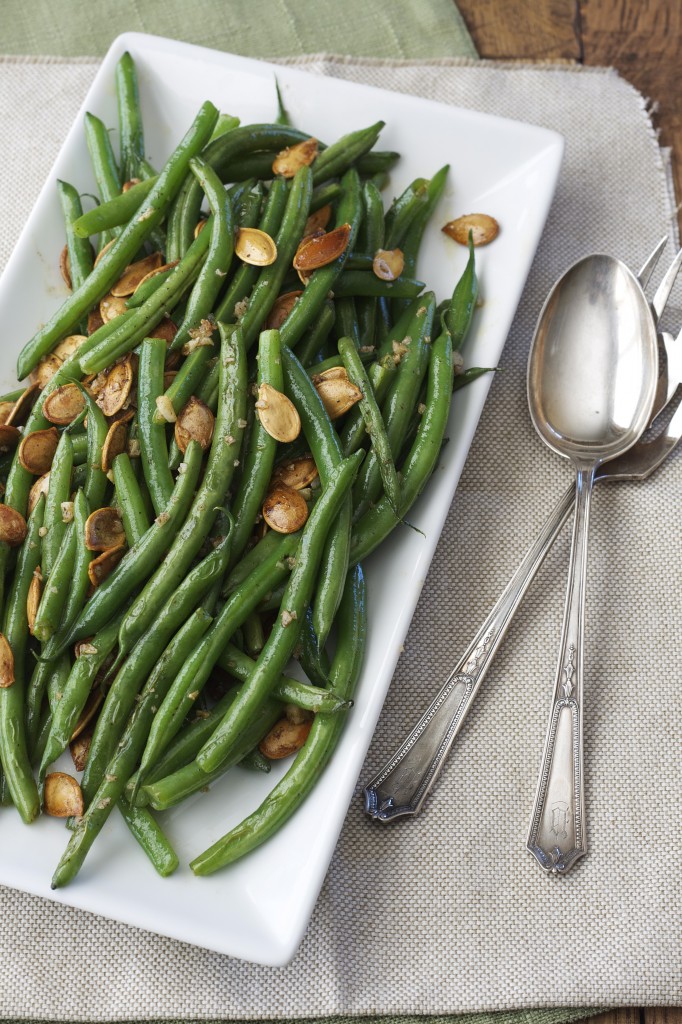 I love the simplicity of these green beans blanched and tossed with brown butter. Who can pass that up? And I recently read in the Wise Traditions Journal it's better to eat your vegetables with a good organic butter because the butterfat enables the carotenes in the vegetables to convert to vitamin A.
Last week my friend Molly and her husband had us over for a fun Halloween dinner and she made an incredible salad filled with mixed organic greens, squash, zucchini, and toasted seeds drizzled with a tangy and slightly sweet lemon vinaigrette. The sweetness comes from a single date that's blended into the olive oil and lemon juice. Oh my, it's my new favorite dressing.
If you want to buy an organic turkey this year, don't forget to call your local farmer or natural foods store and place your order (they usually go pretty quickly!). Come back next week, when I'll have new recipes for pumpkin pie, easy dinner rolls, fresh cranberry sauce, and a few other surprises.
Green Beans with Brown Butter and Pepitas
Ingredients
3 tablespoons unsalted butter
1 pound green beans, cleaned and trimmed
2 cloves garlic, minced
1/2 cup toasted pumpkin seeds (I like to coat them in a little bit of butter and bake at 350 degrees F until golden brown)
Sea salt and freshly ground black pepper
Instructions
Melt butter in a large saute pan over medium-low heat until brown and fragrant, about 2-3 minutes, swirling the pan occasionally. Add green beans and toss in the butter until there are spotty brown marks on the beans, about 3-4 minutes. Make a well in the center of the pan and add the garlic. Stir garlic in the center of the pan until fragrant, about 30 seconds and then stir into beans. Remove from heat, toss pumpkin seeds into the beans, then season with salt and pepper to taste. Serve immediately.
7.8.1.2
3457
https://deliciouslyorganic.net/a-whole-foods-thanksgiving-green-beans-with-brown-butter-and-pepitas/
Copyright 2016 Deliciously Organic