When I clean my home, it's important that I'm not using anything that will harm my family. I've tried dozens of "green" cleaners, but none of them can even compare to Branch Basics. I've gotten rid of all other cleaning products in my home. I use Branch Basics as a cleaner for my kitchen, bathrooms, windows, vegetables and fruits, car, as a hand soap, laundry detergent, carpet cleaner, and as stain remover – I accidentally spilled a cup of coffee on my couch and it took out the stain completely!
I contacted Branch Basics and asked if they would be willing to do another special sale for Deliciously Organic readers and they agreed!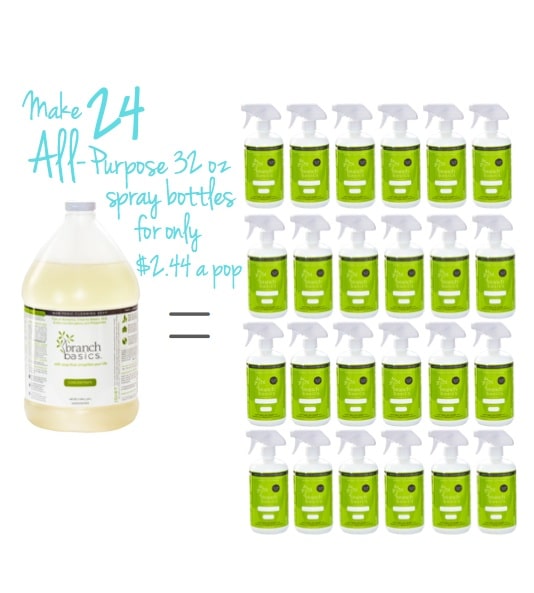 Ingredients
Purified water, fatty aids, coconut oil, organic alcohol*, folic acid, minerals and enzymes derived from edible and seed-bearing plants
The basics
Branch Basics is a powerful, organic solvent made from the fatty acids of edible and seed-bearing plants. From household use and personal hygiene to commercial and industrial applications, this one formula cleans just about anything washable.** Its powerful enzymatic action makes it tough enough to dissolve hard engine grease, while its 100% non-toxic ingredients are safe enough to bathe a baby. We are continually blown away by its range of uses and encourage people to "never put it in a box!"
A MUST for a healthy home 
Our homes should be a safe haven, a place for our family to restore and rejuvenate. Instead, the EPA says they're up to 10 times more toxic than the outdoor air. Ironically, the products we clean with are much to blame. Today there are over 17,000 chemicals allowed in conventional cleaning products, many of which are linked to respiratory issues, learning disabilities and cancer. Even many of the so-called "green" ones contain not-so-safe ingredients. Branch Basics replaces almost all conventional cleaners, saving you time, money and potential health concerns associated with harmful chemicals. It is the clear choice for people who understand the short- and long-term dangers of exposure to the toxic cleaners that are in widespread use today.
Make your own all-purpose cleaner by simply mixing Branch Basics Concentrate with water in a spray bottle. When diluted to the "standard" 5:1 solution (5 parts water to 1 part Branch Basics), the gallon of concentrate yields 6 gallons of ready-to-use formula for all-purpose cleaning! For example, when you make your own carpet cleaner from concentrate, the cost is a little more than 1 penny per ounce. That means a 16 oz. bottle of carpet cleaner costs only about a quarter.
What does "human-safe" mean?
A product that is human-safe means, if accidentally ingested, it will not cause harm. There are many green products available that are non-toxic and earth-friendly, but this one attribute puts Branch Basics in a league of its own. Even the extremely chemically sensitive and immune compromised are able to use it with complete confidence.
How does Branch Basics work?
Branch Basics works by enzymatic action, penetrating and breaking up oil molecules into soluble, biodegradable components. This process contributes to the soap's natural antibacterial, antifungal, and antiviral properties, allowing Branch Basics to outperform many of the toxic solvents, detergents, and cleaning products it replaces.
How does something so safe kill bugs?
The same enzymatic action that de-greases is what breaks down the exoskeletons of insects (oil-based creatures), making Branch Basics a safe, powerful pest control. It is a tried-and-true lice remover as well as flea shampoo for pets.
Is Branch Basics economical?
Yes! Think of all the products you can replace with just this one concentrate: cleaners, de-greasers, produce wash, laundry detergents, pesticides and even body soaps! And while we recommend a 1:5 dilution, most jobs can be cleaned effectively with much more water, bringing the average cost per ounce even lower. For example, streak-prone surfaces require just a few drops of concentrate in a 32 oz bottle and a cap-full of concentrate is all you need in a large carpet-cleaning machine.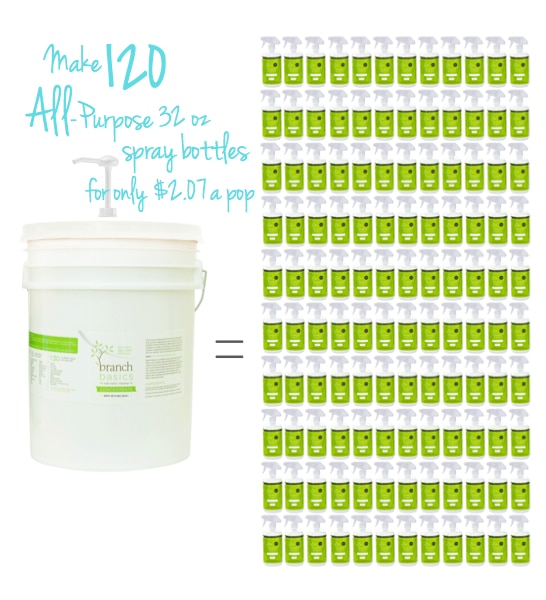 Here are some great things about Branch Basics:
It's non-toxic, biodegradable, and hypoallergenic
Human-safe (causes no harm if accidentally ingested)
Effectively removes tough stains and odors
Amazing for cuts, burns, sunburns, rashes, acne, etc.
Replaces virtually all conventional cleaners
Never tested on animals
http://vimeo.com/58479046#
FAQ
Is there an expiration date?
No, Branch Basics doesn't have an expiration date…it does not go bad.
(This is why many choose to purchase in bulk, reducing the cost per ounce and avoiding unnecessary shipping costs.)
What are the ingredients in Branch Basics?
Purified water, fatty aids, coconut oil, organic alcohol*, folic acid, minerals and enzymes derived from edible and seed-bearing plants.
*The alcohol is made from sugar cane and oats and is totally evaporated out in the process so that no alcohol remains in the final product.
NOTE: All the ingredients are food-grade (non – GMO) as opposed to industrial-grade. The minerals and enzymes are live and all derived from edible and seed-bearing plants.
Does Branch Basics contain ANY gluten, soy, corn, nuts, tree nuts (including peanuts) or dairy?
No, nada, zilch, zero, we promise!
What about the manufacturing facility? Does it contain any of the above?
No. Our facility uses no gluten, soy, corn, nuts, tree nuts or dairy so there is no possibility of cross contamination.
What are the specific plants used in Branch Basics?
The plants are leafy green seed-bearing plants. The specific blend of plants is proprietary information. If you would like to find out if a particular plant is used, please e-mail us at info@branchbasics.com and we will be happy to let you know.
What is Colloidal Micelle Technology?
Colloidal Micelle Technology (CMT) is used in all soaps and is simply "surface active" substances (surfactants) that work by reducing the surface tension of water. This allows the water molecules to better wet the surface, increasing their ability to dissolve dirty, oily stains. Micelles are simply tiny electrically charged particles that occur in soaps and detergents (which are colloidal electrolytic solutions) and are formed when a variety of molecules are added to water. The molecule may be a fatty acid, a salt of a fatty acid (soap), phospholipids, or other similar molecules. Micelles act as emulsifiers that allows a compound that is usually insoluble in water to dissolve, the reason why soap helps remove grease and oil while water alone cannot dissolve and pull the oil off. More information on this process can be found here.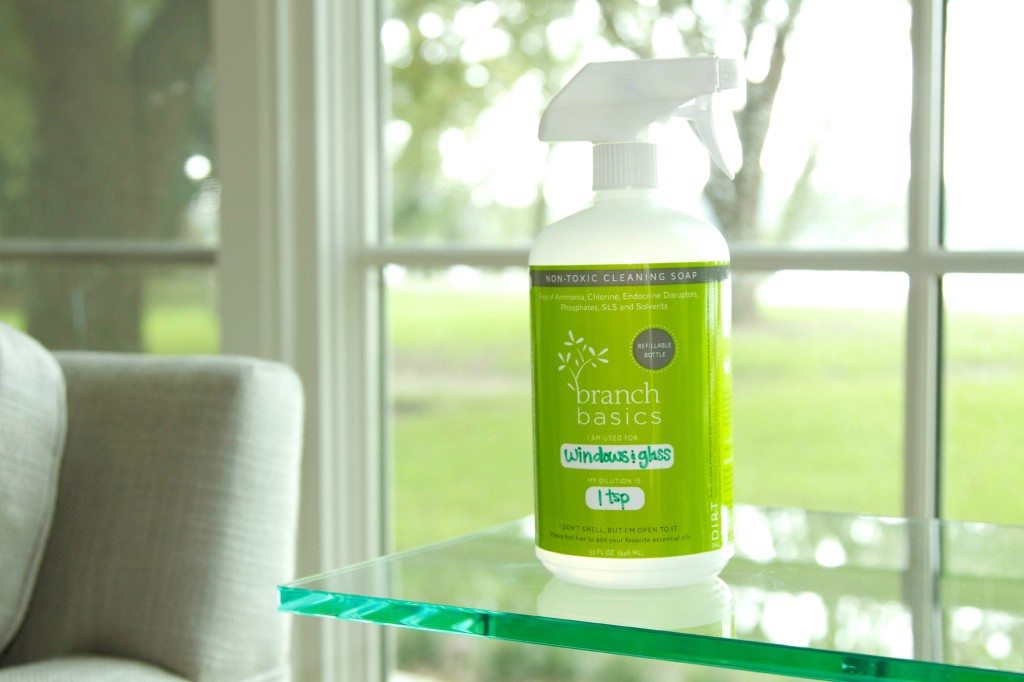 What sets Branch Basics apart from other soaps?
Branch Basics is comprised of all food-grade ingredients that are completely safe for the environment, humans and pets. Most "green" and "non-toxic" cleaners cannot make this claim.
Does Branch Basics kill bacteria, viruses and mold?
Branch Basics is classified as a "soap", and therefore doesn't fall under the jurisdiction of the EPA or the FDA. In order to make claims of killing or sanitizing or deemed an "antibacterial" formula, a product MUST contain a registered EPA pesticide and/or at least 62% alcohol. Because we refuse to jeopardize the integrity of Branch Basics' purity and safety, neither of these are added and therefore such claims cannot be made. Instead, the synergy of the ingredients together – which makes Branch Basics a soap – creates the killing action since soap has been found time and again to naturally rid of bacteria, viruses, mold, etc. just as well as its more toxic, chemical-laden counterparts. Even the EPA recommends ridding of bacteria on surfaces by "washing with soapy water." Finally, one of our ingredients, coconut oil, even by itself has antiviral and antibacterial properties, further contributing to this soap's natural anti-bacterial properties.The best part is that there are no toxic side effects or chances of creating antibiotic-resistant "superbugs" in the body, which are associated with using toxic alternatives.
Branch Basics seems expensive. How does it compare to other products?
Au contraire! At first glance, the price may seem steep, but remember that this is the concentrated form. The average cost of "green" cleaners – many of which still contain harmful chemicals – is $6.18 and their uses are very limited. At the gallon concentrate  – retail price, Branch Basics makes 24 all-purpose spray bottles (32 oz), costing $3.48 each, or $0.11 per ounce!
Also, according to the Bureau of Labor Statistics, the average American household spends $659 on cleaning supplies per year. The 5-gallon pail of Branch Basics is enough to last this same household for at least a year, replacing virtually all cleaning products and costs only $355.05.

I like to do my research. Can I see your MSDS?
Yes! Download the PDF.
Does Branch Basics have a scent?
It is formulated for extremely chemically sensitive and immune-compromised individuals so the solution is unscented. It is virtually fragrance free, especially when mixed with water as the ready to use spray.
How long will a gallon size last?
It depends on what you use it for, how often you clean, and the size of your home and family. Customers that use it for EVERYTHING (laundry, hand & body soap, dishes, floors, produce, etc.) go through a gallon in about 3-6 months. If you're just using it to make spray bottles for general cleaning, a gallon can last over a year.
Are there instructions for mixing?
Yes, there are suggested uses clearly marked on the gallon as well as on the empty spray bottles, which also have dilution lines for easy pouring. You can also check out our user guide in both English and Spanish and expect a list of popular uses to be included in your order. There are endless amounts of uses and much room for error (exact measurements aren't necessary!).
Is Branch Basics safe for HE washing machines?
Yes. Also, the solution is activated in both hot and cold water.
How do you use Branch Basics for laundry?
For laundry, concentrate (undiluted) is best. We recommend one T for an average load. If your water is harder, you may need more. Ideally you'll want to fill the machine, run the water and then pour the concentrate into the running water to help it disperse. If you have a front loader then simply pour the concentrate into the dispenser.
I use vinegar and water, why should I switch to Branch Basics?
Vinegar releases acetic acid into the air. From the Occupational Health Guideline for Acetic Acid: "Acetic acid vapors cause irritation of the eyes, nose, throat, and lungs. Inhalation of concentrated vapors may cause serious damage to the lining of the nose, throat and lungs. Delayed breathing difficulties can occur." This is especially important information to know if you have a baby or young children, are elderly, or someone in the household that has asthma, bronchitis, or chronic illness etc. as they are more vulnerable to this irritant.
In addition if a lot of vinegar is used for cleaning and there is not proper ventilation, over time the acetic acid will corrode soft metals like copper and brass and can cause problems with the HVAC system as the acetic acid passes through the air ducts.
But for vinegar and water users, not to fret! This is a much better alternative than most "green" cleaners. The caveat comes down to how you use it. If vinegar is used, it's best to ventilate and avoid enclosed spaces as the fumes can build up and potentially irritate lungs, especially those of the little ones and immune compromised.
Also, did you know that most vinegar is made from GMO corn?
Finally, Branch Basics is much more versatile. It can be used as a hand soap, stain remover, vegetable wash, etc. in addition to household cleaning.
How does Branch Basics compare to Shaklee's?
Shaklee's products are not human-safe. Shaklee's Basic H2 Concentrate contains surfactants and their product label states that the product shouldn't come in contact with the skin or eyes (and gives directions how to flush your eyes or rinse your skin if you come in contact with it). There is not a list of ingredients anywhere on their site. The only ingredient they somewhat state is the product is made of corn and coconut. GMO corn? It doesn't say.
How does Branch Basics compare to Norwex cloths?
It's impossible to know if Norwex products are truly safe because when contacted regarding their ingredients, their response was: "Cleaning product manufacturers are not required to list ingredients except for the ones that are hazardous and those will be on the MSDS. If customers are allergic to certain ingredients you can email those to us and we will check with the manufacturer if they are in the product."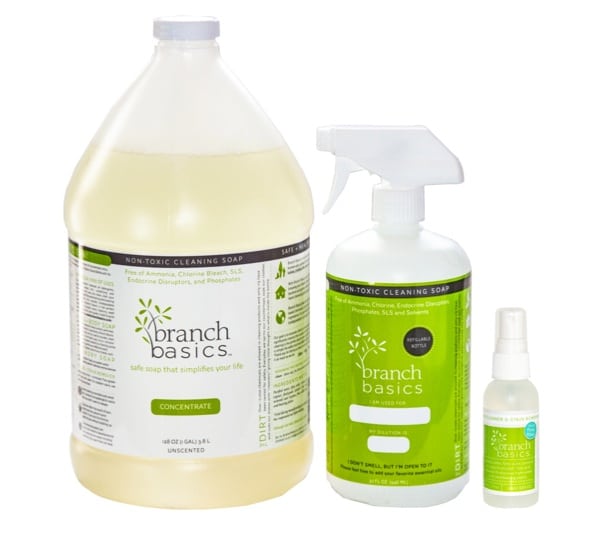 Deliciously Organic Spring Specials (Prices valid until midnight, April 25, 2013):
1. $61.37 (30% off!)  Gallon Concentrate + Empty (32 oz) spray bottle + 1 FREE (2 oz) mini sprayer (perfect for your purse or the car). Regular Price $91.42
At this special price, you can make 24 (32 oz.) All-Purpose spray bottles, costing about $2.44 each, and use it on almost everything.
To order use coupon link.
2. $248.54 (30% off!) 5-Gallon Pail Concentrate + 1 FREE 2 oz mini sprayer. This is a great size to split with friends for a more economical option. Regular Price $358.80
At this special price, you can make 120 (32 oz.) All-Purpose spray bottles, costing about $2.07 each, and use it on almost everything.
To order use coupon link.
This is truly an opportunity you don't want to pass up! The average cost of "green" cleaners – many of which still contain harmful chemicals – is $6.18 and their uses are very limited. At this special price, you can make 120 All-Purpose 32 oz spray bottles (depending on dilution), costing about $2.07 each (or $0.08 cents per oz!), and use it on almost everything.
This sale has ended, but you can still purchase their products here.