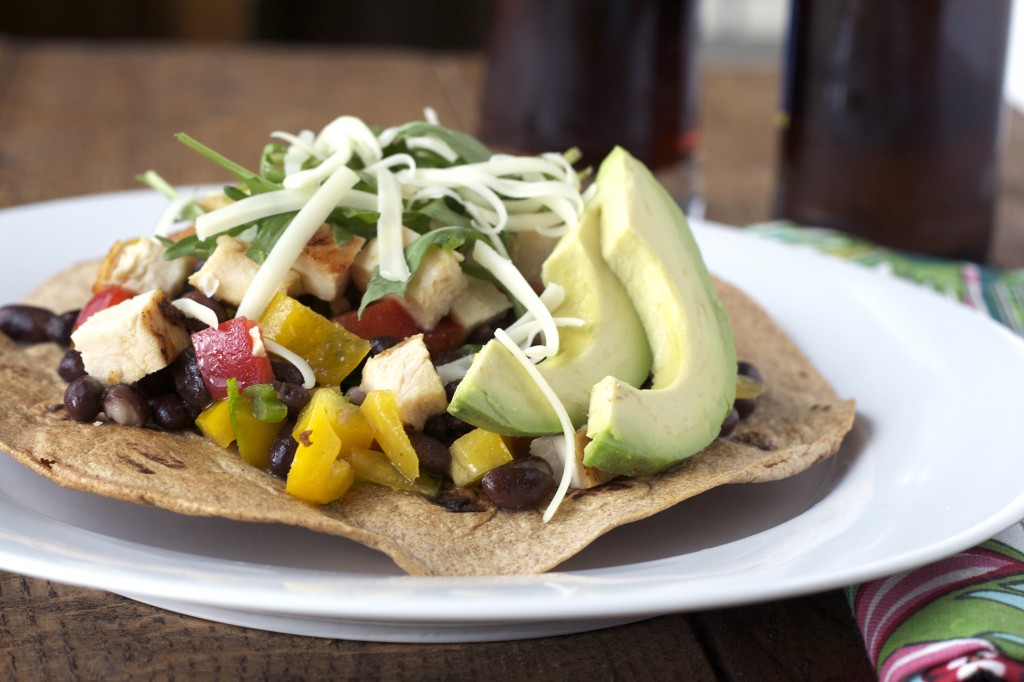 One little perk of blogging about food is the many cookbooks that arrive on my doorstep. I heard Todd and Diane had photographed a new cookbook, so I couldn't wait to flip through and take a look. Big Bowl of Love by Chrisina Farrare is full of great down-home classics like Chicken Piccata, Baked Sweet Potato Fries, Classic Roast Beef, and Blackberry Cobbler. The easy-to-find ingredients complement her easy-to-follow methods. Todd and Diane Cu worked their usual magic and nearly every other page inspires with a gorgeous full-page photograph.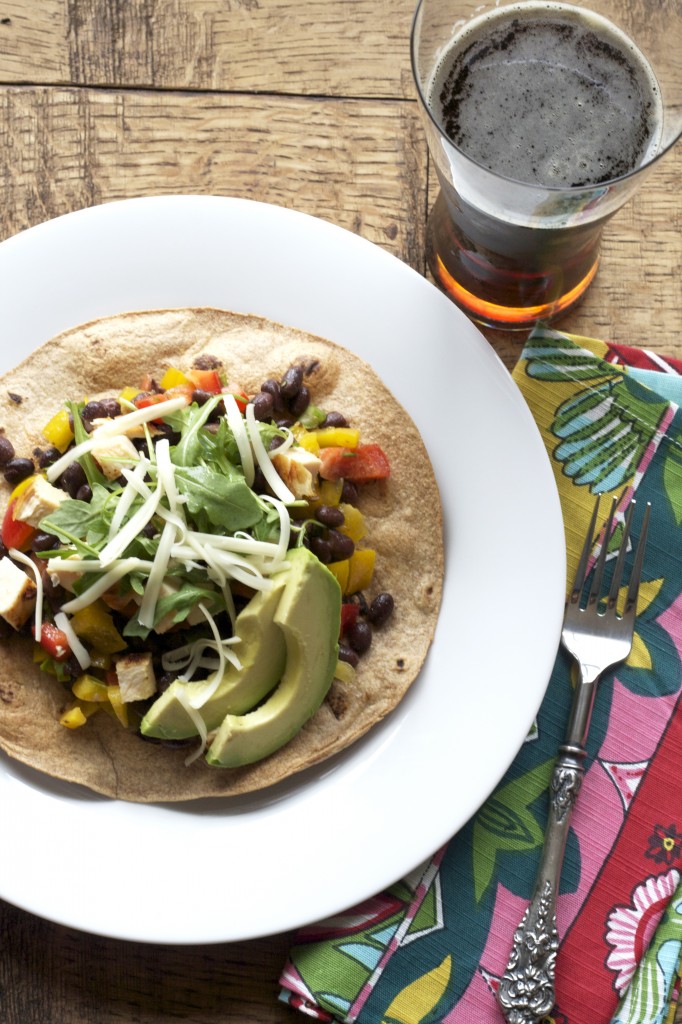 Pete and I had the rare opportunity of dinner at home without the kids a few weeks ago. A quiet house, a good salad and a few beers made for an enjoyable evening. I decided to cook one of the recipes from Big Bowl of Love and we were both amazed at the flavors. A spicy black bean salad with tender greens, guacamole, and salsa sat on top of a crunchy tortilla. The black bean salad is great alone as a dip with chips, put into quesadillas, or eaten by itself. It was the perfect springtime meal to enjoy as the sun set – just the two of us.
Chicken Tostada Salad
Reprinted from Cristina Ferrare's Big Bowl of Love © 2011 by Cristina Ferrare. Permission granted from Sterling Epicure, an imprint of Sterling Publishing Co., Inc.
Ingredients
Vinaigrette:

1/2 cup extra-virgin olive oil
3 tablespoons fresh lemon juice
1 tablespoon rice wine vinegar
1/4 teaspoon kosher salt

Bean Salsa:

2 (15-ounce) cans black beans, drained and rinsed
1 medium red bell pepper, diced small
1 medium yellow bell pepper, diced small
2 celery ribs, diced small
1 tablespoon diced jalapeno
2 tablespoons extra-virgin olive oil
2 tablespoons fresh lemon juice
1 teaspoon cumin
1/2 teaspoon kosher salt
Freshly cracked black pepper
2 tablespoons chopped cilantro

Assembly:

6 (8-inch) gluten-free or grain-free tortillas
2 cups salsa
2 cups guacamole
6 cups baby arugula or baby greens
3 cups chopped chicken breast
1 1/2 cups shredded Monterey jack cheese (omit for dairy free)
6 lime wedges
8 fresh cilantro sprigs
1 small jalapeno, seeded and diced
Instructions
Preheat the oven to 400ºF. Brush tortillas on both sides with olive oil. Place them in the oven on the rack and bake for 20 to 30 minutes, until crisp and golden brown. Keep an eye on them so they don't burn. Remove from the oven and set aside.
To make the lemon dressing, in a glass bowl combine the olive oil, lemon juice, vinegar, and salt, and mix well. Set aside.
Make the tomato salsa and guacamole. Cover and set aside in the refrigerator.
To make bean salsa, in a bowl, combine the beans, red and yellow peppers, celery, scallions, jalapeno, olive oil, lemon juice, cumin, salt an dpepper to taste and cilantro. Mix well. If you have the time, cover and let sit in the refrigerator for an hour; it will bring out the many layers of flavors. Any leftovers will keep in the refrigerator for 2 days.
When you are ready to serve, drizzle 3 tablespoons of lemon dressing over the arugula or baby greens and mix well. Place on tortilla on each plate. Spread 2 tablespoons of guacamole over each tortilla. Add 1/2 cup of bean salsa toward the middle of the tortilla. Add 1 cup of arugula or greens over the bean salsa. Top with 1/2 cup chopped chicken, as much of the tomato salsa as you like and 2 tablespoons of Monterey jack (more if desired). Garnish with fresh cilantro sprigs and diced jalapeno. Serve with lime wedges.
7.8.1.2
3178
https://deliciouslyorganic.net/chicken-tostada-salad-and-a-giveaway/
Copyright 2016 Deliciously Organic