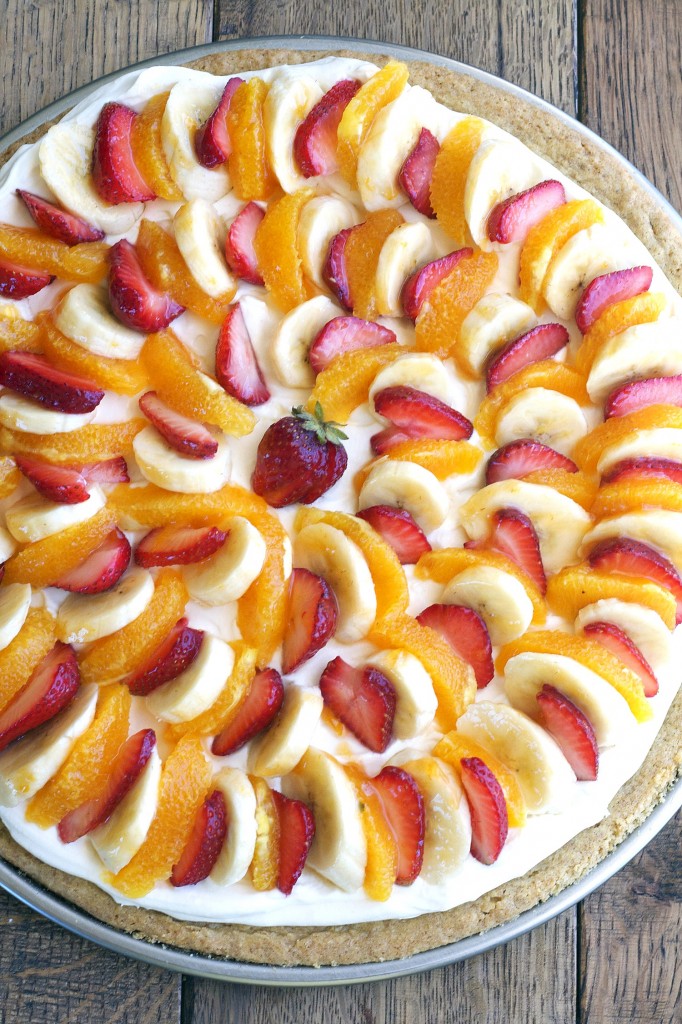 How well do you know your food? Did you know most non-organic fruits, vegetables, meat, eggs, wheat flour, and spices are irradiated? Irradiation is a process through which ionizing radiation in the form of gamma rays, x-rays, or electrons are used to kill bacteria in food. Irradiation, however, can destroy many of the vitamins in foods (between 5 and 80 percent!). According to The Center for Food Safety, irradiation also doubles the amount of trans-fat in beef, which increases the risk of coronary heart disease. Irradiation can even damage the natural digestive enzymes in raw foods. These foods look fresh and are allowed by the US Food and Drug Administration to be labeled "fresh", but nutritionally are closer to cooked foods with decreased vitamins and enzymes.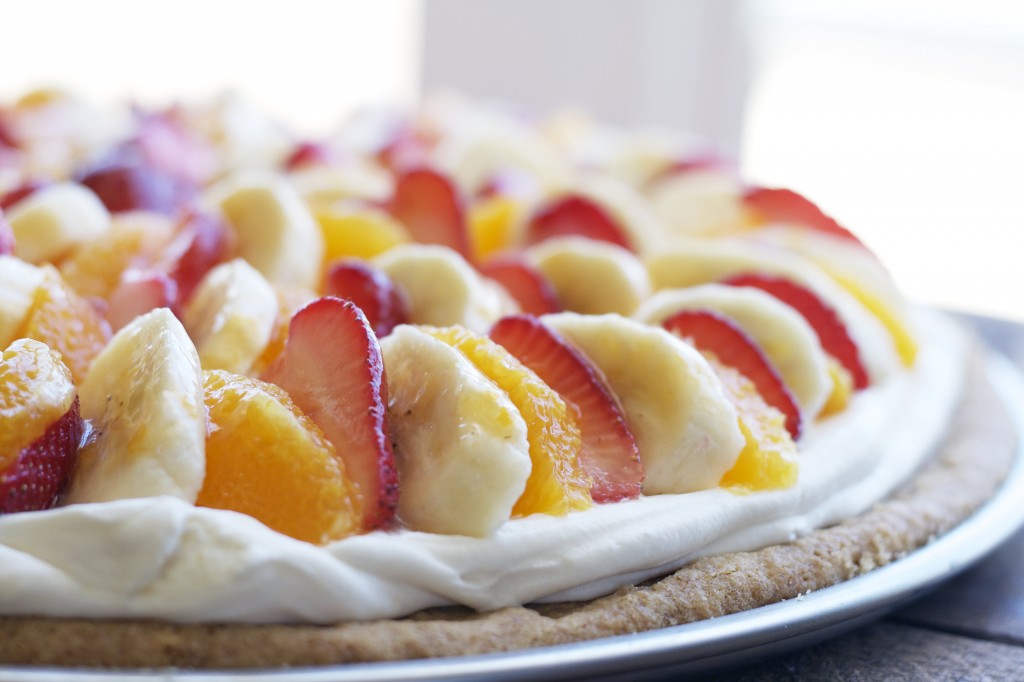 Why would anyone irradiate foods? Because irradiation dramatically increases the shelf life of products. In America, irradiated food is labeled if it is "materially changed." Unfortunately, I'm not aware of any long-term studies proving whether irradiated foods are safe for human health. Consumer and natural food advocates want to change the regulations, allowing consumers to know if products are irradiated. In response, food companies have suggested labeling irradiated foods as "pasteurized" – a completely different process, but a term they believe consumers would more easily accept.
So what do we do? I prefer to eat an organic diet to stay away from irradiated foods. For many people, it can be as simple as buying straight from the farm or at your local farmer's market.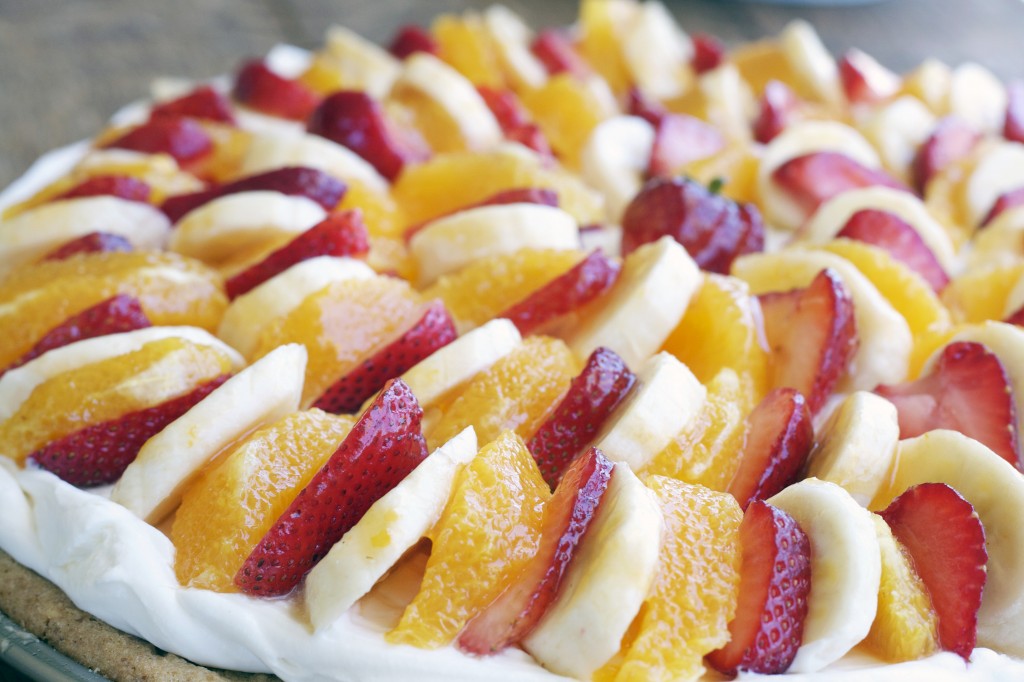 I picked up lots of wonderful, truly fresh fruit at the farmer's market a few days ago. As I was walking to my car, I remembered my favorite summertime dessert as a kid – fruit pizza. A soft sugar cookie dough and sweet, fluffy cream cheese topped with fresh fruit. Any fruit can be used on this dessert so choose your favorite. While enjoying it, think about how well you really know your food.
For further reading about irradiation:
What's Wrong with Food Irradiation?
Comments of Consumers Union on the Food and Drug Administration's (FDA's) Docket No. 2005N-0272, "Irradiation in the Production, Processing and Handling of Food"
Food Irradiation
Irradiation: A Sneak Attack on School Lunches
Serves: Makes 1 fruit pizza
Fruit Pizza
If you'd like to use whole wheat flour instead of gluten free flours then replace the sorghum, arrowroot, oat flour, rice flour, and gelatin with 2 1/4 cups of whole wheat pastry flour. I prefer the taste of the maple sugar, but if you can't find maple sugar than sucanat is a great replacement.
Adapted from The Best Recipe.
Ingredients
For the Dough:

1/2 cup sorghum flour
1/2 cup arrowroot flour
1/2 cup oat flour
1/2 cup rice flour
1 1/4 teaspoon gelatin
3/4 teaspoon baking powder
1/2 teaspoon sea salt
1 cup unsalted butter
1 cup maple sugar or sucanat
1 large egg
2 teaspoons vanilla extract

For the Topping:

8 ounces cream cheese
1/4 cup maple syrup, divided
1 cup heavy cream, whipped to soft peaks
16 ounces strawberries, sliced
5 bananas, sliced
5 oranges, peeled, and cut into small slices
1/4 cup apricot jam
Instructions
Preheat oven to 350ºF and adjust rack to middle position. Butter a 12-inch round baking pan (I used a pizza pan). Whisk together sorghum, arrowroot, oat flour, rice flour, gelatin, baking powder, and salt in a large bowl. Beat butter and sugar together in the bowl of a standing mixer for 3 minutes until light and fluffy. Scrape down sides of bowl. Add egg and beat for 30 seconds. Add vanilla and beat for another 30 seconds.
Pour dough onto buttered pan and spread dough evenly. Bake for 20-25 minutes, until golden brown. Cool completely.
Beat cream cheese and maple syrup with a mixer until smooth. Fold in whipped cream. Spread cream mixture over cooled cookie crust. Arrange fruit on top.
Heat apricot jam with 1 tablespoon of water over medium heat until warm. Using a pastry brush, brush the fruit with the jam. Chill in the refrigerator for at least 1 hour before serving. Best served the day it is prepared.
7.8.1.2
4198
https://deliciouslyorganic.net/fruit-pizza-recipe/
Copyright 2016 Deliciously Organic