If you've contemplated making strawberry jam this summer, now's the time! The berries and fruits are in their prime and with a few simple ingredients, you can make an easy honey-sweetened version of the store-bought variety.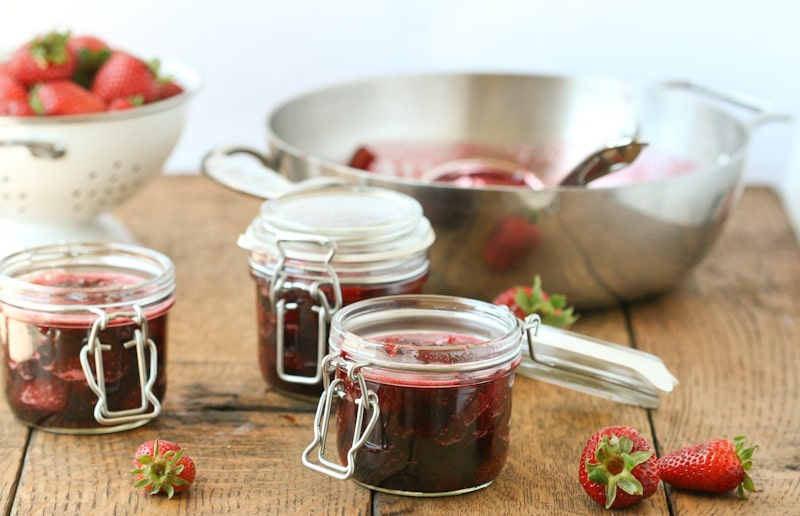 Apples contain plenty of natural pectin, so I chose to use half an apple in my jam. I cut out the white sugar and used honey to sweeten the mixture. Each year, I like to make jams or preserved fruits and bring them to the teachers during the first week of school. It's a great way to introduce yourself and give the teacher a little something sweet as they begin a new year. So I'll store these away for a few more weeks and hopefully make a good first impression.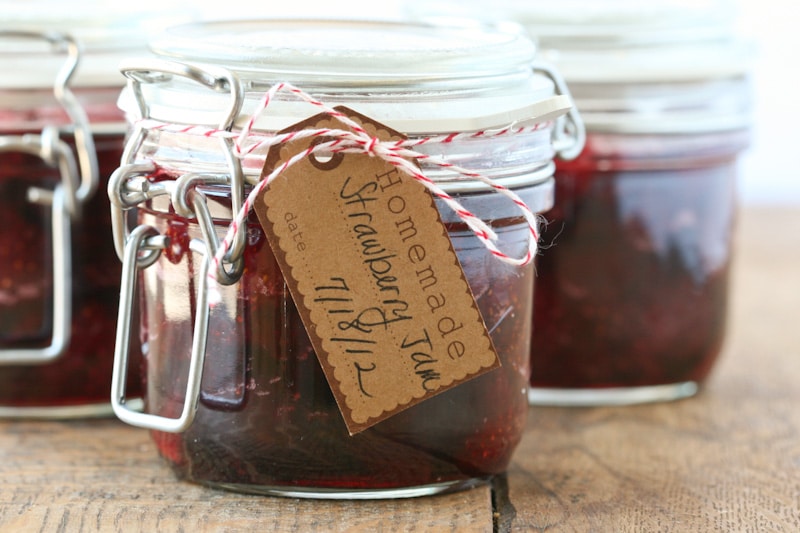 Making homemade jam can be a bit intimidating, but this recipe will take the fear out of the process. I took a few step-by-step photos so you can see just how simple it can be.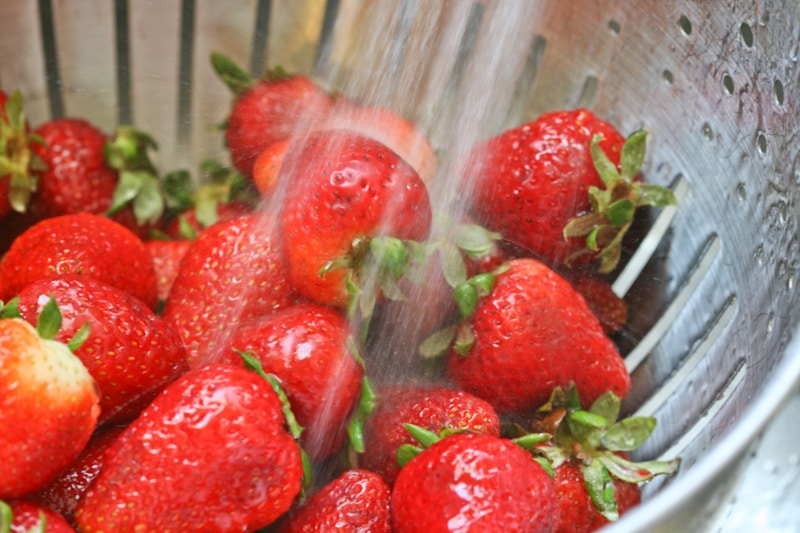 Wash the strawberries well to remove any sand or dirt. Hull the strawberries and slice.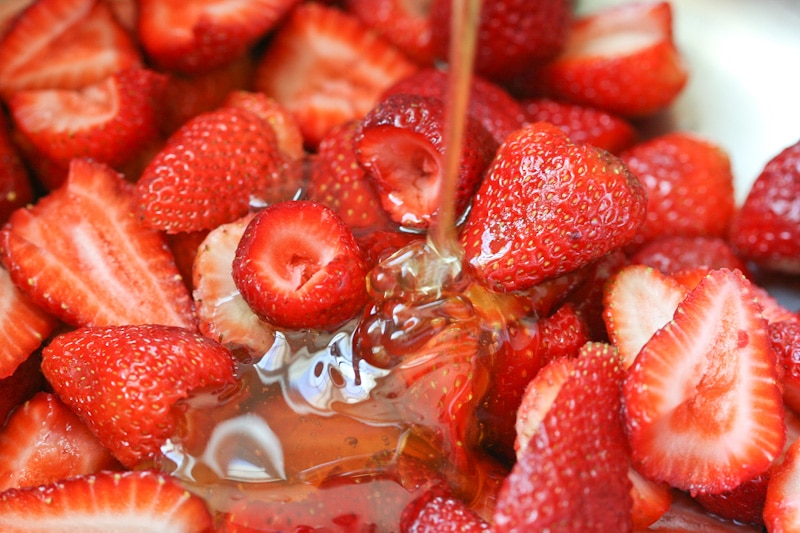 Place the strawberries in a large pot and pour the honey and Grand Marnier overtop.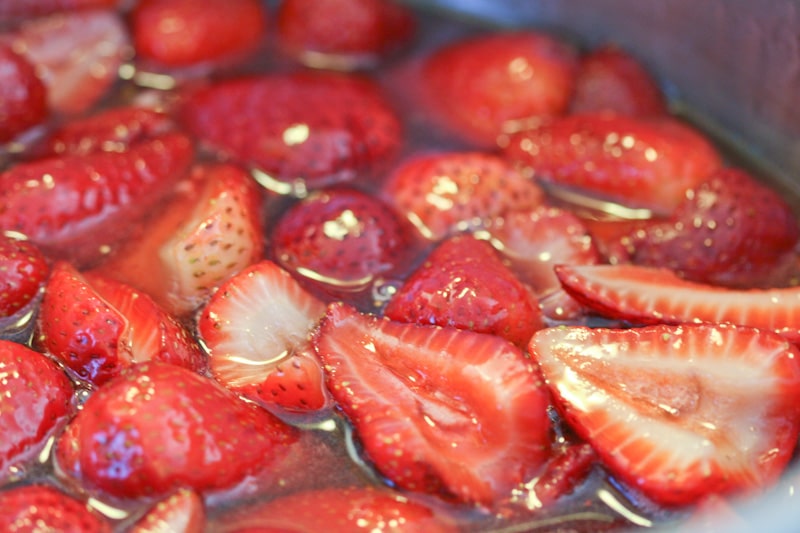 Turn the heat to medium to heat the berry mixture. The strawberries will slowly release their juices.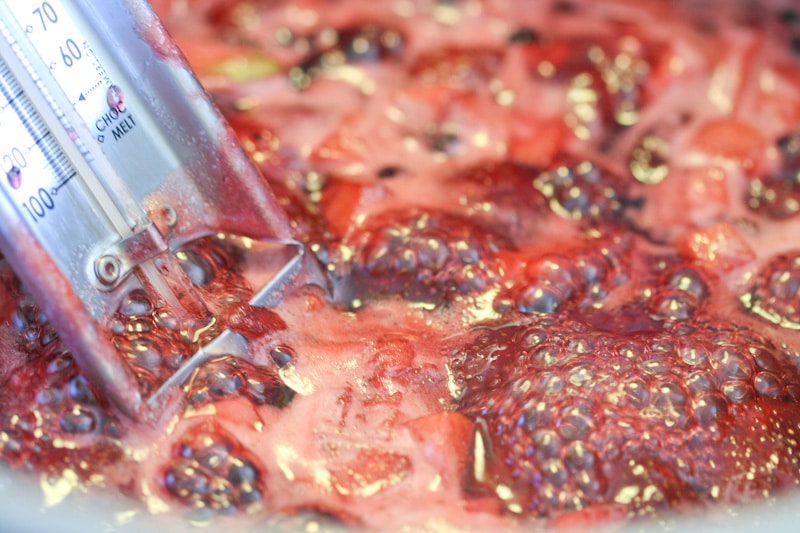 Bring the mixture to a low simmer (still over medium heat), add the apples and continue to simmer until mixture reaches
220 degrees F (Don't speed up this process. If the berries cook too quickly the mixture will not gel).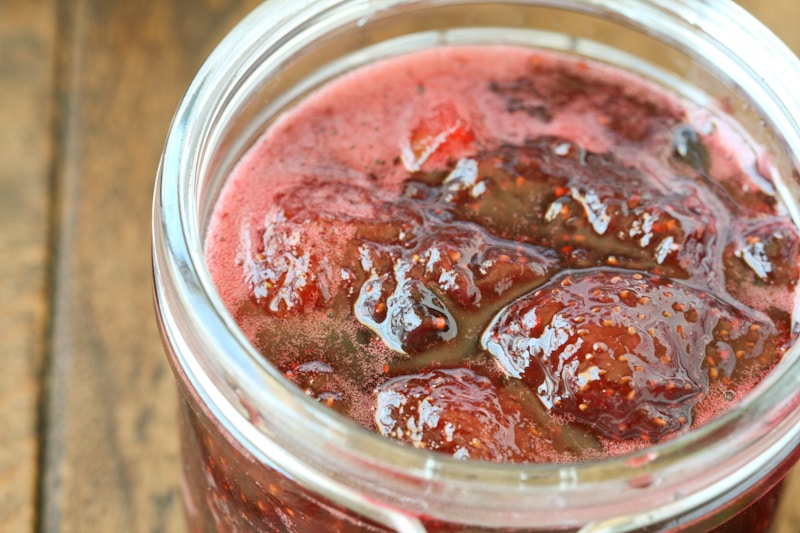 Remove from the heat and let the jam cool for about 30 minutes. Spoon jam into jars and screw on the lids. Store jam in the refrigerator for up to two weeks.
 And lastly, if you'd like to sterilize your jars to preserve the jam then watch this video.
Print
Strawberry Jam
You can substitute a portion of the strawberries with other fruits to make different combinations. I made a second batch substituting two cups of rhubarb for two cups of the strawberries and it turned out fantastic!
Adapted from Back to Basics
Prep Time:

10 minutes

Cook Time:

35 minutes

Total Time:

45 minutes

Category:

Sauce

Diet:

Gluten Free
3

pints

(2 1/4 pounds) strawberries, sliced (washed and hulled)

1 1/4

cups

light honey (I used clover)

2 tablespoons

Grand Marnier or fresh orange juice

1/2

Granny Smith apple, peel and seeds removed, cut into a small dice
Instructions
Place strawberries, honey and Grand Marnier in a large pot over medium heat. Bring to a simmer and add the apple pieces, stirring occasionally. Simmer slowly for 25 – 35 minutes until mixture reaches 220ºF (if the jam is cooked too quickly, it will not set. Make sure to cook on a very low simmer for at least 25 minutes). Cool jam to room temperature, spoon into jars, cover with lids, and store in the refrigerator for about 2 weeks. You can also sterilize the jars using the method in the above video to preserve the jam for future use.
Note: I only test the recipes on my site with the listed ingredients and measurements. If you would like to try a substitution, you are welcome to share what you used and how it turned out in the comments below. Thanks!
Nutrition
Serving Size:

Makes about 2 1/2 - 3 cups
Keywords: honey-sweetened strawberry jam