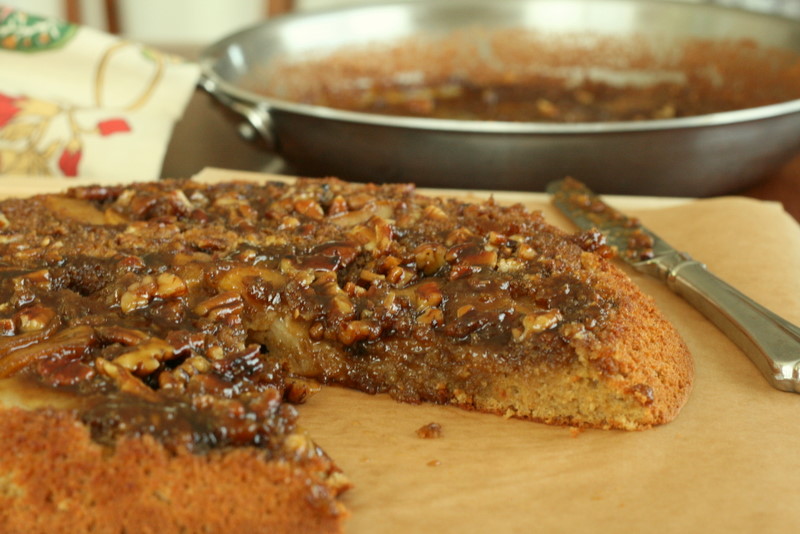 This past week has been full of changes. My kids started at a new school, my husband started a new job, we are in a new house, and I am now trying to get into a new routine. My in-laws come out to help us for every move and it is a huge blessing. The last few days they organized our garage, hung curtains and shelving, and got us all ready to go in our new home. This is our third time moving somewhere new in December. The bright side is starting fresh somewhere for the New Year.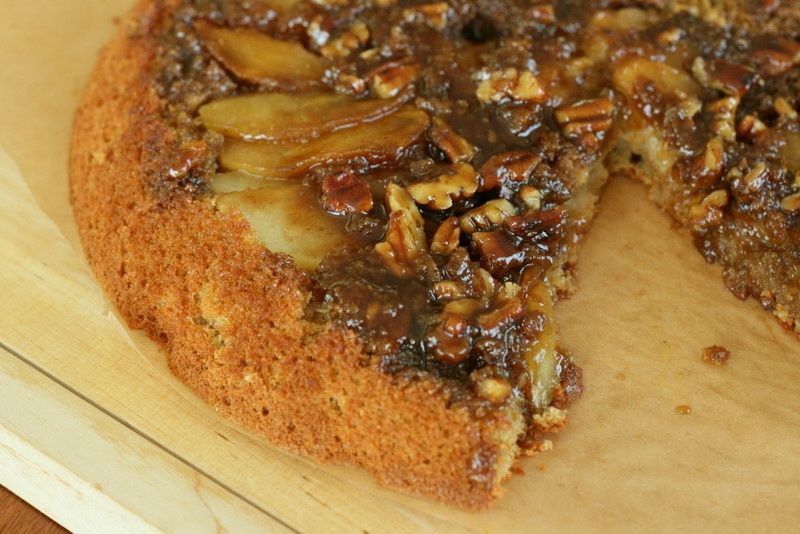 I've shared with you my love for caramel and apples, and when I saw this recipe in Southern Living I immediately went into my kitchen and started baking (even though the house wasn't unpacked yet). The first cake totally flopped and it led me to discover that the oven in this house is very weak and a bit temperamental. The cake barely rose and after it cooled and I turned it over most of the cake stuck to the pan. Disappointed, I washed everything and tried again the next afternoon. The second time it turned out beautifully and after I took pictures I called friends on the street to come over for an afternoon snack.
This cake is great dessert, snack or a decadent breakfast. The sugar topping might stick a little to the pan, but you can spoon it out spread it on top. It's one of those cakes that doesn't need to look perfect, in fact, I think the more home-baked it looks, the better. I provided a soaked option for those of you who would like to use that method.
Upside-Down Caramel Apple Cake
Ingredients
1/2 cup chopped pecans (dehydrated)?
2 large granny smith apples, peeled and cut into 1/4-inch thick slices?
1 tablespoon lemon juice?
1 teaspoon lemon zest?
2 teaspoons vanilla extract?
3/4 teaspoon ground cinnamon?
1/2 cup unsalted butter, softened and divided?
2 teaspoons brandy?
1 1/2 cups organic whole cane sugar or sucanat ( dehydrated cane juice ), divided?
4 tablespoons maple syrup, divided?
2 large eggs, separated?
3/4 cup whole milk?
1/2 cup sour cream or cream fraiche?
2 cups whole wheat pastry flour , freshly ground preferred?
1 teaspoon baking powder?
1/2 teaspoon baking soda?
1/8 teaspoon nutmeg
Instructions
Preheat oven to 375 degrees. In a large bowl, toss apple slices with lemon juice, zest, vanilla, and 1/2 teaspoon cinnamon. Melt 1/4 cup butter in 12-inch skillet over low heat. Remove from heat and add brandy and swirl to combine. In a small bowl combine 1 cup organic whole cane sugar and 2 tablespoons maple syrup until sugar is moist. Sprinkle moistened whole cane sugar over butter and brandy on bottom of skillet. Sprinkle pecans over sugar mixture. Arrange apples in 2 concentric circles over pecans.
Beat 1/2 cup whole cane sugar and 1/4 cup butter with a mixer until blended. Add egg yolks one at a time. Add milk, sour cream and 1 teaspoon vanilla. Beat just until blended.
In a large bowl, whisk together flour, baking powder, baking soda, nutmeg and remaining 1/4 teaspoon cinnamon. Add flour mixture to butter mixture with mixer on low. Mix until just blended.
Beat egg whites and remaining 2 tablespoons maple syrup until stiff peaks form. Carefully fold egg whites into batter. Pour batter over apples in skillet. Bake for 50-55 minutes or until cake tester inserted halfway into center of cake comes out clean. Cool cake in skillet on a wire rack for 10 minutes. Run a knife around the edges of the cake to loosen and then invert onto a serving platter.

Soaked Method:

Combine flour, milk and sour cream until blended. Cover and leave at room temperature overnight. Follow instructions above until step 3. Add baking powder, baking soda, nutmeg and cinnamon to soaked mixture and stir until fully combined. Slowly add the soaked mixture to the butter-sugar mixture in step 3 with mixer on low. Continue with recipe above.
7.6.4
4156
https://deliciouslyorganic.net/upside-down-caramel-apple-cake/
Copyright 2016 Deliciously Organic
Posts may contain affiliate links. If you purchase a product through an affiliate link, your costs will be the same but Deliciously Organic will receive a small commission. This helps cover some of the costs for this site. We appreciate your support!