Get Real With Us
Do you think Real Food is for other people?
People with more time, more money, or more discipline than you?
Get real. You can do this, and we can show you how.
Short on time?
Discover quick, healthy recipes.
On a budget?
Learn how to buy Real Food without breaking the bank.
Got a sweet tooth?
Knock out sugar cravings naturally.
Need to detox?
Reduce inflammation and detox your system using Real Food.
And much, much more!
Ready for Real Health?
Join Real Food Boot Camp to put Real Food to work for you!
1
Click the BUY NOW button below to jump-start your health with the Real Food Boot Camp.
2
Choose the membership level that works best for you and complete the registration process.
3
Get started on your Real Food journey with immediate, private access to the entire program.
There will be no waiting for all 10 classes, and your membership never expires.
It's time to get real:
Real Food Bootcamp
For years I struggled with horrible health problems, low energy, and foggy thinking. I'm here to tell you, you don't have to live that way. Real Food really can change your life! Let me show you how.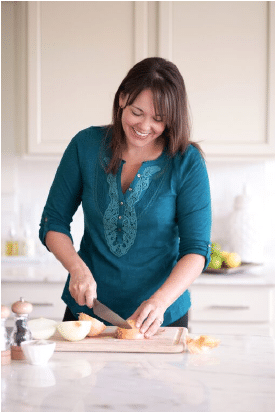 With this program, you will:

Unlock quick, healthy recipes your family will love
Learn how to choose the healthiest ingredients at the grocery store and online
Detox with 5 gentle, at-home therapies
Find freedom from sugar cravings
Learn how to buy Real Food on a budget
Discover the first 5 steps to begin the healing process and start feeling better today!
Learn how to find the best quality whole food supplements and how to make-over your medicine cabinet with all-natural essential oils
Our Menu of Amazing Resources
When you purchase Real Food Boot Camp, you receive a collection of resources designed to help you take control of your health using Real Food. From the first lesson, you can begin changing your life from the inside out.
Here's a break-down of each class and all of the helpful bonuses included in Real Food Boot Camp:
---
CLASS #1: HEALTHY FATS AND OILS
In this class, I'll teach you:
The benefits of eating healthy fats
Which kinds of fats are best and where you can find them
Which fat works best with different kinds of cooking and baking
Which fats to choose if you're lactose intolerant
This is just the tip of the iceberg in what I will share in this key class!
---
CLASS #2: DAIRY AND HEALTHY NON-DAIRY ALTERNATIVES
"Milk, It Does a Body Good," right?
Well, that's mostly true. The key lies in which kind of milk!
In this class, I'll teach you:
The many health benefits of unprocessed dairy
Where to find the right kind of dairy products
The best alternatives for those who are lactose intolerant
How to prepare homemade dairy-free alternatives
Two of my favorite nutrient-dense, dairy and dairy-free staple recipes
---
CLASS #3: MEAT
In this class, I'll teach you:
How to choose the healthiest kinds of meat
Why eating pastured animal foods play a critical role in your health
The nutritional differences between conventional and pastured meats
How the right meats can help reduce inflammation in the body
The meanings of all of those confusing labels at the store, such as "free range," "pasture-fed," "100% vegetarian fed," "grain-fed," "no hormones administered," and on and on
We'll clear up all the confusion in this class and make
shopping for meats and cooking meats easy!
---
CLASS #4: BAKING
In this class, I'll teach you:
How to adapt those well-loved and timeless recipes using grain-free flours
How to properly prepare grains (for those who can tolerate grains)
The different types of flours, starches and binders and how they work
How to store and shop for healthy flours
Favorite gluten-free substitutes
How to bake one of my favorite gluten-free cake recipes
I made sure this class is useful for everyone: those who can eat grains, and those who can't. So, no matter which side of the fence you're on, you'll find this class helpful!
---
CLASS #5: HEALTHY ALTERNATIVE SWEETENERS
In this class, I'll teach you:
What sweeteners are best and what kinds fit best with different types of recipes
Where to find healthy sweeteners
What forms of processed sweeteners you should avoid
How to use unprocessed sweeteners in your cooking and baking
While too much of any sweetener can contribute to inflammation, everyone wants to be able to enjoy the occasional sweet treat. Choosing sweeteners that are as close to their original form as possible is key!
---
CLASS #6: DETOX
Did you know that because of environmental pollutants,
a 100% pure orgranic and clean diet isn't enough?
In this class, I will teach you:
Easy and low-cost detox therapies that will positively affect your lymphatic system, stimulate proper liver function, increase circulation, stimulate the hormones, and cleanse the blood.  I'll also give you step-by-step instructions for five different at-home, gentle detox therapies.
---
CLASS #7: REAL FOOD REAL FAST
In this class, I will teach you:
Easy "go-to" meals for those hectic days
Healthy meals that can be made in advance
---
CLASS #8: FERMENTING
In this class, I will teach you:
How to easily prepare fermented foods
How often to eat fermented foods
Which brands are best to purchase when you don't have time to make them homemade
How fermented foods help reduce inflammation
---
CLASS #9: FIVE FIRST STEPS TO TAKE TO BEGIN HEALING PROCESS
In this class, I will teach you:
How to find the root cause of your disease and the crucial
first steps to take to begin the healing process.
---
CLASS #10: WHOLE FOOD SUPPLEMENTS AND OTHER NATURAL REMEDIES
In this class, I will teach you:
My favorite whole food supplments for the entire family, brands to look for and where to find them
How to give your medicine cabinet a make-over with 100% natural remedies
---
3 AMAZING BONUSES!
BONUS #1: WHERE DO I START?
A step-by-step road map that will give you easy and tangible instructions
on what to do at the conclusion of the 10-part course!
BONUS #2: TWO REAL FOOD, REAL FAST 2-WEEK
MEAL PLANS WITH SHOPPING LISTS!
Because I want to help set you up for immediate success,
you will also receive two "Real Food, Real Fast" Meal Plans.
The plans are a two-week collection of my most popular and quickest recipes,
and each one can be made in 45 minutes or less.
BONUS #3: HEALTHY COOKWARE, BAKEWARE AND
PANTRY STAPLES LIST
This is a complete list of my recommendations for healthy cookware, bakeware and pantry staples. It also includes links and my favorite places to find these products!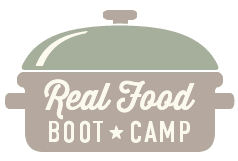 Which Real Food Boot Camp
option is right for you?
BASIC TRAINING
This is ideal for those who are somewhat experienced with the real food movement and don't need the extra one-on-one attention of the "All In" plan.
10 Online Food and Health Classes

Members-only Quarterly Q/A Webinars 

with Carrie

Detailed Classroom Handouts

All 3 Bonuses Listed Above
$97 Limited Time Offer: $67
Buy Now
A special note from Carrie Vitt,
creator of Real Food Boot Camp
Hi there! I'm Carrie Vitt, of Deliciously Organic, and creator and teacher of Real Food Boot Camp. Through organic, unprocessed food our family of four has overcome severe asthma, eczema, Hashimoto's (thyroid disease), IBS and chronic migraines, all without drugs – just good, natural, real food.
When I first started eating real food, I was overwhelmed. I knew I wanted to feel better, but there seemed to be so much conflicting advice I didn't know what to do. Thankfully, I found the right people to walk me through the process and show me how to regain my health. I want that for you as well!
After my experience, I truly believe that many of the diseases that ail us can be avoided or reversed with the right foods, detox and support. This is why we created Real Food Boot Camp.
My team and I have worked tirelessly on this program for the better part of a year. We are giving you all of the tools you need to make a fresh start, find better health and enjoy the journey! It's the most complete program you'll find. (We've looked!) I'm so excited for you to try it!
Real Food = Real Health
Are you ready to take control of your health?
Are you ready to get real?
THE "IT'S ON US" GUARANTEE
If for any reason you are not satisfied with Real Food Boot Camp within the first 30 days after purchase, we'll issue a prompt and full refund (minus the $23 used to purchase and ship out "The Grain-Free Family Table" cookbook).
There's only ONE condition: Please tell us the main reason you weren't happy with the product, so we have a chance to make it better.
Time to Order
There's never been a better time to take control of your health. And there's never been a better resource to help you get started the right way. Now is the time to take action, but only you can do that.