Discover the Exact Steps You Need to Heal so You Can Get Your Life Back
Without overwhelm or drastic dietary restrictions!
Here's The Truth
Feeling better doesn't have to be a battle.
But when you have thyroid disease, it's like being at war with your own body.
You're reading, researching, and eliminating foods but you still feel:
LETHARGIC
(these days, your idea of a good time is spending the day in bed)
FRUSTRATED
(you don't feel like yourself and you can't figure out how to fix it)
GUILTY
(being a good mom/spouse/friend is hard when you don't feel good)
Nothing you do seems to be working—and you're doing a LOT!
You knew reducing your symptoms wouldn't be easy—but is it really supposed to be this hard?
You're beyond ready for:
Getting back your energy and enthusiasm for family trips, fancy restaurants—and life
Finally saying goodbye to brain fog, headaches, painful periods, and mood swings
Shedding that extra weight
Running your hands through a full head of hair
Getting a restful, full night's sleep (no more tossing and turning at 3 a.m.)
Looking in the mirror and seeing bright, clear skin
Better digestion and a reduction in heartburn, bloating, and constipation
The constant worry and anxiety about your health to be OVER
Whether you have thyroid disease, had your thyroid removed, or are battling thyroid cancer… one thing is clear:
You desperately miss your old self and you'll do whatever it takes to get your energy and mental health back.
Because you deserve to feel your best—every day.
That's why you:
Have read all the books on thyroid health (you have a bookshelf full of them)
Poured money into medications, supplements, lab tests, naturopathic healing, and doctor's appointments
Spent hours scouring blogs and forums searching for answers
Have given up grains, dairy, nightshades, nuts, sugar, processed foods, beans, eggs… (the list goes on)
So, if you're trying everything, why isn't it working? Are you just expected to keep feeling tired, foggy, and uncomfortable? Is this the new normal?
Here's the thing:
The answer is NOT taking 17 supplements a day and avoiding hundreds of different foods and going on a crazy exercise or detox regimen.
That should be a relief, right?
But it's not, and here's why…
Deep down you're worried. If you haven't found the solution yet… will you ever?
Here's the REAL reason why everything you tried isn't working:
All this time you've only been focusing on your thyroid.
I know you're thinking, "Wait a second, Carrie… Isn't that what I'm supposed to be focusing on?"
Yes and no.
You see, thyroid disease is really a symptom of a deeper problem.
That's why, when you start a new diet or supplement, you feel better at first. But after a few months you start slipping back.
Have you ever wondered why that's happening?
It's because you haven't healed the root cause.
What you need is someone to hold your hand and help you put all the pieces of this crazy puzzle together—so you can finally get to the root of the issue and START TO FEEL BETTER.
That's where I come in.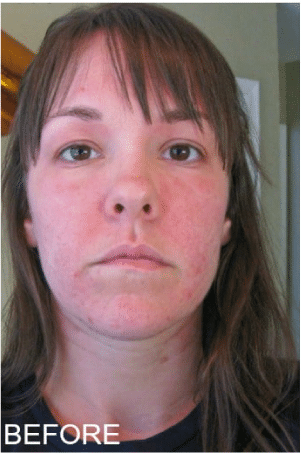 Ten years ago, I had hives from the neck up, my hair was falling out, and all the skin on my face and neck peeled off twice a day.
I spent my days and nights with ice packs on my face because my skin felt like it was burning.
I was depressed and allergic to everything (vegetables, meats, plastic, tap water… you name it). I cried a lot. And I stopped outside activities and just stayed home.
Like you, I was angry and frustrated.
After nine painful months of going from doctor to doctor, I finally found a doctor who listened, thought about potential causes, and ran tests.
That's when I was diagnosed with Hashimoto's disease, a thyroid autoimmune disease.
The doctor offered to prescribe a medicine called Synthroid, but didn't provide a hopeful prognosis. He explained that it might help ease my symptoms but eventually my thyroid would stop working and I'd be on medication for the rest of my life.
This wasn't enough for me.
I wanted get to the root cause, so I started working with a nutritionist who helped me figure out what sent my body into its downward spiral.
The evidence led us to conclude that heavy metal poisoning (from the removal of a large amalgam filling) and resulting severe inflammation triggered my Hashimoto's.
With the help of my nutritionist, I spent several years detoxing the heavy metals out of my system and trying to minimize inflammation. The result? I've reclaimed my health and I'm symptom-free (and medicine-free!).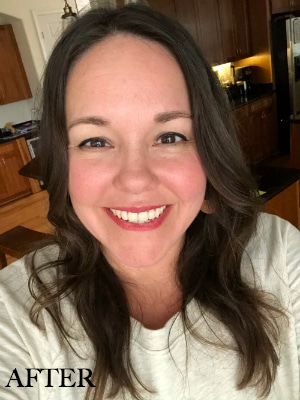 I can't even tell you how much my life has changed!
I'm now a certified Nutritional Therapy Practitioner at Biodynamic Wellness, author of the Deliciously Organic blog, two-time cookbook author, and am privileged to work with my nutritionist at her practice.
But what I'm most grateful for is that I have the energy to spend time with my kids, family and friends, and be an active member of my community.
That's what I want for you to.
But to get there, you must understand this…
You don't have to figure it all out by yourself. I'll give you the tools you need so you can live a symptom-free life.
(Because you truly deserve it.)
INTRODUCING THE…
This self-paced, video-based training program walks you through how to reduce symptoms and heal, step by step—so you don't feel bogged down or overwhelmed.
Thyroid Support and Health is going to change the way you think about your body and your health. We'll cover it all, including lifestyle, whole food supplements, exercise, medications, how to read your labs, gentle detox, and stress reduction.
You don't need to try to figure it all out on your own or cobble together information from hundreds of different resources. (That's enough to make anyone crazy with overwhelm!)
If you've been searching everywhere for straightforward advice about thyroid health… If you're ready to make lasting lifestyle changes… If you want to get back to living life (without the constant distraction of your health)… this program is for you.
"I am so thankful to Carrie Vitt for her help after I was diagnosed with a thyroid cyst. She is incredibly knowledgeable and she took great care and time to find the best plan for my treatment. Thanks to her, my cyst has decreased in size and I feel better than I have in years. "
"I had extra weight gain, felt sluggish, had brain fog, fatigue and anxiety. Carrie had some different sounding ideas than I had heard in the past, but I decided to give her method a try and after working with Carrie for 6 months and being disciplined with my diet and lifestyle, I lost 20 pounds my brain fog is gone, I have energy and my anxiety is a thing of the past! I'm so thankful for the advice and counsel Carrie gave me!"
"I had worked with different practitioners for over 10 years and never could reduce my antibodies. After following Carrie's steps for several months, my antibodies went down by 273 points!"
What do I get when I join the
Thyroid Support & Health Online Course?
Thyroid Support and Health is broken down into 7 training modules. Each module includes video recordings and downloads that walk you through my signature step-by-step process to live a symptom-free life.
And because there's a lot of confusion around what works and what doesn't, I'm going to break it all down for you according to your specific thyroid condition so you're not left wondering which recommendations apply to you
When you buy the Thyroid Support and Health Course, you'll get immediate access to the entire system—and you'll have access to it for life.
Module One: The First Four Steps to Take
Right now, you're in pain, and you have zero energy. I get it. That's why, in the first 10 minutes of this module, you'll get information that will help you start feeling better immediately.
Four easy steps you can take right now to start the healing process.
The common mistake most thyroid disease sufferers make that actually increases your stress response (and how to avoid it).
Module Two: It's All Connected
Here's a surprising truth: it's not JUST about your thyroid. There's more going on in your body than you think—and I'll help you unlock your body's secrets.
The science behind how your endocrine system affects your thyroid (so you can get to the root of the problem).
Two key factors to thyroid health and why you must focus on both to drastically improve your wellbeing.
How stress impacts your immune system, plus practical steps to dramatically reduce stress so you can give your body fighting a chance to heal.
Module Three: Food
There's a TON of confusion about what foods to eat when you have thyroid disease, so I walk you through my protocol step-by-step.
A comprehensive list of foods to avoid based on your specific thyroid condition.
Go-to cheat sheets to help you gently wean yourself off the foods you must stay away from.
A clear explanation of nightshades, dairy, legumes, and nuts—so you can finally understand whether you should avoid these foods or not.
The ONE critical habit you must cultivate to balance your hormone and thyroid health.
My step-by-step food plan, which walks you through the first 90 days (and beyond!) of what to eat—no more guessing.
Module Four: Detox and Exercise
Did you know your detox and exercise routine might be doing more harm than good? Thankfully, my approach is gentle and attainable.
Why gentle detox is vital to your thyroid health—and how to do it correctly so you don't unintentionally undermine your results.
My favorite, most effective, and easy-to-follow gentle detox therapies, including one that I do every single day (and have never talked about publicly).
The best (and worst) exercises to do when you have thyroid disease.
Module Five: Labs, Supplements and Medications
Many people with thyroid disease suffer for much too long because they're misdiagnosed or misinformed. Let's change that.
How to interpret your thyroid labs so you can advocate for proper care.
The most beneficial supplements (including the brands I love best).
How different thyroid medications affect your body—so you can make more informed decisions.
Module Six: The Seven Shades of Thyroid Disease
We're biochemically individual—so your protocol should be individual, too.
Discover what to do if you have: hypothyroid, hyperthyroid, Hashimoto's, Graves', goiter, nodules and cysts, thyroid cancer, or if you've had your thyroid removed.
A step-by-step cheat sheet for each type of thyroid disease so you can have specific directions for your unique circumstances.
Module Seven: Faith-Based Treatment
This is an optional module, but one I felt important to include. As a Christian, my faith was an instrumental part of my healing journey.
How faith can carry you through even the darkest days of thyroid disease.
My favorite inspirational Bible verses and devotional books.
MY NO-RISK, MONEY-BACK GUARANTEE
This course is designed to teach you exactly what it takes to live a symptom-free life—so you can get your life back.
If you decide this isn't the right fit for you, email us within 14 days, fill out the paperwork we send you to help us understand why the the steps you took in this course didn't work and why it wasn't the solution to your problem (within the 14-day window), and we'll return your investment.
Plus, Receive These Bonuses!
Thyroid Support and Health includes plenty of bonuses to help you get even more out of this course. You'll get support from me, as well as additional materials to help you feel like your best self.
Bonus #1: Membership to a Private, Thyroid Health Facebook Group
This is the biggest bonus of them all! Here, we'll gather as a like-minded community to support and encourage one another.
You'll get access to my live weekly Facebook training where I'll take deeper dives into the course topics, do live Q/A's to answer all of your questions, and teach you how to make simple healing foods.
Bonus #2: How to Reduce Antibodies
If you struggle with Hashimoto's or Graves' you know that reducing antibodies can be such a complicated thing to figure out. In this bonus lesson, I give you simple steps you can take to support your immune system.
Bonus #3: Weight Loss and Thyroid Disease
Almost everyone with thyroid disease complains of extra weight. In this bonus, you'll discover the root cause of your extra weight as well as helpful tips to lose the weight without harsh restrictions or harmful crash diets.
Bonus #4: Anemia and Hypothyroidism
Anemia is a common issue for those with thyroid disease. This bonus lesson helps you understand how anemia is contributing to your thyroid disease and what to do about it.
Bonus #5: Thyroid Disease and Pregnancy
In this bonus lesson, you'll learn the steps you can take to support your body during pregnancy when you also have thyroid disease.
Bonus #6: What if I Don't Have a Thyroid?
If you're thinking, "Will this course be beneficial for me if I don't have a thyroid". The answer is "Yes!"
And, I'll also break things down for you in this bonus lesson so you can know exactly what steps you can take to reduce your symptoms and begin to feel better.
Bonus #7 – How Amalgam Fillings, Root Canals and Breast Implants Affect Your Thyroid and Immune System
Dental work, dental infections and breast implants can have a profound impact on your thyroid and immune system. In this bonus lesson, I'll walk you through how this works, give you specific steps you can take, and questions to talk to your practitioner about.
"After working with Carrie for just a few months, all of my symptoms have been relieved, I've lost 15 pounds and my life has returned to normal."
Get the step-by-step plan to feel better than you have in years… Even if you have no idea where to start.
Thyroid Support and Health is all about taking small steps and building on them over time. I hold your hand every step of the way, so you can make steady progress towards a symptom-free life.
Even better? I break down complex ideas into plain language so you won't feel like you need a medical degree to reap the benefits of this course.
But Carrie… I've tried everything already.
I hear you! If you've been suffering for months or years, it's completely natural to be hesitant about getting your hopes up again.
Let me try to ease your mind…
Fear #1: Aren't you just going to tell me to follow a strict diet?
This is the first question everyone asks because most people focus on how their diet affects their thyroid health.
But your diet is only one piece of the puzzle. (That's why you might feel better at the beginning of a diet, then slowly start feeling bad again.)
This course is different. It looks at your whole lifestyle. Not in a "change-everything-right-now" way but with small, practical steps that are simple yet effective.
Even better, you discover the food and lifestyle changes specific to YOU, based on your specific symptoms.
Fear #2: Won't I still be trying to figure it all out on my own?
Absolutely not. Even though this course is self-paced, you'll get exclusive access to my private Facebook community. That's where you'll get weekly, live training from me, as well as support from others who are on a healing journey just like you. When it comes to putting the pieces of the puzzle together, you're not alone.
Fear #3: What if I get overwhelmed and can't stick with it?
If you've been doing your research, you've probably walked away frustrated and confused from information overload.
And even though I could talk about this stuff for days, I don't. (Promise!) I give you small, practical steps to get your health back on track. That's all it takes.
This all sounds great...but what kind of results can I expect? Here's just a taste of how far my clients have come
(without overwhelm or drastic diet restrictions):
"After 3 months of following Carrie's protocol, my TSH went from 98 to 6.95! This was even without medications! My antibodies also reduced by 100 points. I'm thrilled at the progress I've seen so far!"
After years of not sleeping and continual anxiety, I started working with Carrie and just a few months later I'm sleeping like a baby and my anxiety is completely gone.
I worked with Carrie for a few months to help balance my thyroid, and was elated when my labs showed that my antibodies and RT3 levels had both reduced!
How much is thyroid disease costing you?
Beyond the money (which adds up!), thyroid disease is keeping you stuck on the sidelines of life.
You're tired of hearing your friends say, "I wish you had been there!" after a fun get-together.
It stings when your family comments on you curling up in your "comfy chair" again.
And you can't ignore it when you look in the mirror and see a faint shadow of your old self.
If you're at the end of your rope… If you want to get your life back … If you're finally ready to escape from this dark cloud and return to the sunshine… join me for this life-changing course.
When you enroll now, you'll get:
Instant Access to Thyroid Support and Health, including all 7 modules and with the tools you need to reduce your symptoms. Each module includes a video recording, cheat sheets, and more, so you can make progress without confusion.
Bonus #1: Complimentary membership to my private, thyroid health Facebook group.
Bonus #2: Weekly live training with me on our private Facebook page. You can come and ask me anything!
Bonus #3: Access to all of the bonus lessons to help you get even more out of this course. You'll get support from me, as well as additional materials to help you feel like your best self.
THYROID SUPPORT AND HEALTH IS FOR YOU IF:
You're searching for straightforward and practical steps for healing thyroid disease—without overwhelm…
You want a simple, step-by-step plan to follow (because you're tired of sifting through all the conflicting advice)…
You're ready to feel alive again—bursting with energy and enthusiasm for life…
You want to stop sounding like a broken record when people ask how you're feeling ("Just a little tired.")…
You're ready to release yourself from hours of online internet searches that leave you feeling more confused than ever…
You want to finally focus on something other than your health… like a vacation or dinner with friends or a movie night with the family…
But most of all, you just want to feel good again.
What this course is not:
Thyroid Support and Health is not a place for grumblers who complain about their health without taking action. You must take responsibility for your wellbeing and be willing to try new ways to heal. You'll get better results if you have an open mind and are committed to yourself.
This is NOT a quick fix. I can give you the tools but it's up to you to follow the steps I've outlined.
This is NOT a replacement for your primary healthcare provider. Always contact your doctor for all medical advice.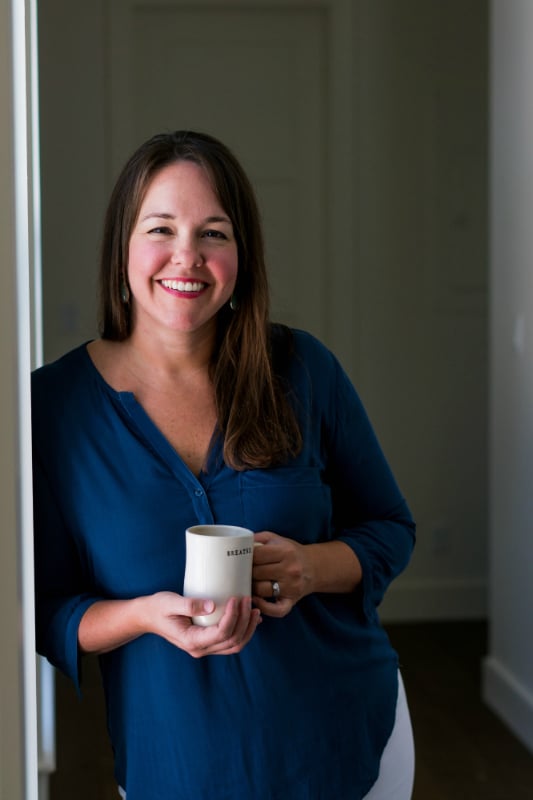 By the end of the thyroid support and health course, you'll be able to:
Clearly understand how your whole body affects your thyroid—so you can figure out the root cause of your symptoms (no more backsliding!).
Identify ways to dramatically decrease your stress (even when you're in pain or you can't sleep).
Understand which foods to avoid based on YOUR specific thyroid disease.
Interpret your thyroid labs so you can narrow in on the most beneficial routines and supplements for your body.
Know exactly what you need to do to balance your body once and for all. No more guesswork.
You'll go from feeling like you're stuck on the sidelines of life to feeling in control of your health and confident in your ability to live a symptom-free life, once and for all.
Results and Customer Testimonials
It's important to note that your results using this program may vary and are not guaranteed. Your results will be based on many variables, such as your level of effort, personal health, and a host of other factors. Since these factors differ for each individual, we cannot guarantee your success or results, nor are we responsible for your success or failure. The information provided in this program contains the opinions and experiences of its author, Carrie Vitt. This program is not intended to provide medical, health, or nutritional advice, and it should not be relied upon for that purpose. Always contact your doctor for all medical advice.
MY NO-RISK, MONEY-BACK GUARANTEE
This course is designed to teach you exactly what it takes to live a symptom-free life—so you can get your life back.
If you decide this isn't the right fit for you, email us within 14 days, fill out the paperwork we send you to help us understand why this course wasn't the solution to your problem (within the 14-day window), and we'll return your investment.