Deliciously Organic
Simple Dishes, Vibrant Flavors Everyone Will Love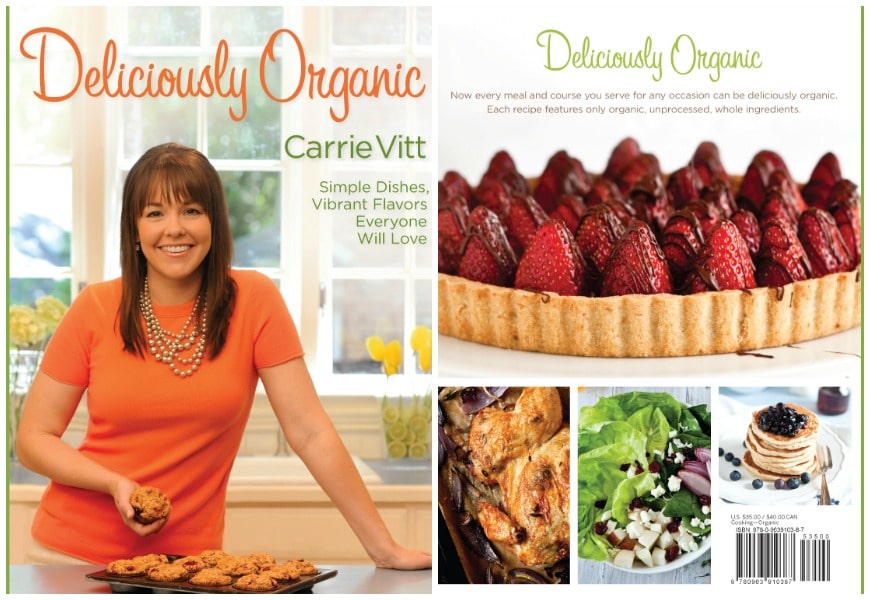 I wrote Deliciously Organic after overcoming chronic migraines with unprocessed, organic foods. In this book, I discuss the importance of eating a clean diet, how to make simple changes towards better health and share over 85 new recipes using only organic, unprocessed ingredients. There are over 100 full-page photographs to inspire, meal plan ideas and tips for leading a healthy life. Each recipe features only organic, unprocessed and whole ingredients that everyone will love, including kids and hard-to-please special guests.
Here's a sampling. . .
Breakfast/Brunch: Lemon Sour Cream Pancakes with Blueberry Puree; Strawberry Coconut Smoothie; Tomato Basil Quiche
Salads: Carrie's award-winning Roasted Red Onion and Pear Salad; Thai Steak Salad; Cherry Tomato Caper Salad
Sides: Spinach Madeline; Mexican Rice Casserole; Grilled Potatoes with Lemon Aioli
Entrees: Tuscan Lemon Chicken; Tuna Steaks with Avocado and Tomato Salsa; Cottage Pie (old favorite); Beef and Broccoli Stir-Fry
Desserts (when you want to splurge in moderation!): Whole Wheat Chocolate Chip Cookies (best ever!); Strawberry and Cream Tart; Creamy Lemon Ice Cream
Grain-Free Adaptations
Many asked for grain-free adaptions to the recipes in my book, Deliciously Organic so we now offer a free printable list of all of the adaptations! Recipes like Gingerbread Pancakes, Cheesy Jalapeno "Cornbread" and Raspberry Velvet Tart can all be made grain-free with our new Grain-Free Adaptations*. This is a list of adaptations, not full recipes. The recipes from the Deliciously Organic cookbook are needed in order to use this list of adaptations.
*A few of the recipes in the cookbook could not be adapted, such as the recipe for pasta and popcorn.