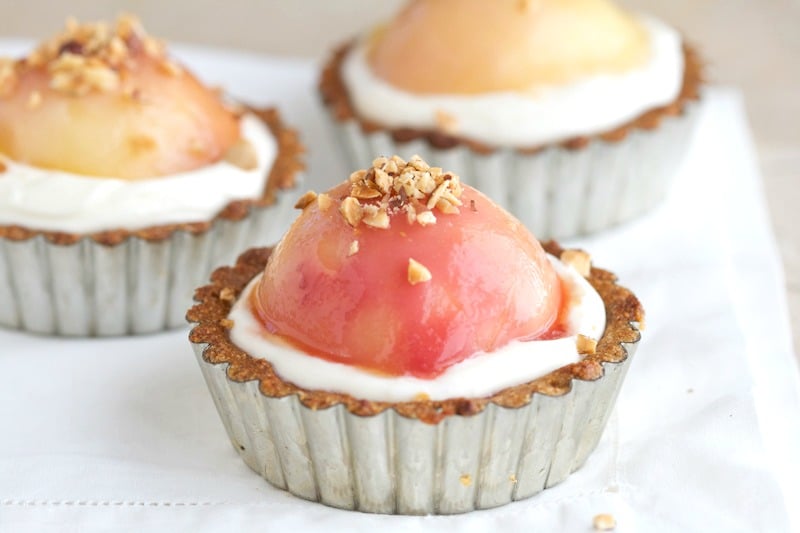 Sometimes, I want to get creative and whip up a beautiful, fancy dessert. Wonderful ripe stone fruits and berries abound this time of year and I love letting my imagination run wild creating beautiful tarts. Combine an easy crust, flavorful filling and bright fruit on top to make anyone's eyes dance.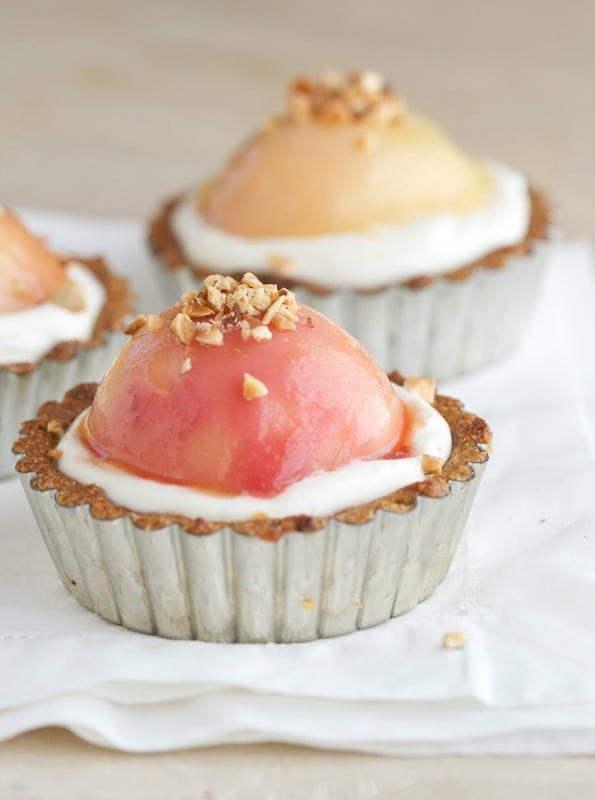 Creme fraiche is a favorite ingredient in my kitchen. It can be pricey at the store, so I make my own. I take 1 cup of heavy cream and combine it with 3 tablespoons buttermilk. Stir the mixture and leave it out on the counter for twenty-four hours. Stir it again, and store it in the refrigerator (it will keep for about 10 days). It's a nice substitution for sour cream, and is absolutely lovely with berries and stone fruits.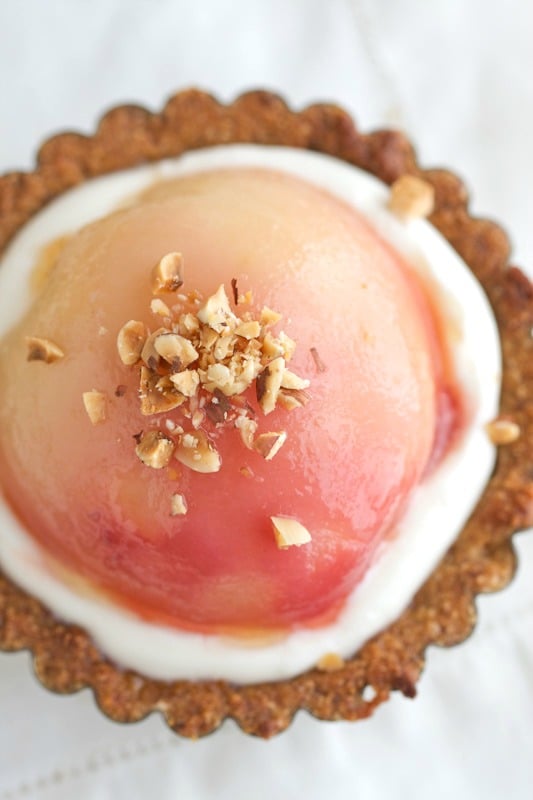 This dessert requires a few steps, but isn't too complicated. The crust and hazelnut frangipane can be made earlier in the day and the creme fraiche mixture whipped just before serving.
Serves: Makes one 9-inch tart (or five 4-inch tartlets)
Hazelnut Frangipane Tart with Peaches and Creme Fraiche (Grain Free)
I used soaked and dehydrated hazelnuts in this tart. Hazlenuts contain phytates that can be reduced by soaking in salt water. You can substitute the hazelnuts with almonds. As with all desserts, enjoy in moderation.
Adapted from Martha Stewart Living.
Ingredients
For the crust:

2 cups almond flour
1 teaspoon coconut flour
1/4 cup honey (I used clover)
1/2 teaspoon unflavored gelatin (I prefer Bernard Jensen )
3/4 teaspoon Celtic sea salt
1 stick unsalted butter, cold, cut into tablespoons

For the hazelnut filling:

1/3 cup plus 2 tablespoons dehydrated (or toasted) hazelnuts, skins removed, divided
1 teaspoon coconut flour
1/4 teaspoon Celtic sea salt
4 tablespoons unsalted butter, room temperature
3 tablespoons honey (I used clover)
1 large egg

For the Whipped Creme Fraiche:

1/2 cup heavy cream (you can substitute with whipped coconut milk )
2 tablespoons honey (I used clover)
1/2 teaspoon vanilla extract
3/4 cup creme fraiche (see recipe above in the post)

For the peaches:

3 peaches, skins removed, cut in half, pits removed ( click here for a step-by-step video)
3 tablespoons apricot jam or orange marmalade
1 tablespoon lemon juice
Instructions
Preheat oven to 350ºF and adjust rack to middle position. Place almond meal, coconut flour, honey, gelatin, and sea salt in the bowl of a food processor. Pulse 4-5 times to combine. Add butter and pulse until dough comes together, about 15 one-second pulses. Press dough on bottom and up sides of a 9-inch buttered tart pan with removable bottom. Bake for 12 minutes. Cool.
Wipe out food processor with a cloth or paper towel. Place 1/3 cup hazelnuts, coconut flour and salt in the bowl of the food processor and process until finely ground. Place butter and honey in the bowl of a standing mixer. Using the beater attachment, mix the butter and honey on medium speed until pale and creamy, about 1 minute. Beat in egg. Add hazelnut mixture and beat on low until incorporated. Spoon mixture into cooled tart crust. Bake for 15 minutes, until set. Let cool.
Just before serving, beat the cream, honey and vanilla until soft peaks form. Fold in creme fraiche. Pour creme fraiche mixture over cooled tart. Top with peaches. Place jam and lemon juice in a small sauce pan and heat over low. Using a pastry brush, lightly brush the peaches with the jam mixture (this will keep the peaches from turning brown, and give them a glossy look). Finely chop remaining 2 tablespoons hazelnuts and sprinkle over tart. Serve cold.
7.8.1.2
3356
https://deliciouslyorganic.net/peach-hazelnut-frangipane-tart-recipe-grain-free/
Copyright 2016 Deliciously Organic