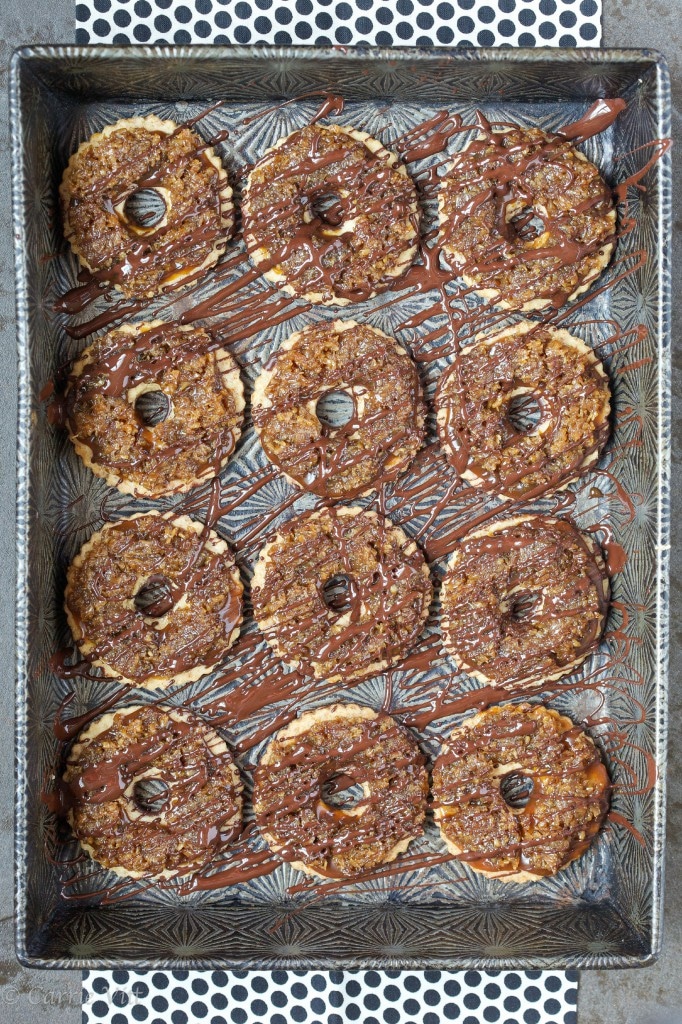 Today, we close our Unprocessed Kitchen series. Over the last two months, we've discussed cookware, bakeware, soups, salads, meats, beverages, baby formula, fermented foods, breads, sugars, the GAPS diet, reading the labels, and how to change to unprocessed foods. I think it's important to remember that eating an unprocessed, organic diet doesn't have to mean giving up the foods many of us grew up eating. While it's very important to eat sweets and treats in moderation, I'm a firm believer that you can recreate your favorite processed foods using unprocessed ingredients. Here are a few of my favorites I've published over the years on this site:
Chia Seed Pudding
Pecan Pie
Homemade Mocha Frappe
Hazelnut Frangipane Tart with Peaches and Creme Fraiche
Coconut Cake with Lemon Curd and Whipped Cream
Chocolate Chip Walnut Blondies
Recently, I've missed Girl Scout Cookies. The little girl in her green vest, the excitement in her eyes when you place an order, and of course, your favorite little sweets arriving a few weeks later on your doorstep. A few years ago, we stopped ordering because of the unhealthy oils, GMOs, preservatives, etc. in the cookies. My favorite has always been the little shortbread cookie topped with chewy caramel, coconut and smooth chocolate. Now we can enjoy an iconic favorite with more wholesome ingredients.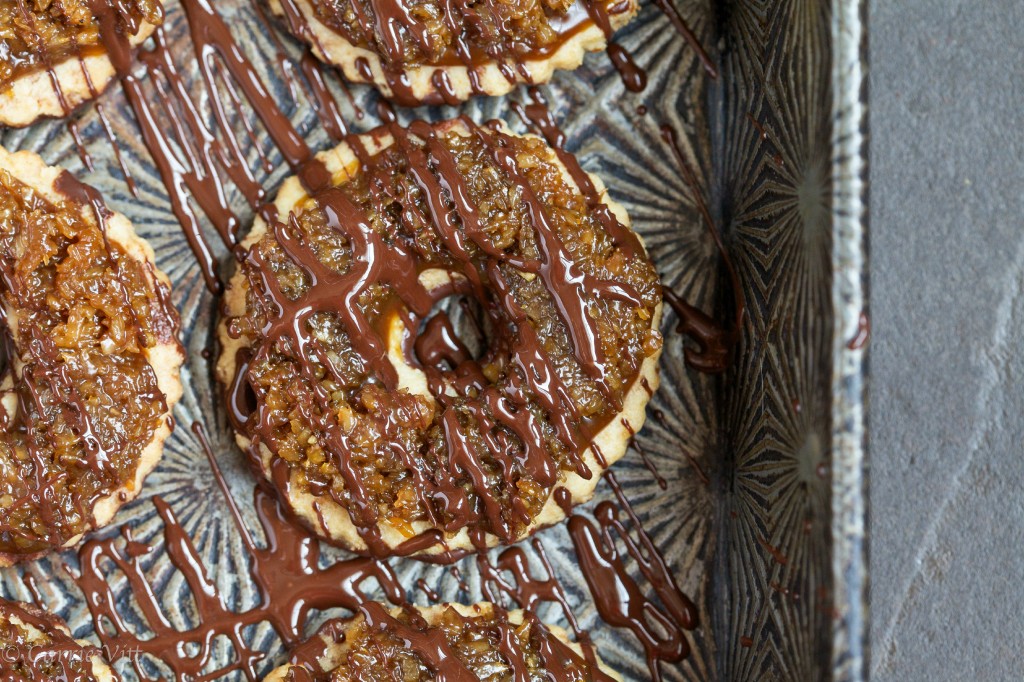 Serves: Makes about twenty-two 2 1/2-inch cookies
Homemade "Samoas" (Grain Free, Paleo, Primal)
This recipe is a bit more hands-on than some, but it's such a fun little project. If you want to simplify things, you can skip the "dipping the cookies in the chocolate" step, or not cut out a small hole in the center of the cookie (this makes for easier spreading of the coconut and caramel). I used coconut sugar in this recipe because it has a lower glycemic index than other less processed sugars. You can substitute the coconut sugar for sucanat.
Ingredients
For the cookie dough:

2 cups almond flour
2 tablespoons coconut flour
1/2 cup organic coconut sugar or sucanat
1/2 teaspoon unflavored gelatin (I prefer Bernard Jensen or Great Lakes )
1 teaspoon arrowroot flour
3/4 teaspoon Celtic sea salt
1 stick unsalted butter, cold, cut into tablespoons (or 6 tablespoons of cold coconut oil for Paleo and dairy free)

For the Caramel:

1/2 cup water
1 cup coconut sugar or sucanat
1 cup heavy cream or coconut milk
1 teaspoon vanilla extract
1 1/2 cups unsweetened flaked coconut, toasted

For the Chocolate:

8 ounces bittersweet chocolate, melted (I prefer Trader Joe's or Equal Exchange chocolate because they don't contain soy)
2 teaspoons coconut oil
Instructions
Place almond flour, coconut flour, coconut sugar, gelatin, arrowroot and sea salt in the bowl of a food processor. Pulse 2-3 times to combine. Add butter and process until dough forms a ball. ?Form dough into a 9-inch flat disk. Wrap tightly (I like to use a layer of parchment paper and then plastic wrap). Refrigerate for 1 hour.
Preheat oven to 350 degrees F and adjust rack to middle position. Dust a large surface with a bit of arrowroot and roll out to 1/4-inch thick. Cut cookies with a round 2 1/2-inch round cookie cutter and then cut out the center with a small 1/2-inch round cookie cutter (I used the back end of a piping tip ) and carefully transfer cookies to a baking sheet lined with parchment paper. Bake for 9-10 minutes, until just turning golden brown on the edges. Cool completely.
Meanwhile, pour water and coconut sugar in a medium saucepan. Bring to a boil over high heat and then reduce to medium-high. Simmer sugar mixture until it reaches 270 degrees F (do not constantly stir the mixture while it simmers, this will cause the caramel to be grainy). While sugar mixture is simmering, pour cream in a small saucepan and bring to a low simmer. When sugar mixture reaches 270 degrees F, slowly pour hot cream into sugar mixture (it will bubble a bit). Whisk the caramel and continue to cook for about 1 minute, until smooth. Remove from heat and whisk in vanilla extract. Pour 1/2 cup of the caramel into a measuring cup and pour the rest of the caramel into a medium bowl. Stir toasted coconut into the caramel that is in the medium bowl.
Stir together the melted chocolate and coconut oil until smooth. Using your hands, dip the bottom of each cookie into the chocolate mixture. Quickly flip each cookie with your hands and place chocolate-side up on a cooling rack. Repeat with remaining cookies. Place chocolate-dipped cookies in the freezer for 5 minutes (this will help the chocolate firm up quickly).
When chocolate is firm, turn each cookie over. Carefully spread a small amount of caramel on each cookie (using the caramel in the measuring cup). Let the cookies sit for 10 minutes. Then, spoon about 1 1/2 teaspoons of the coconut mixture onto each cookie (I used a very small spoon for this step). Drizzle chocolate over cookies. Store in the refrigerator in an airtight container for up to 3 days.
7.8.1.2
3342
https://deliciouslyorganic.net/homemade-samoas-grain-free-paleo/
Copyright 2016 Deliciously Organic
take part
//