There are so many benefits of red light therapy and it can be especially helpful for the thyroid.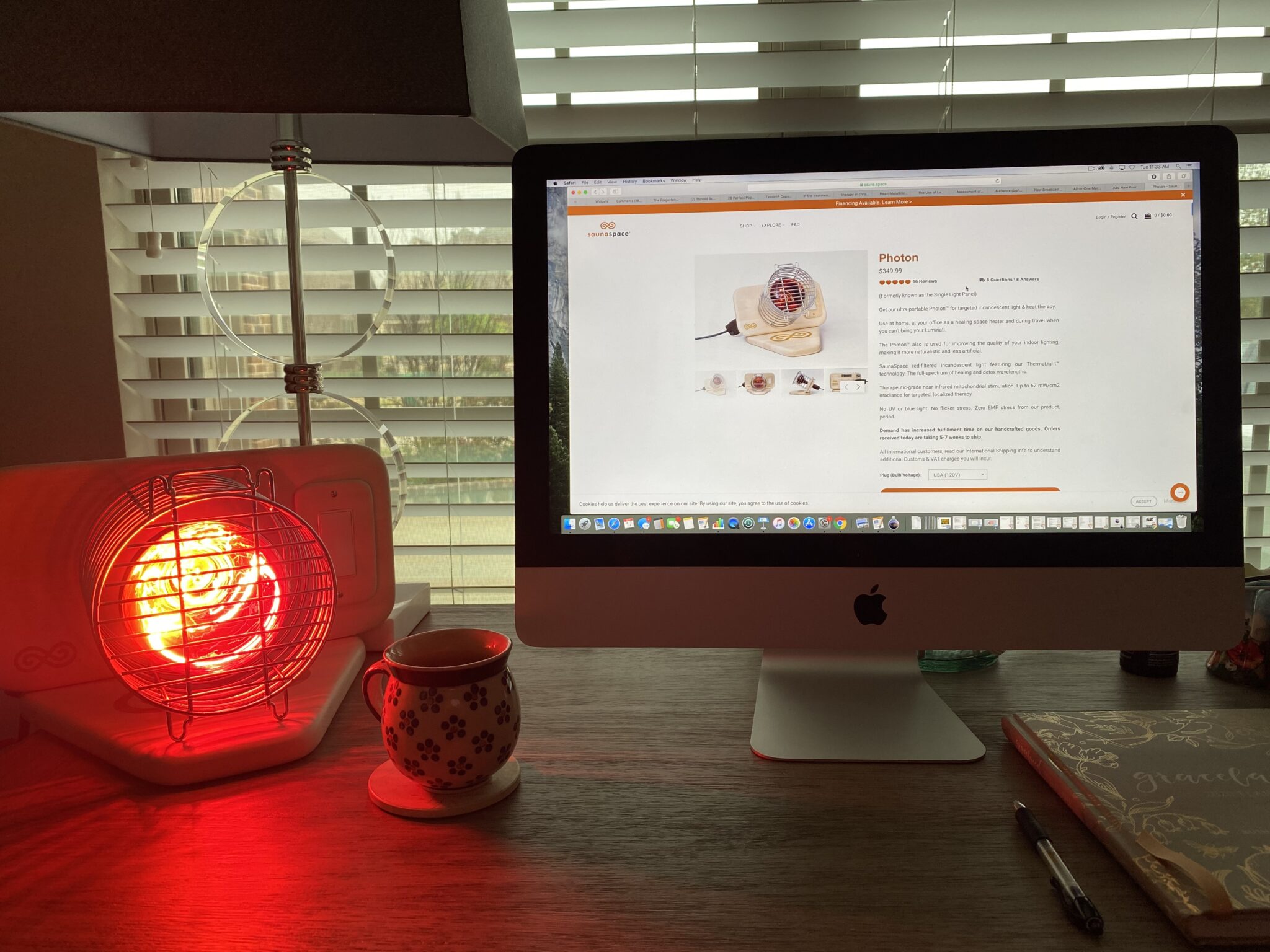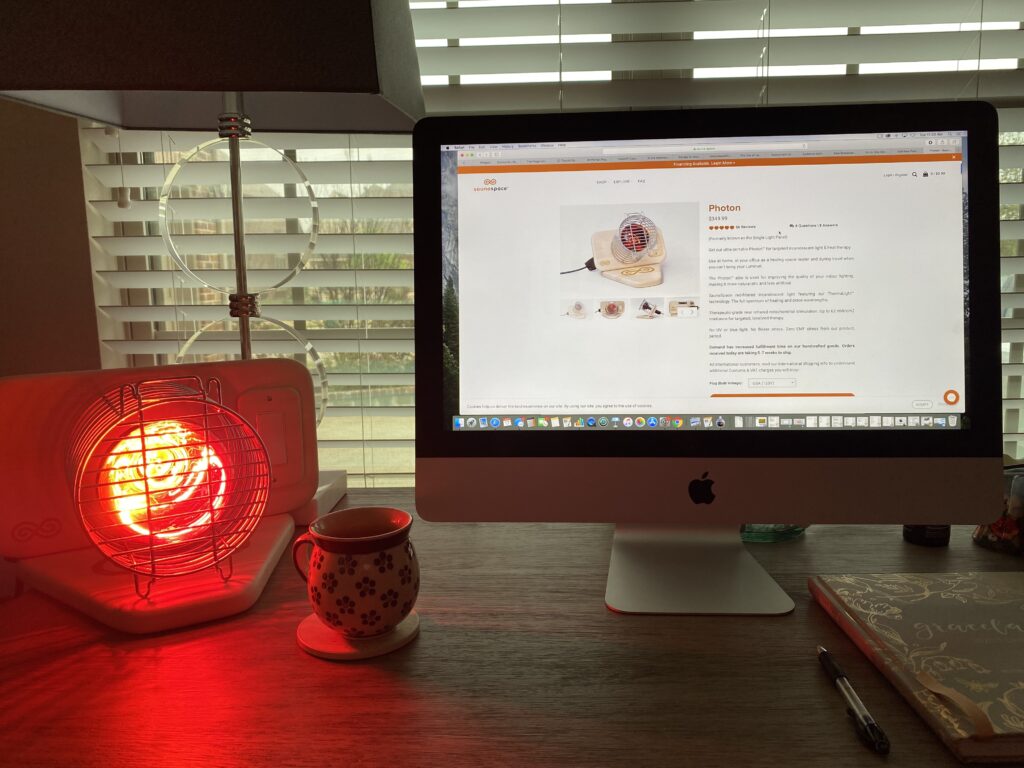 What is Red Light Therapy?
Red light therapy, also called low level laser therapy (LLLT) or photobiomodulation. LLLT is a low intensity light therapy that triggers biochemical changes within cells and can be compared to the process of photosynthesis in plants, where the photons are absorbed by cellular photoreceptors and trigger chemical changes.
The light used for LLLT is a wavelength in the red to near infrared spectrum (600 – 1000nm) and has the ability to penetrate the skin and soft/hard tissues, and can help with pain, inflammation and tissue repair. It has also been shown to help accelerate the body's ability to heal itself.
Studies have shown that the skin responds well to red and near-infrared wavelengths and can be helpful for issues such as acne scars, wound healing, vitiligo, psoriasis, wrinkles, pain and stiffness, blood circulation, musculoskeletal pain, psychiatric disorders, and fatigue from rheumatoid arthritis.
How Can Red Light Therapy Help Your Thyroid?
Exciting research has shown that red light therapy (aka LLLT) can be helpful for the thyroid. 
This placebo-controlled clinical trial showed how LLLT was effective at improving thyroid function (increased production of T4) and helped reduce autoimmunity by lowering thyroid peroxidase antibodies (TPOab).  
Another study concluded as well that "the preliminary results indicate that LLLT promotes the improvement of thyroid function, as patients experienced a decreased need for LT4, a reduction in TPOAb levels, and an increase in parenchymal echogenicity."
This study shows how LLLT improves the function of the thyroid tissues.
A long-term follow-up study concluded that LLLT has been deemed safe for the treatment of hypothyroidism that is caused by autoimmune thyroiditis.
Additionally, this study showed how LLLT can create a "significant increase in serum TGF-β1 levels 30 days post-intervention in the PBM group, thus confirming the anti-inflammatory effect."
Not only can it improve the health of the thyroid, but science has shown near-infrared light therapy to be one of the most effective approaches to aid the body in healing itself from the type of mitochondrial dysfunction caused by EMF.
To sum things up, red light therapy can help increase T4 production, reduce TPO antibodies, reduce inflammation, improve thyroid function, and heal from mitochondrial dysfunction from EMFs. How amazing is that?!
The Red Light I Recommend and How To Use It:
I've been using the SaunaSpace near-infrared sauna for many years and have found it incredibly helpful. Last fall I purchased their red photon light and have been using it at my desk for the last few months and I highly recommend it!
Their handcrafted Theralight infrared bulb delivers 2-4x more red and near-infrared radiance than any bulb currently on the market.  While many red light therapy products emit harmful radiation, SaunaSpace has crafted their photon light to ensure there are ZERO magnetic fields and ZERO electric fields that could put stress on your body.
Every photo light that they make is tested with the Geovitals EM filed probe. You can read more about this here.
I also like that the SaunaSpace red photon light is an affordable alternative to a sauna and portable.
To use the red photon light specifically for the thyroid, I recommend sitting in front of the light so that it shines on your face and neck for about 20 minutes a day. You can use it for longer than 20-30 minutes a day if you prefer.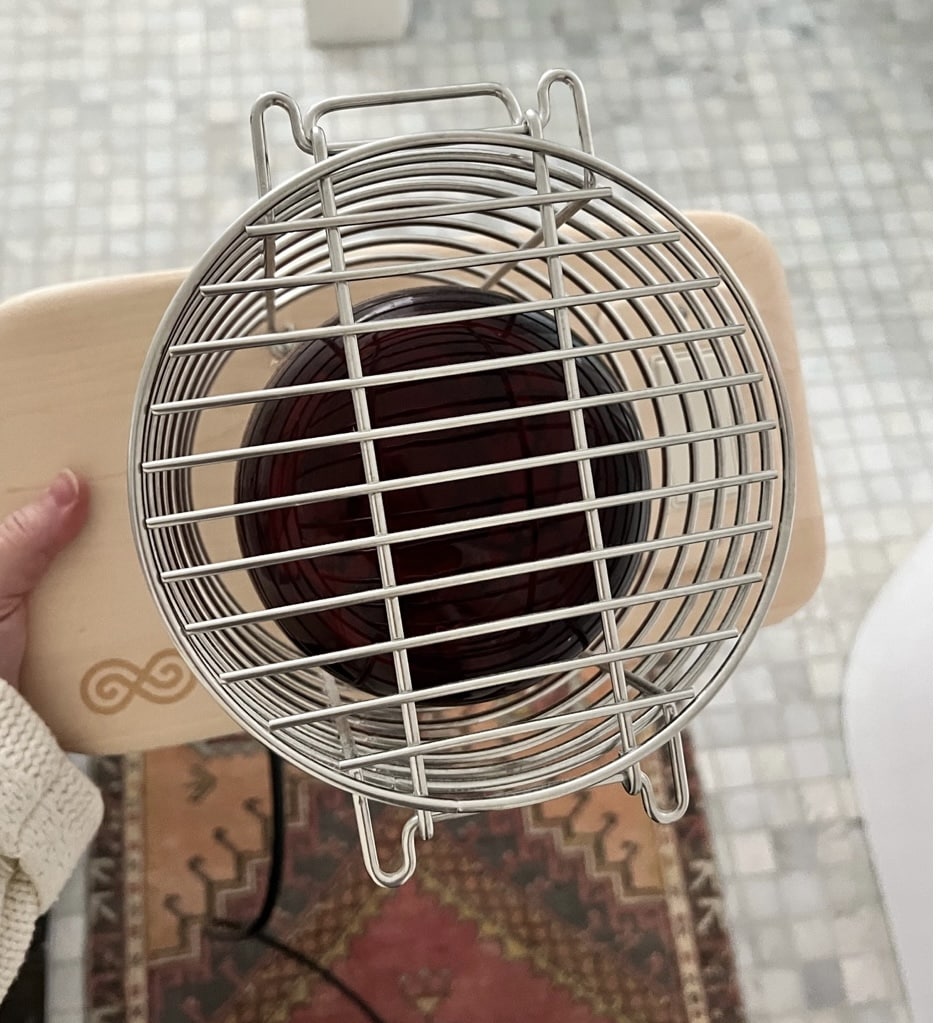 One of the easiest options is a desktop red light that you can use at your desk, on your nightstand, or anywhere else in your home. You simply sit in front of the light while doing work, reading, or lying in bed. You can also turn on the red light at the end of the day to help provide a comfortable light that has soothing effects on the nervous system and helps keep melatonin levels balanced for a healthy sleep and wake cycle. 
I have the photon light at my desk pointed directly at my face while I work on the computer. The computer (as well as tablets, phones, TVs, etc.) emits blue light which can damage the cells of the body, suppress melatonin production and its flickering effects can cause eyestrain, headaches and fatigue, so having the light on when I work helps counter these effects.
Before using the red light at my desk, I felt very drained after working just a couple of hours on the computer. However, I'm happy to say the photon light helps me feel energized instead of tired.
Another added benefit to the photon red light – improved eyesight!
When I use the red light in the morning, it helps improve my eyesight. I know this sounds crazy, but on days that I use the red light (or their sauna) I don't need to use my reading glasses. I couldn't figure out why this was happening, and then I learned that The University College London found that declining eyesight is improved by looking at deep red light for those 40 and over. How amazing is that?! I wasn't crazy after all!
If you're looking to add an easy therapy to your daily routine, red light therapy is definitely a great option!
I contacted SaunaSpace and asked them if they could offer a coupon code for you and they agreed! Use the code ORGANIC5 to save 5% off anything on their site.