This blog is 8 years old! I can hardly believe it! As I sat down to write my annual back-to-school post, I realized I've written several times about food, snacks, lunch gear, etc. This year I wanted to add a bit of a twist. Instead of talking food, let's look at another way we can help keep our kids healthy and vibrant throughout the school year.
Essential oils are a great tool to use alongside a nutrient-dense diet, sleep, stress reduction, etc. to keep our bodies healthy, so I thought I'd share some of my favorite essential oils for back-to-school. Let's dive in!
Here are my top 11 back-to-school oils and blends:
For daily immune support – Frankincense, OnGuard, Melaleuca, and Lemon is one of the best immune-supporting blends I know of. You can put 10 drops of each into a 10ml glass roller ball, top it off with fractionated coconut oil and then apply to the soles of the feet 2x a day.
If your kid isn't feeling well – Add 10 drops of Oregano to the immune support blend mentioned above and apply to the feet 2x a day until they're feeling 100%.
Respiratory support – if your kid gets the sniffles or a cough when they come in contact with environmental threats, a blend of: Frankincense, Breathe, Lemon, Peppermint and Lavender is one of the best ways I know to support the respiratory system. My daughter gets puffy-eyed and a sniffly nose when she's around dogs, and this blend keeps her from these occasional symptoms!
The Happy Blend – Do your kids ever wake up grumpy or come home a bit frustrated? Try diffusing Balance, Serenity and Wild Orange into the air and watch the smiles come back.
The Homework Blend – My girls are both teenagers, and homework can be a challenge at the end of a long day! We diffuse Wild Orange and Peppermint at their desks to help them stay focused and alert.
Stress Relief – This one is for the kids and parents! Rub 1 drop each of Serenity and Lavender on your feet or neck and feel the stress start to melt away.
For the occasional upset stomach – Rub a drop of DigestZen on the stomach. I don't go anywhere without this blend!
For first aid – Use a drop of Lavender and rub it directly on the occasional cut or scrape. Dilute with fractionated coconut oil if you prefer.
For a good night's sleep – With all the hustle and bustle a new school year brings, it can be challenging to fall asleep sometimes! We love to diffuse Serenity and Vetiver in the room while sleeping. You can also rub a drop of each on the soles of your feet before bed.
For the occasional headache – Rub one drop of Peppermint on the area of concern.
For sore muscles – Rub a drop of Deep Blue right on the area of concern. This oil works like a dream!
If your kids are older, you can also send them with a travel pack of essential oils, so they always have what they need on hand. Below is a picture of the oils my daughters like to carry in their backpacks.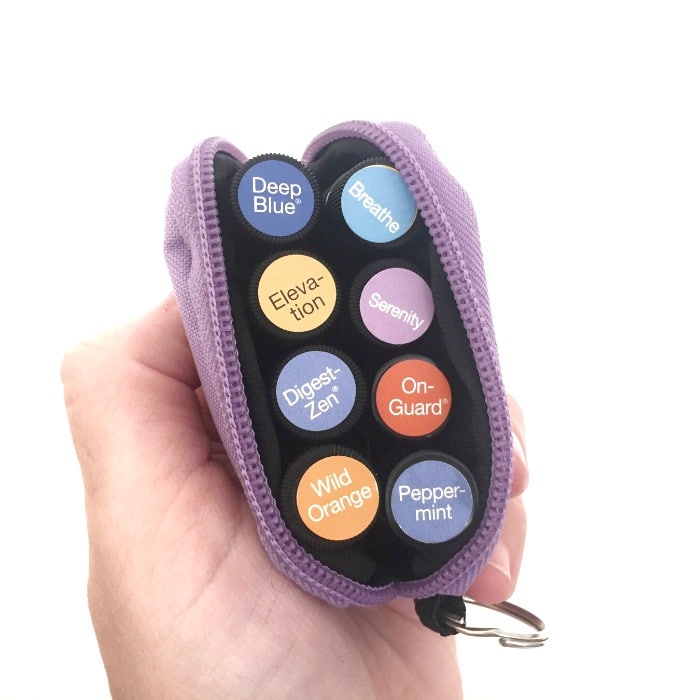 If you want more information about how to use essential oils, click here to download my "50 Practical Ways to Use Essential Oils" cheat sheet.