Fermented Sourdough Chocolate Cake is easy to make, contains all the goodness of sourdough and is a perfectly sweet way to end a meal. Now you really can have your cake and eat it too!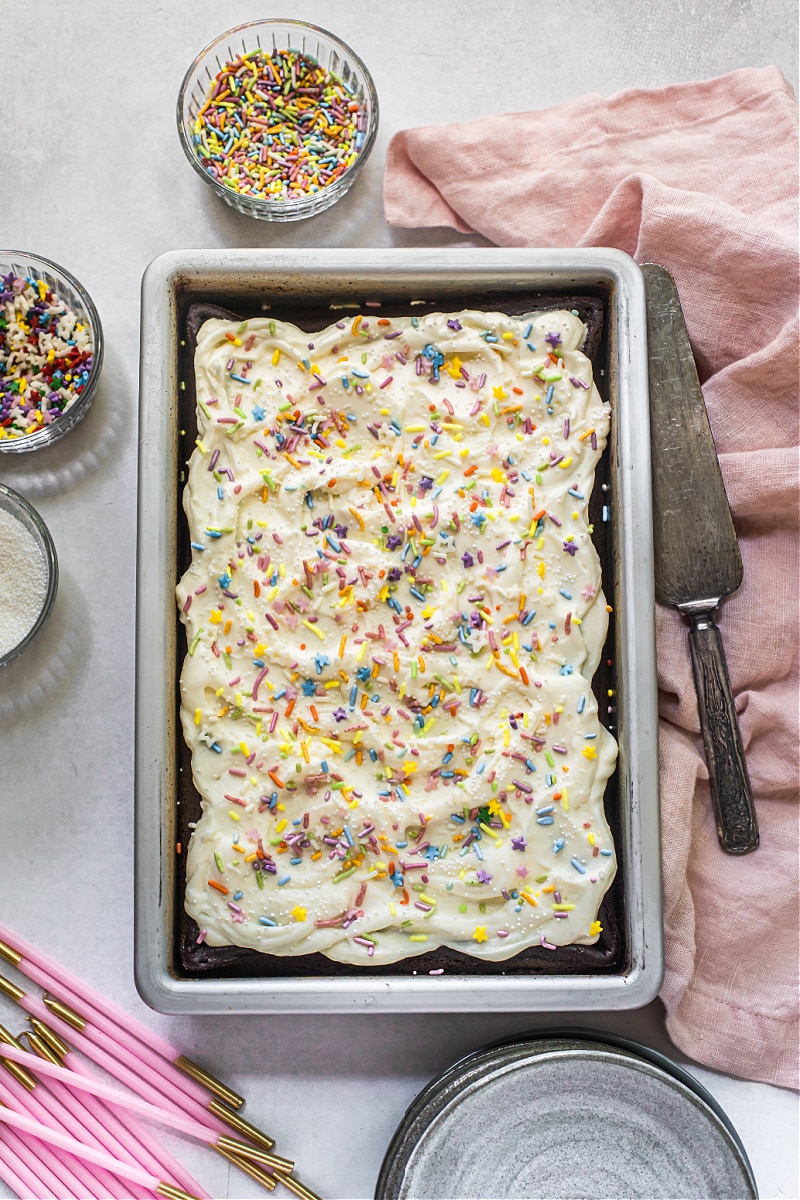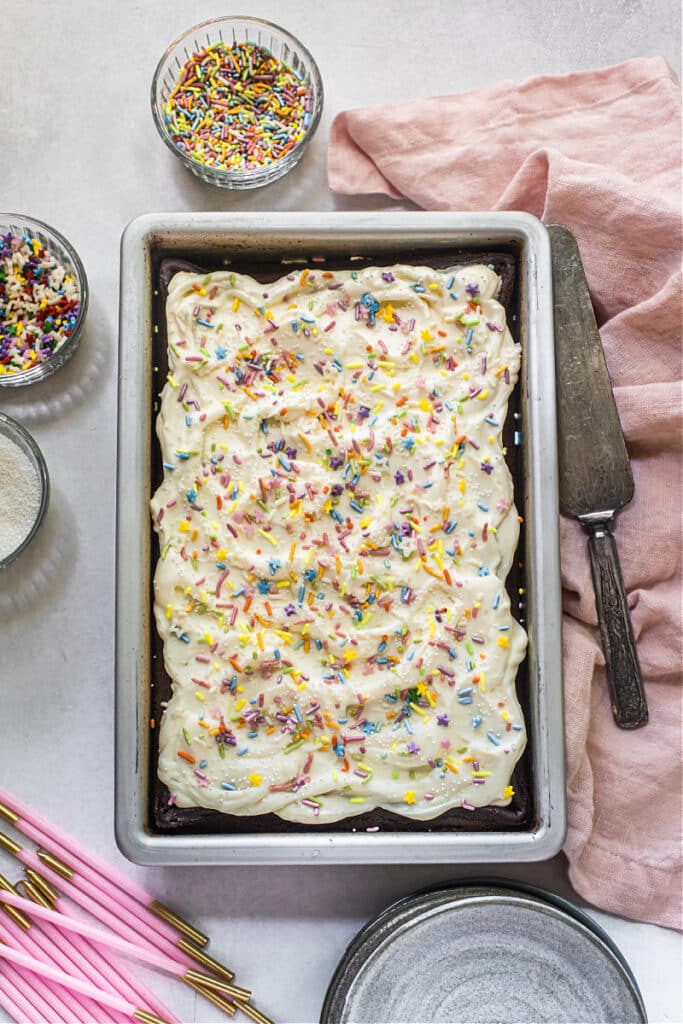 This week marks 15 years of Deliciously Organic! I honestly can't believe that I have had the privilege of sharing recipes and health advice with you for so many years. It's been an absolute joy and so, so much fun!
Throughout the years, when I've celebrated here on the site, it's always involved chocolate cake. So, today I'm bringing you a recipe for fermented sourdough chocolate cake.
Whenever I post anything with sourdough, I get lots of questions about why I'm sharing a recipe that contains gluten. So, let's cover the FAQ on this topic, shall we?!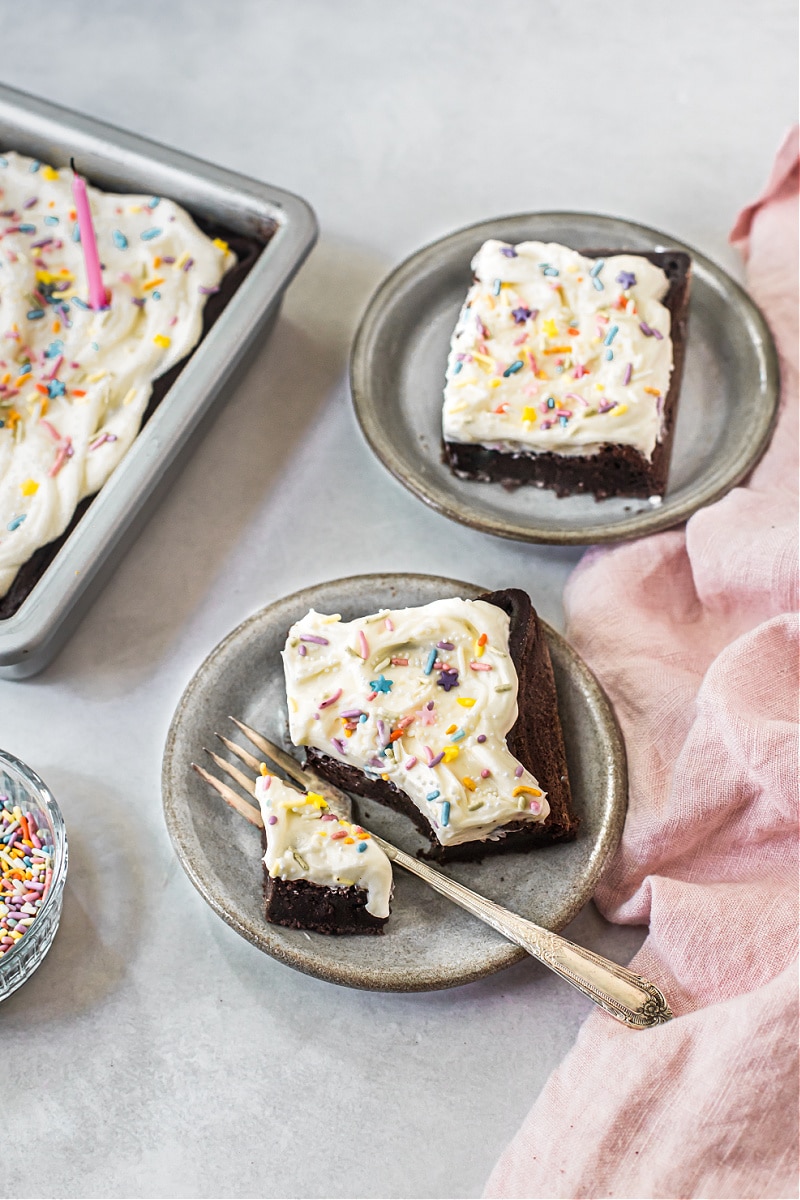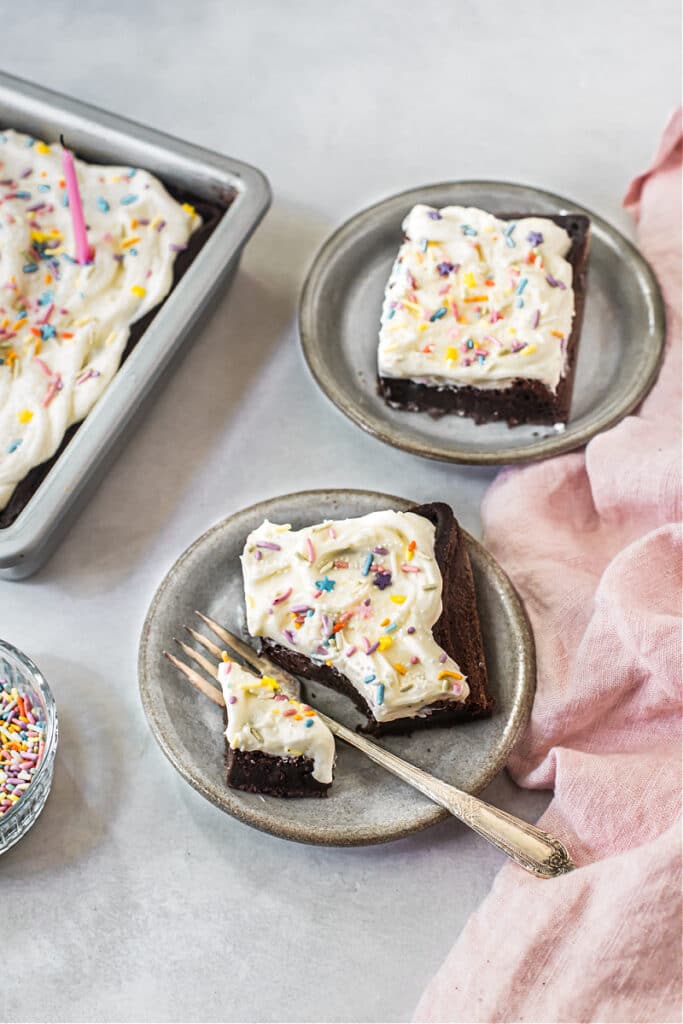 Why do I recommend eating fermented sourdough and why can it be a healthy choice? 
The process of slow fermentation allows the bacteria to break down the carbohydrates and gluten and also neutralizes the phytic acid, making it easier for the body to digest. And, sourdough bread contains healthy resistant starch and doesn't raise blood glucose levels as much as conventional wheat bread.
To learn more about the science behind fermenting bread, check out this podcast. 
Can I eat fermented sourdough if I have a gluten sensitivity? 
Fermented sourdough bread can often be tolerated by those with gluten sensitivities and can be a good first bread to try after you've been avoiding grains for a long period of time. Keep in mind a gluten sensitivity is very different than a gluten allergy.
If you don't have a sourdough starter going yet, here is an easy recipe and step-by-step instructions for you.
Should I eat fermented sourdough if I have thyroid autoimmunity and when could I add it back? 
As I've mentioned before, a grain-free diet isn't meant to be lifelong. As a rule of thumb, once your symptoms have greatly improved, all gut issues are cleared, and antibodies are back to optimal ranges, then it can be a good time to slowly add properly prepared grains back into your diet with the help of your nutritionist or holistic practitioner.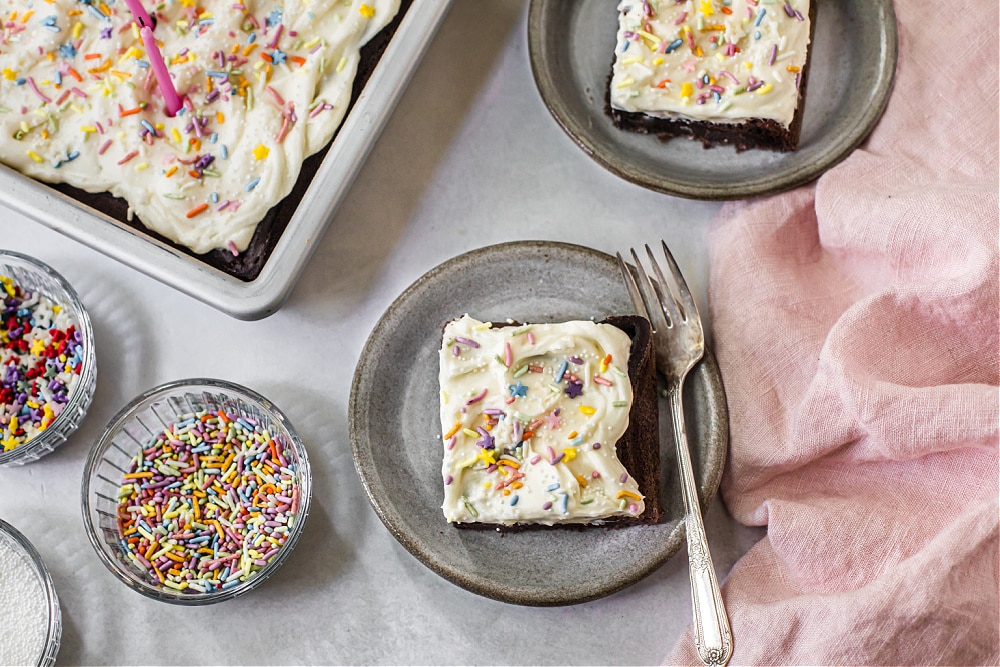 You can eat this cake by itself, or top it with any kind of frosting that you'd like. I included my favorite vanilla buttercream recipe (it's super indulgent!). And, here's my favorite recipe for a quick chocolate frosting. Enjoy!
Print
Fermented Sourdough Chocolate Cake
Sourdough recipes are traditionally written in grams for accuracy. Measuring is super simple. Just put a bowl on top of a kitchen scale and you're good to go!
Author: Deliciously Organic
Prep Time:

10

Cook Time:

45

Total Time:

24 hours

Yield:

one 11x7 cake

Category:

dessert
The day before you want to bake the cake:
114 grams unsalted butter, melted
240 grams sourdough starter
192 grams organic all-purpose flour
118 grams organic cane sugar
68g cocoa powder
240 grams buttermilk
The next day:
4 grams Celtic sea salt
11 grams vanilla extract
10 grams baking soda
2 large eggs, room temperature
160g sour cream, room temperature
3 grams instant decaf coffee (optional, but adds loads of flavor!)
For the Vanilla Buttercream (our use your favorite frosting recipe):
4 large eggs
1/2 cup maple syrup or honey
2 teaspoons vanilla extract
pinch of sea salt
1 pound unsalted butter, softened, each stick cut into tablespoons
Instructions
Place the butter, starter, flour, sugar, cocoa powder and buttermilk in a large bowl and stir until combined. Cover tightly with plastic wrap and place in fridge overnight to ferment.
The following day, remove the sourdough mixture from the fridge and let it come to room temperature, about 5 hours.
Preheat the oven to 350ºF and adjust the rack to the middle position.
Combine celtic sea salt, vanilla, baking soda, eggs, sour cream and instant coffee in a medium bowl. Add to the sourdough mixture and stir until smooth and combined. Pour the batter into a buttered 11×7" ceramic or glass baking dish. Bake for 40-45 minutes, until cake tester comes out clean. Cool completely.
Top with vanilla buttercream frosting, your favorite frosting recipe, or serve by itself.
For the buttercream: In the bowl of a standing mixer, combine eggs, maple syrup or honey, vanilla and pinch of salt. Set the bowl over a pot of simmering water. Whisk constantly until the mixture reaches 160 degrees, about 5 minutes. Pour into the bowl of a standing mixer. Beat egg mixture on medium-high with whisk attachment until light and billowy, about 8 minutes. Reduce the speed to medium and add butter one tablespoon at a time. When all of the butter is added, turn off the mixer and scrape down the sides of the bowl (at this point the buttercream might look curdled, but don't worry, it will turn creamy). Whisk the entire mixture for 1 minute on high until light and fluffy. Frost the cake and enjoy!
Keywords: sourdough chocolate cake