Fermented Sourdough Banana Zucchini Muffins are super easy to make, freeze well and are a delicious way to get your day going!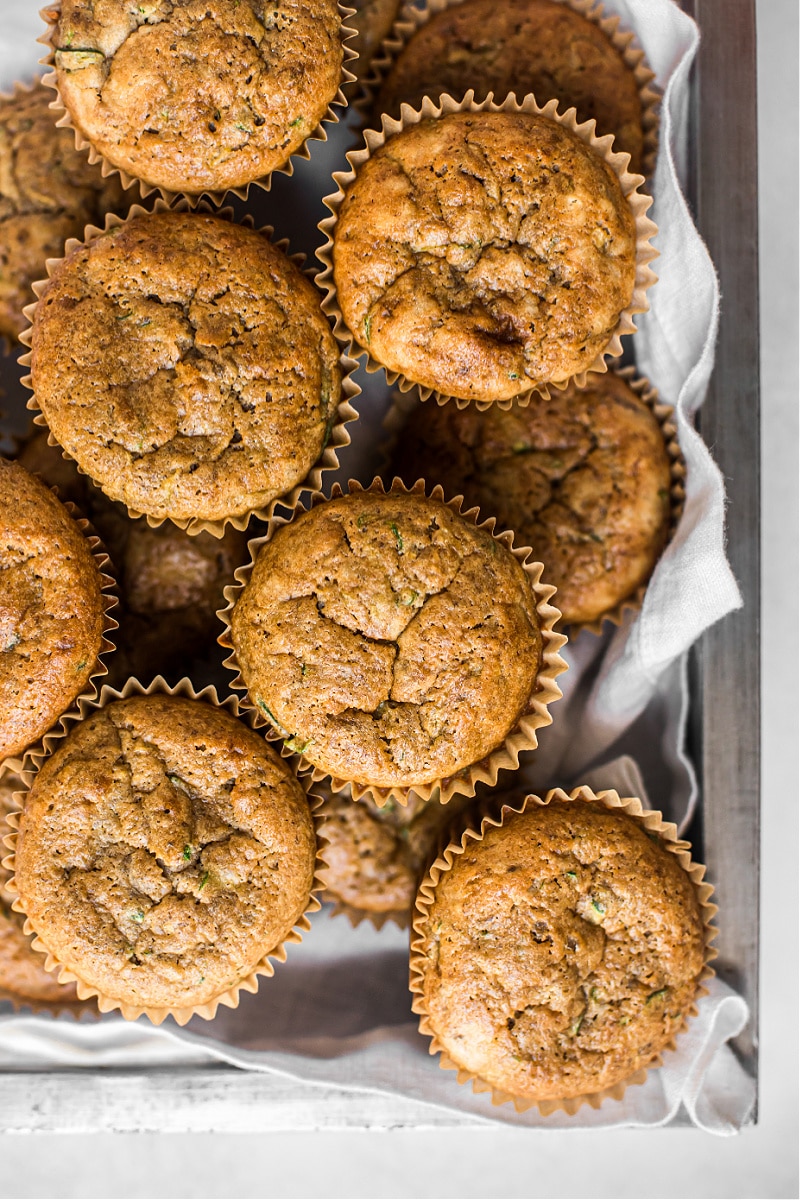 If you can tolerate properly prepared grains, then fermented sourdough can be a healthy option.
Did you know that forty-eight hours of slow fermentation will destroy 97% of all the gluten in the bread? The fermentation process also breaks down the sugars and contains probiotics. How amazing is that?!
To learn more about the science behind fermenting bread, check out this podcast. 
So while this recipe contains sugars and gluten, these things are broken down during the fermentation process making it easier to digest and a much healthier option.
If you need an easy sourdough starter recipe, so here is a step-by-step tutorial along with printable instructions!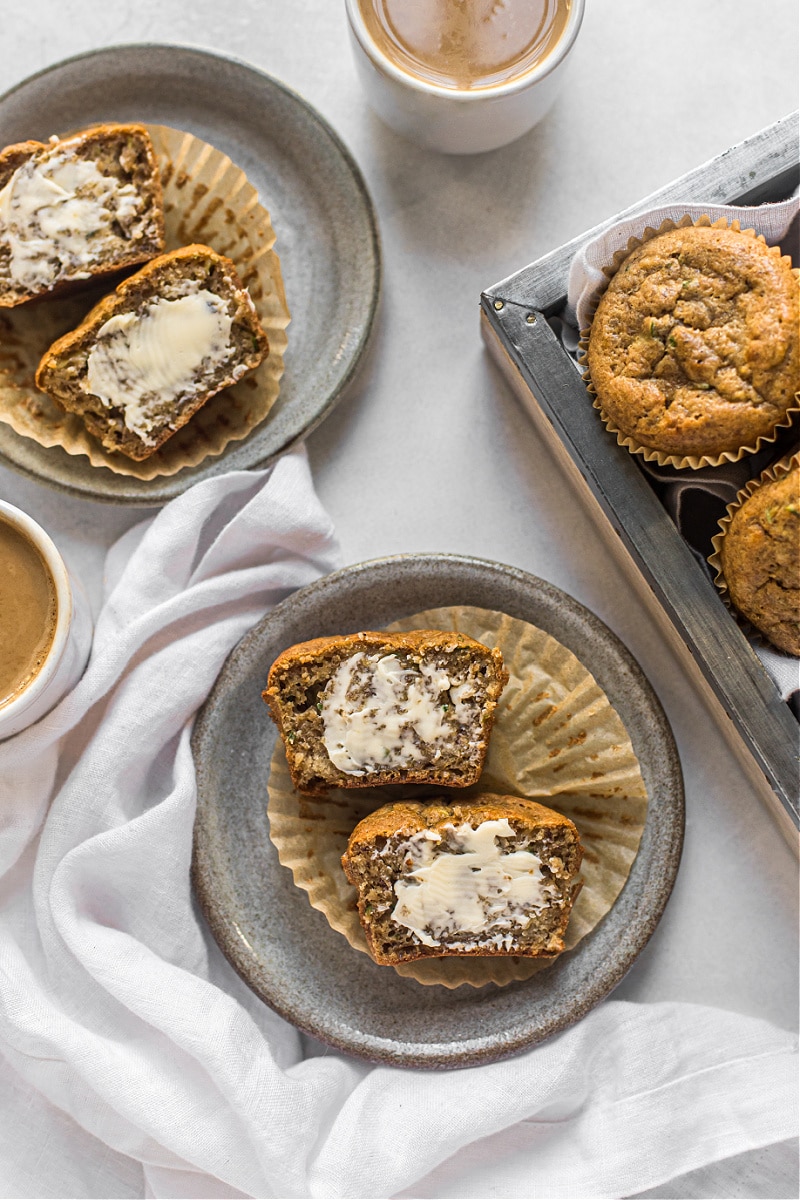 As I've mentioned before, a grain-free diet isn't meant to be lifelong. Once you've taken the proper steps to heal, you can slowly add properly prepared grains back into your diet with the help of your nutritionist or holistic practitioner.
This was a goal of mine when I was going through my healing journey, and was thankfully able to add back this kind of food!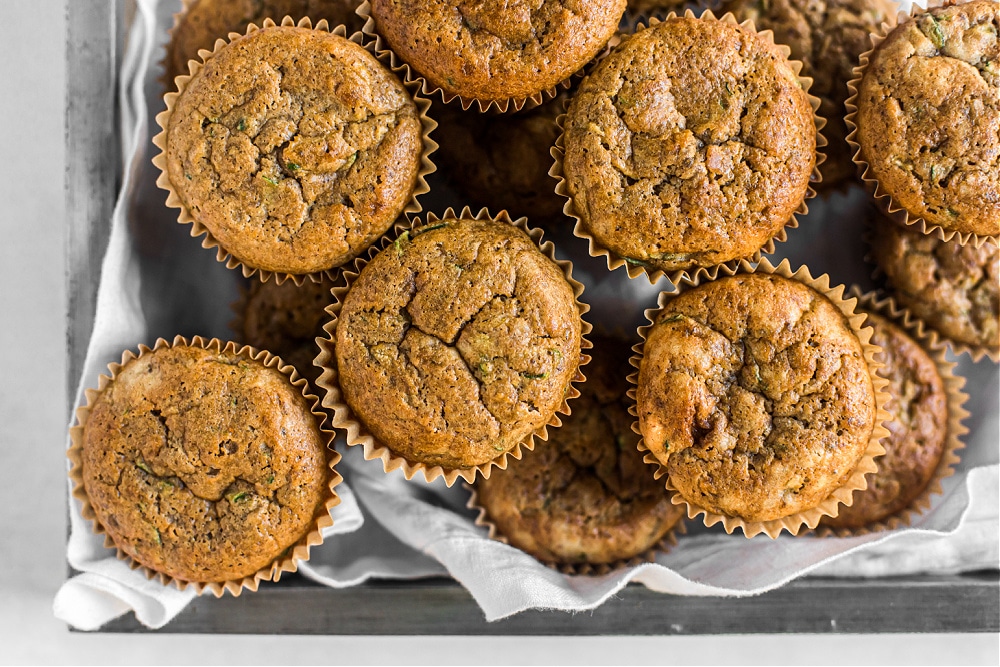 It's very important that when preparing this recipe that all ingredients are at room temperature. And, when the dough is ready to be scooped into the muffin tin, it might seem a bit dry, but as it bakes, the water from the zucchini will make the muffins nice and moist.
Here are some other fermented sourdough recipes that you might enjoy!
Fermented Sourdough Cinnamon Rolls
Fermented Sourdough Bread 
Overnight Fermented Sourdough Pancakes 
Fermented Sourdough Chocolate Chip Cookies
Print
Fermented Sourdough Banana Zucchini Muffins
Author: Carrie Vitt
Prep Time:

25

Ferment time:

28 hours

Cook Time:

25

Total Time:

24 hours plus 50 minutes

Yield:

Makes about 18 muffins

Category:

breakfast
For the overnight ferment:
250g organic all-purpose flour
100g bubbly sourdough starter
188g organic brown cane sugar
125g smashed banana
133g melted butter, cooled
60g whole milk, room temperature
The next day:
200g shredded zucchini
11g vanilla extract
2 large eggs, room temperature
160g whole, plain yogurt, room temperature
3g cinnamon
A dash of nutmeg

7g baking soda
1g celtic sea salt
Instructions
Place the flour, starter, sugar, banana, butter and milk in a large mixing bowl and stir until combined. Cover tightly and place in the refrigerator for 24 hours. 
The following day, remove the dough mixture and let sit out on the counter for about 4 hours so it reaches room temperature. 
Preheat the oven to 350ºF and adjust the rack to the middle position. Line a muffin tin with unbleached parchment liners. 
Transfer the flour mixture to the bowl of a standing mixer. You can also use hand-held beaters. 
In a medium-size bowl, combine the zucchini, vanilla, eggs and yogurt. Whisk to combine. Stir in the cinnamon, nutmeg, baking soda and salt and then immediately, add the zucchini mixture into the flour mixture and mix on low using the beater. Mix until just combined and do not over mix (this will make the dough tough). 
Spoon equal portions of dough into each muffin cup, filling the cups about 3/4 full. Bake for 25-28 minutes, until just turning golden brown. Remove from oven and cool. Repeat with remaining batter. 
Leftovers can be frozen and then reheated in the oven, or store in the fridge for 3-4 days and reheat in the oven before serving. 
Keywords: fermented sourdough banana zucchini muffins