I don't think I've ever been so excited to share a new recipe with you! This recipe for Fermented Sourdough Babka will hopefully become a beloved recipe for you as it has for me and my family.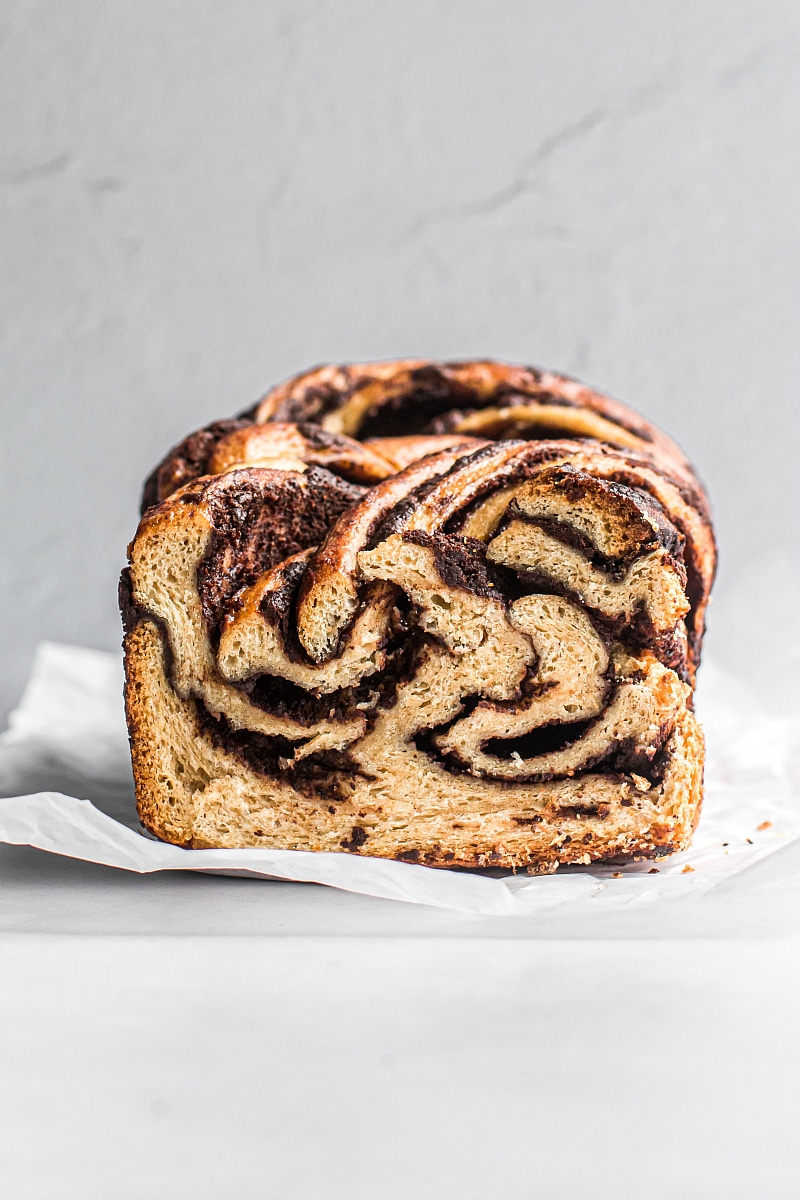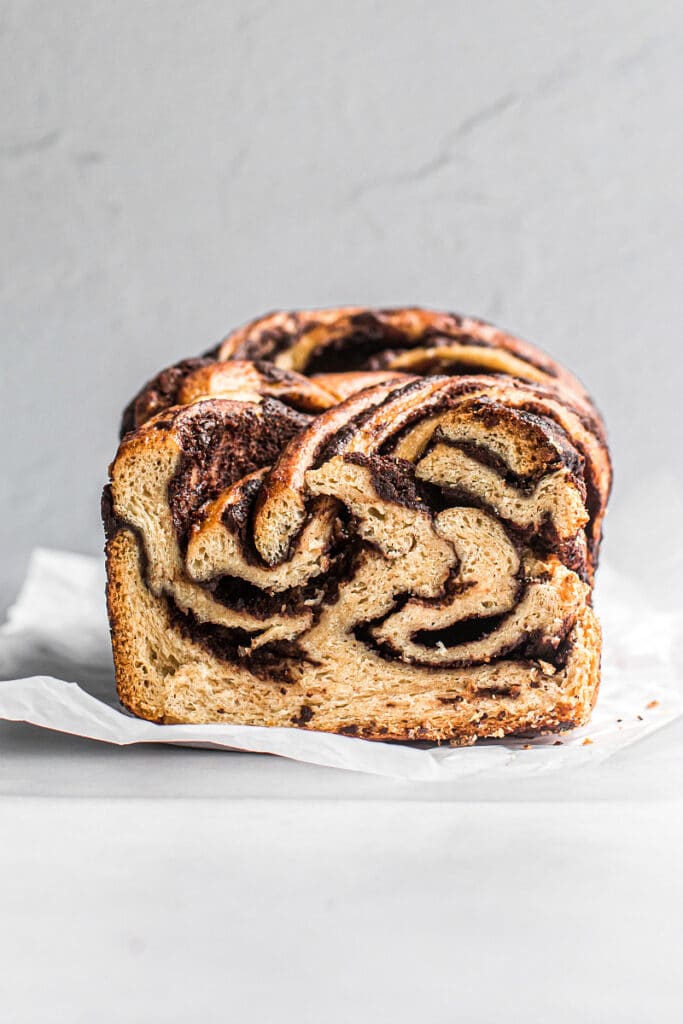 The babka dough is made from a buttery sourdough that is fermented for 48 hours, braided with chocolate and then baked. It's buttery, chocolaty, and just about the best thing I've ever eaten!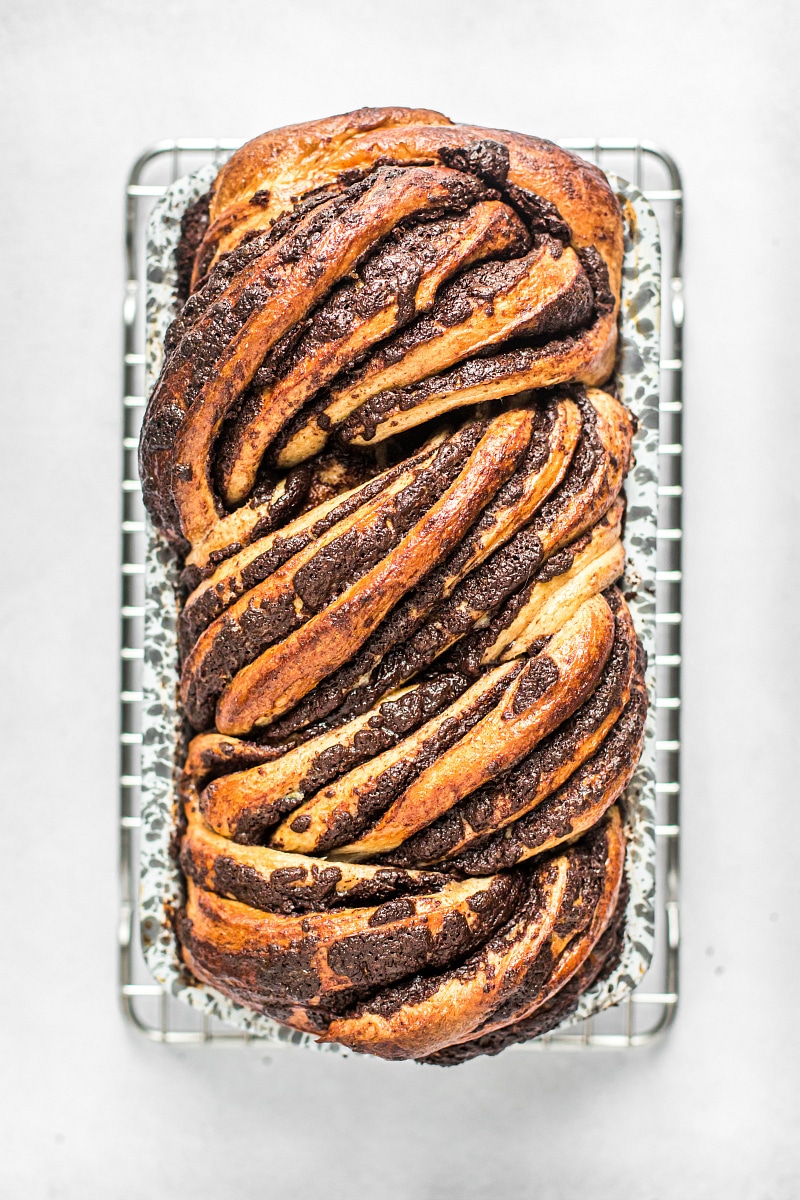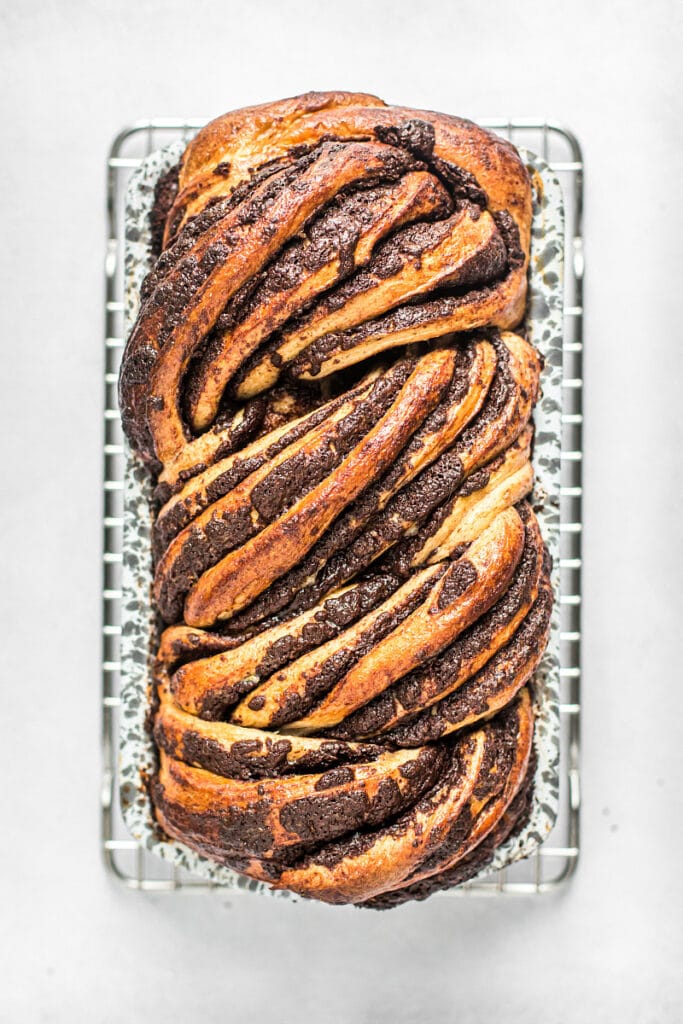 As I've mentioned before, a grain-free diet isn't meant to be and doesn't always have to be lifelong. Once you've taken the proper steps to heal, you can often slowly add properly prepared grains back into your diet with the help of your nutritionist or practitioner.
And, did you know that forty-eight hours of slow fermentation will destroy 97% of all the gluten in the bread? Wow! The fermentation process also breaks down the sugars and contains healthy resistant starch that doesn't raise blood glucose levels as much as conventional white breads. How amazing is that?!
To learn more about the science behind fermenting bread, check out this podcast.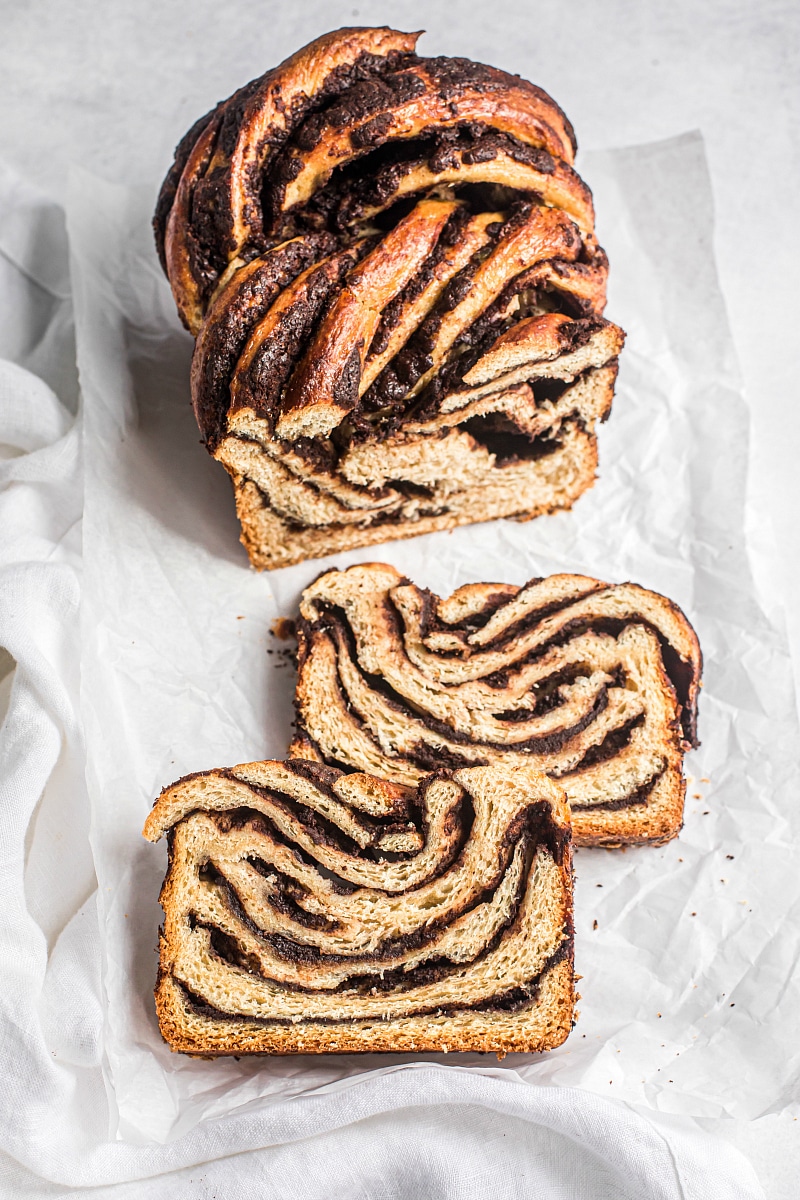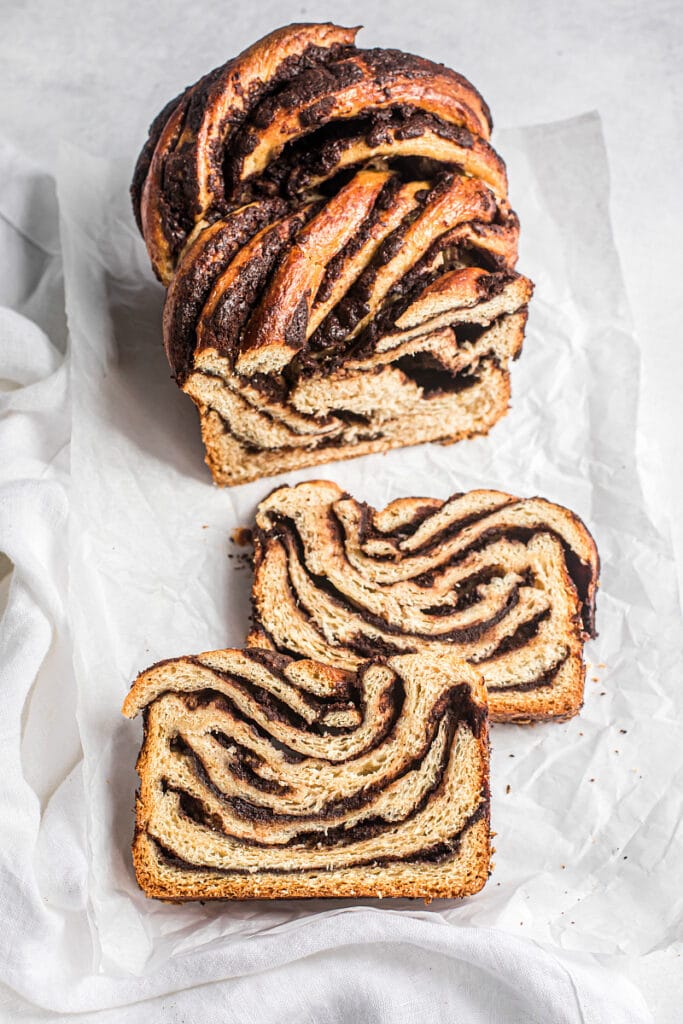 I realize that the recipe is long, but keep in mind that you'll make the dough on one day, let it sit in the fridge for two days, braid the dough, let it sit on the counter and then bake. It's honestly not as complicated as it looks.🙂 
And, to make things even easier, I've got a video for you that walks through everything step-by-step.
If you give this loaf a try, please post it on Instagram and tag me at @carrievitt. I'd love to see it and share your photo with everyone! 
Print
Fermented Sourdough Babka
See the video above for step-by-step instructions.
For the Sweet Levain:
100g

organic all-purpose flour

100g

water

125g

bubbly starter (here's a recipe to make your own starter)

23g

organic cane sugar
For the Dough:
210g

unsalted organic butter, melted and cooled

250g

spelt flour

250g

organic all purpose flour

250g

sweet levain (from above)

4

large eggs, room temperature

75g

organic cane sugar

45g

whole milk, room temperature

9g

Celtic sea salt
For the Chocolate Filling:
110g

organic cane sugar

75g

unsalted butter

70g

bittersweet chocolate, chopped

25g

cocoa powder
For the egg wash:
Instructions
For the Levain: The night before you want to make the dough, combine flour, water, starter, and organic cane sugar. Stir the ingredients together until combined. Cover with a clean cloth and let sit overnight for at least 8-10 hours.
The next day: Place the butter, spelt, flour, sweet levain build (from above), eggs, cane sugar, whole milk and sea salt in the bowl of a standing mixer. Mix on low using the beater attachment for 5 minutes. After 5 minutes, remove the beater attachment and put on the dough hook. Mix for 8 minutes on medium.
Stretch and Fold: Cover the bowl with a clean cloth and let sit for 30 minutes. Stretch and fold the dough four times (see the video above at the 1:15 mark). After you stretch and fold the first time, place a clean cloth over the dough and let it sit for 30 minutes. Then, stretch and fold the dough again, place a clean cloth over the dough and let sit for another 30 minutes. Repeat two more times for a total of four times.
After the stretch and fold process, cover the dough really well with plastic wrap (or a lid, if you have one) and place the dough in the refrigerator. Let the dough ferment for 48-72 hours. I've tested this recipe at both the 48 hour and 72 hour mark and they both turned out beautifully!
To assemble the babka: Melt the butter in a saucepan over medium heat. Stir in the sugar, chocolate and cocoa powder. Let cool to room temperature, but still spreadable.
Remove the dough from the fridge and cut about 1/4 of it off and set aside*. Roll the remaining 3/4's of the dough on a floured surface into a rough 12×16-inch rectangle (if it's a bit bigger than this, it's ok). Using an offset spatula, spread the filling in an even layer over the dough within 1/2 inch of the edges. Tightly roll up the dough and transfer it to a cookie sheet lined with parchment. Place the dough in the fridge for about 20 minutes (I accidentally said 45 minutes in the video, and if you refrigerate for 45 minutes that's fine, but 20 will also do).
Using a sharp knife, cut the log in half lengthwise. Twist to form a spiral and then transfer to a buttered, 9×4-inch loaf pan. Cover with a towel and let sit at room temperature for 4 hours.
Preheat the oven to 350ºF and adjust the rack to the middle position.
Whisk together the egg and 1 tablespoon water. Using a pastry brush, brush the egg wash on the top of the unbaked loaf. Bake for 50-60 minutes, until golden brown on top. Let cool for 10 minutes. Gently remove the loaf from the pan and cool completely on a cooling rack.
*There will be a bit of leftover dough, so I like to divide it into 2-inch balls, put them in a buttered muffin tin and bake for about 20 minutes at 350. The rolls are amazing with some butter and jam!
Photo Credit: Becky Winkler