These overnight fermented sourdough pancakes are light and fluffy and perfect for the weekend.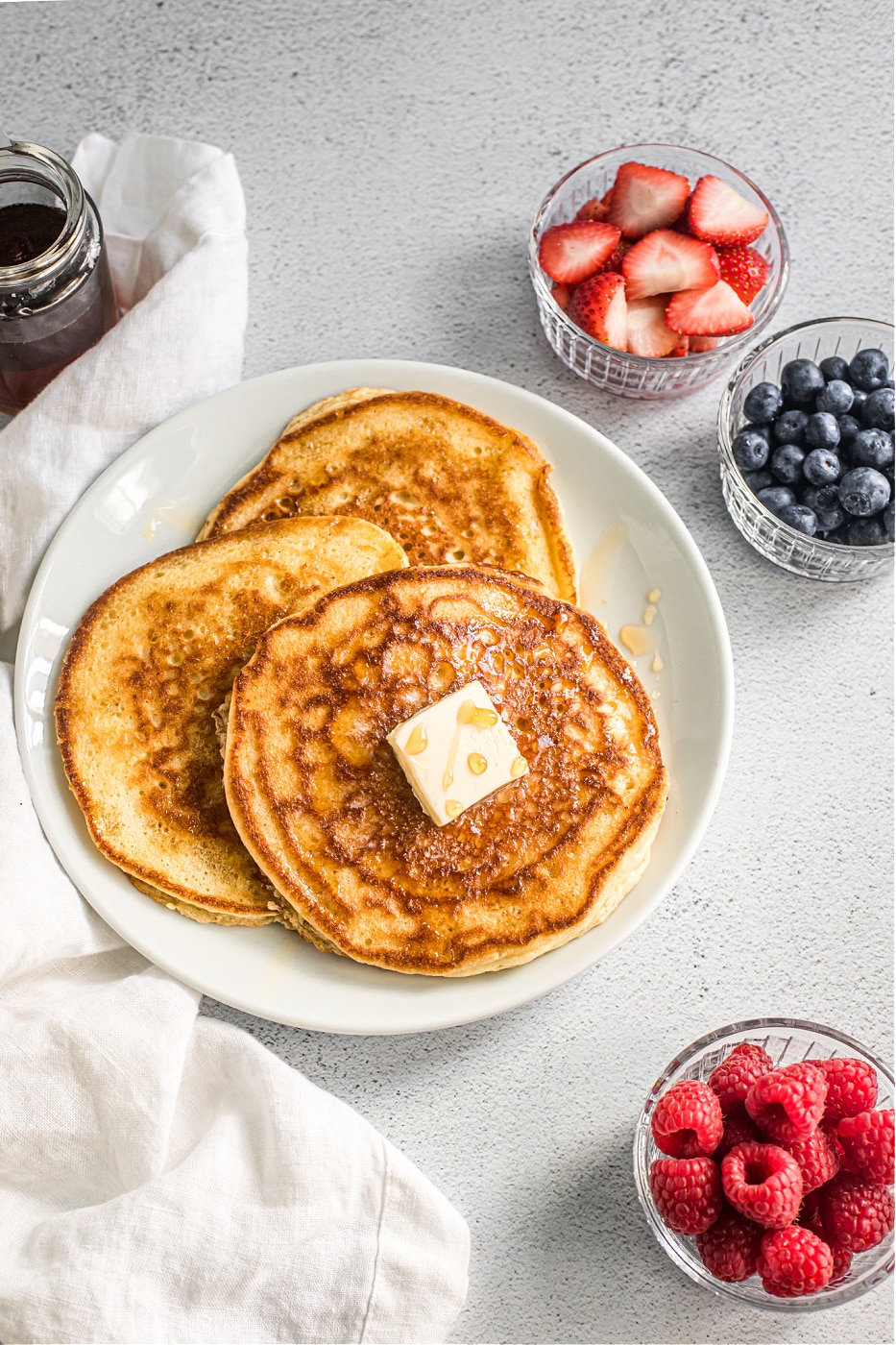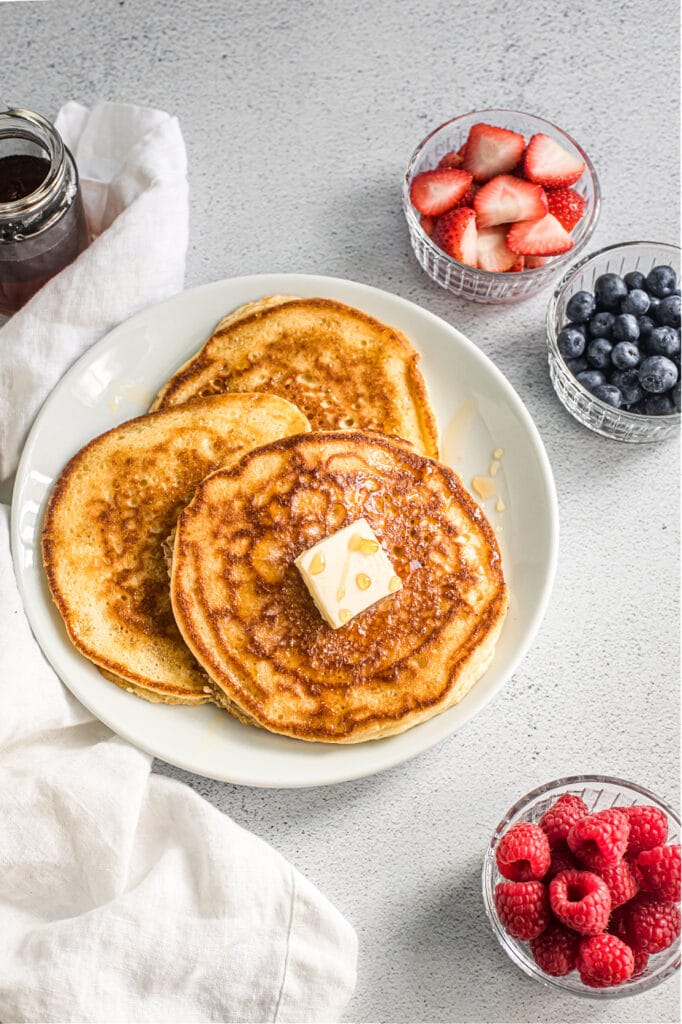 These pancakes are fermented for a total of 24 hours which helps reduce the gluten and sugars in the batter making it easier to digest and healthier option.To learn more about the science behind fermenting bread, check out this podcast.
As I've mentioned before, a grain-free diet isn't meant to be lifelong. Once you've taken the proper steps to heal, you can often slowly add properly prepared grains back into your diet with the help of your nutritionist or holistic practitioner.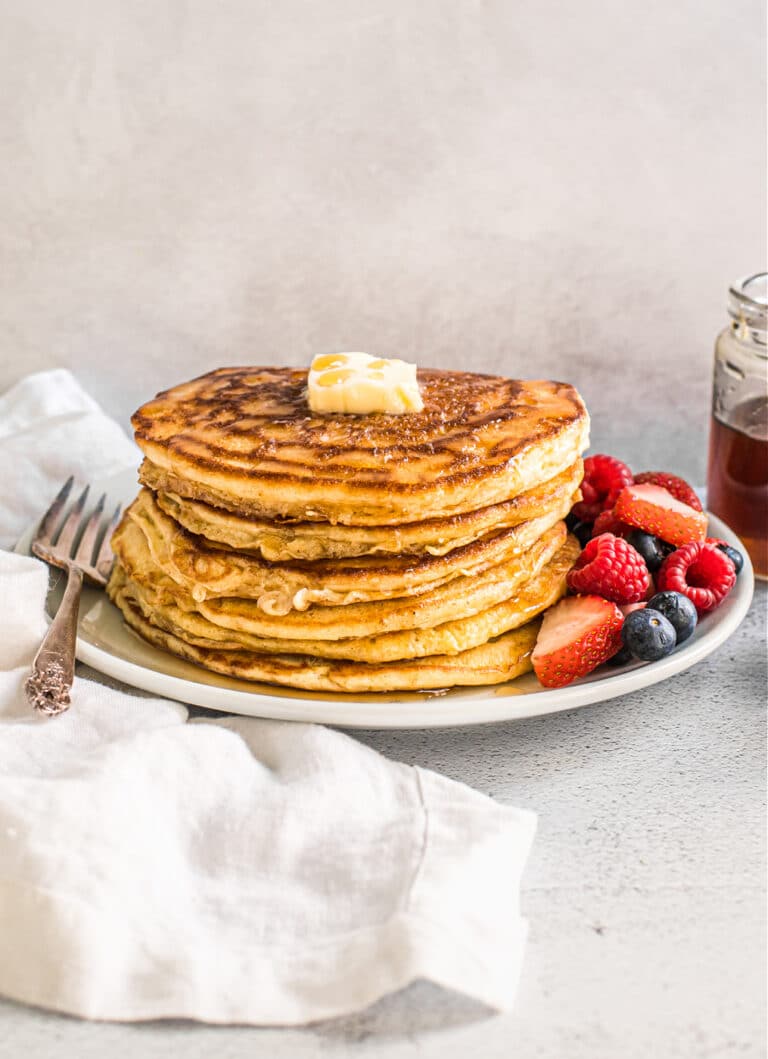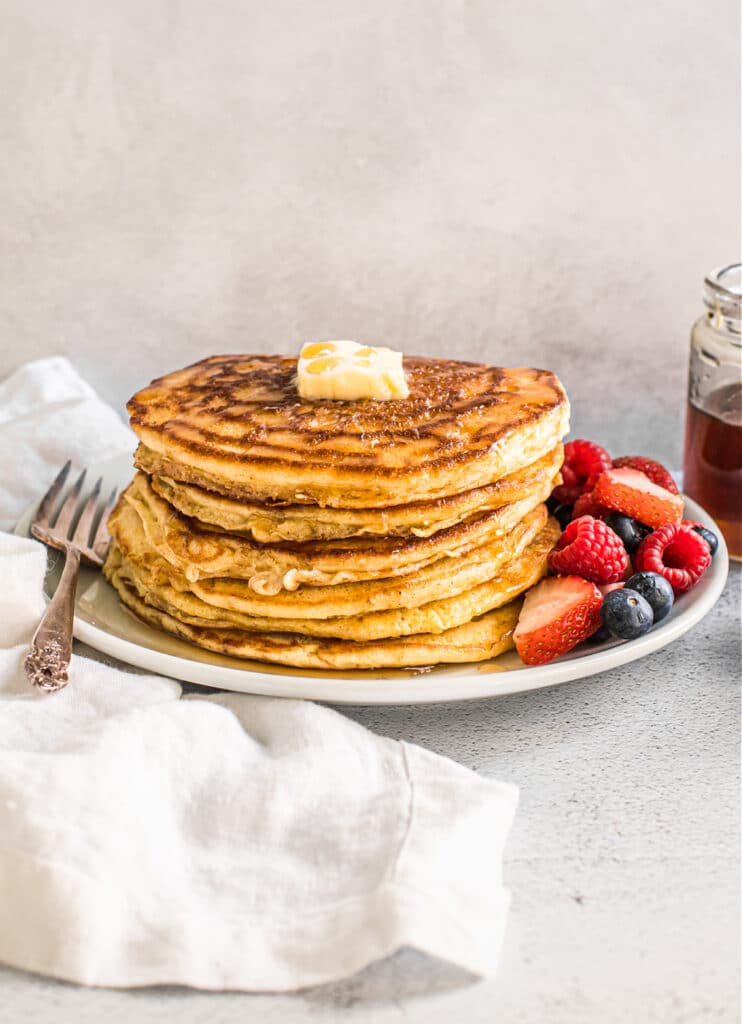 The sourdough pancakes freeze really well so you can serve these on mornings when you don't have time to cook. The best way to reheat them so they taste like they just came off the griddle is to put them in a single layer on a plate, cover with a piece parchment and then a layer of foil. Heat in at 350ºF oven for about 15-20 minutes until hot.
Here are some other fermented sourdough recipes you might enjoy: 
Sourdough Broiche Cinnamon Swirl Bread
Fermented Sourdough Cinnamon Rolls 
Fermented Chocolate Chip Cookies 
Print
Overnight Fermented Sourdough Pancakes
Prep Time:

15 minutes

Cook Time:

20 minutes

Total Time:

14 hours 35 minutes
The night before:
1 cup

whole milk (I used raw milk – and if using whole wheat flour, increase the milk by

1/2 cup

)

1/4 cup

whole plain yogurt

1 1/2 cups

bubbly starter

1 1/2 cups

all-purpose organic flour (or organic whole wheat flour)

2 tablespoon

organic cane sugar or maple sugar
The next morning:
1 teaspoon

baking soda

1 teaspoon

baking powder

1/2 teaspoon

Celtic sea salt

4 tablespoons

unsalted butter, melted and cooled

2

eggs, separated

2

–

3

tablespoons unsalted butter, for frying
Maple syrup and butter for serving
Instructions
The morning before, whisk together the milk, yogurt, starter, flour and sugar in a bowl. Cover and place in the refrigerator for 24 hours.
Remove the mixture from the fridge and let sit at room temp for 30 minutes.
Whisk the baking soda, baking powder, salt, butter and yolks into the flour mixture.
In a separate bowl, whisk the egg whites until stiff peaks form. Fold the whites into the batter.
Heat a large skillet over medium-low heat for 2 minutes. Add 1 tablespoon butter and swirl the pan to coat. Spoon pancake batter, about 1/4 cup each, into pan and cook until edges are set and the first side is golden, about 2-4 minutes. Flip the pancakes and continue cooking until the second side is golden brown, about 2-3 minutes. Repeat with remaining batter.
Serve with butter, maple syrup, or any other toppings of your choice.