I love serving waffles and sausage together for a weekend breakfast, and I thought, why not combine the two? So today, I've got a fun recipe for grain-free waffles with sausage.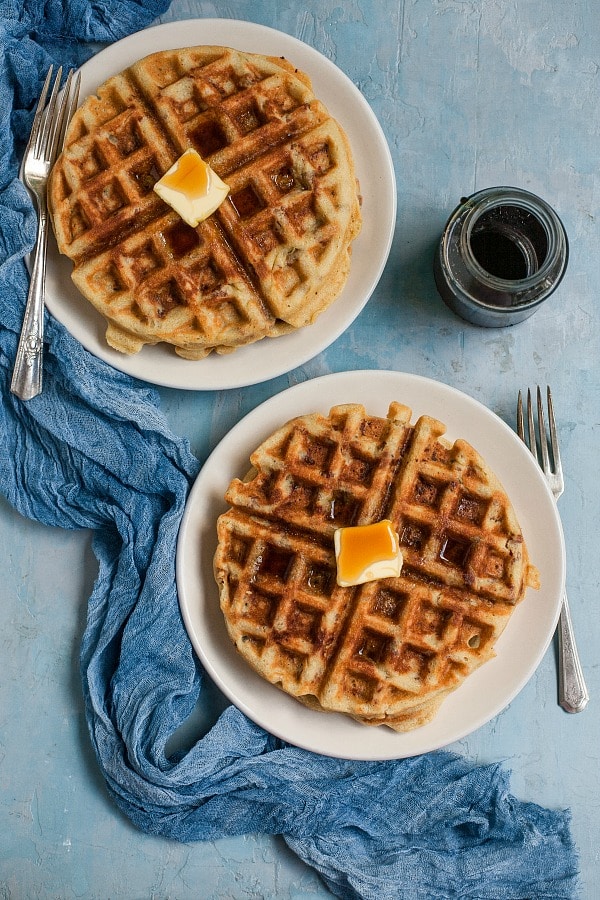 I'm often asked if it's ok to eat sausage because there's a misconception that all sausage is unhealthy. The short answer is yes, but it's important to make sure you purchase sausage that doesn't contain fillers, and that is ideally organic and/or pastured.
The sausage can be made of pork, chicken, beef, duck—the choice is up to you!
Sometimes you can find this kind of sausage at your local health food store, but I often purchase from a local farm. If you'd like to find organic local meats in your area, then I recommend checking out the website Eat Wild. You can enter in your location and then it will give you a list of farms nearby.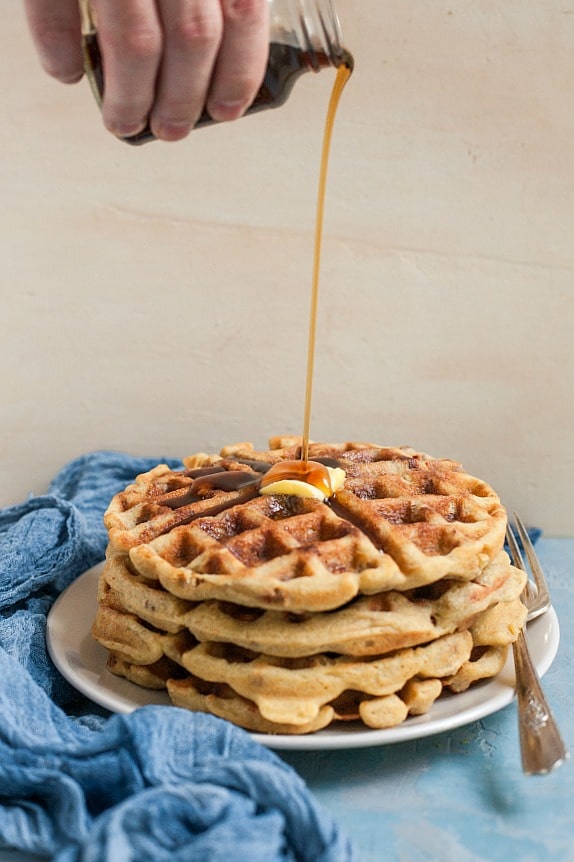 These grain-free waffles can be made without the sausage if you prefer. And of course, serve them with a drizzle of warmed organic maple syrup!
Serves: Serves 8-10 (depending on size of waffle mak
Waffles with Sausage (Grain-Free, Gluten-Free)
5 minPrep Time
20 minCook Time
25 minTotal Time
Ingredients
For the Sausage:

1 pound breakfast sausage

For the Waffles:

3 large eggs, separated
1/2 cup buttermilk (or 1/2 cup coconut milk and 1 teaspoon lemon juice for dairy-free alternative)
8 tablespoons unsalted butter, melted and cooled (or 6 tablespoons coconut oil for dairy-free alternative)
1 tablespoon coconut sugar
1 teaspoon vanilla extract
1 1/4 cup almond flour
1/4 cup arrowroot flour
1/2 teaspoon baking soda
1 teaspoon baking powder
1/2 teaspoon Celtic sea salt
Maple syrup for drizzling
Instructions
Place the sausage in a large skillet and cook over medium heat, breaking the sausage up with the back of a spoon for about 8-10 minutes until browned.
Place the egg whites in the bowl of a standing mixer and whisk until soft peaks form.
Combine the buttermilk, melted butter, coconut sugar, vanilla extract and 3 egg yolks in a medium bowl. Whisk in the melted butter.
In a separate bowl, combine the almond flour, arrowroot, baking soda, baking power and sea salt. Pour the buttermilk mixture into the flour mixture and whisk until combined. Fold in the whipped egg whites. Stir in the browned sausage.
Cook the waffles in a waffle maker according to the manufacturer's instructions. Serve with maple syrup.
Note: I only test the recipes on my site with the listed ingredients and measurements. If you would like to try a substitution, you are welcome to share what you used and how it turned out in the comments below. Thanks!
7.8.1.2
4605
https://deliciouslyorganic.net/waffles-sausage-grain-free-gluten-free/
Copyright 2016 Deliciously Organic
Photo Credit: Becky Winkler