Orange Glazed Salmon is a great weeknight recipe that's packed with flavor.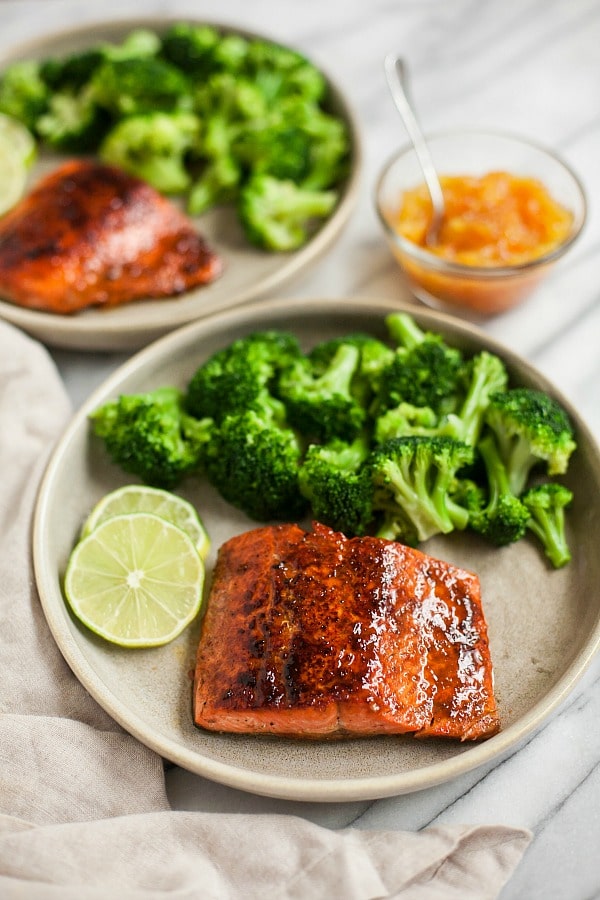 When you shop for salmon, look for a fish that was caught in the wild and is free of preservatives. Marketers like to try and trick you, so always look for the word "wild" as opposed to "Atlantic" or "Pacific." Naming the waters they were raised in can be a way to trick you into thinking the fish is wild. 
I've found that both Trader Joe's and Whole Foods have good prices on their wild frozen salmon, or if you want to order from a reputable company online, I highly recommend Vital Choice seafood.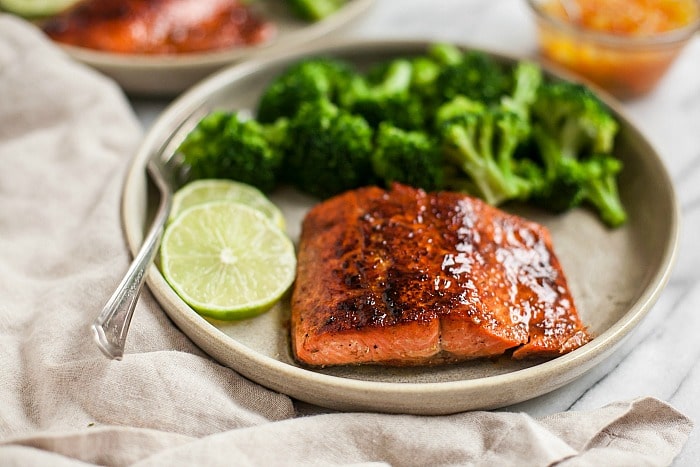 This recipe uses Herbamare – my favorite all-purpose organic seasoning blend. It's a blend of sea salt, celery, leek, watercress, onion, chives, parsley, lovage, garlic, basil, marjoram, rosemary, thyme and kelp.
I use it on fish, beef, poultry, and cooked vegetables. It's a great spice blend to add to your pantry! 
Print
Orange Glazed Salmon Recipe (Grain-Free, Paleo)
Prep Time:

5 minutes

Cook Time:

10 minutes

Total Time:

15 minutes
For the Fish:
1 1/2 teaspoons

Herbamare

1 1/2 teaspoons

garlic powder

1 teaspoon

paprika
Dash of cayenne

1/2 teaspoon

coconut sugar

4

boneless, salmon fillets

2 tablespoons

ghee (or coconut oil for dairy-free)
For the Glaze:
Instructions
Combine the herbamare, garlic, paprika, cayenne and coconut sugar in a small bowl. Rub the mixture over the tops of the salmon fillets.
Heat a large skillet over medium-high for 2 minutes. Add the ghee and swirl to coat. Place the fillets, flesh-side down and cook for 3 minutes. Gently flip the fillets and sauce for 2-3 minutes more, until cooked through.
Stir the marmalade and lime together in a small bowl and add it to the skillet with the salmon. Swirl the mixture in the skillet until the marmalade melts. Carefully turn the fillets to coat all sides with the glaze. Serve immediately.
Photo Credit: Becky Winkler