There are few desserts I love more than bread pudding with Chantilly cream!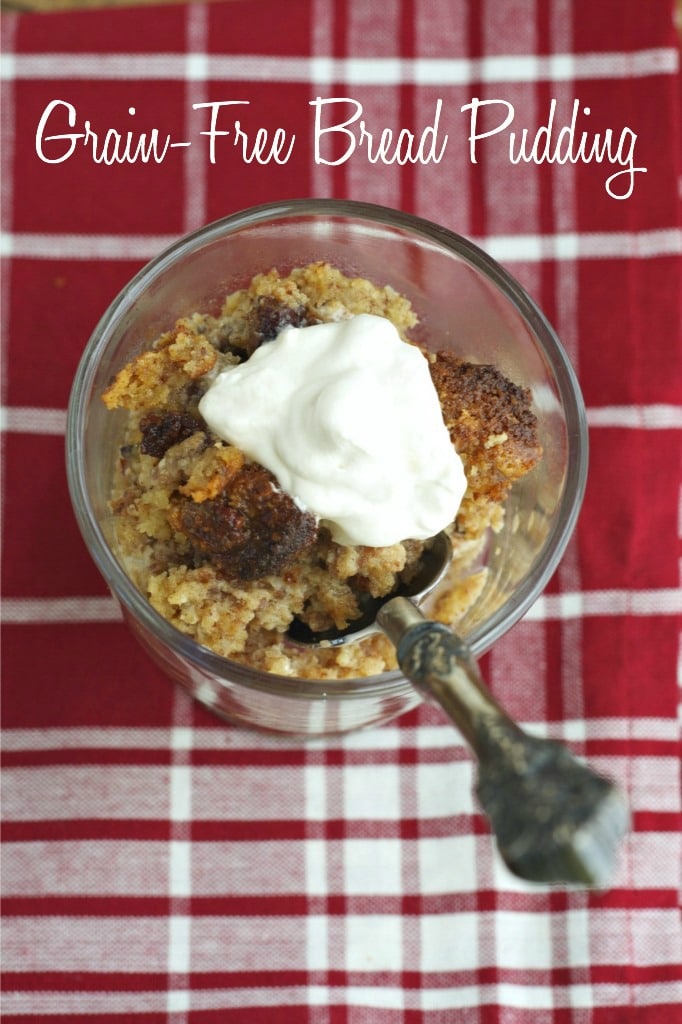 My mom always makes bread pudding on New Year's Day. I only eat it once a year, so I savor every last bite. A few days ago, after making some pecan coconut muffins with my daughter, I shared my disappointment over giving up my traditional yearly indulgence. Suddenly, we both looked at the muffins and realized we had the perfect bread for our bread pudding. We chatted back and forth with excitement over how we could develop the recipe and started giggling. I literally raced to the grocery store and back and whipped this up as fast as I could. The end result? There are no words. I'm so elated about this recipe, I've been skipping and humming around the house all day.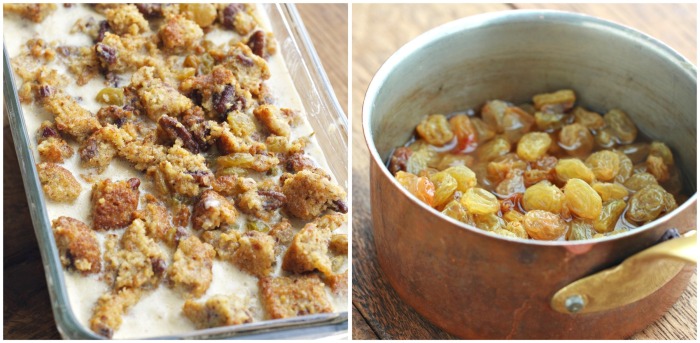 This dessert encompasses everything about the holidays to me. Sweet memories of family, cinnamon, nutmeg, a bit of sweetness in the form of a rich, indulgent gift. Everything you want in a holiday dessert. It takes a few steps, but rewards you richly for all the work.
Print
Bread Pudding with Chantilly Cream and Lemon Sauce
Prep Time:

20 minutes

Cook Time:

1 hour 10 minutes

Total Time:

2 hours 45 minutes

Category:

Dessert

Diet:

Gluten Free
For the Pudding:
1/2

cup

raisins

4 tablespoons

brandy

3

eggs

1/2

cup

maple syrup or honey

1 1/2 teaspoons

vanilla extract

1 1/4 teaspoons

nutmeg

1 1/4 teaspoons

cinnamon

1/4

cup

butter, melted and cooled

1 1/2

cups

milk (can be substituted with coconut milk)

1

recipe of pecan coconut muffins, stale and broken into bite-size pieces
For the Chantilly cream:
2/3

cup

heavy cream

1 teaspoon

vanilla extract

1 teaspoon

brandy

1 teaspoon

Grand Marnier

2 tablespoons

raw honey

2 tablespoons

sour cream
For the lemon sauce:
1

lemon (make sure it's organic)

2 tablespoons

raw honey

2 teaspoons

arrowroot, dissolved in 1/4 cup water

1 teaspoon

vanilla extract
Instructions
For the Bread Pudding: Preheat oven to 350ºF and adjust rack to middle position. Heat raisins and brandy in a small saucepan until just simmering. Remove from heat. Place eggs in the bowl of a standing mixer and beat on high (using whisk attachment) for 3 minutes, until pale and frothy. Beat in the maple syrup, vanilla, nutmeg, cinnamon, butter and milk. Drain the raisins. Place the stale, broken up muffins and soaked raisins in a large mixing bowl. Pour milk mixture over and toss gently. Pour into a buttered loaf pan and press gently press to make sure all pieces of muffin are in the liquid. Let sit on the counter for 45 minutes, pressing bread down every once in a while. Put in the oven and immediately reduce heat to 300ºF and bake for 40 minutes. Increase temperature to 425ºF and bake until pudding is well browned and puffy, about 10-15 minutes more (watch it to make sure it doesn't burn). Cool for 30 minutes.
For the Chantilly Cream: Place the cream, vanilla, brandy and Grand Marnier in the bowl of a standing mixer, and whip on medium speed for 1 minute. With the mixer on medium speed, add the honey and sour cream and beat on medium just until soft peaks form, about 3 minutes. Do not overbeat.
For the Lemon Sauce: Squeeze 2 tablespoons juice from the lemon halves and place juice in a 1-quart saucepan. Add the lemon halves, 1/2 cup water and honey and bring to a boil. Stir in the dissolved arrowroot and vanilla. Cook 1 minute over high heat, stirring constantly. Strain, squeezing the sauce from the lemon rinds. Serve warm.
Keywords: bread pudding with Chantilly cream