Chocolate Pecan Pie with Bourbon is a fun way to take pecan pie up a notch or two. It's an impressively delicious dessert that isn't complicated to make. Fair warning, though – I don't think you'll have any leftovers.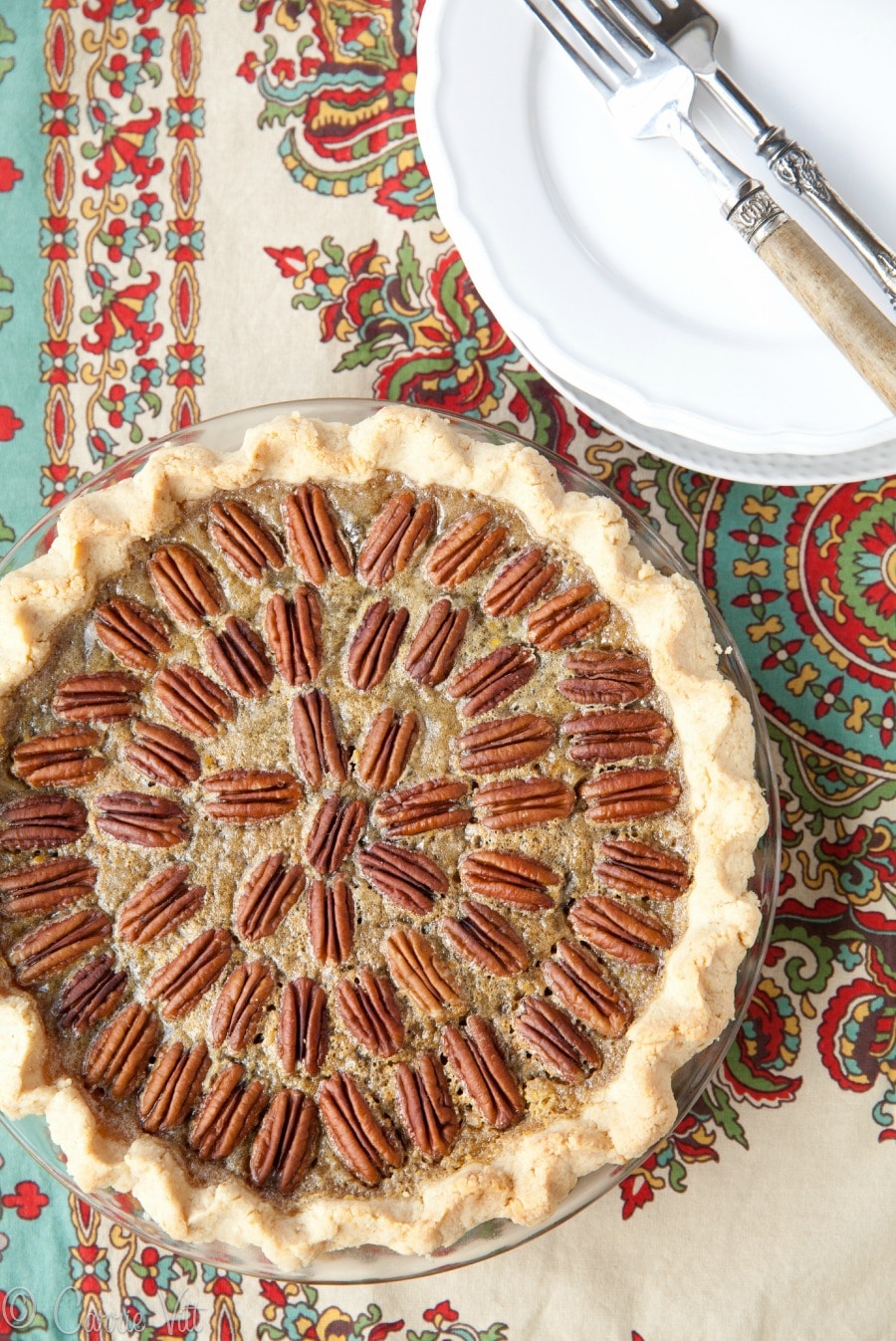 I'm thrilled for the holidays, and think it's time to kick back and have some fun. I came up with a list of recipes to share on the site for the next month, and I think you'll be pleased! Gingerbread men, turkey roulade, mallomars, eclairs (I've been working on this one for months – I should have it perfected in the next week or two!), biscotti and more. There are quite a few sweets in that list, but hey, it's the holidays. I want to give you some fun recipes to serve your family and friends so they can see just how delicious grain-free baking can be!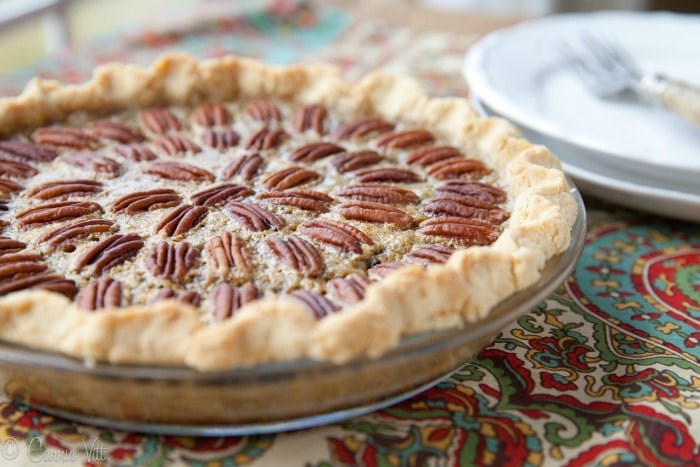 I'm so very thankful for all of you and how you've allowed me to continue sharing what I've learned about health and food. I hope you have a wonderful Thanksgiving with your family and friends!

Chocolate Pecan Pie with Bourbon (Grain-Free)
Most agree that distilled spirits are ok to consume (in moderation, of course) when avoiding gluten or grains. I have found that I don't have any negative reactions from distilled spirits, but if you don't want to use a bourbon or whiskey in this recipe, you can omit it, or substitute with brandy. For a non-gmo bourbon, check out Wild Turkey or Four Roses.
Ingredients
For the Crust:

2 cups almond flour
4 tablespoons coconut flour
1/2 teaspoon unflavored grass-fed gelatin
1/4 teaspoon Celtic sea salt
1 teaspoon coconut sugar
8 tablespoons unsalted butter, cold, cut into tablespoons (for a dairy-free option, substitute butter with 5 tablespoons chilled organic lard and 1 egg)

For the filling:

1 cup plus 1 tablespoon Grade B maple syrup
1/2 cup maple sugar or coconut sugar
2 tablespoons butter or coconut oil
3 large eggs plus 1 large egg yolk, lightly beaten
2 tablespoons Bourbon (see the headnote)
1 teaspoon vanilla extract
1/4 teaspoon Celtic sea salt
1/2 cup chocolate chips (I used Enjoy Life )
1 - 1 1/4 cups whole pecan halves
Instructions
Place almond flour, coconut flour, gelatin, sea salt and coconut sugar in the bowl of a food processor. Pulse 2-3 times to combine. Add the butter to the flour mixture and pulse for eight 1-second pulses and then leave the processor on until the dough forms into a ball. (If dough is crumbly, add 1-2 tablespoons of water.) Press the dough on the bottom and up the sides of a 9-inch pie plate . Place in the refrigerator to chill for 30 minutes.
Preheat oven to 400ºF and adjust rack to lower-middle position. Heat maple syrup over medium heat in a medium saucepan. Simmer until syrup reaches 225ºF, about 10 -15 minutes. While syrup is simmering, place maple sugar and butter in a medium mixing bowl. As soon as the syrup reaches 225ºF, immediately pour syrup over sugar and butter mixture. Let mixture sit for 1 minute and then whisk together. Whisk in eggs, egg yolk, bourbon, vanilla and sea salt (the mixture might look a little grainy at this point). Place prepared pie crust in pie plate on a large baking sheet. Evenly scatter the chocolate chips over the crust. Pour filling into your prepared pie crust and top with pecans (the chocolate chips might float to the top, but you can still make a pretty design with the pecans).
Cover the crust with pie shield or foil. Bake for 15 minutes. Reduce heat to 350ºF and bake for an additional 15-20 minutes until outer edges aren't jiggly anymore and crust is just turning golden brown (the center will be a little jiggly). The filling will be slightly less set in the center than the edges and it also might puff up in the middle, but will set as it cools. Serve slightly warm or at room temperature.
7.8.1.2
3318
https://deliciouslyorganic.net/chocolate-pecan-pie-grain-free-paleo/
Copyright 2016 Deliciously Organic