Are there truly natural remedies for heartburn? Can you reduce heartburn naturally or even get rid of it completely? Yes, you most certainly can!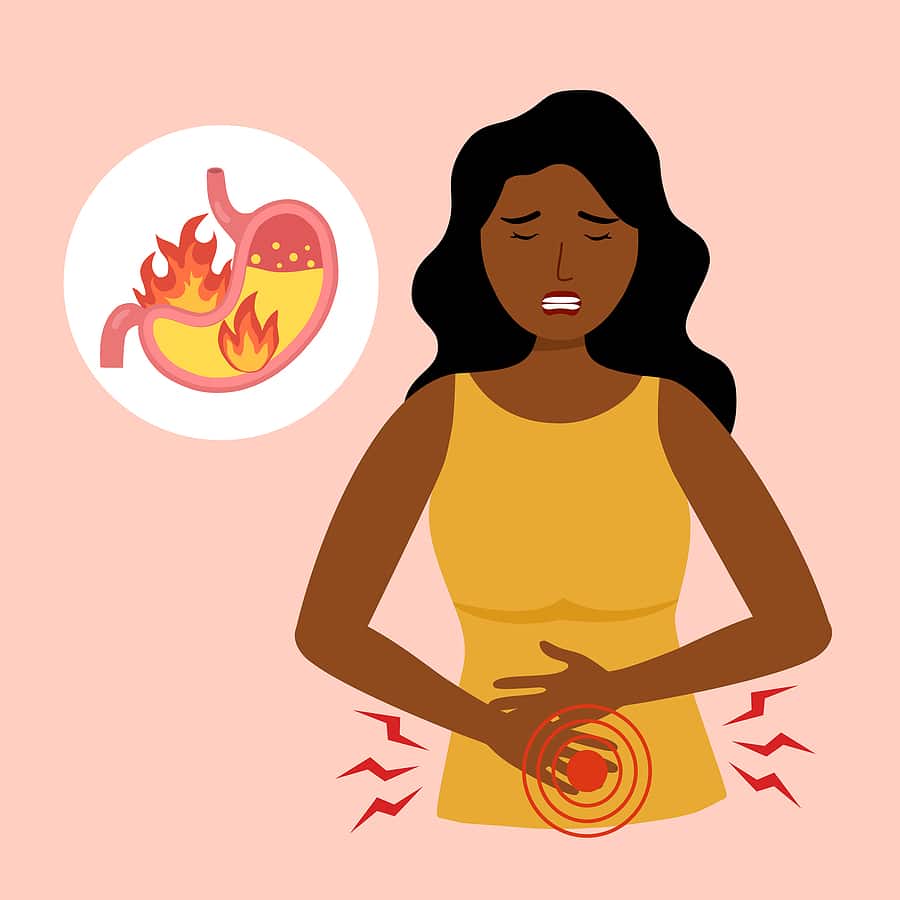 First, let's look a what causes heartburn:
We've been told by the conventional medical world that too much stomach acid is the cause of reflux and heartburn. This simply isn't correct. Stomach acid is incredibly beneficial to the body and an increase in stomach acid can actually reduce, and many times cure, issues like acid reflux or heartburn and improve common issues like irritable bowel syndrome (IBS), leaky gut, colitis, and other gastrointestinal problems.
Let's break this down. . .
Stomach acid (also known as hydrochloric acid or HCL) is a necessary part of the digestive process. The acid is our first line of defense against pathogens, bacteria, parasites, etc. It also helps us digest our food properly.
When the body is relaxed, stomach acid is released into the stomach and it breaks down fats into fatty acids, carbohydrates into glucose, and proteins into amino acids. This breakdown is very important because it allows the body to use the nutrients in our food.
When the food in your stomach has been mixed with the correct amount of stomach acid, enzymes, and other digestive secretions, it will reach an acidity between 1.5-3.0 on the ph scale and then move into the small intestine to continue the digestive process.
When there isn't enough stomach acid, the pyloric sphincter – the valve that releases the broken-down food from the stomach into the small intestine – doesn't want to open. This leads to food sitting in the stomach for much longer than intended. Because the stomach can't release its contents into the small intestine, it eventually sends the food back up the other way. Ironically, because the food has been bathed in some stomach acid it burns when it comes back up the esophagus.
So, to put it simply, heartburn is caused by too little stomach acid.
You're probably asking, "Then why do acid-blockers work, or at least take the burn away?"
The acid-blockers lower the acidity in the stomach, so when the food starts to come back up, it doesn't burn. This doesn't mean the problem is fixed. The acid-blocker is simply masking the symptoms of a bigger issue.
The way to cure heartburn naturally is to increase the amount stomach acid in the stomach. Kinda crazy, right?! But it's true.
In the long-run, heartburn can create all sorts of health issues in the body, so it's imperative that you find ways to cure your heartburn. Here are a list of problems chronic heartburn can cause:
1. Your body can't utilize the nutrients in your food which can lead to nutrient deficiencies.
2. Overgrowth of harmful bacteria can occur which can lead to ulcers and cancer.
3. The proteins that weren't broken down by the proper amount of stomach acid now irritate the villi and can lead to leaky gut. A leaky gut allows fats and proteins to pass through the gut directly into the bloodstream which overwhelms the immune system.
4. The undigested food heads to the large intestine and can degenerate and weaken the colon, disrupt the flora, and cause inflammation, IBS and colitis.
Enabling the body to use the nutrients in the food you eat is essential to a healthy body, so you can see why this is so important for your overall health!

Here are 4 natural remedies for heartburn and acid reflux:
Note: I recommend trying these steps in this order. Sometimes it's just a matter of eating slower, but sometimes you need to take a supplement to help increase production. Trying these different tips in order will help you know which one will work best for you. 
1. Don't eat when you're stressed or on the go; and eat slowly. This is the most important piece of the puzzle. When you eat slowly and aren't stressed, your body will be in the parasympathetic state, and the brain will tell the stomach to produce the correct amount of stomach acid. The parasympathetic state allows your body to release the correct amount of stomach acid, enzymes, etc. to digest your food.
2. Take 1 tablespoon of raw apple cider vinegar with a little bit of water before each meal. This will help stimulate stomach acid production. If you try this for several days and don't see any improvement, try step #3.
3. Take 1 dropper full of digestive bitters before and after each meal (this one is a good choice when pregnant). Bitters are very gentle and stimulate the stomach to produce the proper amount of stomach acid. If you've eaten your meal and you get heartburn, take a dropperful of bitters to reduce the heartburn. If you try this for several days and don't see any improvement, try step #4.
4. If the three tips above don't get rid of the heartburn, consider taking Thorne HCL with Pepsin at each meal (If you have a history of stomach ulcers, do not use HCL. Instead, try the steps above).
Here's how you figure out how many you need to take at each meal:
Take 1 HCL when you sit down to eat. Take another 5 minutes later. Continue taking another HCL every 5 minutes while eating until you get a warming in your stomach. If you took 6 HCL and then got the warming in your stomach, then subtract one and now take 5 HCL at each meal.
Most people are deficient in stomach acid, so if you get up to 5-6, don't be surprised, but I recommend stopping there.
It's not a good idea to be taking HCL for years and years because you don't want your body to become dependent on it, so I recommend taking the steps above to train your body to eventually produce enough stomach acid.
In the future, you'll want to wean yourself off the HCL, but taking this supplement for a while can initially help you digest your foods, reduce the heartburn and support the body while you're learning to slow down and eat in a relaxed state.
Additional Tips:
If you tried one of the steps above and still got heartburn, then that simply means you need more stomach acid. Taking an additional tablespoon of apple cider vinegar, a dropperful of bitters or an additional HCL supplement can stop the heartburn. I've also found that eating a few tablespoons of raw sauerkraut can quickly reduce the heartburn.
So, remember, you need stomach acid to cure your heartburn! Eat slowly, in a relaxed state, take some of the steps I mentioned above, and I think you'll start to see some great results!
Note: Please consult with your practitioner before trying any of these tips (especially if you're pregnant or nursing).
Note: The purpose of this post is to give an overview of some common root causes of heartburn from a holistic perspective. This information is not intended to take the place of your doctor's advice.