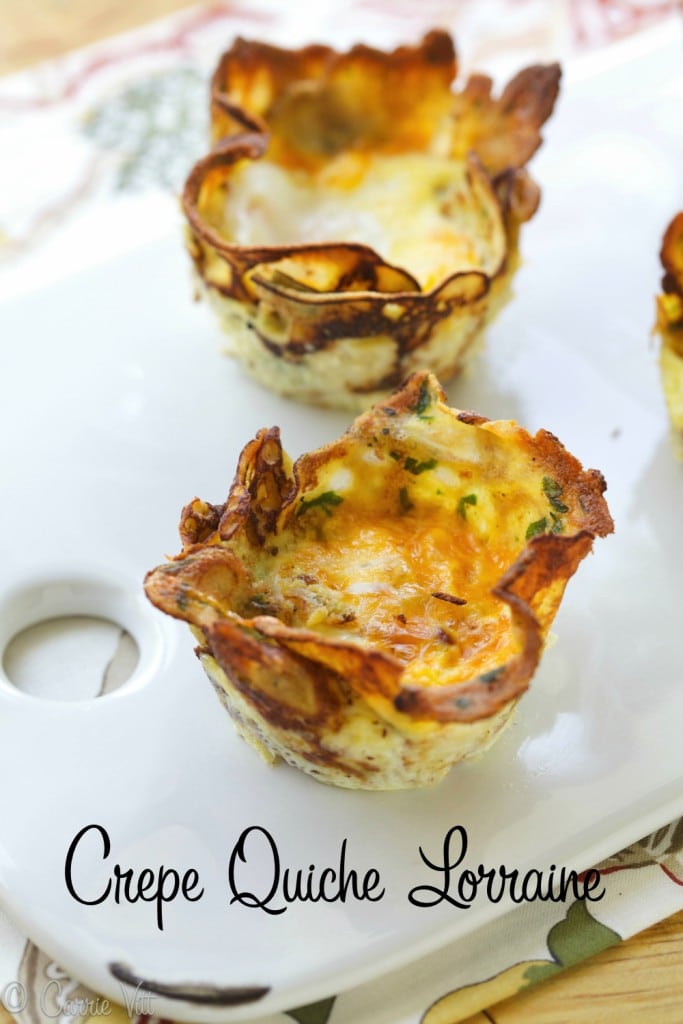 This recipe is just flat-out fun! Crepes for a crust … how great is that? These small quiches make for a nice breakfast – just make them the day before, store in the fridge, then reheat in the morning. They also make a versatile and delicious lunch. You can change out the herbs in the crepe batter or the meat and vegetables in the filling to suit your taste. I haven't tried it yet, but I think omitting the herbs, adding a touch of sweetness to the crepes, and then adding a creamy sweet filling with a berry topping would create a home run of a dessert. What combination do you want to try?
This recipe is a bit more involved than some of my posts, but well worth the effort. You can make the crepes ahead of time and keep them refrigerated in an airtight container for 3 days or frozen for up to 2 months.
Serves: Makes 12 individual quiches
Crepe Quiche Lorraine (Grain-Free, Gluten-Free, Paleo, Gaps)
Ingredients
For the Crepes:

1 cup whole milk or coconut milk
1/4 cup coconut flour
6 eggs
3 tablespoons butter or ghee, plus more for frying the crepes
1/2 teaspoon Celtic sea salt
2 tablespoons flat leaf parsley
2 tablespoons cilantro

For the quiches:

3 pieces bacon, chopped
1/2 small onion, chopped
4 large eggs
3/4 cup whole milk or dairy-free milk of your choice
1/2 teaspoon Celtic Sea salt
1/8 teaspoon freshly ground black pepper
1/2 cup shredded cheddar cheese
Instructions
Place milk, coconut flour, eggs, butter and sea salt in a blender and blend until smooth. Add parsley and cilantro then pulse 10 times until herbs are finely chopped (if you pulse too many times, the herbs will grind up too fine and the batter will become green). Put batter in the fridge and chill for 1 hour or overnight.
Heat a small 6-inch skillet over medium heat. Place a small pat of butter or ghee on the pan and swirl to coat. Pour 2 tablespoons batter onto the middle of the pan and swirl to spread evenly. Cook until bottom side is just turning golden brown, about 30 seconds. Using a spatula, flip the crepe and cook an additional 10 seconds. Remove from the pan and place on a baking sheet. Repeat with remaining batter.
Preheat oven to 325ºF and adjust rack to middle position. In a well-oiled muffin tin , place one crepe in each muffin cup. Make sure the edges of the crepes are slightly pleated and hanging over the edge of the cups. Place bacon in a medium skillet over medium heat. Cook until bacon is crispy, about 4-5 minutes. Add chopped onion and cook an additional 2 minutes until onion is just turning translucent. Using a slotted spoon, transfer onion and bacon to a small bowl.
Whisk eggs, milk, sea salt and pepper in a measuring glass. Spoon a teaspoon of the bacon and onion mixture into each crepe cup. Divide cheese evenly among cups. Pour a bit of egg mixture into each crepe cup, dividing evenly. Bake for 20 minutes until eggs are set. Cool for 5 minutes. Serve.
7.8.1.2
4233
https://deliciouslyorganic.net/crepe-quiche-lorraine-paleo-grain-free/
Copyright 2016 Deliciously Organic