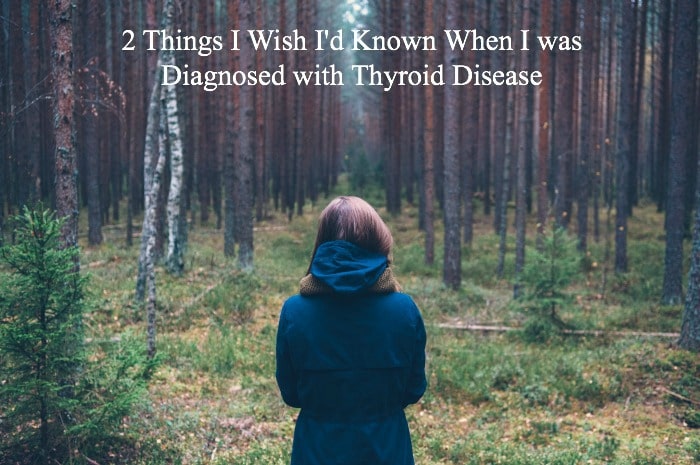 Thyroid disease has many layers and involves multiple systems in the body. The diagnosis comes from looking at a TSH or antibody level, but finding a solution isn't as simple as that. The reason why the immune system is attacking the body is different for each person. Looking back, here are two things I wish I'd known when I was diagnosed with thyroid disease.
1. It's important to figure out your root cause
It took me over 18 months to figure out my root cause. I got out a calendar one night and started backtracking to see if I could find any clues. I realized that the day I had an amalgam filling removed was the day everything started going downhill.
I took this information to my practitioner, we did some testing, and what do you know? We discovered an overabundance of heavy metals! From that point on, we focused on gentle heavy metal detox to aid the natural healing process.
I suggest you begin by going back to a time when you were well and then creating a timeline that links life events with the appearance of symptoms. Get out your calendar and backtrack. Talk to your friends and family about your health history. Scroll through pictures on your phone. Use whatever you have available to start putting the pieces together.
Some questions to ask yourself:
– What were my first symptoms? When did they begin? (This may involve going back to your early childhood.)
– What health issues have I dealt with in the past? Surgeries? Infections?
– Were there periods in my life where I was dealing with chronic stress?
– What medications have I taken in the past and what prescriptions am I taking now? What are the side effects of these medications?
– What physical, environmental, and emotional factors may be contributing to my illness?
Some reasons your thyroid might not be working at the optimum level:
Viral, bacterial, or fungal infection
Poor gastrointestinal health
Nutrient deficiencies
Chronic stress
Too much radiation for your body (from cellular phones, wifi, etc.)
Toxicity
2. Be prepared for a long recovery – plan for a "marathon"
When my nutritionist told me to eat a grain-free diet and put me on a protocol of gentle detox and whole food supplements, I thought it would be cleared within a matter of months. Years before, I'd reversed my chronic migraines in a matter of weeks (by simply switching to an organic diet) and my IBS and eczema cleared easily when I made the change to real, unprocessed foods. Based on my past experiences, I thought it would be a pretty quick fix. I didn't know it at the time, but it was going to take years to reverse the damage, and heal the underlying cause of my disease.
Healing from a chronic illness like thyroid disease is complex and often requires a long-term commitment to getting well.
And what about the game plan? Well, you have to have the right information to make a game plan and I've got some great tools to get you going!
The Grain-Free Family Table
Grain-Free, Nutrient-Dense Meal Plans
50 Tips and Resources to Help You Reverse Autoimmune Disease
Hashimoto's Thyroiditis:Lifestyle Interventions for Finding and Treating the Root Cause
The Thyroid Cure
Hypothyroid Mom
Thyroid Pharmacist