Eggs florentine is a delicious way to start the day! It's similar to eggs Benedict, but with spinach instead of bread.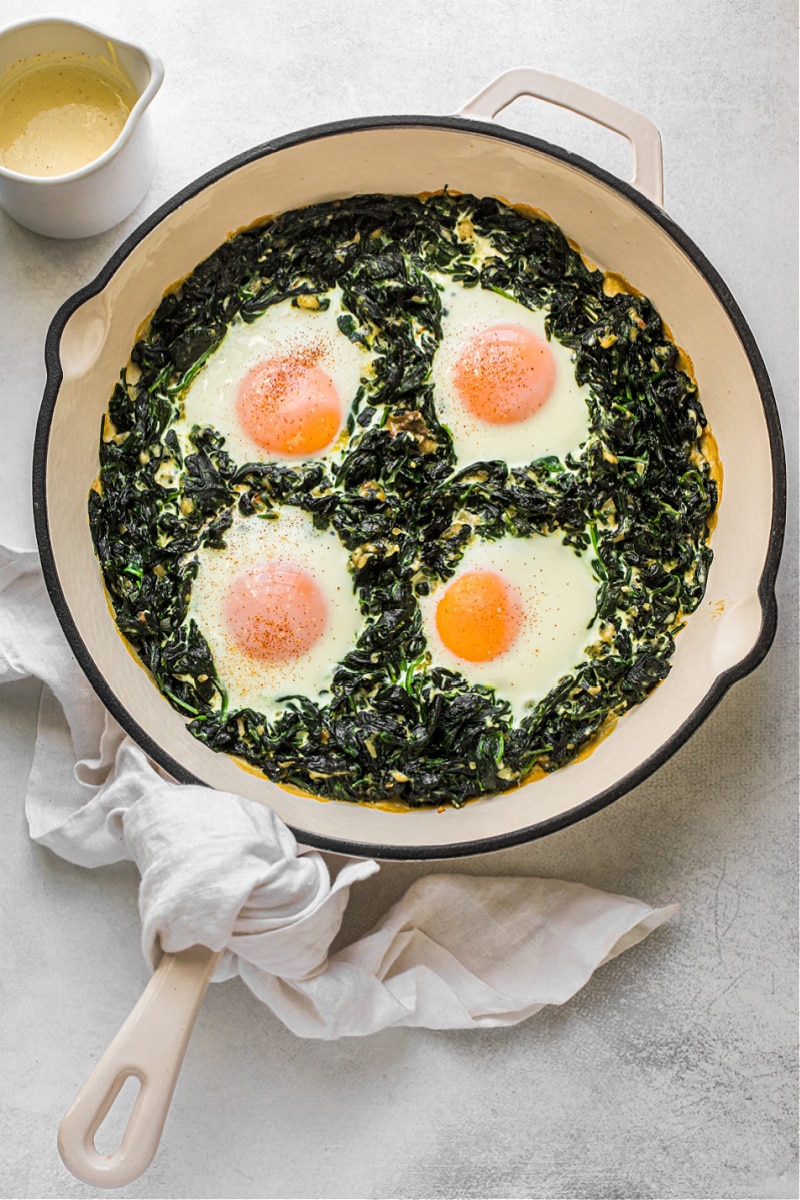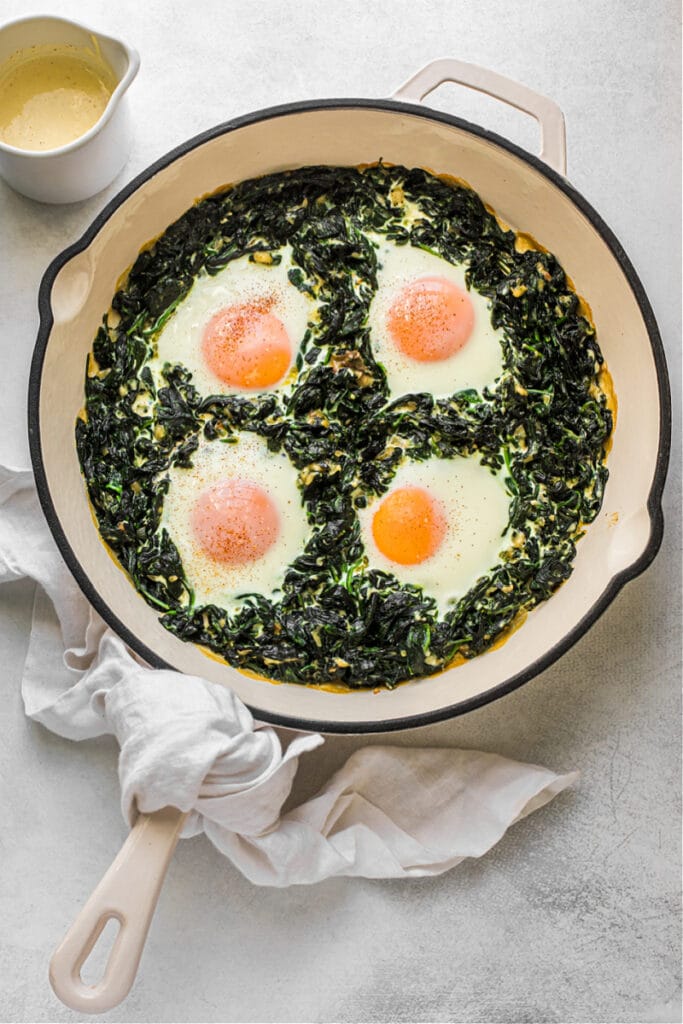 Eggs are the star of this dish and are a great source of vitamin A.
Vitamin A is a fat-soluble vitamin that is very helpful in preventing and reducing infectious disease, and supports the immune system, reproduction, eye health, heart, lungs, thyroid hormones, kidneys and other processes in the body. It even works together with vitamin D to help protect against autoimmune disease. Kim Schuette, CN taught that vitamin A is essential for detoxification and "It is now estimated that improving the vitamin A status of all deficient children worldwide would prevent 1-3 million childhood deaths annually."
"Vitamin A regu­lates the action of over five hundred genes in the body, which makes it a major regulator of all of our cells and how they function. Starting at conception vitamin A orchestrates the proper division and differentiation of every cell in the body." Dr. Pam Shoenfeld.
As you can see, it's a pretty important nutrient!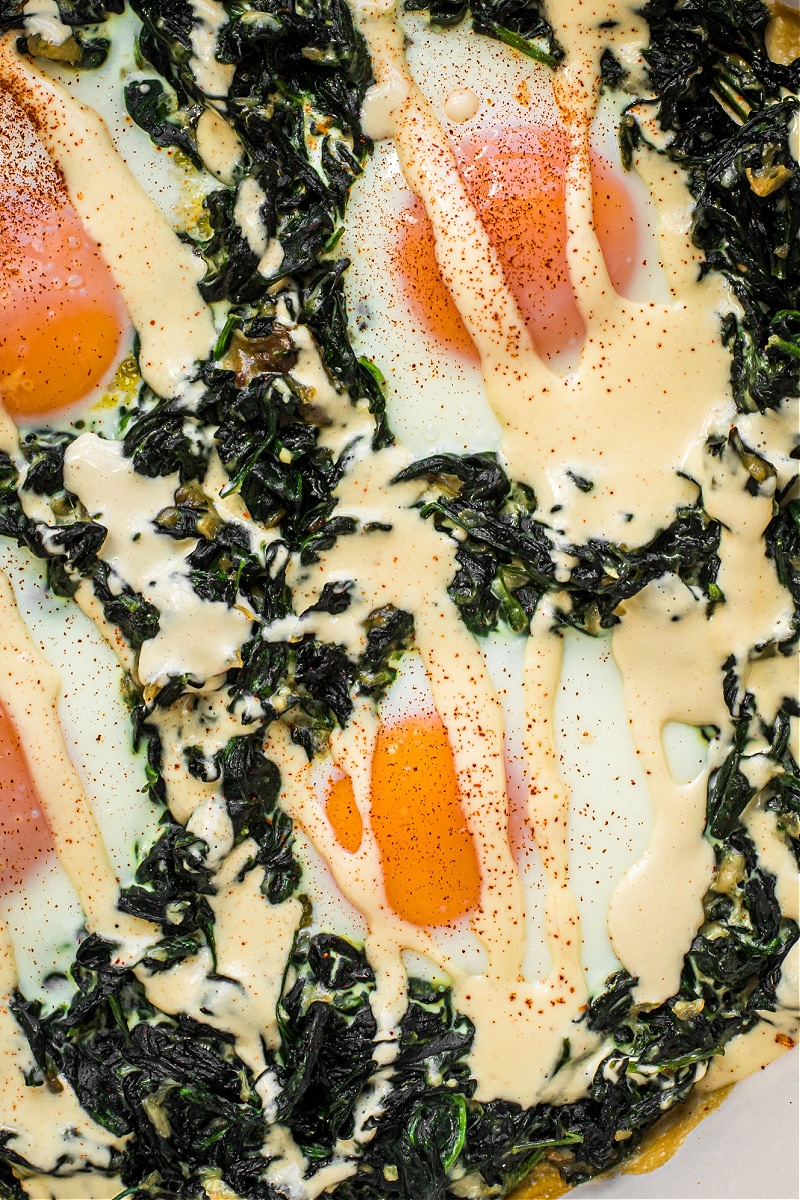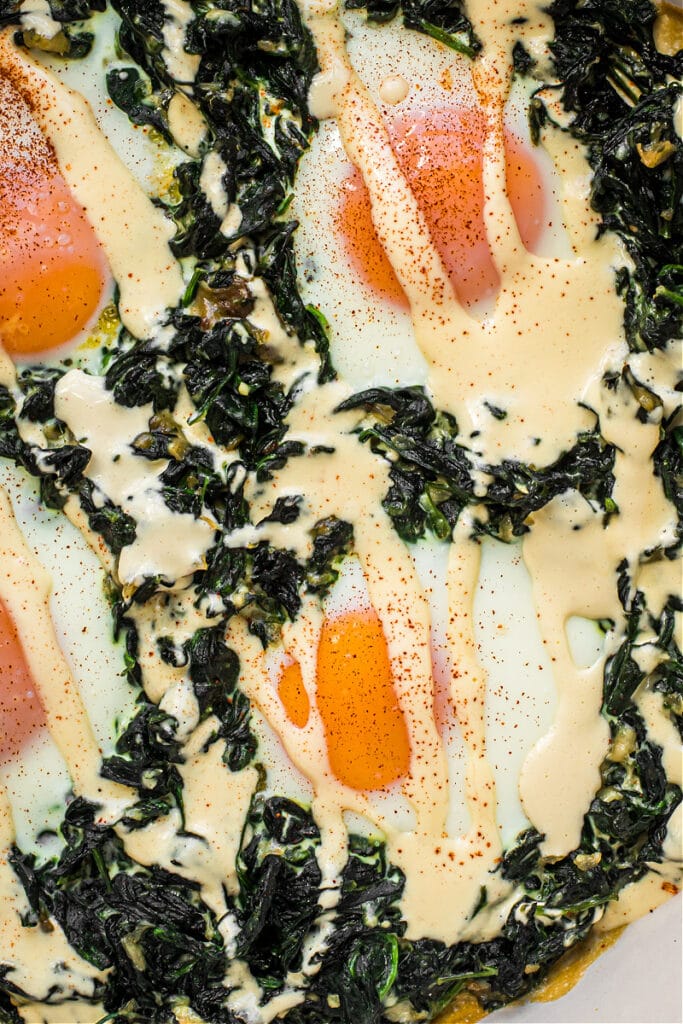 When Dr. Weston A. Price traveled the world in the early 1900's studying different people groups to find what diets produced dental decay and physical degeneration, he discovered that the diets of healthy people groups contained at least ten times as much vitamin A as the American diet of his day. He also learned that vitamin A is one of several fat-soluble activators that are necessary for the assimilation of minerals in the diet and present only in animal fats.
It's a common misconception that vitamin A can be found in plant foods. Vegetables are a wonderful source of beta-carotene, but beta-carotene is only useful to humans when it's broken down and converted in the body to retinol using the body's own vitamin A stores.
There are some situations where the body has a hard time making this conversion. This can happen with poor thyroid function, in children, with zinc or iron deficiency, with gut dysbiosis, or if you've had your gallbladder removed.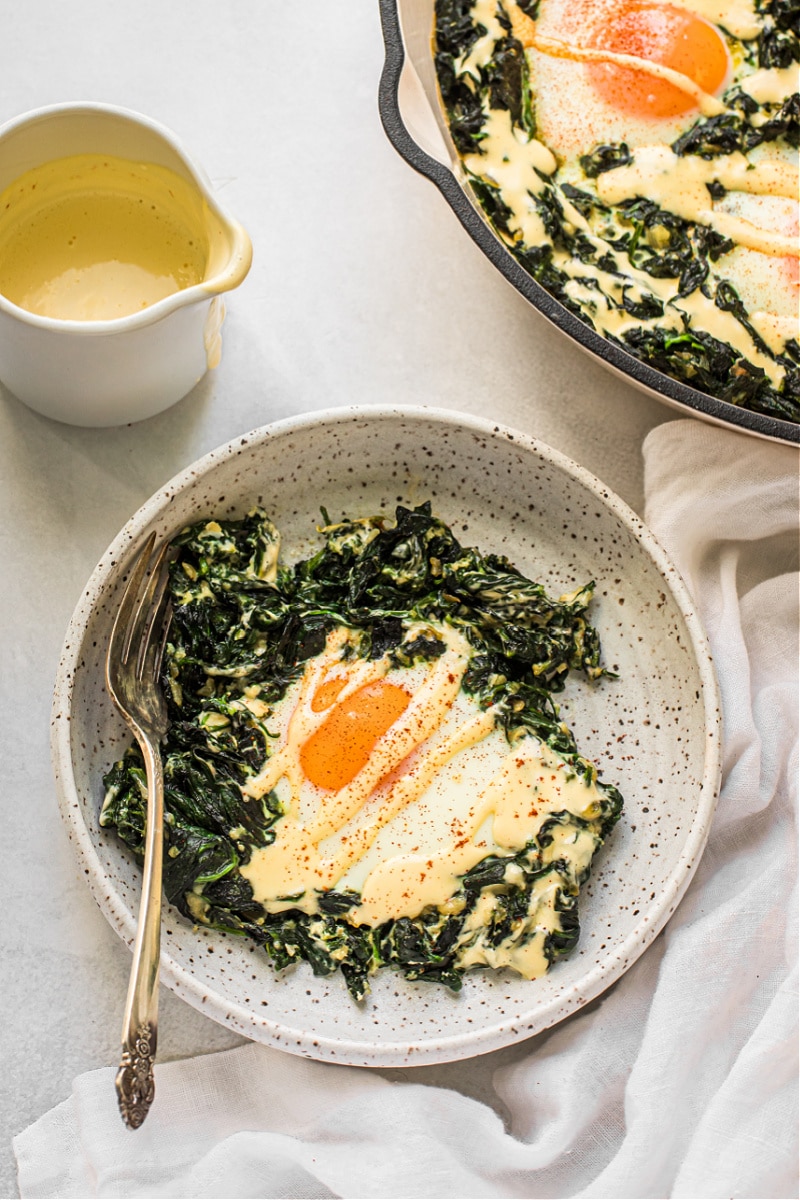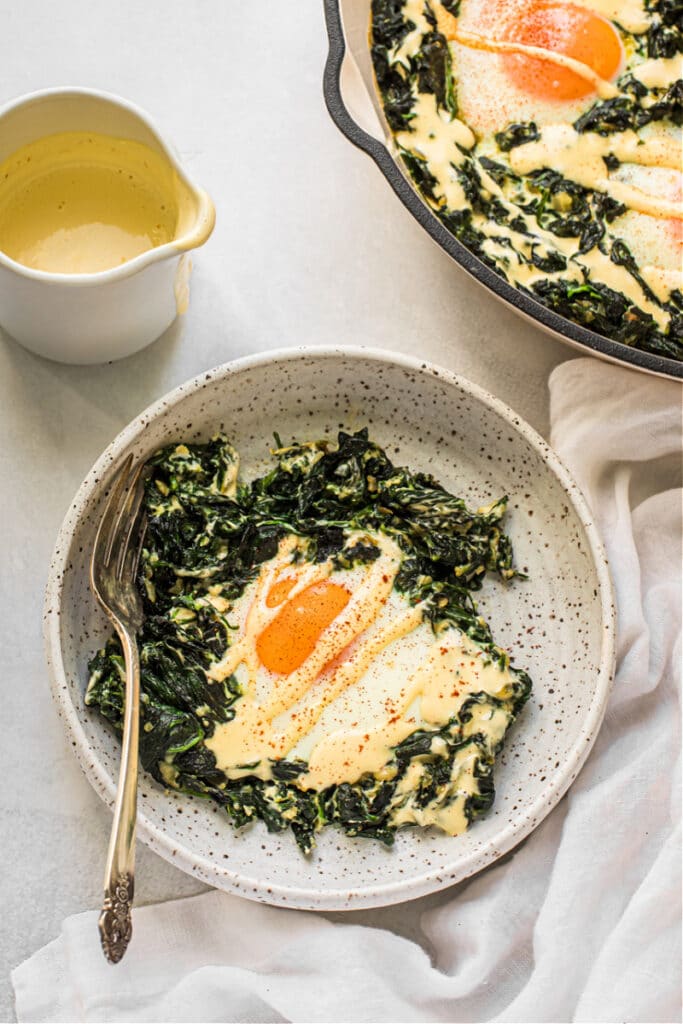 Vitamin A stores can rapidly deplete during exercise, fever, and periods of stress. So, it's important to fuel with adequate amounts of retinol to keep our bodies healthy and strong.
We can get vitamin A from foods such as:
Pastured and wild meats
Cod liver oil
Organ meats
Pastured butter
Pastured eggs
Organic tallow, lard, ghee, and duck fat
Grass-fed unprocessed/raw whole milk and cream (pasteurization kills vitamin A).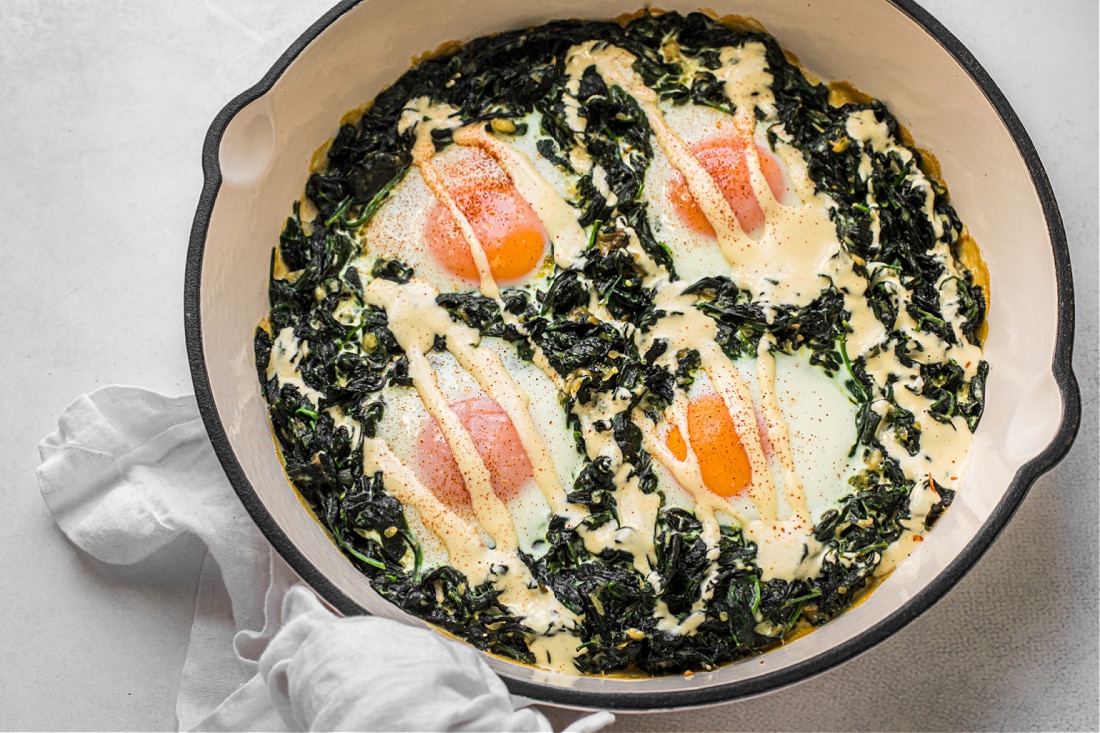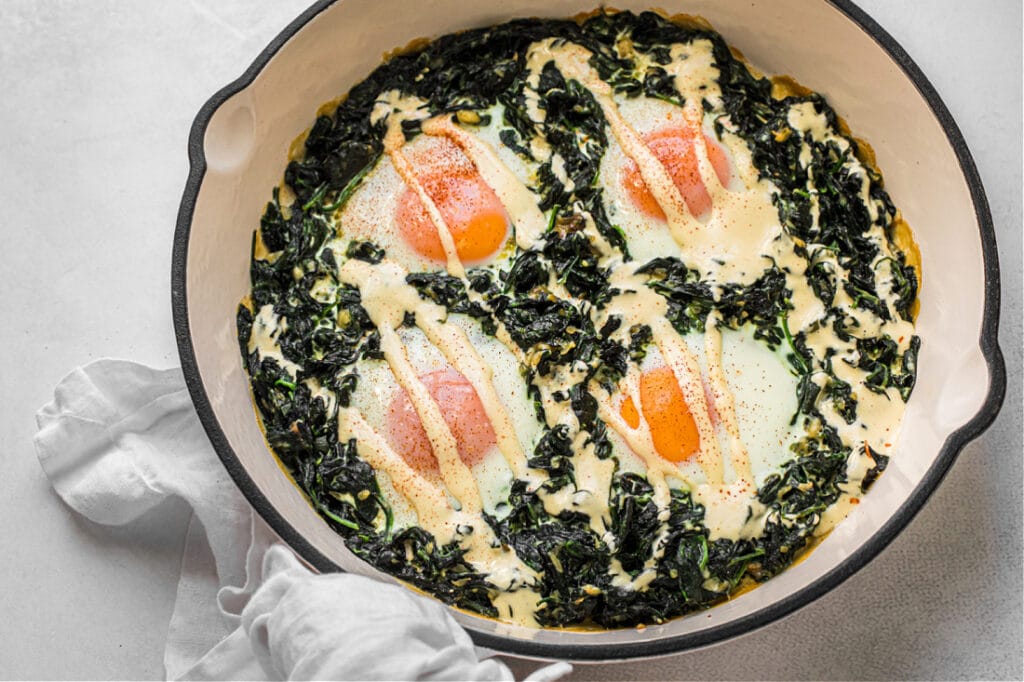 I like to serve savory dishes with eggs, butter, raw/unprocessed milk, and cream at breakfast. I love the classic fried or scrambled egg, but sometimes I like to change it up a bit. Eggs Florentine is a nice way to change things up and get in some healthy vitamin A to start our day!
Print
Eggs Florentine Recipe (Grain-Free)
You can prepare the spinach mixture ahead and time and then reheat in the morning, crack the eggs and bake. The dish can be served with or without the hollandaise sauce.
2 tablespoons

unsalted butter

1

shallot, chopped

8 cups

baby spinach

1 teaspoon

coconut flour

1/4 cup

whole milk

1/3 cup

shredded Pecorino Romano cheese

1/8 teaspoon

dry mustard

1/2 teaspoon

Celtic sea salt

4

large pastured eggs
I used this recipe for the hollandaise sauce and added 3/4 teaspoon of Celtic sea salt to the sauce to get just the right flavor
Dash of cayenne pepper
Instructions
Preheat oven to 500 degrees F and adjust rack to middle position. Melt the butter in a medium sauté pan over medium heat. Add the shallot and cook, stirring frequently until soft, about 3 minutes. Add the spinach and cook until the spinach has wilted and released its moisture, about 5-7 minutes. Add the coconut flour and stir constantly for 1 minute. While constantly stirring, slowly pour in milk and cook for about 2 minutes until thick. Remove from the heat and stir in cheese, dry mustard, and salt.
At this point, you can divide the spinach mixture between two individual pans, or you can make 4 small wells using the back of a spoon and crack the 4 eggs into the wells. Bake for 6-8 minutes, just until whites are set. Serve alone or with hollandaise sauce and a dash of cayenne pepper.