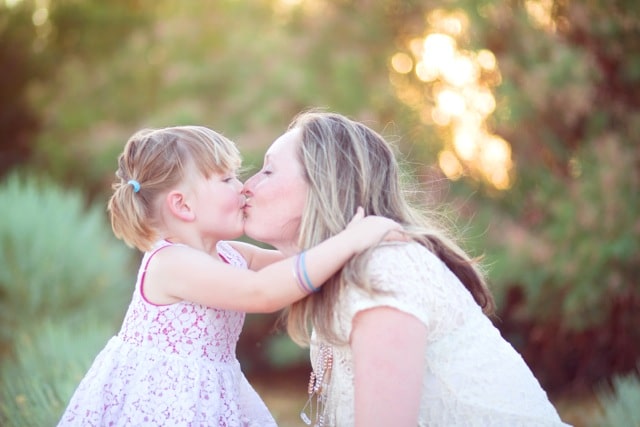 Today, my friend Jenna shares with you the story of her daughter's amazing recovery from mental health issues and how they discovered the root cause. It's an incredible story and one I believe can offer hope and practical help to many of you today. If you know of a child struggling with potentially food-related behavioral problems, I hope you'll share Jenna's story with their parents.
______________________________________________________________________________
I usually like to start my daughter's story from the very beginning, but today I'm going to throw you straight into the deep end. So hold on to your life preserver.
It was 2010 and I was running some errands in town. My four-year-old daughter, Samantha, was along for the ride. Blond hair, bright blue eyes, and sharp as a tack. After several of our errands, we stopped for a quick lunch and then we topped the morning off at a local cupcake shop.
Samantha had chosen a delectable Red Velvet Cupcake and I'm pretty certain I chose one of everything else.
I loaded Samantha back into her booster seat and set her up with the cupcake and a napkin so she could eat it on the way home. I wanted to celebrate Samantha's very good morning and I wanted to reinforce her excellent (and rare) behavior with something special.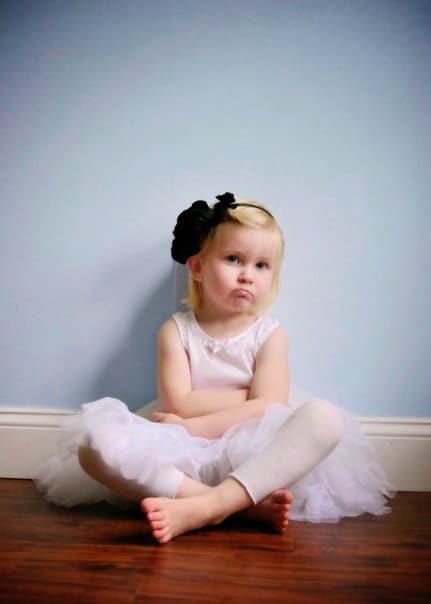 What happened next changed everything for us.
As Samantha ate the Red Velvet Cupcake, it was as if a light switch flipped inside her brain. I first noticed something was wrong when the melody from the song she was singing suddenly fell silent. She dropped the half-eaten cupcake into her lap. Her sweet song was replaced by a low growling noise as she rhythmically rocked back and forth in her seat. She rocked harder and harder until her little head was banging against the back of her booster seat with each impact. Her clenched fists turned white at the knuckles and her feet kicked wildly as she began to scream. She pulled at her hair and grabbed at her skin as though she was being burned alive. I pulled the car over to tend to her and to keep her from hurting herself.
I remember standing on the side of the road yelling through my own tears, "Why does this keep happening to you? I don't understand what's wrong and I don't know how to help you!"
It was a sincere cry from an exhausted mother who'd tried for years to find a cause and solution, but continued to watch her child spiral into emotional and behavioral distress time and time again. A mother who desperately needed answers.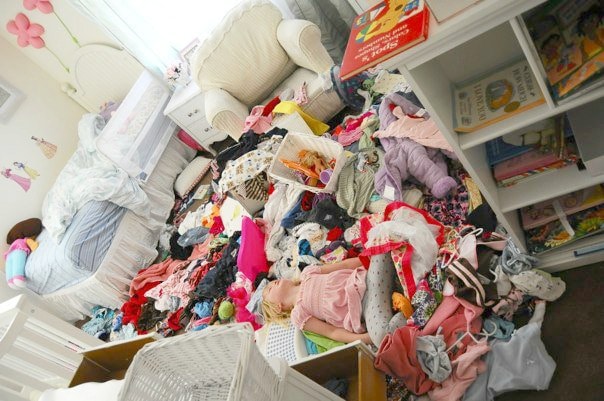 Although this was not an unusual situation for us, this was the most intense reaction I'd seen in a while. I decided to investigate.
I replayed the morning in my mind to see if I could find the trigger. Something. Anything that may be responsible for such a dramatic response.
First we went to Costco. She was fine. Then we went to Target and used the public restroom. She was fine. Sat in some traffic on the way to lunch. Ate a California Roll and drank some water. Fine. Went to the cupcake shop. Ate the cupcake in the car.
That's it – She was eating the Red Velvet Cupcake.
What's in a traditional Red Velvet Cupcake? About 2 cups of red food coloring called FD&C Red #40 (Allura Red). Ok, not really two cups but there is a heinous amount. You have to pack quite a punch to turn rich cake from brown to red.
That led me to type the following into my Google search box: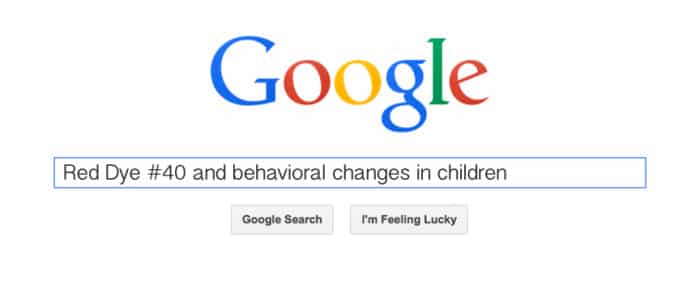 The number of search results that came back was staggering. I was completely in the dark at this point when it came to understanding how artificial ingredients were affecting Samantha so this was like a ray of hope shining into our tantrum-filled darkness.
You have to understand that a week before, I'd stood in our pediatrician's office trying to decide between a pediatric psychiatry referral and a pediatric neurology referral because we'd reached the point where we needed some more intensive support. You have not lived until you have researched pediatric neurologists in your local area, let me tell you.
Discovering this possible food sensitivity came at just the right time. Samantha had already been medicated once for her extreme mood swings, raging tantrums and dysfunctional sleep patterns and we were at a crossroads in terms of determining where to turn next for answers.
Naturally the next step was to remove Red 40 from Samantha's diet and watch to see if we noticed any difference in her moods and sleep patterns. Jackpot.
Within 24 hours of removing Red 40 from Samantha's system she slept through the night for the first time in years and she completely stopped having extreme episodes like the one I described earlier with the Red Velvet Cupcake. It was immediate and it was undeniable.
Here are a few of the items we removed from our home that day because they contained Red 40: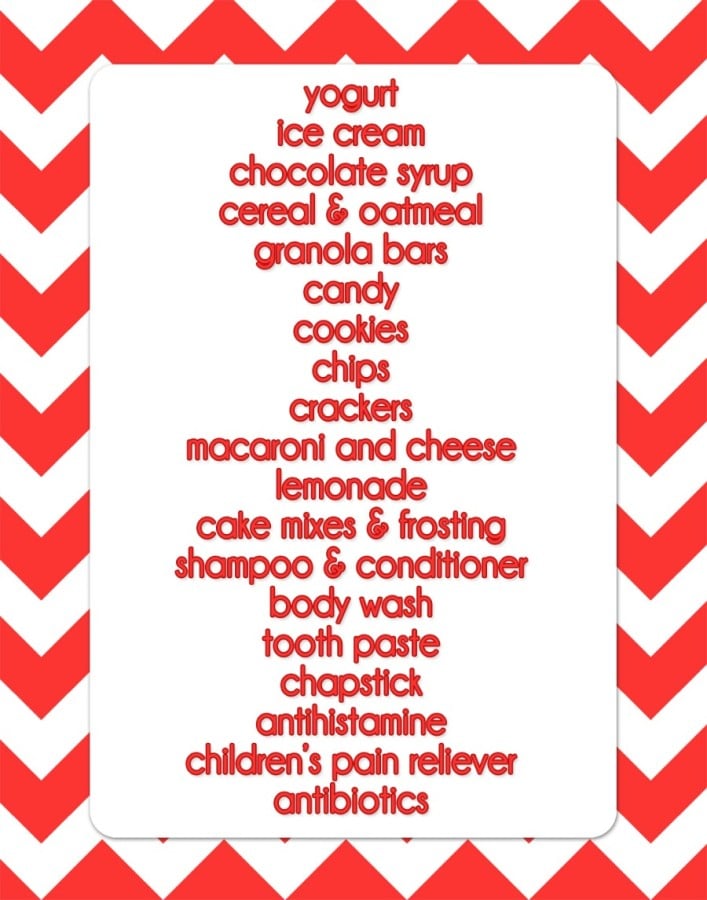 Do you see a pattern? We were infusing Samantha morning, noon and night with Red 40 because we were simply unaware of its existence, let alone the impact it was having on her.
We just didn't know.
I thought back to all of the pink antibiotics she'd been on for reoccurring ear infections since she was an infant and all of the red children's medication we'd given her to reduce fever and pain over the years. We potty trained her with M&M's. We rewarded her for a good day with jellybeans. Trick-or-treating. Easter candy. Gingerbread houses. Birthday cakes and ice cream trucks. It was like her whole life flashed before my eyes and it brought me to tears.
We were causing the very problem that we were so desperate to solve.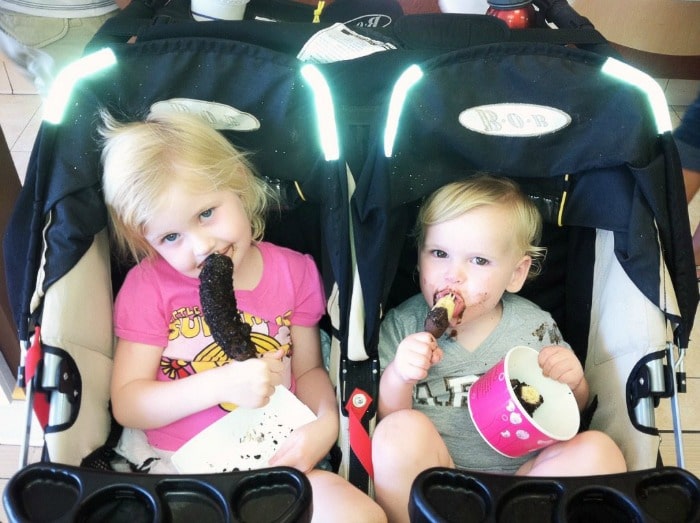 I'd like to say that's the end of the story but it wasn't that simple. It was just the beginning of truly understanding Samantha's sensitivities. Once we removed the biggest offender, Red 40, from her diet we noticed that she was still struggling with her moods. It was less dramatic, but something was still not right. Over the next year we continued to carefully monitor her diet and we got a better picture of her triggers.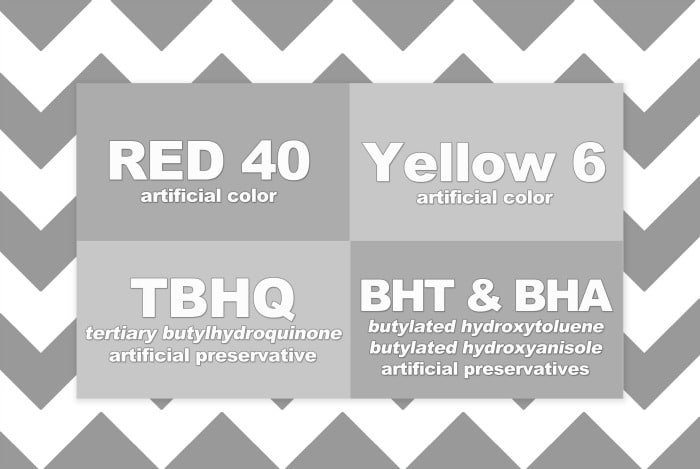 Red 40, Yellow 6, TBHQ, BHA and BHT. They may look like a random list but guess what? They are related. If you break them down and take a good look at their chemical make-up you'll find that they're all petroleum based.
Even the FDA explains that certain synthetic food dyes are derived primarily from petroleum and coal sources.
You can't make this stuff up.
So it turns out that we weren't crazy when we compiled that specific list of triggers because they are related. Samantha did in fact have an extreme sensitivity to petroleum based ingredients. Which explains why she's triggered by red and yellow dye, but not blue. And why she's sensitive to the preservative TBHQ but not a non-petroleum based one like Benzoic Acid.
When Samantha avoids all petroleum based ingredients, her moods and her behavior are astronomically better. I know that's not a scientific measurement but it's an accurate description. Astronomical improvement.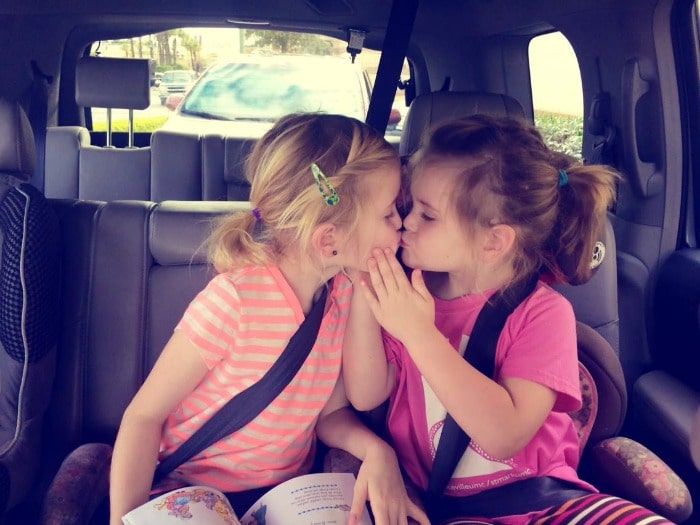 To understand more about the science behind this phenomenon, we got in touch with a nationally-renowned child psychiatrist in our area who is currently involved in researching how nutrition affects mental health.
We learned a lot about how those ingredients affect her brain function, and we also learned that many kids who have this kind of food sensitivity also have nutritional deficiencies that can drastically alter their moods.
She suggested supplementing Samantha.
So we did.
And that turned out to be one of the final pieces to the puzzle.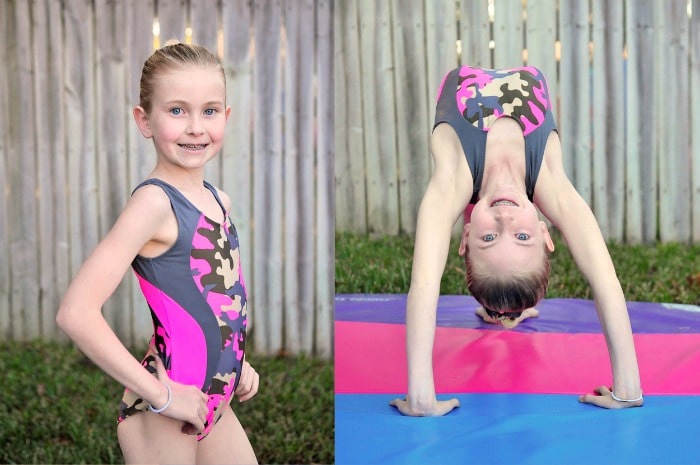 So where are we now? Samantha is 8 years old and she's doing outstanding. She eats a well-balanced, all-natural diet and she is supplemented every morning. She sees a very wonderful psychologist who has helped Samantha learn different techniques to help manage strong feelings when they do arise.
Samantha enjoys working with food in the kitchen and has created several of her own creative and delicious natural recipes. My personal favorite is homemade hot chocolate with Samantha's signature whipped cream!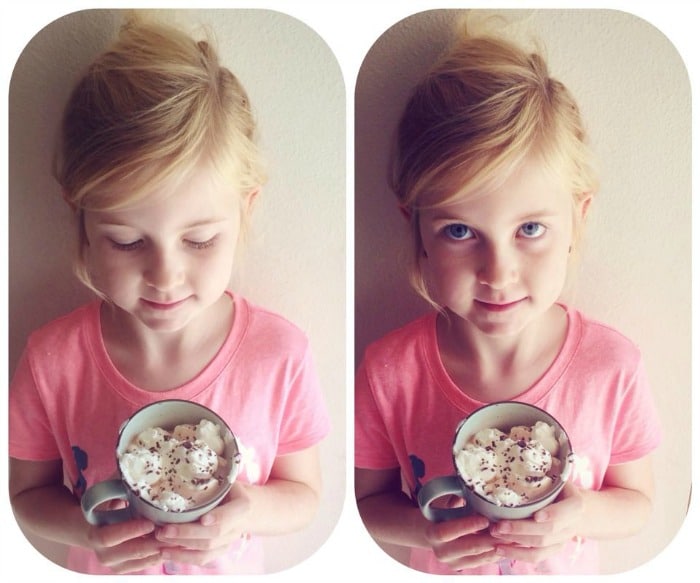 Even to this day, if Samantha has as much as a pink Tic-Tac, she'll decline into an emotional state that we lovingly describe as being 'on the dye'. But those times are very rare now and we're enjoying Samantha's respectful, loving, funny and mellow personality.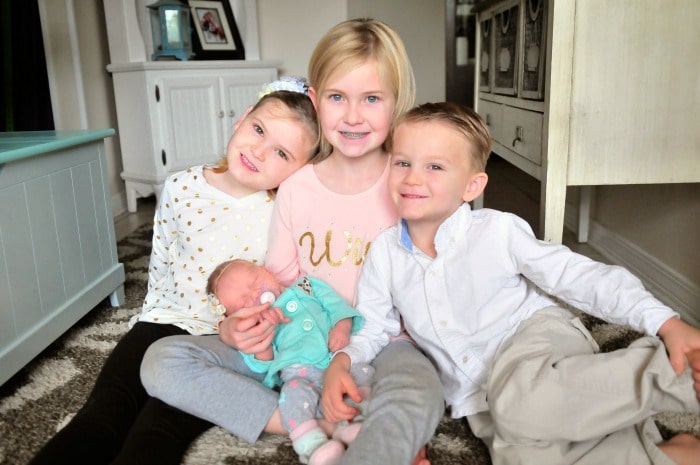 She's a joy for our family and her younger siblings. It gives me chills to think about where we might have been with her in another 5-10 years if we hadn't made this discovery so early. I have nothing but humble thankfulness in my heart that we're in such a healthy place.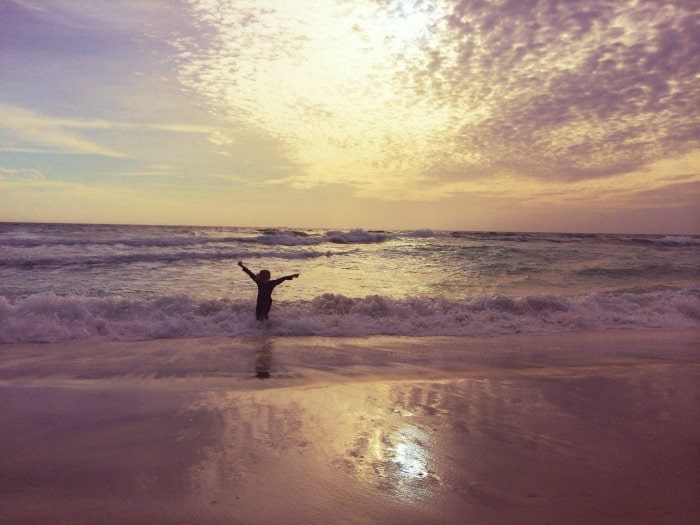 Jenna is a wife, mother, graphic designer, and photographer. She and her husband, Brian, have 4 beautiful children as she likes to say, "they like chaos and screaming and laundry". 🙂 She has a Masters in Christian Education and enjoys developing children's curriculum for churches around the country. 
For further reading:
Toxic Food Dyes and the Dangers of Artificial Food Coloring
7 Reasons I Hate Artificial Food Dyes
CSPI Says Food Dyes Pose Rainbow of Risks
CSPI urges FDA to ban artificial colors, or at minimum encourage companies not to use them
Why Your Child Is Hyperactive: The bestselling book on how ADHD is caused by artificial food flavors and colors