Castor oil packs are a great way to help support the thyroid. I personally used them over my liver and thyroid when I was recovering from Hashimoto's, and I highly recommend trying it out for yourself.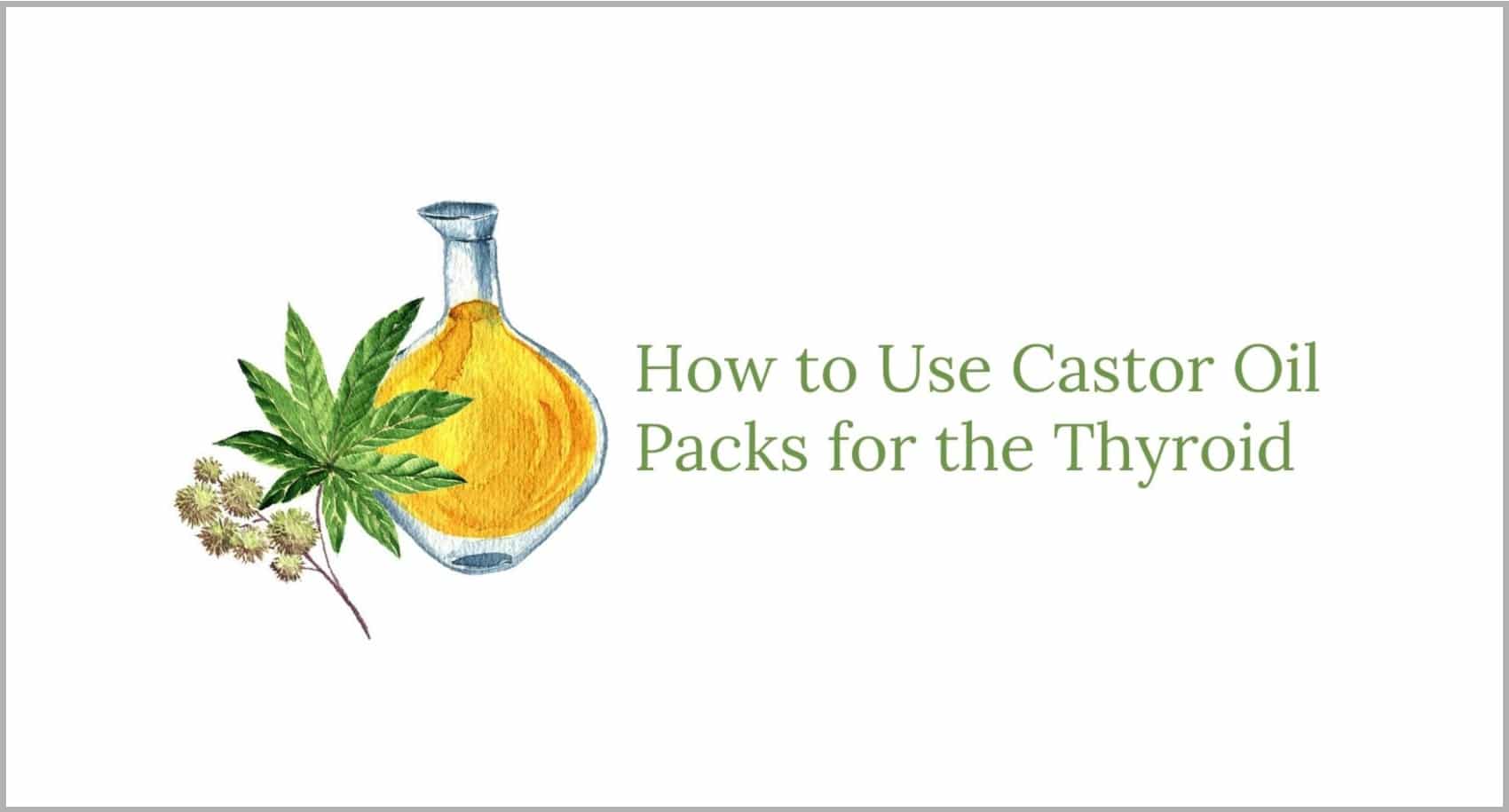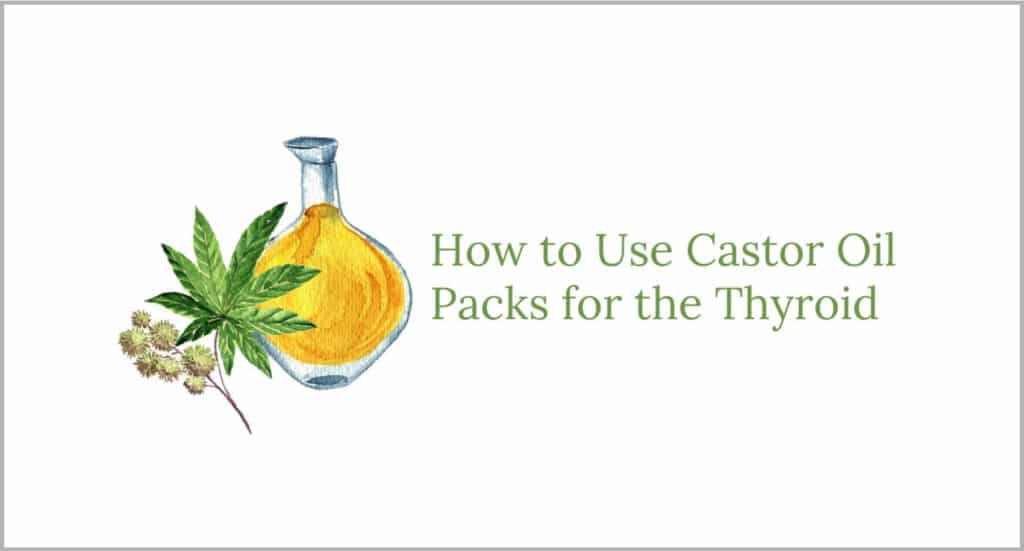 Before we dive into how to use castor oil packs for the thyroid, let's take a quick look at the role of the lymphatic system:

The lymphatic system removes bacteria, viruses, fungi, parasites, cell waste, proteins, and toxins. You can think of it as the "sewage system" of the body. Hundreds of miles of lymphatic tubes allow waste to be collected from your tissues and transported for elimination. Lymphatic congestion is a major factor of inflammation and disease. 
Supporting your lymphatic system can help improve blood flow, bring more oxygen and nutrients to the tissues, reduce swelling, and remove toxins. 
We could go way more in depth on this topic, but for the sake of this article, we're just looking at the 30,000 feet view. 
How can castor oil packs support the thyroid?
Lymphocytes are your immune system's disease-fighting cells and are produced and stored mainly in your lymphatic tissue. This is where castor oil comes in. When castor oil is absorbed through your skin (according to Cayce and McGarey) your lymphocyte count increases. Increased lymphocytes speed up the removal of toxins from your tissues, which promotes healing.
One-third of your lymph is located in the neck and into the brain. Your thyroid is also located in your neck, so putting a castor oil pack over the thyroid can help improve blood flow, bring more oxygen and nutrients to the tissues, reduce swelling, and remove toxins. 
What thyroid issues could this help with?
Swollen thyroid tissues
Cysts
Nodules
Goiter
Here's a video walking you through process:
Here's what you need to do a castor oil pack:

1. A bottle of organic castor oil. I recommend Heritage Store.
2. A piece of organic cotton flannel.
3. A hot water bottle.
4. A small ziploc bag (you could also use a piece of parchment paper if you'd like to avoid using plastic).
5. An old towel (castor oil permanently stains, so it's best to use an old towel).
How to do a castor oil pack over the thyroid:
Please note: It's imperative to first do castor oil packs over the liver for several weeks before trying one over the thyroid. Follow the directions below (but use the entire piece of flannel) and do a pack over the liver 3-4x a week for 4 weeks. After you've been consistent doing this for 4 weeks, then cut a small rectangle out of the flannel that will fit easily over the front of your neck where your thyroid is located.
1. Drizzle the castor oil over a small rectangular piece of flannel that fits easily over your neck. I keep my flannel in a large glass Tupperware to catch any oil that might drip and then I drizzle the castor oil over the flannel. 
3. Fill up your hot water bottle. 
4. Set the dish with the flannel, the ziploc bag, and old towel on your nightstand or next to your bed.
5. Lie down and place the cotton flannel over the thyroid. Remember: only do this after you've been consistent with doing a castor oil pack over your liver 3-4x a week for 4 weeks.
6. Put the ziploc bag on top of the flannel. The plastic should not touch your skin. 
7. Place one layer of the old towel over the pack. 
8. Place the hot water bottle on top of the towel.
9. Lie down and keep the castor oil pack on the thyroid for 15 minutes*. Remove the pack and wipe the area with the old towel to remove any castor oil. Follow with a pack over the liver for 45 minutes. 
10. Repeat as necessary.
*If you have been diagnosed with Hyperthyroidism or Graves' then it's usually best to only do the pack for about 5-10 minutes. 
FAQ:
When is a castor oil pack over the thyroid not recommended? 
Castor oil packs are not recommended when pregnant or breastfeeding. 
If your doctor has told you not to use castor oil over your thyroid, then definitely follow their instruction. And, as mentioned above, if you have hyperthyroidism or Graves' then it's best to only do a thyroid pack for 5-10 minutes so you don't push the tissues too hard. 
A castor oil pack over the abdomen isn't recommended if you have an IUD because it could cause the IUD to dislodge or release excess copper into the system. It's also not recommended during menses, if you have internal bleeding, or if you struggle with IBS, Colitis, or diarrhea.
How do I store the castor oil pack?
I recommend storing it in a glass Tupperware or some other kind of glass or ceramic dish.
How many times can I use the cotton flannel?
You can reuse the flannel over and over. If it starts to discolor or have an off smell, then it's best to replace it. You can usually use one piece of flannel for about 6-9 months.
Do I wash the flannel after each use?
No. You won't be able to get the castor oil out of the flannel, so it's best to not try and wash it. As long as the flannel has been on clean skin, then using it over and over is fine.
What does it mean if I get a rash or start itching when I do a castor oil pack? 
This can be a sign of an allergy or a sign that the body is being pushed a bit too hard. If you have a reaction, I recommend wiping off the castor oil and waiting until the rash goes away before trying again. If you find you have an allergy to castor oil, then do not do another castor oil pack. And, of course, always consult with your practitioner.
What does it mean if I do a castor oil pack over my thyroid and it gets red, itches or I get a rash? 
If you do a castor oil pack over your thyroid and you get any kind of rash, this can be a sign that your liver needs some additional support. If this happens, I recommend only doing a castor oil pack over the liver for 3-4 weeks, and then doing the castor oil pack again over the thyroid for 5-10 minutes and see if there is still a reaction. If you keep having a negative reaction, always consult with your practitioner.
If you'd like to learn some first steps you can take to help support your thyroid, check out my class, "3 Keys to Thyroid Hormone Balance". It's just 45 minutes and I promise you'll learn something new!
Note: This information is not intended to take the place of your doctor's advice.