I love using fresh herbs to make caprese salad with basil pesto.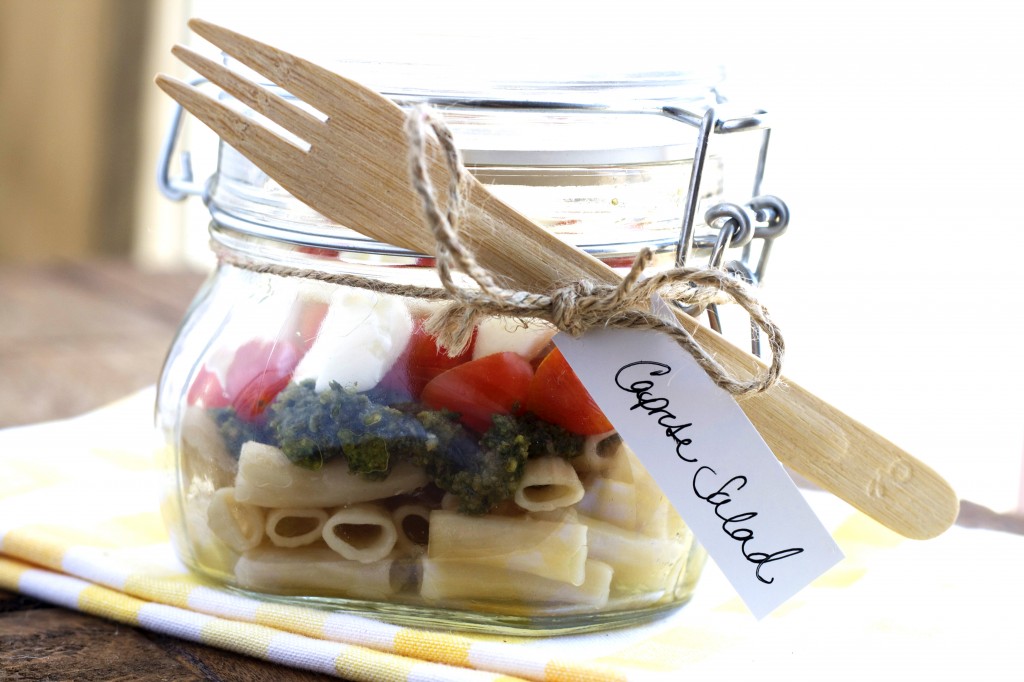 Plants don't really grow for me. I'm not a great gardener. I wish I was. Moving around every couple of years doesn't help because once I finally figure out what grows in that specific region, we pick up and move. One thing I do grow, despite my black thumb, is herbs. I have a few pots and each year in early summer I plant basil, oregano, thyme, parsley, mint, and cilantro. Each little plant costs about $2 (the same price I'd pay in the store for a few sprigs) and I have herbs for about six months out of the year. If you use herbs often in your cooking, growing your own can save you quite a bit of money at the grocery store.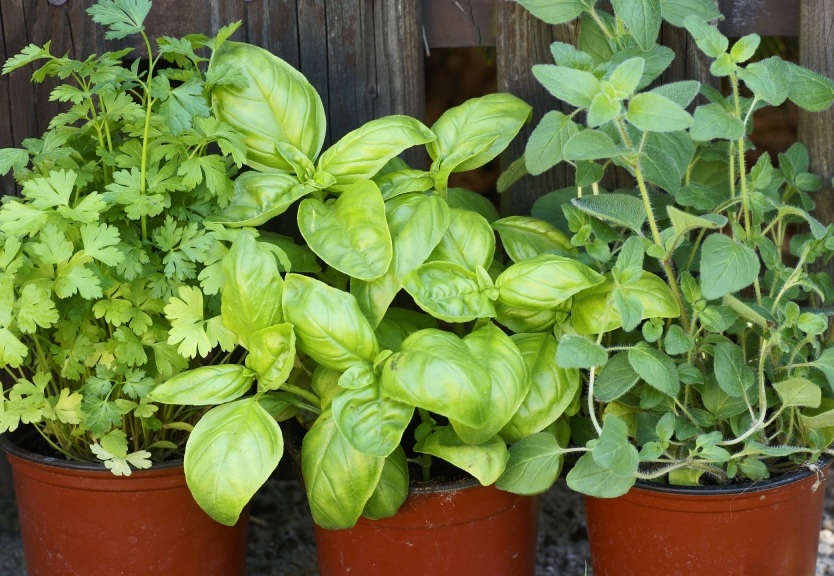 One of my favorite things to make with fresh herbs is pesto. Basil is the most popular, but I like to change it up with chard, kale, olives, broccoli, and sun-dried tomatoes. I like to get creative for summer picnics by bringing "salad in a jar." Pair this light, flavorful salad with some fruit, cured meat, and something bubbly and you've got a recipe for an enjoyable time with nature, even if you can't grow your own garden.
For some gardening help, check out this excellent post:
How to Grow Your Own Indoor Culinary Herb Garden by Gourmande in the Kitchen
Caprese Salad with Basil Pesto
You can also make this salad in a large bowl instead of individual jars.
Ingredients
For the Pesto:

1 cup fresh basil leaves, washed and patted dry
1/2 cup walnuts
1/2 cup Pecorino Romano cheese, grated
1 clove garlic
1/2 teaspoon sea salt
1/4 cup extra-virgin olive oil

For Salad:

8 ounces penne pasta (whole wheat or rice pasta), cooked, drained and cooled
16 cherry tomatoes, cut in half
1/2 cup mozzarella, cubed
1/4 cup extra-virgin olive oil
Instructions
Place the basil, walnut, cheese, garlic and sea salt in the bowl of a food processor or blender. Process until smooth. With processor on, slowly add olive oil. Adjust salt to taste.
Divide pasta, tomatoes, mozzarella and olive oil into 4 bowls or jars. Divide pesto evenly among jars. Shake or toss salad before serving.
7.8.1.2
3493
https://deliciouslyorganic.net/organic-real-food-on-a-budget-caprese-salad-with-basil-pesto/
Copyright 2016 Deliciously Organic
SaveSave