Nothing says Christmastime to me more than a tall peppermint mocha.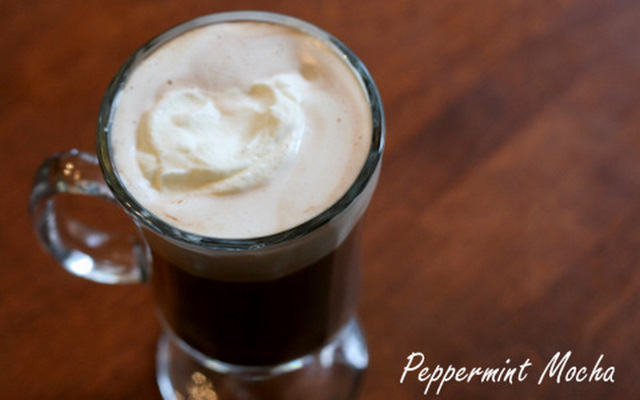 I don't just like coffee. I really, really enjoy it. I know I shouldn't, and I know all of the reasons why it's not the most nutritious but it's my one weaknesses. (We all have a weakness, right?) Now, don't get the idea that I walk around with a cup in hand all day, but I do love the delicious flavor of coffee on a cold morning or meeting up with a friend and lingering over a steaming cup with rich cream and honey.
The peppermint/chocolate/coffee combination of a peppermint mocha is heavenly and the first sip makes me breath calmer and slow my pace. I love going to Barnes and Noble, ordering a peppermint mocha, and then browsing around the bookstore seeing what's new. I usually get stuck in the cookbook section and could probably spend days in that tiny nook of the store. One day last year, while the kids were in school, I went to our local B+N, ordered my peppermint mocha, started browsing, and lifted the cup to my lips to take that first sip and the next thing I knew, I was covered in hot coffee. I looked up, no one was around, and I thought, "Wow, well this is nice, I'm standing in the middle of the bookstore, burned, and I have coffee all down my clothing and on the carpet. I decided I wasn't going to let it ruin my time alone at a bookstore without the kids, so I slyly walked away from my mess (it's not like I had paper towels to clean it up), cleaned myself up, ordered another mocha and went on with my browsing (with a huge brown stain down my outfit). After that incident I'm a little freakish about making sure my lid is on tight when I order any sort of hot drink.
The other day I decided since the Christmas season is here I really should come up with my own recipe for peppermint mocha using herbal coffee (much healthier), cocao powder, peppermint extract and whipped cream. The result? Well, let's just say I'll save some money now that I have a wholesome organic peppermint mocha recipe that I can make at home and I don't have to feel guilty afterwards! Now all I need is to find some organic, all-natural red sprinkles to put on the top and I'll have Christmas in a cup.
Serves: Makes 1 8-ounce serving
Homemade Peppermint Mocha
Ingredients
1 1/2 Tablespoons cocao powder
1 1/2 Tablespoons organic cane sugar
6 ounces whole milk (or coconut milk for dairy free)
2 ounces strong brewed herbal coffee or regular, organic coffee (I use teeccino )
One drop of peppermint essential oil or a splash of peppermint extract
2 Tablespoons whipped cream (omit for dairy free)
Instructions
Whisk together milk, cocao powder and sugar in a small saucepan over medium heat. When milk begins to steam take off of heat and pour into a mug. Add the herbal coffee and splash of peppermint extract. Top with a large dollop of whipped cream.
7.8.1.2
3418
https://deliciouslyorganic.net/peppermint-mocha/
Copyright 2016 Deliciously Organic