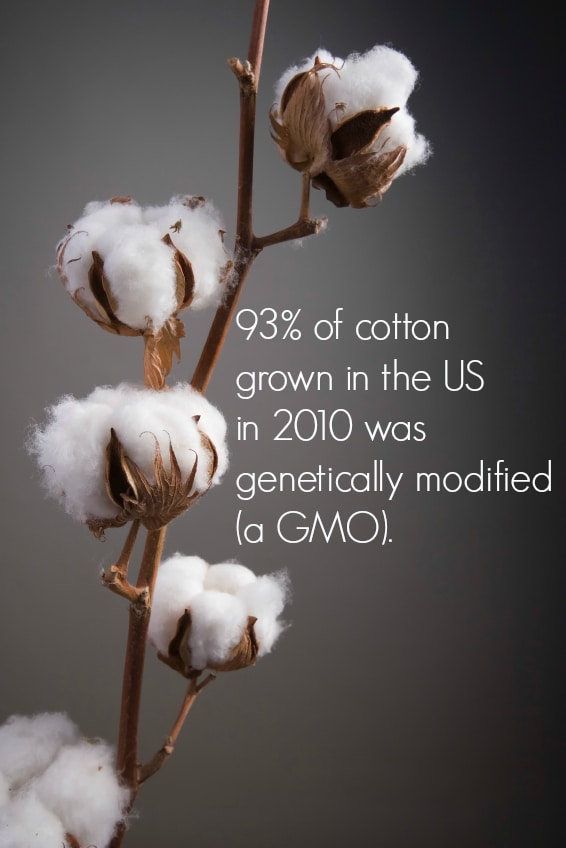 Did you know that 93% of cotton grown in the US in 2010 was genetically modified (a GMO)? While many of us are diligently trying to buy non-GMO products, most are unaware that almost every piece of clothing, bedding, towel, or cotton swab is made with GM cotton. Although I'm not aware of any studies which prove that GMO cotton is harmful when it comes in contact with the skin, I'm concerned. The skin is our largest organ and can absorb many things through simple contact. Does GMO cotton have a negative effect on the body? What about lint floating in the air – if we breathe it in, is it harmful? The Organic Consumer Association warns that the new GM strains have not been properly tested for safety and environmental impact and may contain pesticides that can migrate to human skin.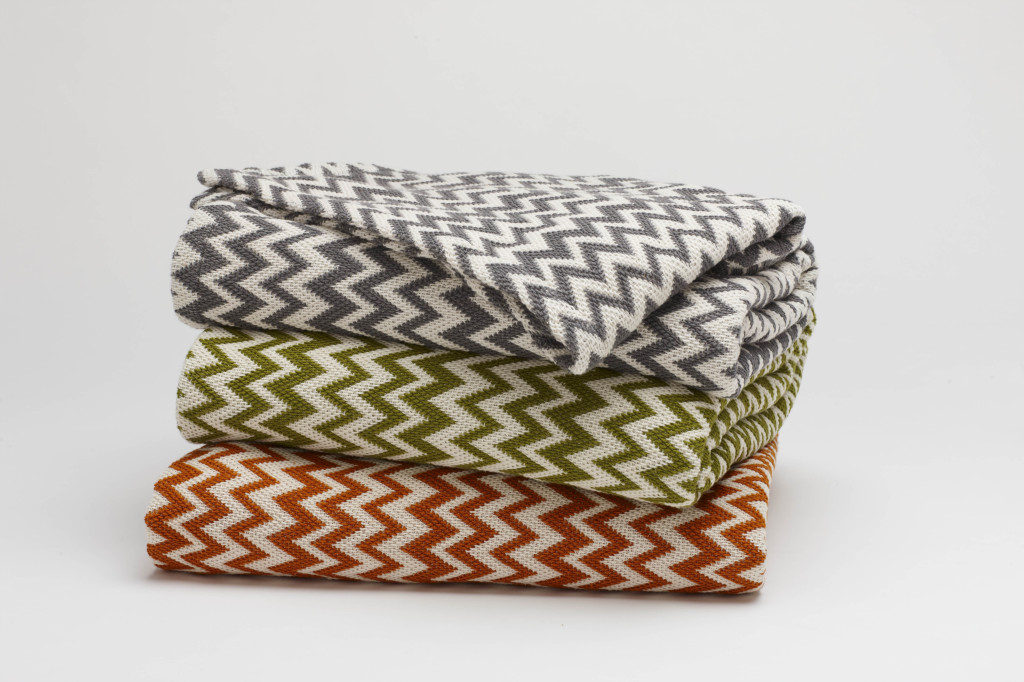 Aside from the fact that most cotton is GMO, The Pesticide Action Network claims, "conventionally grown cotton uses more insecticides than any other single crop. Nearly $2.6 billion worth of pesticides are sprayed on cotton fields each year — accounting for more than 10% of total pesticide use and nearly 25% of insecticides used worldwide.
In the U.S. and around the world, pesticides used on cotton — even when used according to label instructions — harm people, wildlife and the environment. Many of the most hazardous pesticides on the market, including broad spectrum organophosphates and carbamate pesticides, are sprayed on cotton fields."
Pesticides have been linked to a wide range of diseases including asthma, autism, learning disabilities, birth defects and reproductive dysfunction, diabetes, Parkinson's and Alzheimer's diseases and several types of cancer.
And if all of this wasn't bad enough, during the conversion of conventional cotton into clothing, numerous toxic chemicals get added at each stage – silicone waxes, harsh petroleum scours, softeners, heavy metals, flame and soil retardants, ammonia, and formaldehyde – to name just a few. (click here to read the details about the chemical processing. I was shocked!)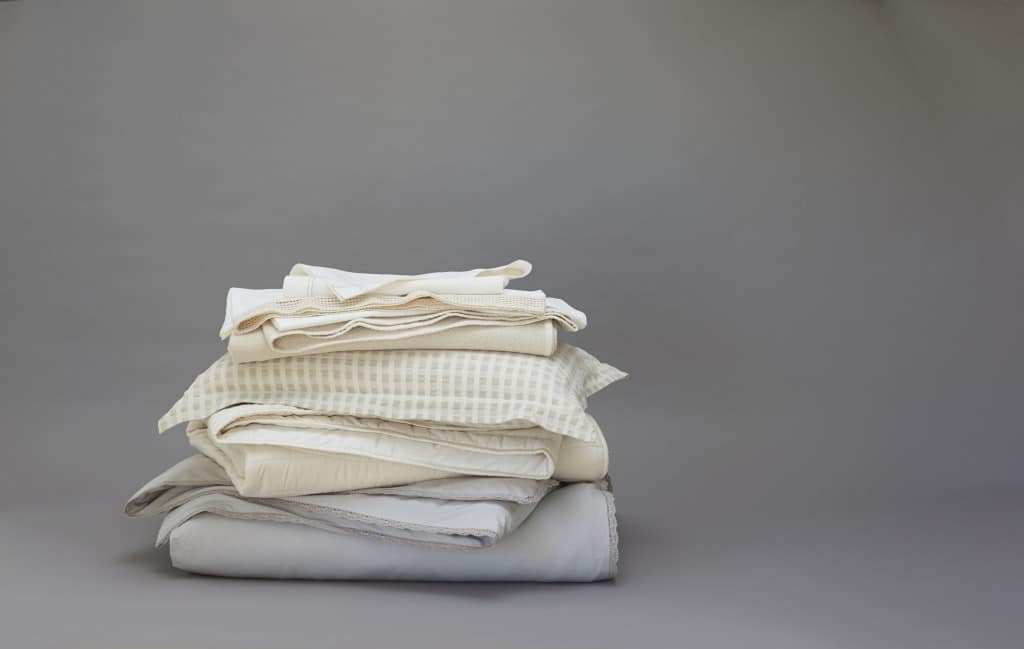 Now for the good news! The Organic Consumer's Association states, "organic farming methods use natural fertilizers, like compost and animal manure, that recycle the nitrogen already in the soil rather than adding more, which reduces both pollution and N2O emissions. Organic cotton is often hand-picked, especially in developing countries, without the use of defoliants, machinery, or chemicals. Hand picking also means less waste."
Organic clothing manufacturers do not add petroleum scours, silicon waxes, formaldehyde, anti-wrinkling agents, chlorine bleaches, or other materials. They also use low-impact dyes, earth clays and organic color-grown cottons. These more natural alternatives are used to reduce the toxic consequences of conventional cotton fabric manufacturing.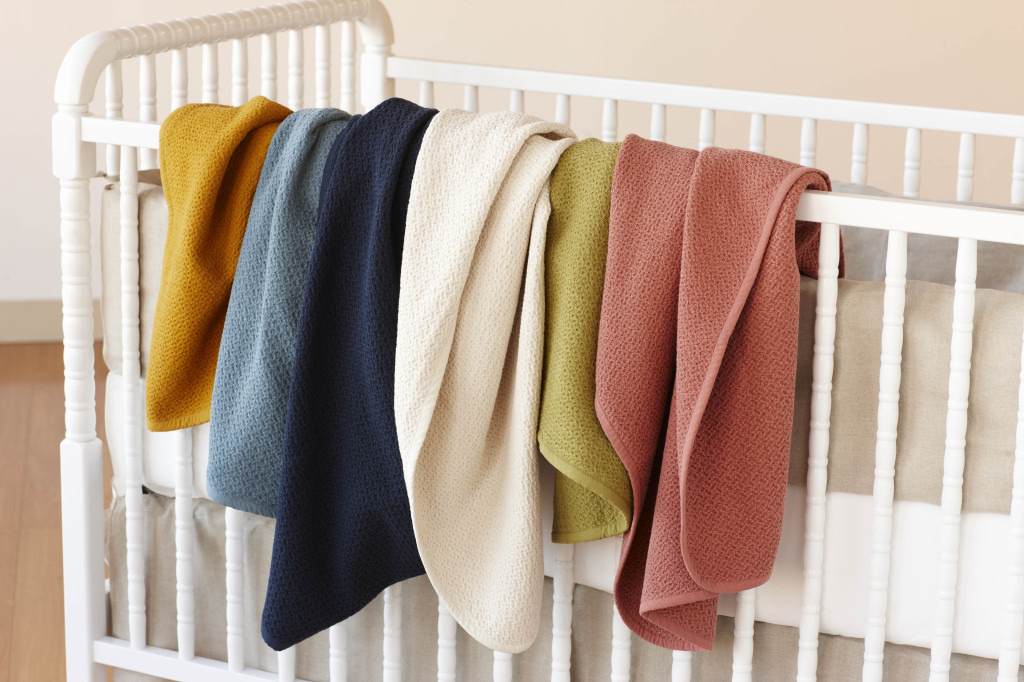 So what do we do? Organic cotton clothing and textiles can be very expensive and not many of us have the means to easily replace all conventional cotton with organic cotton in our household. Once again, my suggestion is to start small. When it comes to changing your diet to organic, unprocessed foods, I always say, "Make one change a week" so for bedding, towels, clothing, etc. I challenge you to "Make one change a month". I'm starting with our bedding and towels. I found Coyuchi many months back and started with a few new pillowcases and a blanket. A couple months later, I purchased organic sheets. Soon, I plan to start replacing our conventional towels with organic ones (it might be one towel a month, but I'll slowly get things switched over!).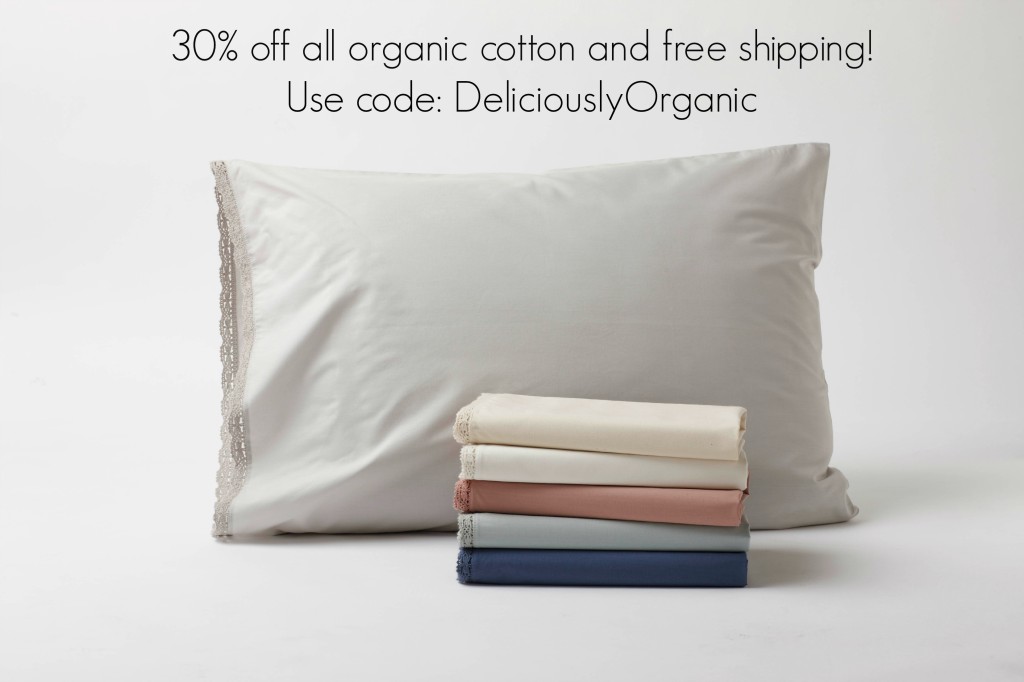 Coyuchi sells all-organic bedding, including blankets, pillows, sheets, towels, and much more. Maybe you can start with two pillow cases, or some towels. Start somewhere, and slowly begin to look for alternatives to conventionally-grown cotton. It's healthier for the environment and may be healthier for your family.
When I decided to write this post, I contacted Coyuchi to see if they could offer a special discount for you. You're in luck! This week, they're having a 30%-off sale for organic cotton and they've offered free shipping for any size order for all Deliciously Organic readers! Use the code: DeliciouslyOrganic
Here are a few more economical options to start with:
220 Percale Pillowcases
Air Weight Bath Towels
Organic Cotton Pajamas
Jersey Fitted Crib Sheets 
What do you think about the chemicals and pesticides used in textile production? What product are you going to start with first – Pillows? Sheets? Towels? I'd love to know your opinion!
Full Disclosure: I discovered the online store, Coyuchi, many months ago and fell in love with their products and their mission. I contacted Coyuchi to see if I could help promote their product. They sent me a few products to sample. All thoughts and opinions are my own.