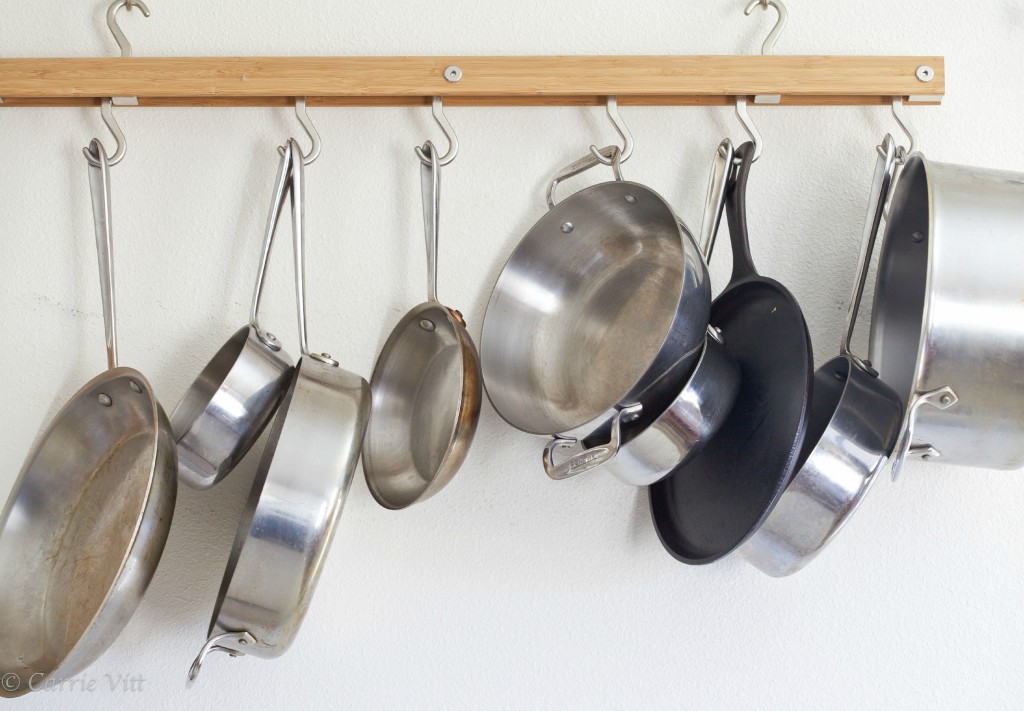 Here's a picture of the pots and pans I currently use. I hang them on this pot rack.
We spend a lot of time thinking about the foods we eat, but sometimes overlook the importance of the cookware we use to prepare food. It's important to use cookware without coatings or substances which can leach into our food. Studies have found that Teflon non-stick cookware, and aluminum – two of the most popular cookware choices – have a tendency to leach metals and other harmful chemicals into the food. Today we're going to look solely at cookware and in a couple weeks we'll circle back and discuss bakeware.
Teflon
Non-stick cookware has become very popular over the years because it's incredibly convenient. Unfortunately, it emits toxic fumes when overheated and over time, the coating can wear away and end up in your food. Teflon is DuPont's trade name for a synthetic polymer called polytetrafluoroethylene (PTFE). Non-stick cookware is simply a metal pan with a PTFE coating.
Manufacturers' labels often warn consumers to avoid high heat when cooking on Teflon. But Environmental Working Group-commissioned tests conducted in 2003 showed that "In just two to five minutes on a conventional stovetop, cookware coated with Teflon and other non-stick surfaces could exceed temperatures at which the coating breaks apart and emits toxic particles and gases. Also, Toxic fumes from the Teflon chemical released from pots and pans at high temperatures may kill pet birds and cause people to develop flu-like symptoms (called 'Teflon Flu' or, as scientists describe it, 'Polymer fume fever').' Ingesting particles that flake off scratched non-stick cookware isn't toxic because solid PTFE flakes are inert."
Aluminum
Aluminum cookware is popular because of its low price and quick heating, but it comes with health concerns. Studies have shown that aluminum leaches into the food during the cooking process. Aluminum is regarded as a neurotoxin agent due to its accumulation in the brain, bones and liver.
Anodized Aluminum
Anodization subjects the surface of aluminum pots and pans to a process that builds up the metal's natural coating of oxide. This should yield a hard, nonreactive substance that forms a tough coating. As a result, an anodized aluminum cooking surface is non-stick, scratch-resistant and easy to clean. While there aren't hard and fast studies to show that this material is harmful, I'm not comfortable with it. As always, I suggest you do your own research so you can make an informed decision!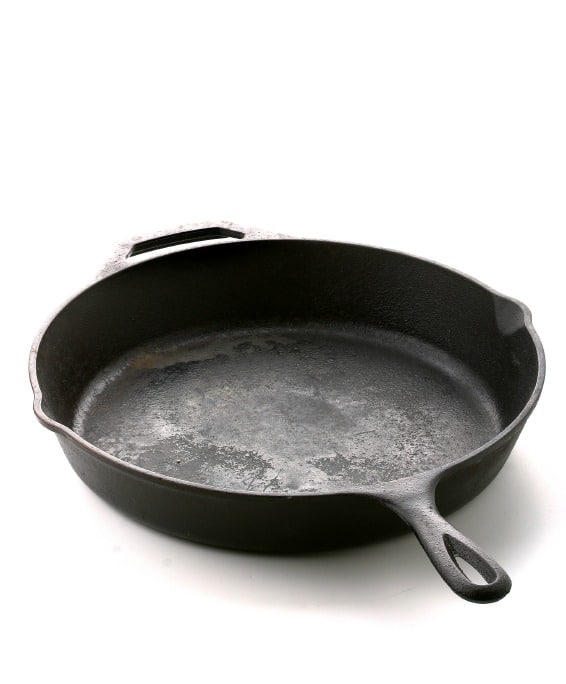 Healthier Cookware Choices
Stainless Steel
Stainless steel cookware is one of my favorites. It's a non-reactive metal that doesn't corrode or pit like other materials can. It's durable, and can last a lifetime. Almost all of my pots and pans are stainless steel. I've had them for over 10 years and they're beautiful! I found a few articles that said stainless steel could release very small amount of nickel into the food, but I had a hard time finding anything conclusive. If you're sensitive to nickel you might want to avoid this cookware. The key to keeping foods from sticking is heat. I cook sunny-side-up eggs in my stainless steel skillet a few times a week using high medium-heat and ghee. It really works!
Ceramic/Enamel
This is a great option for those who love the even heating of cast iron, but don't want to bother with the seasoning process. The cast iron is coated in a hard enamel, making it somewhat non-stick and very easy to clean. Le Creuset has some beautiful, colorful enamel pieces!
Cast Iron
Cast-iron cookware is a great conductor of heat and is very economical. Acids can cause some iron leaching, so it's best to avoid cooking acidic foods in cast iron. I prefer to buy cast iron that hasn't been seasoned, as most pre-seasoned pans have been seasoned with soy oil. Here's a great post that explains how to season and take care of your cast iron pan.
Dishwasher cleaning takes a heavy toll on pots and pans so it's usually best to hand wash them.
Here's a list of the sizes of pots and pans I use most often:
12" stainless steel skillet
3 quart stainless steel saucepan
Large Dutch Oven (a large, oven safe pot with a lid) – I have the 8 quart size.
6" stainless steel skillet – great for cooking up small batches of scrambled eggs and such.
1 quart stainless steel saucepan – I actually own 2 of these. I use them all the time!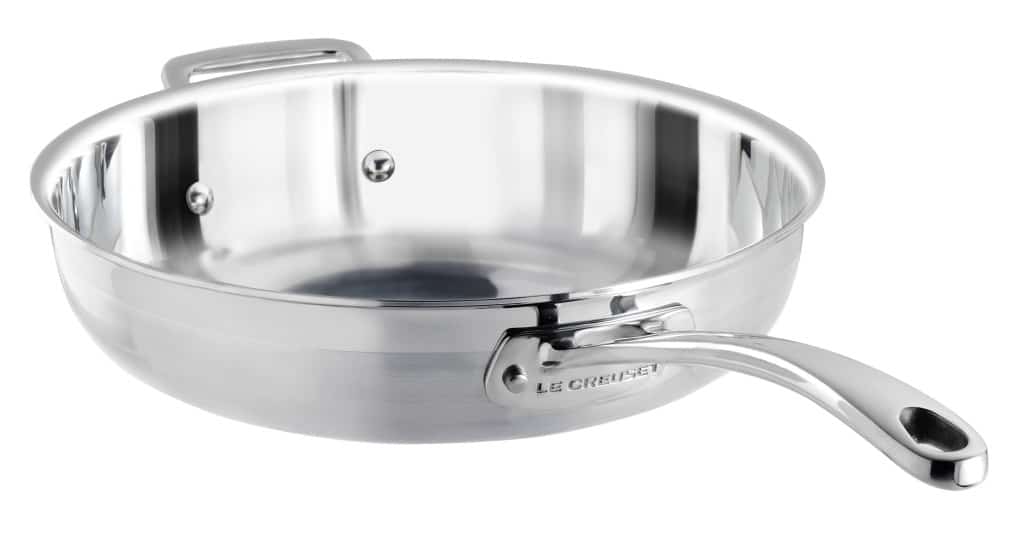 While preparing for this post, I contacted the good people of Le Creuset and asked if we could give away one of their beautiful 12" stainless steel pans and they agreed! It's a gorgeous all-purpose three-ply 12" stainless steel pan you can use for many years to come!
//