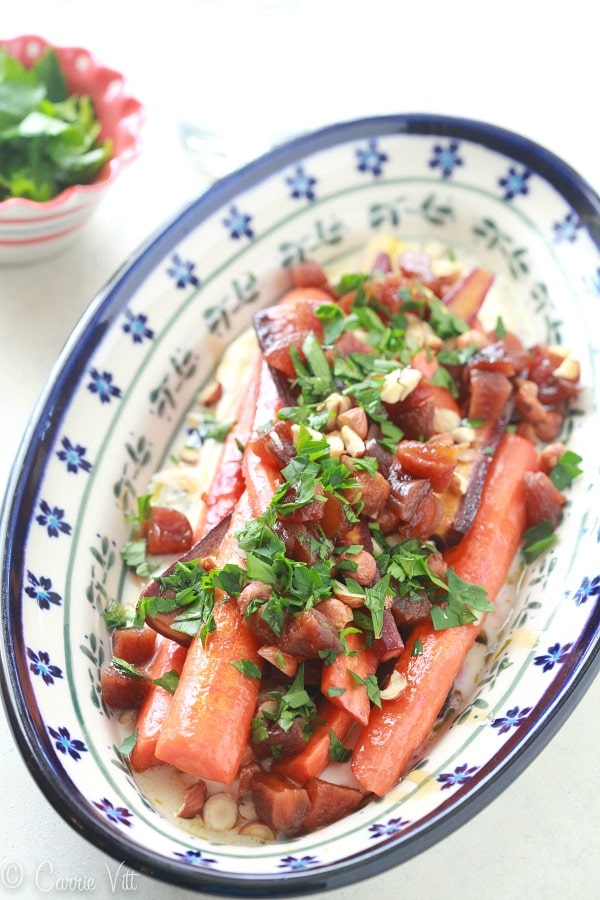 Northwest Florida is a gorgeous place to live, but doesn't yet offer many real food restaurants. So I was excited to discover a new favorite – Bud and Alley's Pizza Bar. The regular pizza has gluten, which we don't eat, but they do offer gluten-free pizzas (a fun treat if you can tolerate grains) and the chef creates some of the most fresh and ingenious appetizers, sides and salads on the Gulf Coast!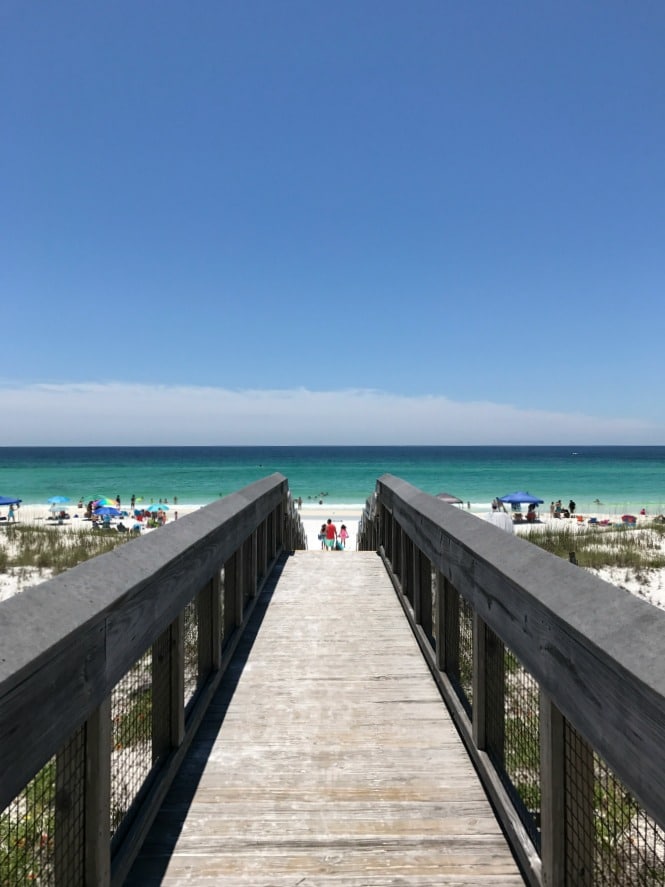 The menu changes with the seasons, the bruschetta is a true fermented sourdough, and many of the vegetables, dairy and meats come from local sources.
A few weeks ago Hannah and I swung by for a late dinner by the beach and had the most amazing carrot side dish. Chef Keaton roasted colorful carrots and served them with creme fraiche, hazelnuts, apricots, parsley and honey. It was so good, we had to recreate it at home.
I cooked the carrots in a sauté pan with a bit of butter and seasoned them with Celtic sea salt. I always plump dried fruit in juice or liquor to amp up the flavor, so I plumped the non-sulphured apricots in fresh orange juice. The sweet, crunchy, salty, creaminess makes a divine combination!
Next time you visit Seaside, FL make sure you head over to Bud and Alley's Pizza Bar for some creative, local dishes!
Print
Carrots with Apricots, Hazelnuts, and Creme Fraiche
Author: Carrie Vitt
Prep Time:

10 minutes

Cook Time:

10 minutes

Total Time:

20 minutes
For the Carrots:
1

pound

carrots, peeled and cut in half-lengthwise

2 tablespoons

unsalted butter

1/2 teaspoon

Celtic sea salt
For the Apricots:
1/4

cup

fresh orange juice

1/4

cup

chopped dried apricots (I prefer to use unsulphured)
For the Toppings:
1/2

cup

creme fraiche (can omit if dairy intolerant)

1/4

cup

chopped hazelnuts (I used soaked and dehydrated nuts)

1/4

cup

chopped flat-leaf parsley

1 tablespoon

raw honey
Instructions
Melt the butter over medium heat in a large skillet. Place the carrots in one single layer and cook for 4-5 minutes until the edges are turning golden brown. Using a pair of tongs, flip the carrots over and continue cooking until the second side is turning golden brown. If you like the carrots on the crunchier side, then reduce the cooking time by a minute or so per side.
Meanwhile, place the orange juice and apricots in a small saucepan and bring to a simmer over low heat. Remove from the heat and drain.
To Serve: Spread the creme fraiche on the serving platter. Top with carrots, hazelnuts, parsley, apricots and drizzle with honey. You can also add a bit more of Celtic sea salt if you'd like. Serve immediately.
SaveSave
SaveSave