I've read many on the web talking about their frustration with people making treats out of unprocessed ingredients. I sort of see their point. If you're going to eat unprocessed, then it's always the best option to eliminate sweets out of your diet, but how many of us really want to foods only as they were originally grown? These conversations I've read mainly focus on the Paleo diet, but I think the topic extends to other eating ideals. I personally don't see a problem with taking whole foods and combining them in such a way as to make a cake, muffins, or cookies for the occasional treat. I like to provide these kinds of recipes, because I think many know how to grill a piece of chicken or put together a salad, but many times when we want a treat, we either revert back to our old ways, or try a "healthy" treat that doesn't taste quite like we are used to. What do you think? Does this bother you, or do you like to kick your heels back and have a cookie sometimes?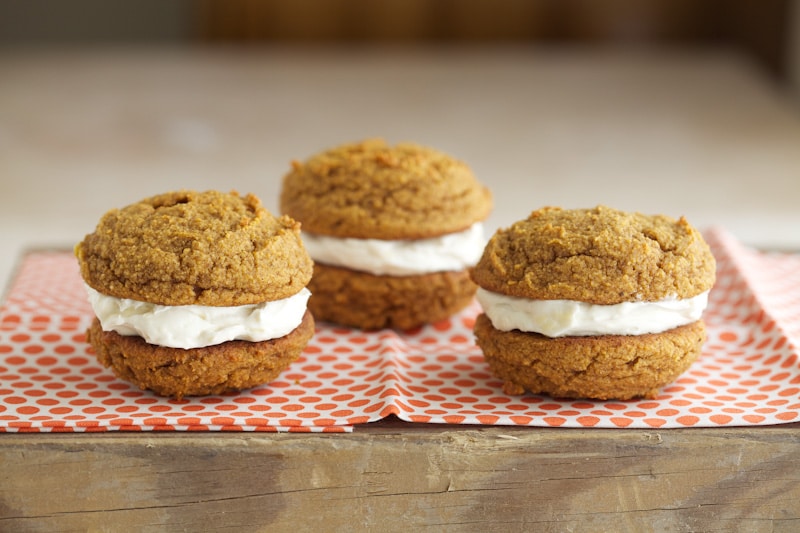 So, while we're on the topic of adapting recipes to grain free, there are many recipes in my repertoire that have needed a grain free adaptation. For the first three years of this blog, the baking recipes I featured utilized grains, so I'm slowly going through many fall favorites and adapting them to grain free. This way you can choose which version you'd like to try.
We are only a few days until the official start of fall, so I'm going to open the doors and start talking pumpkin. Pumpkin bread, pumpkin whoopie pies, and pumpkin spice coffee creamer are a few of my favorites. These whoopie pies make for a great spongy cookie on their own – the cookies almost taste a bit like muffin tops. Two spiced cookies are paired together with whipped butter, cream cheese and maple syrup to sweeten. They are quite the treat.
As time has gone on, and I've slowly removed sugars from my diet, I've found I am very sensitive to anything sweet on the palate. I only used 1/4 cup honey and 2 tablespoons maple syrup in the entire recipe, but if you find it's not sweet enough, you can add a bit more to your taste. For the batter, you can add a bit more honey, mix it in and taste again to see if it's to your liking. Same goes for the whipped filling.
Pumpkin Whoopie Pies (Grain Free, Gluten Free, Primal)
If you're looking for a diary free/Paleo filling for these pies, check out Elana's Pantry or Paleo Spirit . To keep with the flavors of the pies, I would still use maple syrup as the sweetener.
Ingredients
For the Cookies:

8 tablespoons unsalted butter, melted (or 6 tablespoons coconut oil )
1/4 cup honey or maple syrup (I prefer a light honey such as clover)
2 large eggs, room temperature
3/4 cup pure pumpkin puree
1 teaspoon vanilla extract
1 3/4 cups almond flour
3 tablespoons plus 1 teaspoon coconut flour
1 teaspoon baking powder
1 1/2 teaspoon baking soda
3 teaspoons pumpkin pie spice blend
1/2 teaspoon Celtic sea salt

For the Filling:

1/2 stick unsalted butter, softened
8 ounces cream cheese, room temperature
2 tablespoons maple syrup
1/2 teaspoon vanilla extract
Instructions
Preheat oven to 350°F and adjust rack to middle position. Whisk together melted butter, honey, eggs, pumpkin puree, and vanilla. In a separate bowl whisk together the flours, baking powder, baking soda, pumpkin pie spice, and sea salt. Pour flour mixture into wet mixture and whisk until just mixed.
Using a 2-inch ice cream scoop, drop 18 mounds this will only make 9 pies, since you need 2 mounds per pie batter onto a baking sheet lined with parchment paper. Bake 12 minutes, until springy to the touch. Cool completely. Repeat with remaining batter.
Whisk together the butter, cream cheese, maple syrup and vanilla until fluffy (if it's not sweet enough for your taste, simply add a bit more maple syrup). Spread the flat side of 8 cakes with the cream cheese frosting and top with another cake.
7.8.1.2
3352
https://deliciouslyorganic.net/pumpkin-whoopie-pies-grain-free/
Copyright 2016 Deliciously Organic