There's nothing more simple than a Cast Iron Roast Chicken! The meal is good for any night of the week and is very easy to make.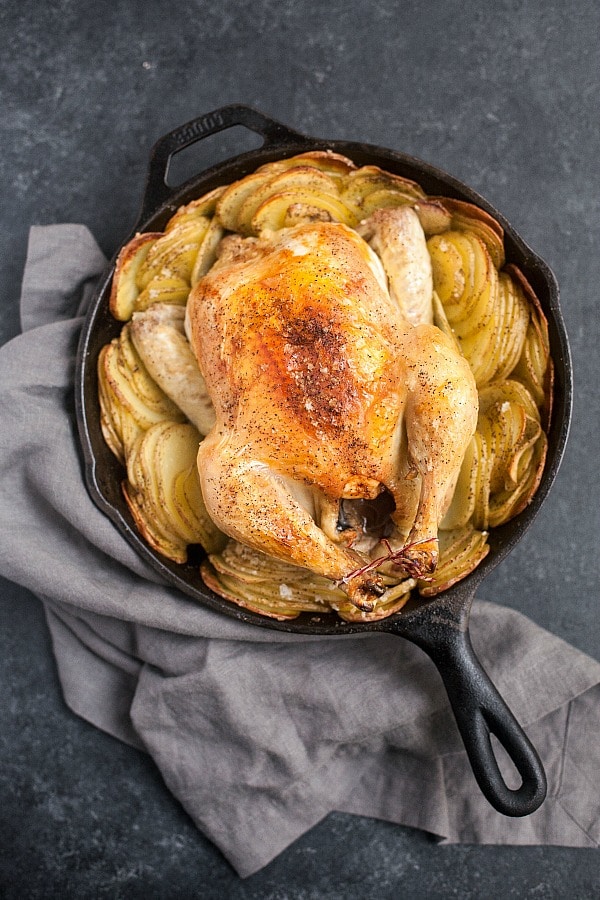 Chicken and potatoes are a huge favorite, so I often make this with potatoes and then serve the dish with a salad or other vegetable on the side. If you'd like, you can substitute the potatoes for other vegetables, such as onions, root vegetables, broccoli, etc. 
I recommend using a saturated fat that can withstand higher temperatures, such as ghee, lard, tallow, or duck fat. While fats such as butter and avocado oil are popular for cooking, I don't recommend using them at high heats because they can oxidize and create free radicals that are harmful for the cells of the body.
And, if you'd like to take the flavors up a notch, you can swap out the sea salt and pepper for Herbamare or an organic cajun seasoning blend. Enjoy! 
Print
Cast Iron Roast Chicken with Potatoes (Grain-Free)
Instructions
Preheat the oven to 425ºF and adjust the rack to the middle position. Place the chicken in a 12-inch cast iron skillet. Using a pastry brush, brush about 1 tablespoon of the ghee over the chicken.
Place the potatoes in a large bowl and toss with the remaining ghee and then place the potatoes in the skillet around the chicken. Season everything with sea salt and freshly ground black pepper.
Roast for 45 minutes, until skin on chicken is golden brown and when a meat thermometer is inserted into the chicken it registers 165ºF.
Carefully, transfer the chicken to a cutting board, and then put the skillet with the potatoes back in the oven. Tent the chicken with foil and let it rest for 20 minutes, while the potatoes continue to roast. After 20 minutes, remove the potatoes, carve the chicken and serve.
Photo Credit: Becky Winkler