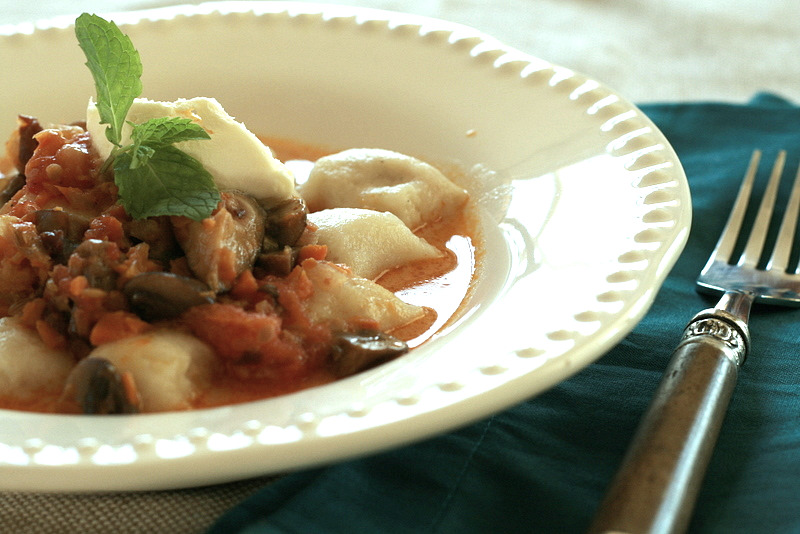 As I shared, last week was a busy one. When the weekend finally arrived, Pete and I looked at each other and agreed to aim for a slow-paced weekend. Relaxing for me means opening a bottle of wine and piddling in the kitchen for hours on end. For Pete, it's watching football. Our new favorite team is Florida State. My brother is one of the coaches, so it's exciting to see him on TV each weekend. Saturday afternoon, the football was on, the kids were doing crafts of different sorts, and I opened some wine and decided to make gnocchi with wild mushroom ragu.
Gnocchi isn't complicated, but it isn't exactly a weeknight dish either. It involves baking potatoes until tender, scooping out the insides and combining them with arrowroot, egg, cheese, a little flour and salt. I love to knead this "dough". It's soft and supple and extremely comforting. The dough is rolled out into ropes, cut and boiled for about 1 minute. The resulting little pillows of fluffiness happily float to the top of the pot. They can be eaten with a simple sprinkling of sea salt and cheese or you can take things up a notch and serve them with a meaty sauce or ragu. I love this ragu because it's woodsy from the mushrooms and a has a kick of spice from the chipotle. I had leftovers of the sauce and it was fantastic served over linguine.
[amd-zlrecipe-recipe:258]
Ingredients
3 large baking potatoes, about 2 pounds, scrubbed
1/4 cup plus 2 tablespoons arrowroot
6 tablespoons whole wheat flour
1/2 cup pecorino romano cheese, grated
1/2 teaspoon sea salt
1 large egg, beaten
Instructions
Preheat oven to 375°F and adjust rack to middle position. Place potatoes in oven and bake for about 1 hour until a knife can be inserted without resistance. Cool potatoes.
Cut the cooled potatoes in half, scoop out flesh, and put in a large bowl. Discard the skins (I baked them in the oven with a little butter and salt until crispy - a great snack!). Press the potato through a ricer into a large bowl. Add the arrowroot, flour, cheese, salt and egg to potatoes and stir until combined. Knead the mixture with your hands until it forms a soft dough. Cover the bowl with a clean towel and let it rest for 15 minutes.
Bring a large pot of water to boil and also fill a large bowl with ice water. Divide the dough into 4 portions and roll each piece into a long rope about 1-inch thick. Cut the rope into 1 1/2-inch long pieces. Repeat with remaining 3 pieces of dough. Add 1/2 of gnocchi pieces to boiling water and cook until the dough rises to the top, about 45 seconds. Immediately remove from the pot with a slotted spoon and place into a large bowl. Pour ragu over top and serve immediately.
7.8.1.2
3186
https://deliciouslyorganic.net/gnocchi-with-wild-mushroom-ragu/
Copyright 2016 Deliciously Organic