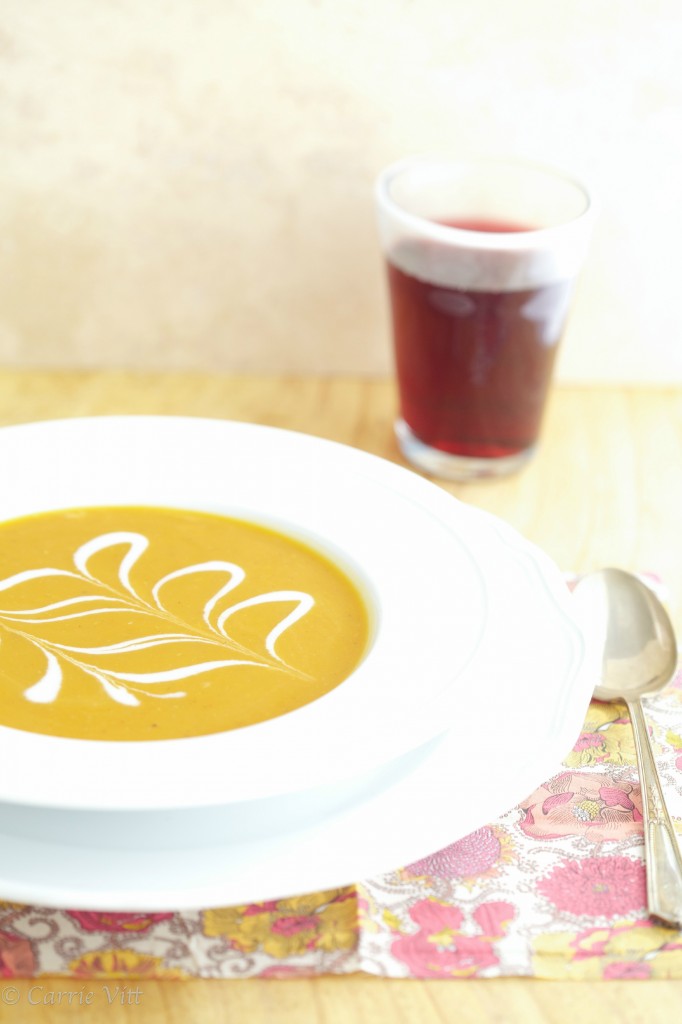 I understand transitioning to an unprocessed kitchen can seem overwhelming, especially if you're just learning about things like organic whole cane sugar and coconut oil. I assure you — you can do it!
There is a simple and practical way to make the change. The first step is to go through your pantry and fridge and read every label, identifying the foods with processed ingredients (see list below) as well as preservatives and additives. This will begin to help you identify the foods you will eventually eliminate. You may want to start with the foods in the pantry wrapped in cardboard or plastic – those probably have the most preservatives, additives, etc. When you're ready to start the change, begin by making one change every week. Discard one item and replace it with one new organic/unprocessed item in your pantry. After six months you'll be amazed at how much change has occurred, and in a year or so, your entire pantry and fridge will be completely transformed. This was the approach I took because at the time I had two little kids and trying to convert everything at once was too daunting.
Having a well-stocked pantry and fridge is the first tool to help you cook nutritious meals at home and resist the temptation to purchase quick, take-out foods.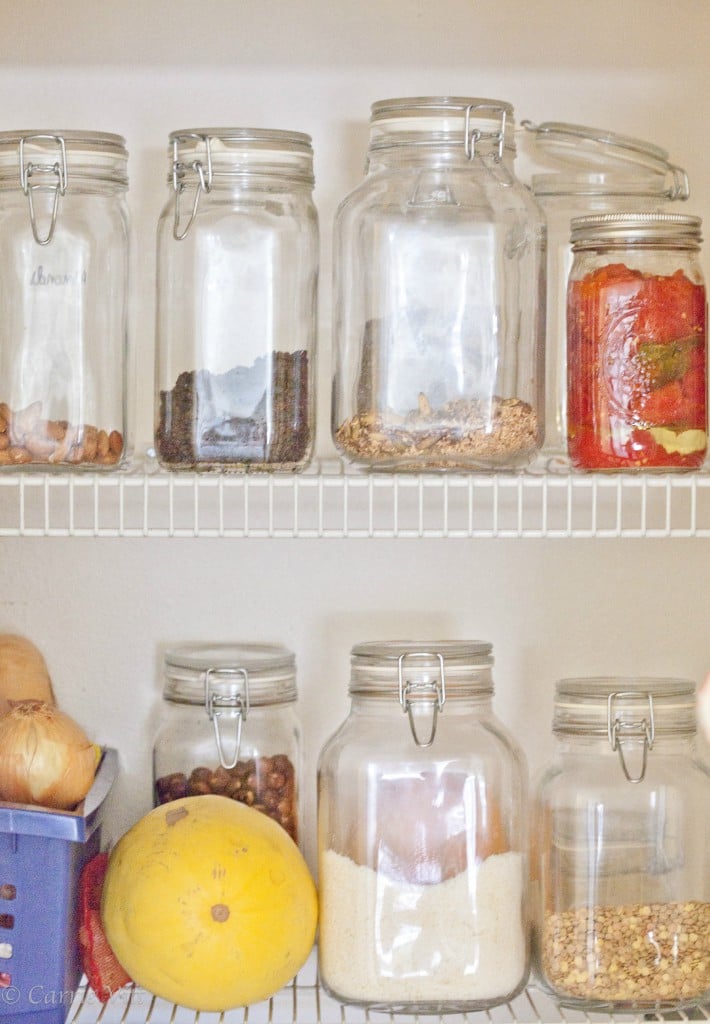 Here's a photo of my pantry. I buy a few jars every couple of months so I can store all of my dry foods/ingredients in them.
Below you'll find a few checklists to help you clean out your kitchen and replace those foods with nourishing, whole, organic ingredients. For these lists, I'm not going to zero in on one certain diet (grain free, paleo, gaps, etc.) nor is this a complete comprehensive list. Instead, I'm going to focus on getting rid of processed foods and replacing them with unprocessed foods. You can choose which foods you add to your pantry according to the diet you follow.
Ingredients/Foods to Avoid:
Foods/Ingredients to Add:
Oils and Fats:
In the Fridge:
Sweeteners:
Dry and Other Pantry Ingredients:
As you make the change to unprocessed foods, you'll need jars or containers in which to store your ingredients. I store my foods in Mason jars or the flip top Bormioli Jars. Mason jars can be found at most grocery stores and the Bormioli Jars can be found at Sur La Table (they frequently have sales!) or I hear they carry them at World Market.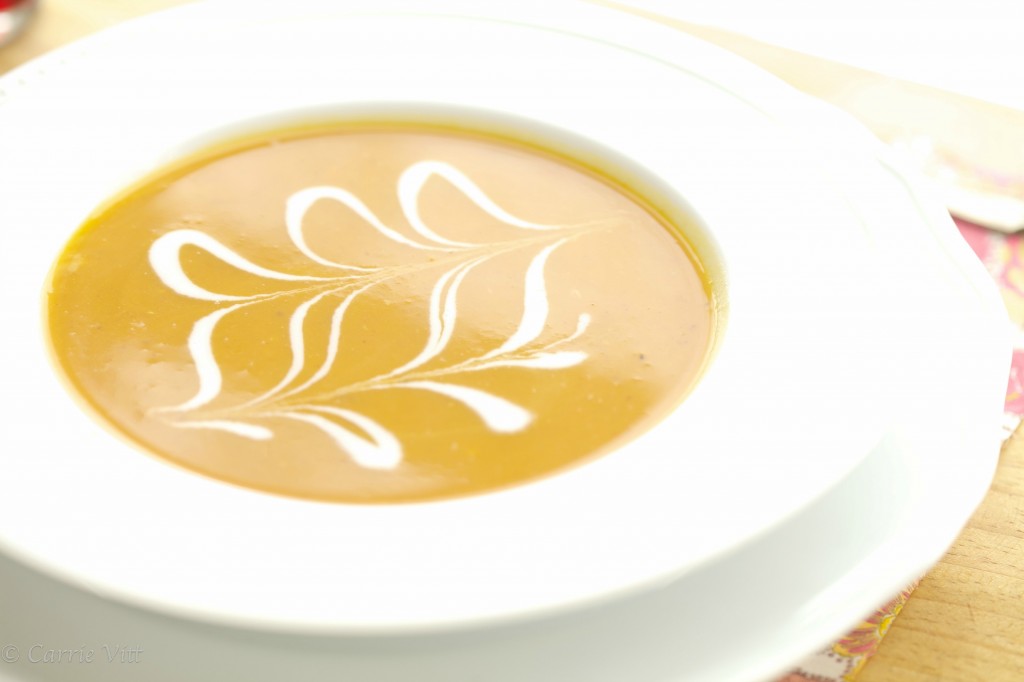 During the cooler months, I make a pot of soup at least twice a week. They're easily put together – utilizing many pantry and fridge staples – are full of nourishing ingredients, and the leftovers make for a fantastic lunch the next day. I usually go for a creamy soup and this butternut squash concoction fits the bill. The shallots (they can be found near the onions at the grocery store) are cooked slowly in unsalted butter, the squash is roasted to bring out the sweetness and then it's combined with chicken stock, a bit of coconut milk, and thyme to round out the flavors.
Here are some other soups you might enjoy:
Creamy Chicken, Vegetable and Tomato Soup
Lentil, Carrot and Kale Soup with Creme Fraiche
Cream of Tomato Soup
Tortilla Soup
If you'd like to download the above lists in a pdf format, click here.
Ingredients
4 tablespoons ghee, divided ( click here for an easy homemade recipe)
4 shallots, chopped
1 large butternut squash, peeled and cut into large bite-size pieces
1/2 teaspoon Celtic sea salt plus more for seasoning
1 teaspoon dried thyme
6 cups chicken stock ( homemade preferred )
1/2 cup coconut milk
Instructions
Preheat oven to 400ºF and adjust rack to middle position. Place 2 tablespoons ghee in a large pot over medium heat. Add shallots and stir. Reduce heat to low, cover pot with a lid and cook for 20 minutes.
Toss butternut squash with remaining 2 tablespoons melted ghee and spread evenly on a large baking dish. Season with sea salt. Roast for 15 minutes. Using a spatula, flip the butternut pieces and then roast for an additional 15 minutes, or until the squash is golden brown on the outside and soft on the inside.
Stir dried thyme into shallot mixture until fragrant, about 30 seconds. Pour in stock and add butternut squash. Bring to a simmer and cook for 15 minutes. Using a hand-immersion blender, blend soup until smooth (or you can spoon the soup into a blender and blend until smooth). Stir in coconut milk and season with sea salt. Serve.
7.8.1.2
3150
https://deliciouslyorganic.net/the-unprocessed-kitchen-step-1-and-butternut-squash-soup/
Copyright 2016 Deliciously Organic