You won't believe how good this grain-free pizza recipe is!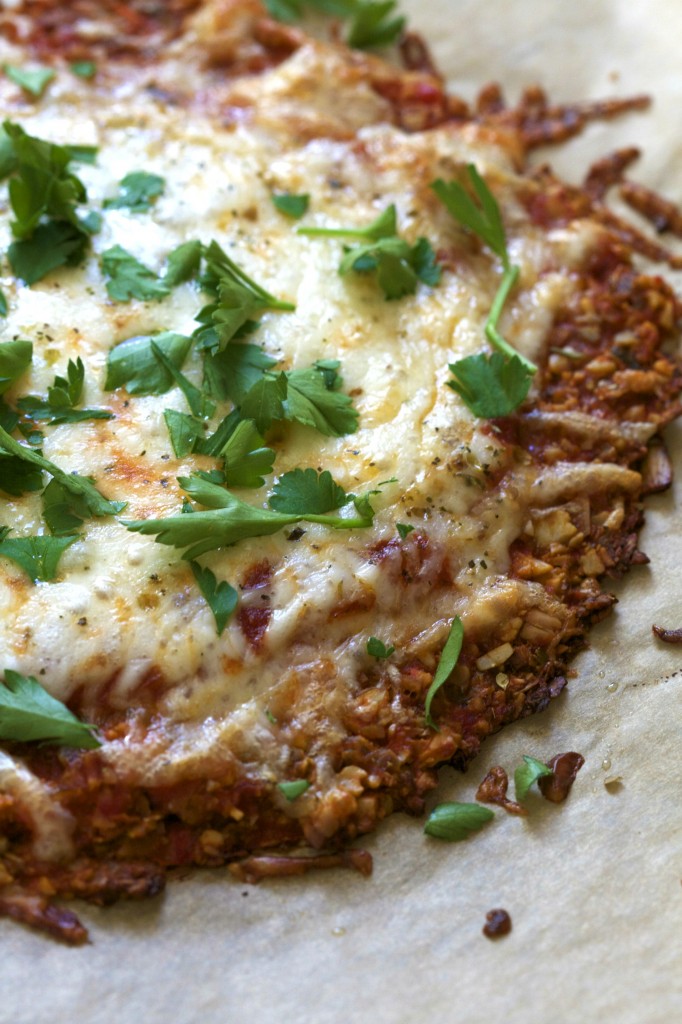 I spend most Friday afternoons outside with my neighbors. We pull up our lounge chairs, pour some wine, and catch up from the week. For the past couple of months, I've wished I could walk into the house after our Friday "block party" and make some pizza (if I'm going to be really honest, I wish I could order some). I didn't have a recipe, nor did I have any idea how to make a grain free pizza that would provide the flavor and texture I want. So, I've brain-stormed for many hours and after a quick chat with a friend the other day, the light bulb came on. Seeds, roasted bell pepper, and a bit of cheese ground in the food processor makes for a flavorful pizza crust.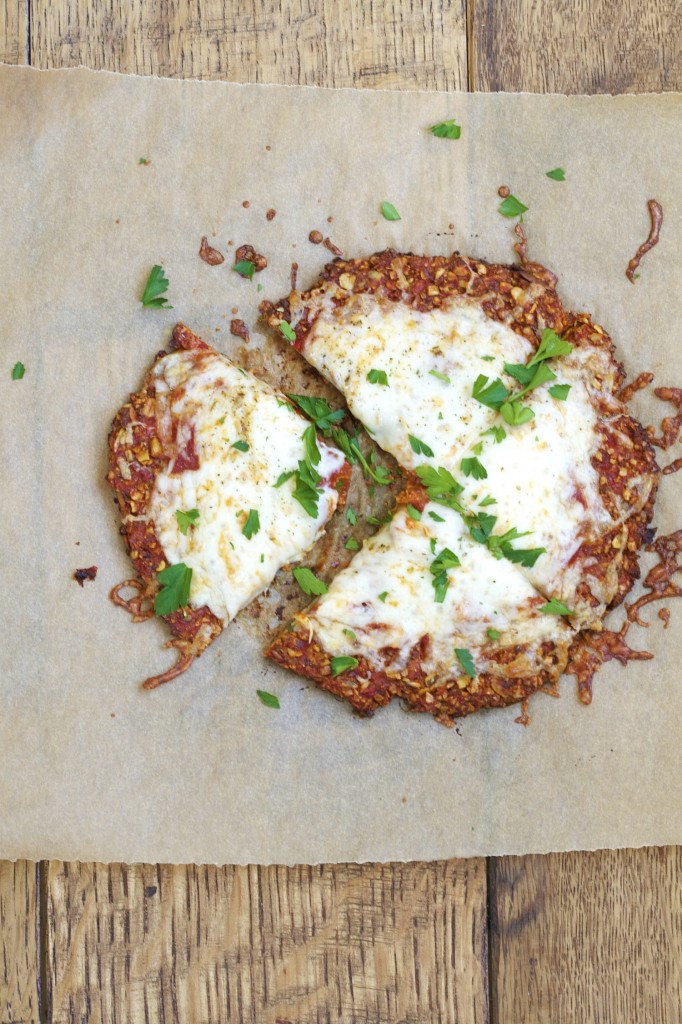 I tested it dozens of times (the other night I had over 10 different pizzas for my family to taste!). I recommend you keep the toppings light so you don't weigh down the pizza or cause the center of the crust to become too soft. The crust itself provides delicious flavor, too. Also, if you're dairy intolerant or follow a paleo diet, you can leave out the cheese, just keep in mind the crust won't be quite as crisp (it will still taste great). It's also best to make small six-inch pizzas so the dough cooks all the way through. The crust also makes a fantastic cracker when spread very thin and baked for about 30-35 minutes.
Friday night pizza has resumed in our house once again!
Serves: Makes about 6 - 6" pizzas
Pizza (Grain Free, Paleo, Primal, GAPS)
You will have some marinara leftover. You can freeze the sauce for the next time you make pizza.
Ingredients
For the crust:

1 1/2 cups sunflower seeds (I used soaked and dehydrated seeds , but toasted seeds will also work well)
2 roasted red, orange or yellow bell peppers*
1/2 teaspoon dried Italian seasoning
1/2 teaspoon Celtic sea salt
1 cup shredded Pecorino Romano cheese (omit for Paleo and dairy free)

For the Marinara:

1 tablespoon extra-virgin olive oil
2 cloves garlic, minced
1 (24-ounce) jar crushed tomatoes
1/2 teaspoon Celtic sea salt
1/2 teaspoon dried Italian seasoning
3/4 cup shredded Mozzarella cheese (omit for Paleo and dairy free, or for GAPS substitute with Pecorino Romano cheese)
Any other toppings of your choice: mushrooms, sausage, basil, greens, etc.
Instructions
Preheat oven to 300ºF, adjust rack to middle position, and place a pizza stone or pizza baking sheet in the oven (the stone/pan needs to preheat along with the oven). Place sunflower seeds in the bowl of a food processor. Process until finely ground. Add bell peppers, Italian seasoning, sea salt and cheese. Process until smooth.
Place a small sheet of parchment paper on the counter. Place a 1/4 cup scoop of dough on the parchment. Spread dough into a 6" round. Bake on the preheated pizza stone for 20 minutes.
Meanwhile, heat olive oil and garlic in a medium saucepan over medium heat. When garlic begins to sizzle, add tomatoes, salt and Italian seasoning (try to stand back a bit, as the sauce may splatter). Simmer on low for 10 minutes.
Remove crust from the oven. Top with 2 tablespoons marinara and sprinkle with a few tablespoons of cheese and toppings of your choice. Bake for 10 minutes. Serve.

*To roast the peppers:

Preheat the broiler. Place the whole peppers on a baking sheet and put under the broiler. Cook until the skins are just turning black. Using a pair of tongs, turn the peppers so the black skin is facing down. Repeat until all sides of the pepper are turning black. Place peppers in a deep bowl and cover the bowl tightly with plastic wrap. Let the peppers sit for 10 minutes (the steam will loosen the skins). When the peppers are cool enough to handle, peel the skin off and remove the seeds inside the pepper.

Here are a few things I learned while testing this recipe to ensure a crunchy crust:

I tested this recipe dozens of times and learned that the crust is very sensitive to heat. At first I thought a high heat would be the key, but the result was a burned exterior and mushy interior. The lower heat (300 degrees) proved to be just the right temperature. Hot enough to dry the crust out, but low enough not to burn. I learned that even a 10 degree difference will make a difference in the outcome of the crust (so make sure your oven is calibrated correctly). I used medium-size peppers and made sure to empty the juices and seeds out of them before adding them to the ground seeds. Too much moisture makes the crust mushy. Also, please use only a 1/4 cup for each pizza and make sure to spread them out to a 6-inch round. If the crust is too thick, it will be mushy.
One fool-proof method for a crispy crust is to dehydrate the crust overnight. Make your 1/4 cup, 6-inch rounds on parchment and put them on a baking sheet (You could also spread all of the mixture out on a piece of parchment and place on a large baking sheet. Dehydrate overnight at 170 degrees F (about 8-10 hours).
7.8.1.2
3161
https://deliciouslyorganic.net/pizza-grain-free-paleo-primal-gaps-recipe/
Copyright 2016 Deliciously Organic