As much as possible, I try to know where my food comes from. That's why I traveled to visit Earthbound Farm last week, seeing the fields and meeting the people that grow my salad greens and other vegetables that I use in recipes like this roasted cauliflower, lentils and mixed greens recipe!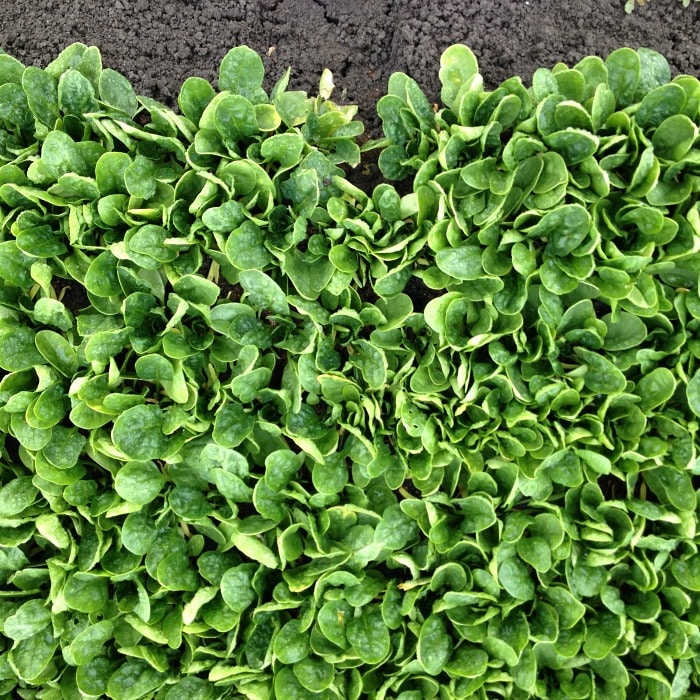 Earthbound Farms is located outside of Monterey, California. As you know, California has struggled with drought recently, but the day we visited the farm everyone was thrilled because it was raining. We woke up very early in the morning for our tour since harvest for the greens happens between midnight and 8am to take advantage of the cooler temperatures.

The machine moves slowly through the spinach field, cuts the spinach and then the workers immediately pack the greens in large crates. 
I found it fascinating to walk through fields of spinach during the harvesting.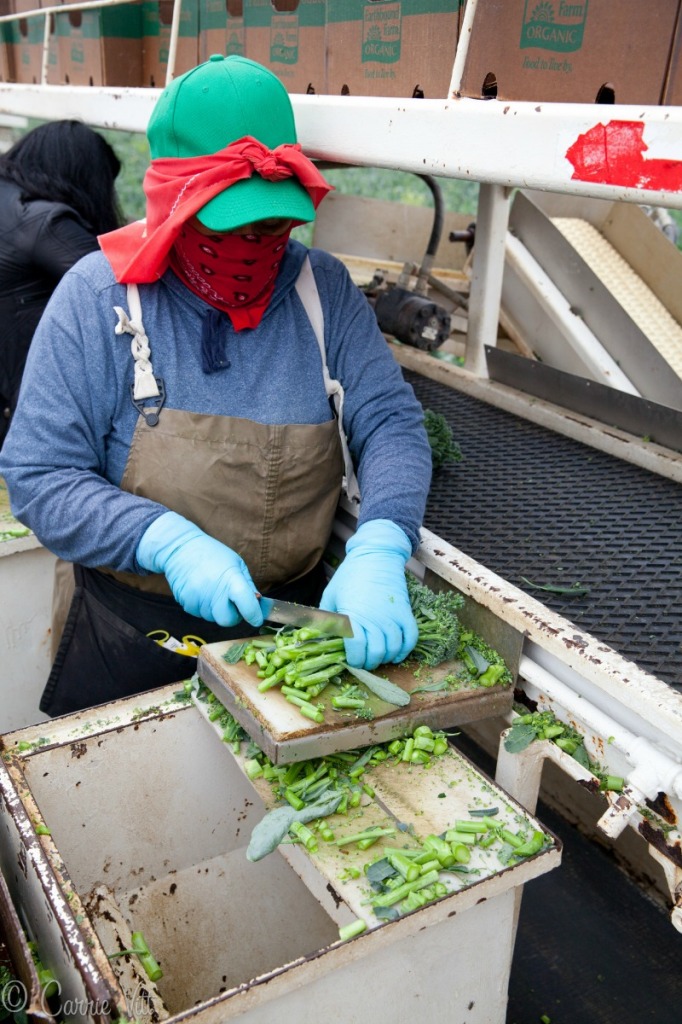 We also saw workers harvesting broccolette. I was amazed to learn that each and every piece is cut by hand! The care that goes into the picking, washing, and packaging was quite impressive.
Earthbound goes out of their way to grow and deliver the freshest and healthiest vegetables possible.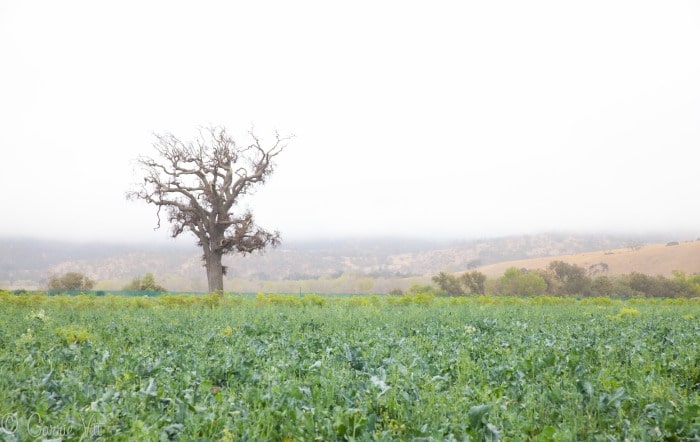 A field of broccolette
After our walk through the fields, we were a bit cold, wet and muddy so they suggested we see what farmers do on a rainy day. (Hint: it involved a bit of alcohol) 🙂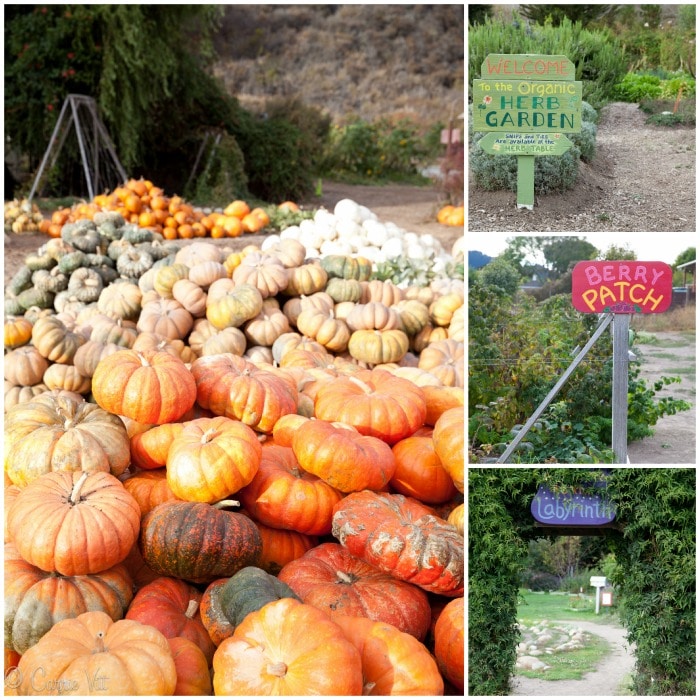 A few pictures from the lovely Earthbound Farm Stand
I also had the opportunity to visit the Earthbound Farm Stand and meet Myra Goodman one of the founders of the business. The stand was filled to the brim with beautiful varieties of pumpkins and squash. I was delighted to hear about the tours they give to schools so kids can learn about gardening and the importance of organic foods. Myra is a sweet and generous lady who has a passion for all things organic. It was a pleasure to meet her and understand more about the early days of the company.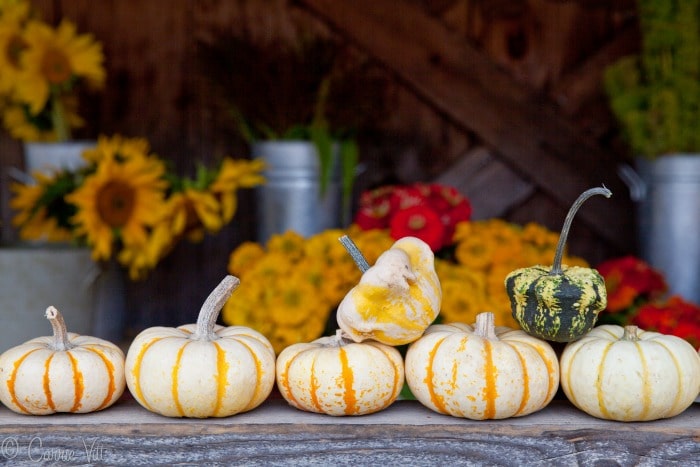 After seeing the farm first-hand I can honestly recommend their products to you. The integrity of the company and the quality of their products can't be beat.
Today's recipe is inspired by a dish I had on my visit. Roasted and spiced cauliflower and shallots are roasted and mixed with lentils, and mixed greens.
Print
Roasted Cauliflower with Lentils, Shallots and Mixed Greens
Prep Time:

5 minutes

Cook Time:

20 minutes

Total Time:

45 minutes

Category:

Side Dish

Diet:

Gluten Free
For the Roasted Vegetables:
For the Salad:
2

cups

cooked french lentils

5

ounces

mixed greens (I used a combination of spinach and baby greens)
Juice of

1/2

lemon

2 tablespoons

olive oil
Celtic sea salt and Freshly ground black pepper
Instructions
Preheat the oven to 425 degrees F and adjust the rack to the middle position. Toss the cauliflower and shallots with the cumin, chili powder, garlic, cumin, sea salt and ghee until the cauliflower is evenly coated with the ghee and spices. Spread out evenly on a baking dish and roast for 10 minutes. Using a spatula, toss the cauliflower and then roast for an additional 10 minutes until golden brown on the edges. Let cool for 20 minutes.
Place roasted cauliflower mixture, lentils, greens, lemon juice, and olive oil in a large salad bowl. Toss about 15 times and then season to taste. Serve immediately.
Keywords: roasted cauliflower, lentils and mixed greens
Disclosure: Earthbound Farms asked me to come visit and paid for my trip. All thoughts and opinions are my own.