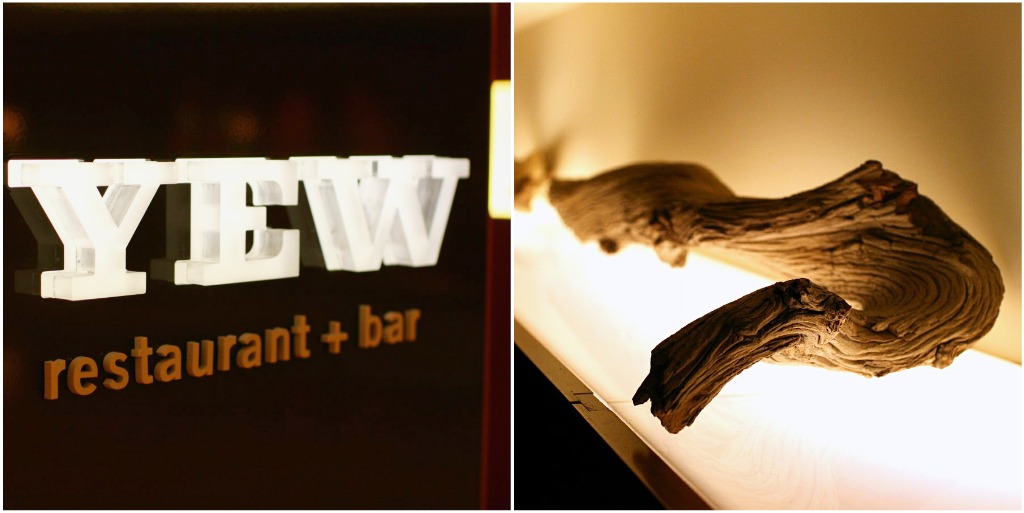 Last weekend I had the unique opportunity to hop on a plane with my husband for a four day trip with the Four Seasons. We arrived in Vancouver on a cold and rainy afternoon and were warmly welcomed by the Four Seasons Vancouver staff. Our room was gorgeous with a delicious platter of local foods to greet us. There was a creative card on the table that read:
B –  Brie Farmhouse, Dried Fruit Toast, Aggasiz Hazelnuts – www.farmhousecheeses.com
L –  Liquid Mango Ravioli, Exotic Fruit Consomme  –www.yewrestaurant.com
O –  Oyama & Moccia Charcuterie,  YEW Duck Pate, Olives  – www.oyamasausage.ca
G –  Granville Island Winter Ale  – www.gib.ca
The entire trip was amazing, but what really stood out for me was the service. I've been to nice resorts and hotels throughout the years but have never been treated to the courteous, professional, and friendly service I experienced there.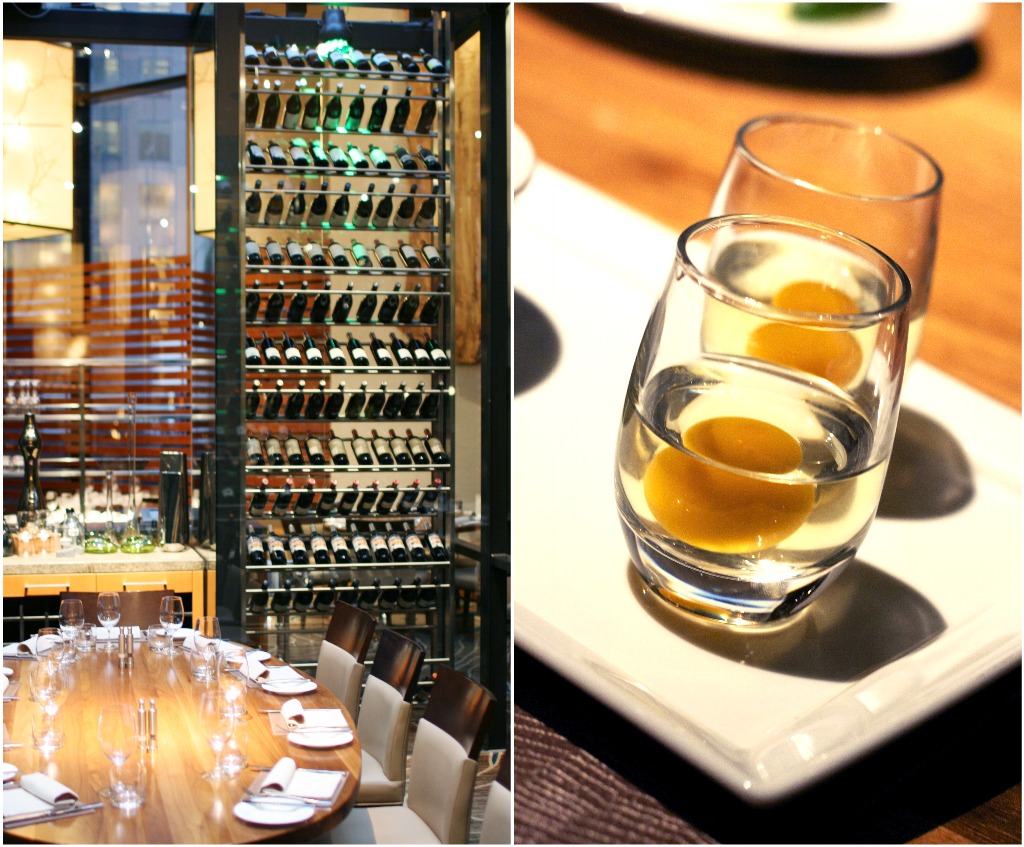 Dinner at YEW was fantastic. The company, the conversation, and above all the food. We ate in the private room surrounded by walls of glass and wine bottles. One of my favorite items the chef served was the "mango ravioli" – a truly unique concoction with sweet mango liquor and a bright burst of mango puree.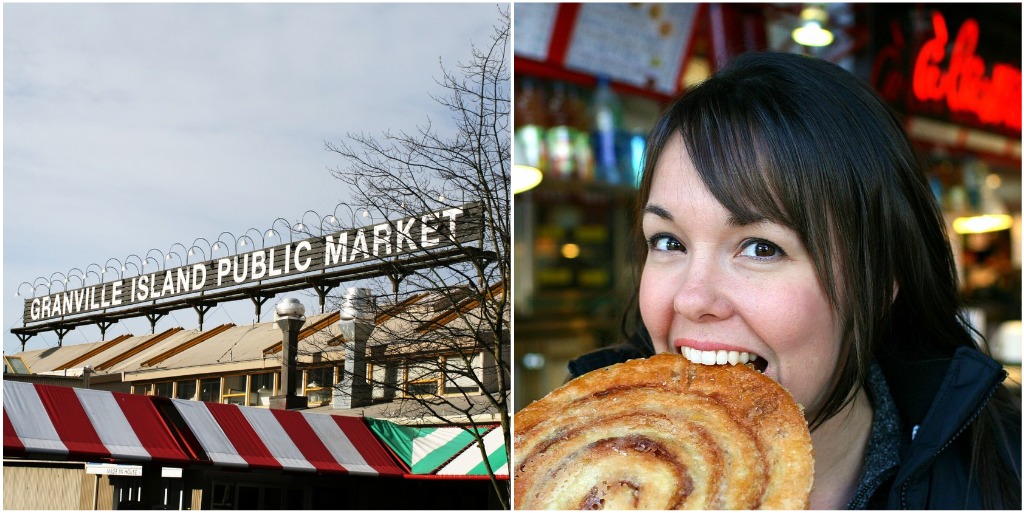 Before heading to Whistler we went for a trip over to the Granville Island Public Market. The market is filled with not only produce but many artisan food makers. One bakery sold these divine cinnamon phyllo records. Another establishment sold homemade organic stocks and soups of all kinds!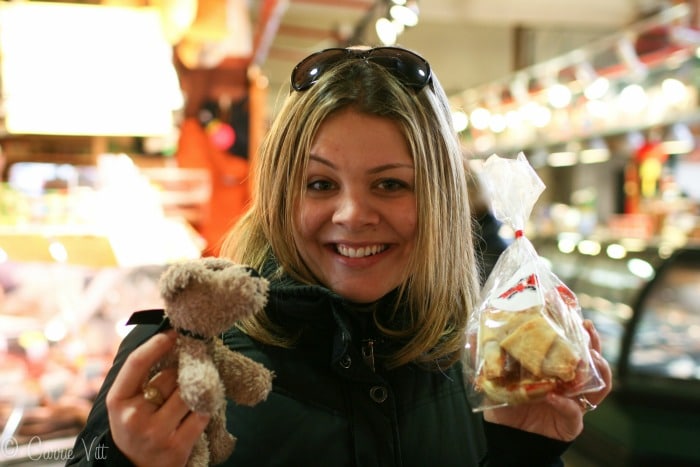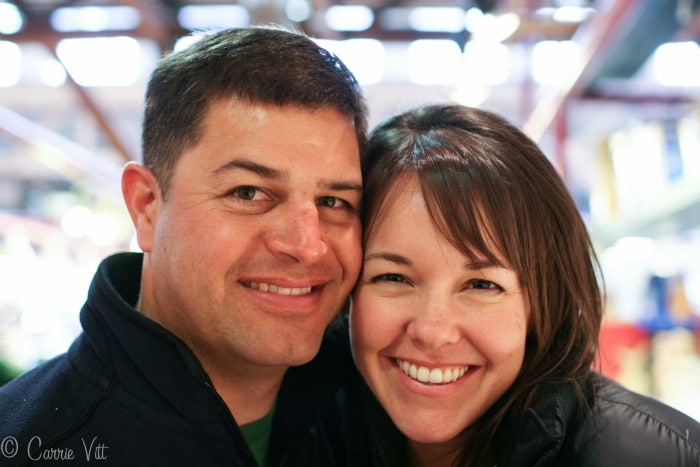 The best part? Pete was with me.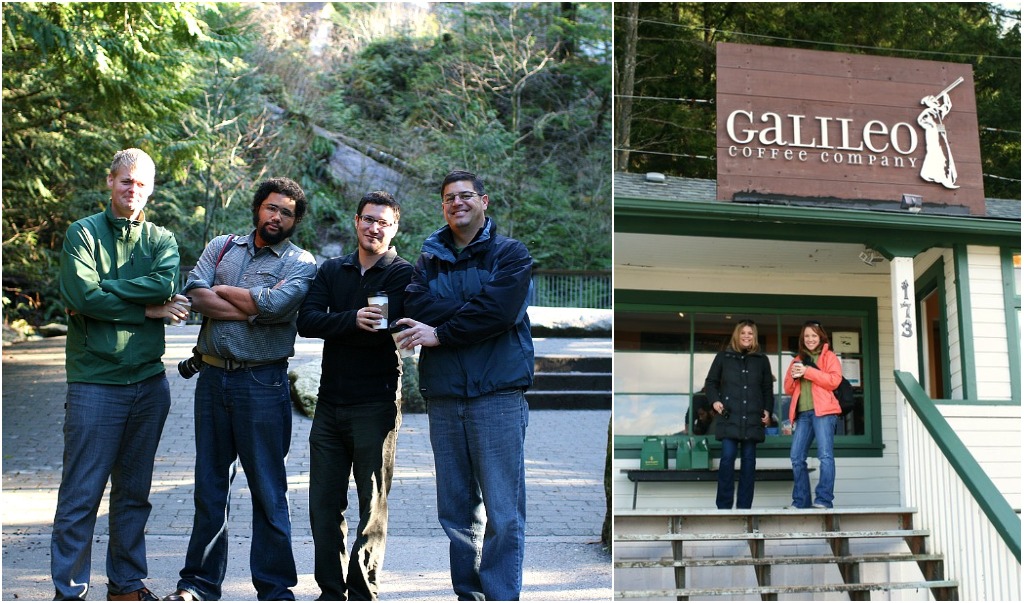 When you go on a trip with a random group of people, you never know what the dynamics will be. We all came from different backgrounds, write about different topics, and yet we gelled together very quickly. We laughed till our stomachs hurt, shared ideas, and grew to care for one another after just a few short days.
Each of my new friends on the trip brought something unique to the FAM.
Jen
– The life of the party. 
Rachelle
– Sweet and spunky, 
Andrew
– big heart with a great laugh, 
Jeremy
– thoughtful and had some of the funniest lines of the entire trip (he kept us in stiches), 
Eric
– a super intelligent guy (and has a
book
coming out this fall!) ,
Julie
– always had a smile on her face and a positive word to say, 
Annie
– the fashionista with a huge appetite for travel.
On our way to Whistler we stopped at Shannon Falls and
Galileo
, an organic coffee house, where I sampled my first Canadiano (sweetened with maple syrup). So yum! The breathtaking views on the Sea-to-Sky highway were enough to occasionally stop the conversation as we took in the scenery.
When we arrived at our suites, the chef had prepared platters of food for us. Mine included a wheel of organic brie, jam, raw local honey, smoked salmon, and dried apples. The chef paid close attention to our preferences. Annie loves Sachertorte (A Viennese chocolate cake) so the chef had one made and waiting just for her upon arrival. Jeremy's twitter handle is "@Penguin" so he found a penguin hand-crafted out of marzipan in his room. This attention to detail is why you stay at the Four Seasons. In my opinion it can't be matched.
Shortly after arriving we had a tour of the resort including the residences. The residences spanned from 1,504 sq. ft. to 3,700 sq. ft. The kitchens were decked out with Viking stoves and built-in Miele espresso stations. Each bedroom has its own large bathroom so they're perfect for large family stays.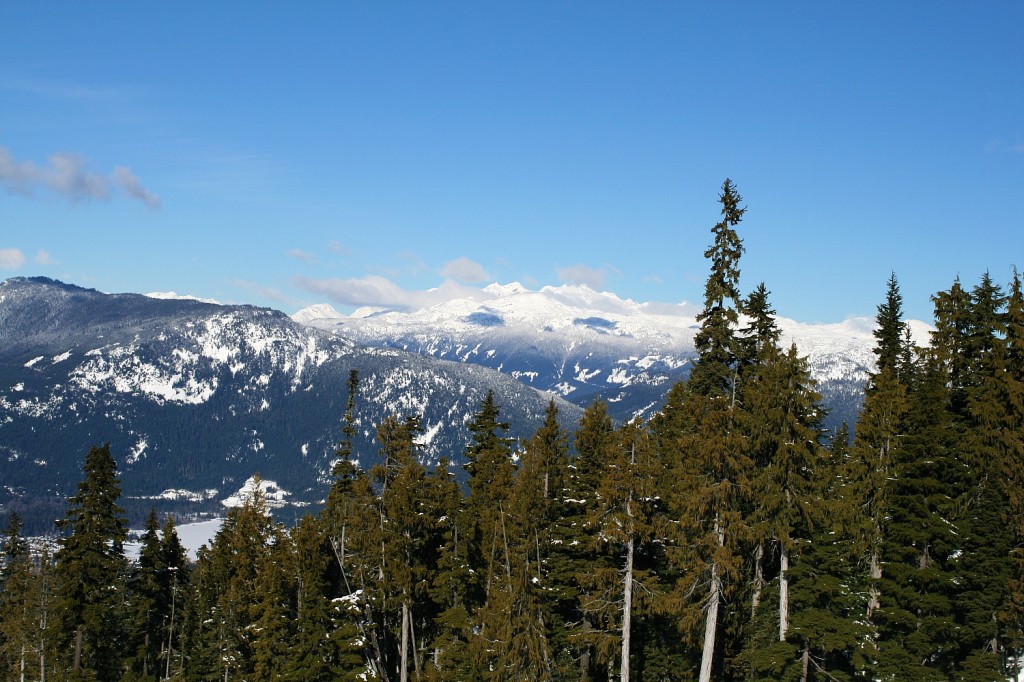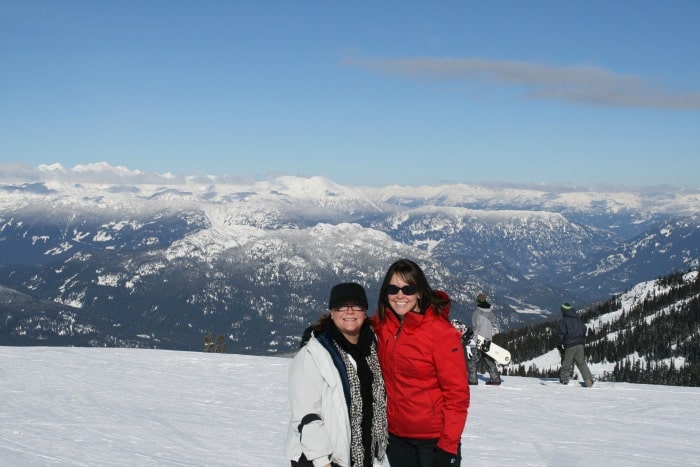 The Whistler-Blackcomb ski area sits on two distinct mountains, with one Village. In 2008, they built a gondola that spans from peak to peak. It's the longest unsupported span for a gondola of its kind in the world. The views were so spectacular and majestic that words pale in comparison.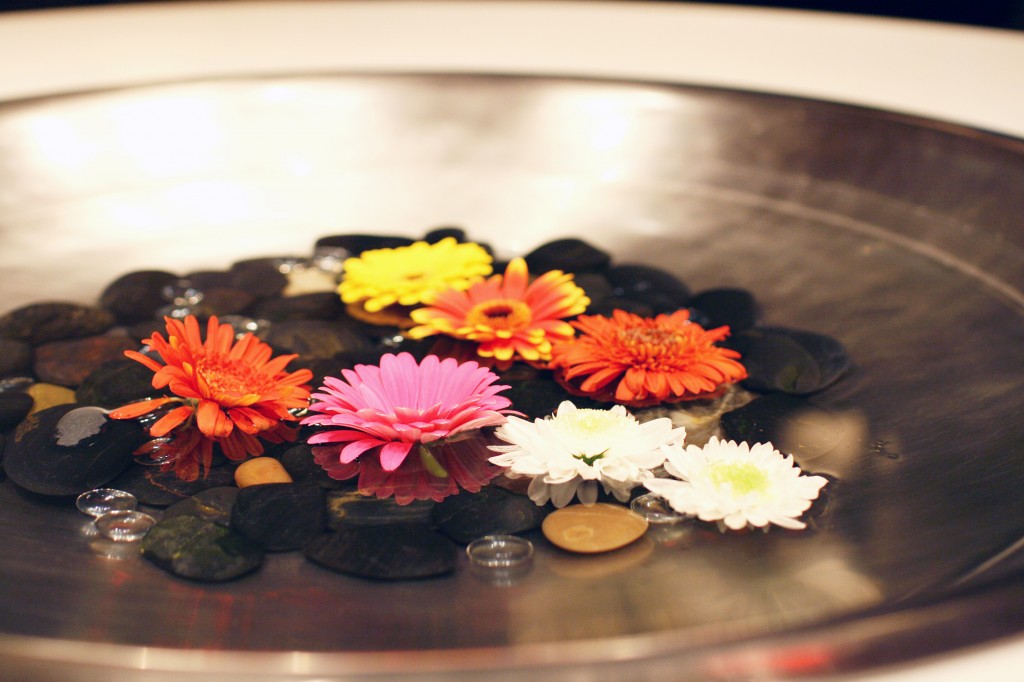 After our morning in the snow we were all sent to the spa for a facial and massage. I was pleased to learn the spa uses organic plant and fruit-based products from Eminence Organics. The robes were plush and cozy, even the waiting room couches are covered in cashmere (sitting in one of those chairs for an hour is worth the price of the spa!).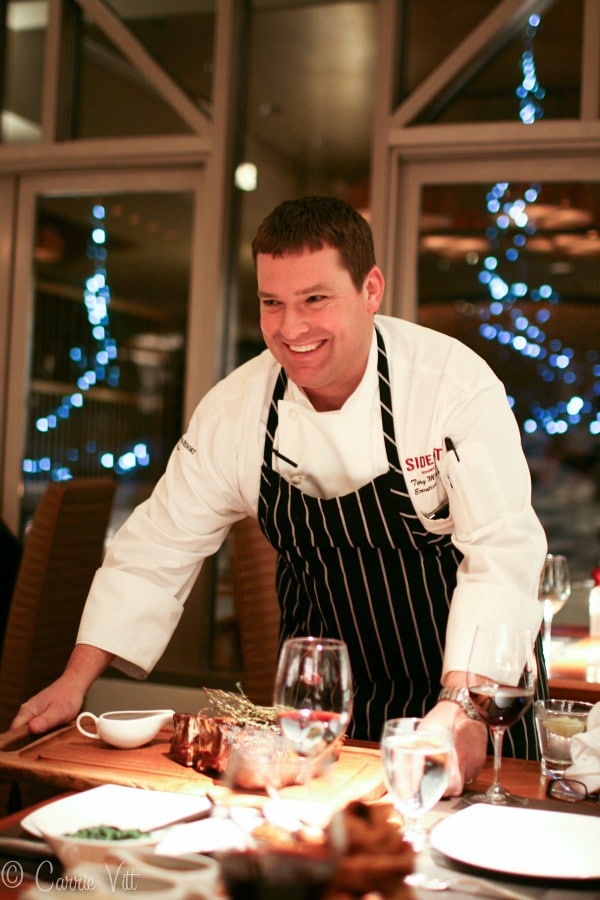 The highlight of the entire trip for me was the meal chef Tory Martindale carefully prepared for all of us. His attention to detail was unmatched by anything I've ever seen. One of the group members is gluten intolerant so the chef made sure no gluten touched his lips. We sat down and a basket of gluten-free bread arrived. Sidecut is a steak house so of course, I planned to order a steak. When chef Tory described the background of his special selection, I couldn't believe it.  The free range cows are organically raised in the Okanagan region of British Columbia. Then the people of Sezmu Meats in Kelowna, B.C. feed them a liter of red wine a day for the last three months of their lives. It intensifies the flavor of the beef and gives it a beautiful red hue. Sidecut is known for their homemade seasoning combinations, but since this steak was different from any I'd tried before, I went for basic salt and pepper. There really aren't words to describe how amazing this steak was. It was truly the best piece of meat I've ever had. I was very quiet during the wonderful meal. The flavors simply blew me away.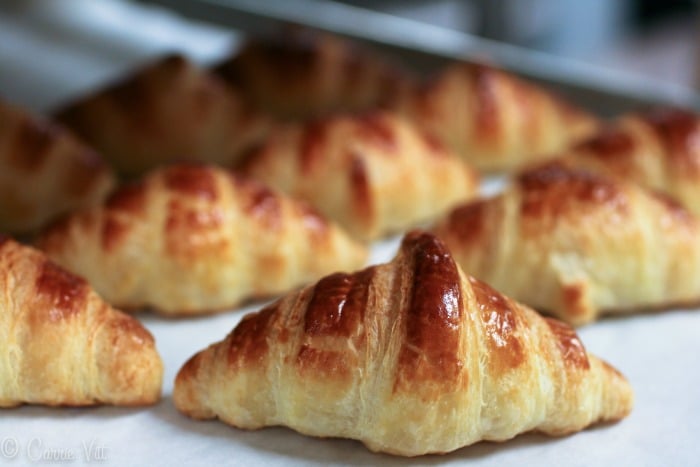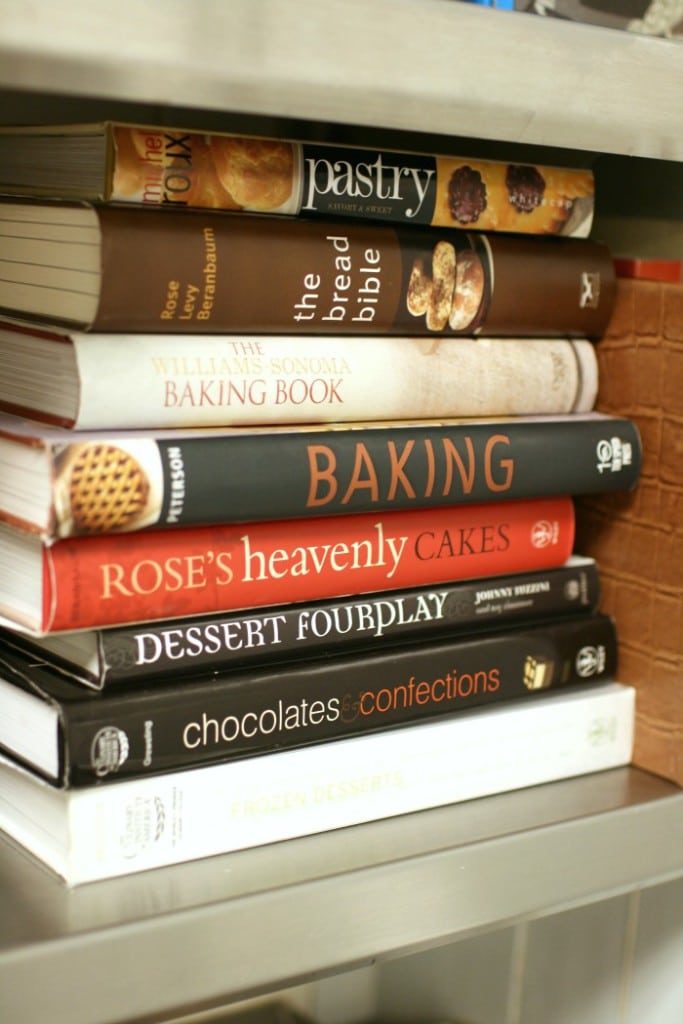 The morning before we left, Rachelle and I asked for a tour through the kitchen. The kitchen is incredibly well organized and of course, the pastry station was my favorite. There were all sorts of creations sitting out waiting to be delivered to guests. Getting a baking book recommendation from a pastry chef is high praise; above you can see the books they had on hand.
We give the Four Seasons a "thumbs up" and look forward to taking our girls to experience the service and adventure in the future.
*Full Disclosure as per FTC regulations: Four Seasons covered the cost of this trip.