Cottage Pie, known as "Shepherd's Pie" in America, is a comforting stand-alone meal.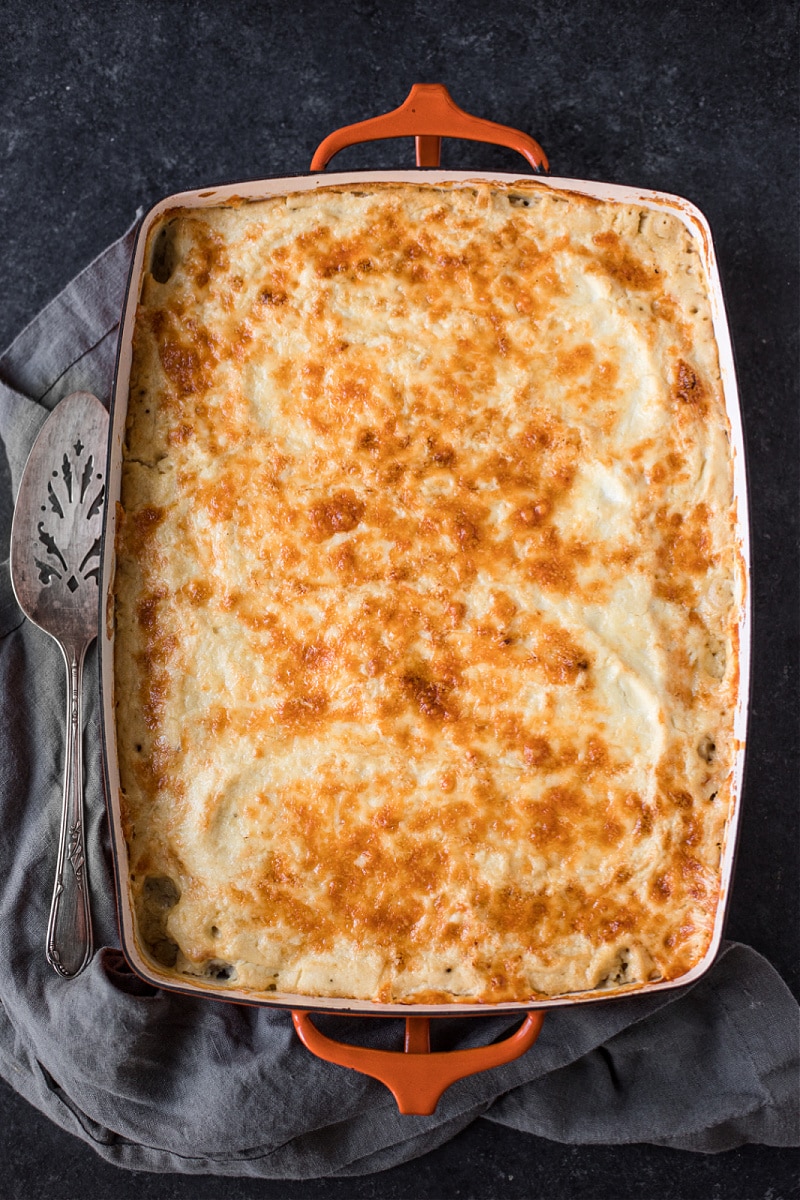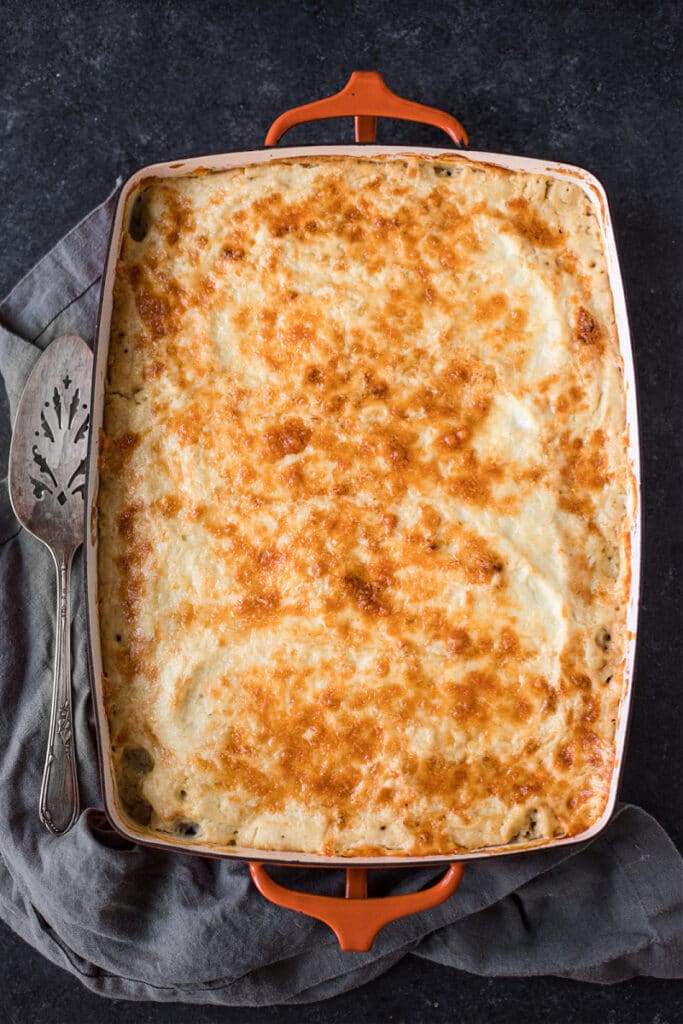 Cottage Pie has a bottom layer of ground beef, onions, celery, carrots and thyme. It's traditionally topped with creamy mashed potatoes, but for this recipe, I topped it with creamy mashed cauliflower. You can use either topping depending on what you're feeling up to.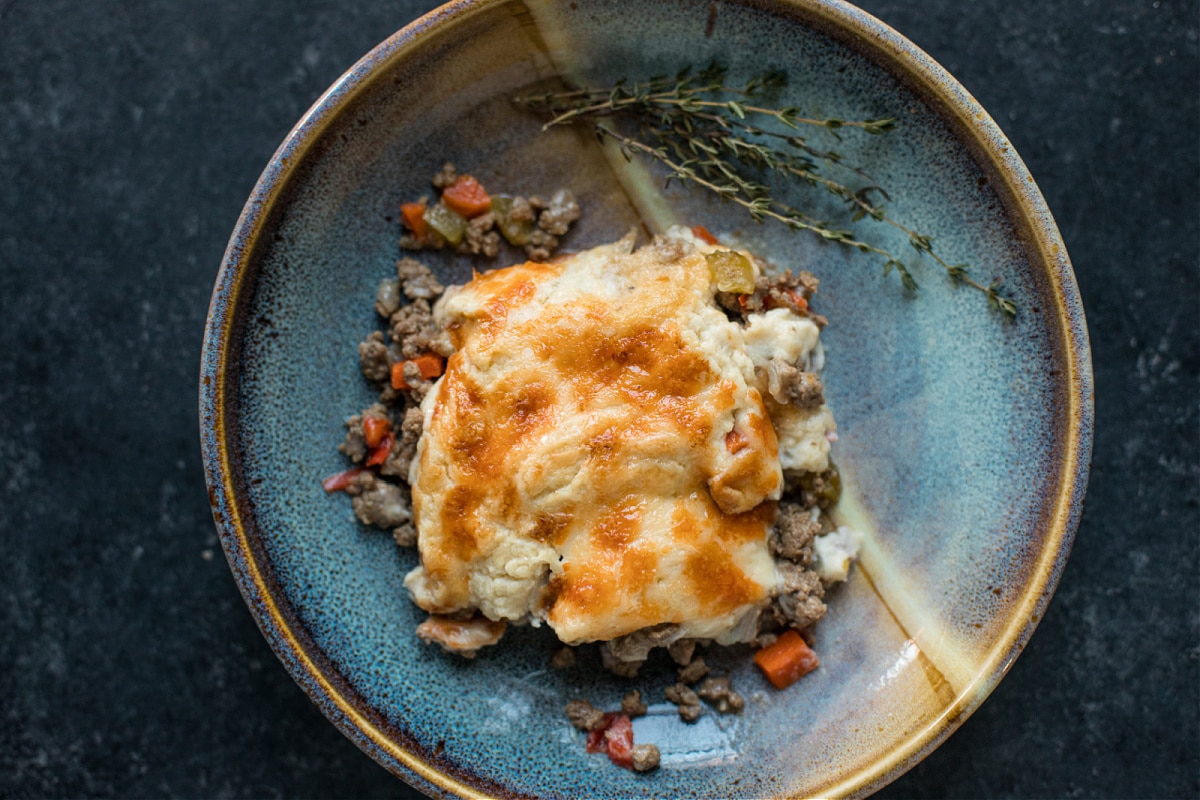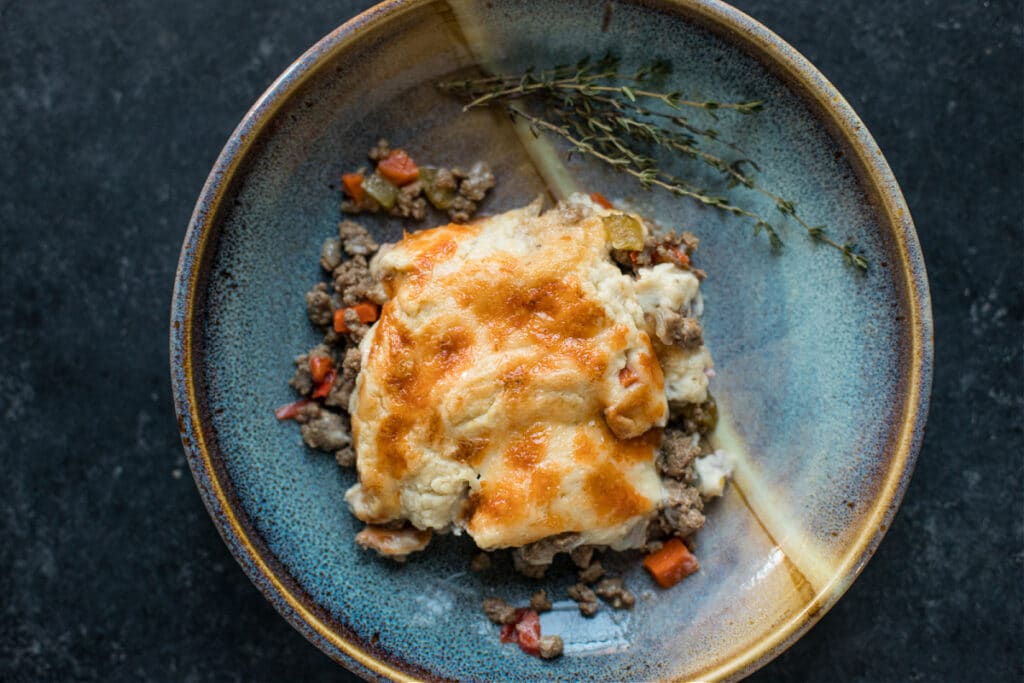 I often serve the dish alone, but you can also pair it with some slow-cooked greens, Brussels sprouts with lemon, or vegetable tian.
Cottage Pie
It's best to get the cauliflower in the steamer before cooking the vegetables and beef. This way all of the ingredients will be ready at the same time to bake.
Ingredients
2 tablespoons butter
1 red bell pepper, finely chopped
1 small yellow onion, finely chopped
1 stalk celery, finely chopped
2 carrot, finely chopped
3/4 teaspoon sea salt
1/4 teaspoon freshly ground black pepper
1/2 teaspoon dried thyme
2 pounds ground beef
2 heads cauliflower, cut into bite-size pieces
1/2 cup unsalted butter
1 heaping tablespoon sour cream (use creme fraiche for paleo or gaps)
1/4 cup whole milk
1 1/2 teaspoons Celtic sea salt
Freshly ground black pepper
1 1/2 cups grated cheddar cheese (omit if Paleo)
Instructions
Preheat oven to 350°F and adjust oven rack to medium position.
Heat the butter in a large skillet over medium heat. Add the bell pepper, onion, celery, and carrot and sauté the vegetables until tender, about 5 minutes. Make a well in the center of the vegetables and add the salt, pepper, and thyme. Stir the seasonings in the middle of the pan until fragrant, about 30 seconds, and then stir into the vegetables. Add the ground beef and stir and cook until beef is partially cooked, about 5-7 minutes. Pour beef filing into a 13 x 9-inch baking dish and spread evenly into a single layer.
Steam the cauliflower until tender. (If you don't have a steamer then fill a large stockpot with water and add cauliflower. Simmer cauliflower until tender. Drain in a colander.) Place cauliflower, butter, sour cream, milk, and salt in the bowl of a food processor (you can also do this in a blender). Process until smooth. Season to taste with salt pepper. Spread pureed cauliflower over beef layer in baking dish. Sprinkle with cheddar cheese. Bake for 30 minutes or until bubbling and cheese is golden brown. Let cool for 10 minutes before serving.
7.8.1.2
3158
https://deliciouslyorganic.net/cottage-pie-recipe/
Copyright 2016 Deliciously Organic