A slice of maple cheesecake is rich and indulgent and so fitting for the holidays.The pure maple flavor intertwined with cream cheese and sour cream make for a knock-out dessert.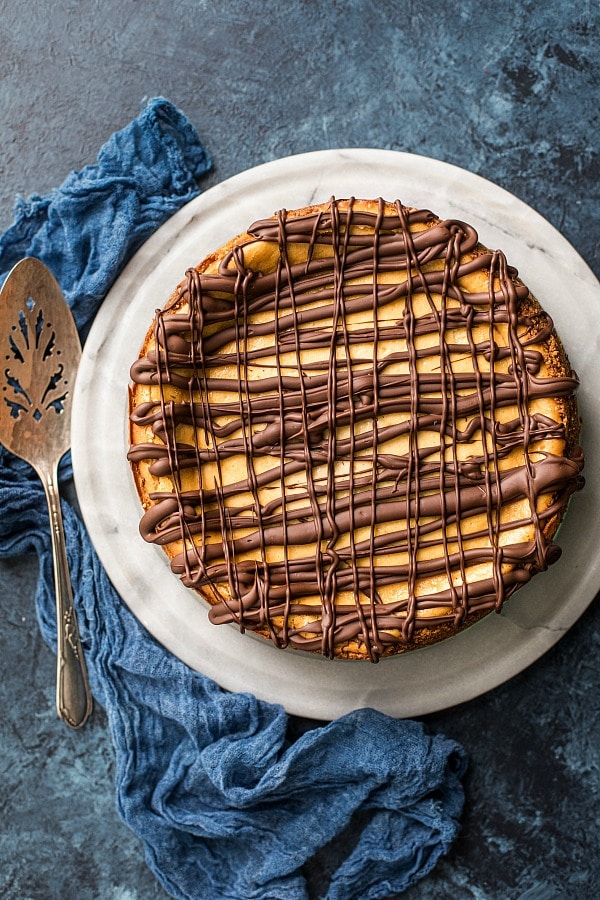 This recipe uses homemade grain-free graham crackers, but you can also substitute with any kind of grain-free or gluten-free cookie that you'd like.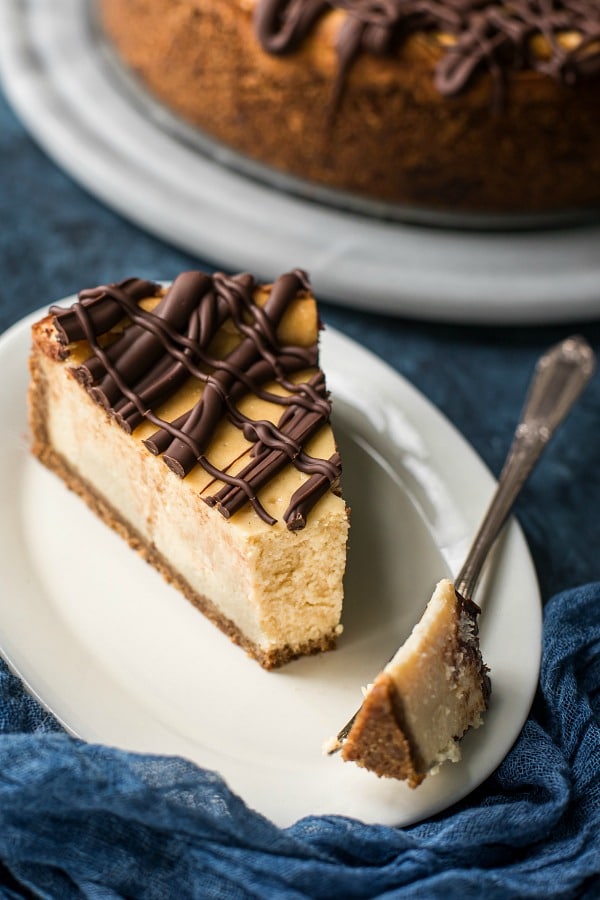 And, this cheesecake freezes well, so you can make it a week or even a month in advance! I recommend that you freeze it without the chocolate drizzle on top. Then, the day before you want to serve the cheesecake, place it in the fridge so it has plenty of time to thaw and just before serving, drizzle with the chocolate.
I hope you have a Merry Christmas and Happy New Year! 
Print
Maple Cheesecake
Cheesecake freezes very well. Cover tightly with plastic wrap and then a layer of foil and it will keep in the freezer for 2 months. Thaw completely in the refrigerator before serving.
Adapted from Bon Appetit
1 1/2 cups

pure maple syrup

17

5 x 21/2-inch grain free graham crackers

3 tablespoons

coconut sugar

1/2 teaspoon

ground cinnamon

8 tablespoons

unsalted butter, melted

3

8-ounce packages cream cheese, room temperature

1/2 cup

maple sugar

2 tablespoons

arrowroot flour)

1/4 teaspoon

sea salt

2/3 cup

sour cream

2 teaspoons

vanilla extract

4

large eggs, room temperature

4 ounces

semisweet chocolate, melted and cooled
Instructions
Pour maple syrup into a medium saucepan and simmer over medium heat until reduced to 1 cup, about 5-7 minutes. Remove from heat and cool to room temperature.
Preheat oven to 375ºF and adjust rack to middle position. Place graham crackers, sugar and cinnamon in the bowl of a food processor. Process until finely ground. Add melted butter and pulse until crumbs are evenly moistened. Press crumb mixture onto bottom and 2 inches up sides of a buttered 9-inch diameter spring form pan with 2 3/4-inch sides. Bake 10 minutes, until crust darkens slightly. Cool completely. Reduce oven to 300ºF.
Beat cream cheese in the bowl of a mixer fitted with paddle attachment until smooth. Add maple sugar, arrowroot and salt. Beat on medium until blended and smooth. Add 1 cup reduced maple syrup, sour cream and vanilla. Beat until just blended. Add eggs, 2 at a time, and beat just until blended after each addition. Tap bowl on counter to release any air bubbles. Pour filling into cooled crust and pop any bubbles on top with the tip of a paring knife. Bake for 1 hour and 30 minutes, until cake is slightly puffed around the edges (the center will jiggle slightly when pan is gently shaken). Transfer to a cooling rack and cool completely. Cover and refrigerate overnight. When you are ready to serve, drizzle melted chocolate over top. (If you choose to freeze the cheesecake, then drizzle with chocolate after thawing.) The cake keeps for 3 days in the fridge.