Summer on the Gulf Coast means we eat lots of cold foods, especially popsicles. When you make popsicles with nutrient-dense ingredients, they're a filling treat for any time of day. Sometimes my girls eat them for breakfast! These creamy, nutrient-rich vanilla pudding pops provide a quick and easy favorite for a hot day.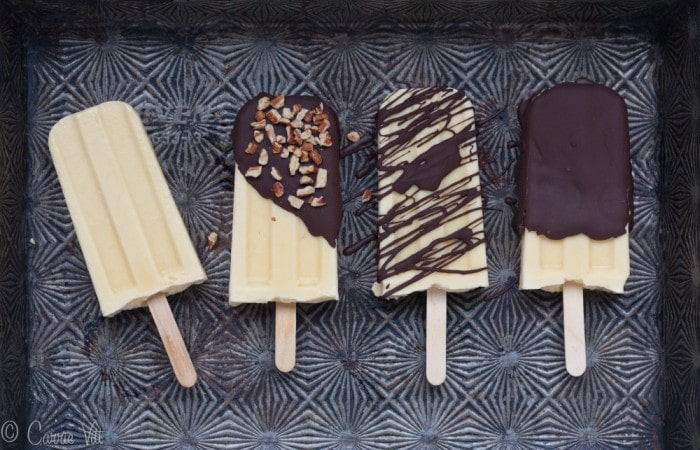 I like to make popsicles quickly, so for my pudding pop recipe I dissolve the gelatin in just a small amount of milk before whisking it into the rest of the mixture. This way, the mixture isn't hot, which means I can go ahead and freeze it instead of waiting hours for the refrigerator to chill it first. Last summer I bought a Zoku popsicle maker and I can't tell you how much I love this gadget!! The popsicles are done in just seven minutes! For a traditional popsicle mold, I like this freezer pop maker. I don't worry about the plastic in the mold because the food isn't being heated or cooked in the plastic, so nothing will leach into the popsicles.
You can eat the pudding pops alone or dunk them in homemade chocolate shell and sprinkle with nuts, seeds or whatever strikes your fancy.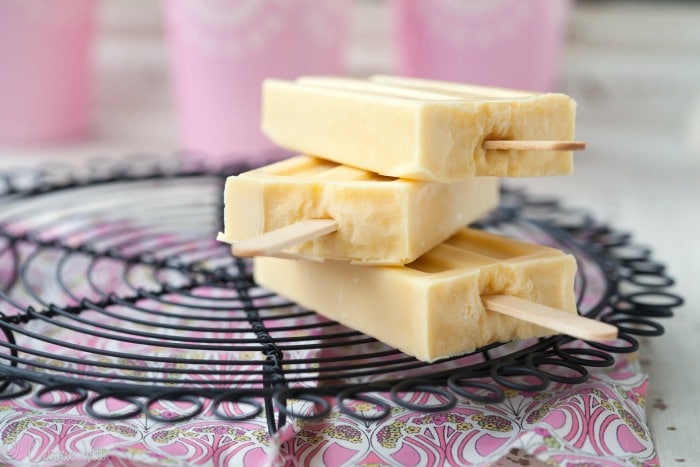 Vanilla Pudding Pops
I prefer to use raw/unprocessed cream and milk for my family.
Makes 6 popsicles
1 cup heavy cream (or canned coconut milk for dairy-free), divided
2 teaspoons unflavored, grass-fed gelatin
1 cup whole milk (or almond milk for dairy-free)
1/4 cup maple syrup or raw honey
1 tablespoon vanilla extract
4 raw pastured egg yolks*
Pour 1/2 cup heavy cream into a small saucepan. Sprinkle gelatin over cream and let sit for 5 minutes. Heat mixture over medium heat, stirring constantly, until gelatin is dissolved, about 2-3 minutes. Pour hot cream mixture into a large measuring cup.
Add remaining 1/2 cup cream, whole milk, maple syrup, vanilla and yolks to the hot cream mixture. Whisk to combine. Pour into popsicle molds and freeze. Serve frozen.
*The yolks add a wealth of nutrients including omega-3 fatty acids and choline. They also help the mixture to be extra creamy and you can't taste them in the final product. If you aren't comfortable with raw yolks, you can omit them.
Homemade Magic Shell
Makes 1/2 cup
4 ounces dark chocolate (I prefer Enjoy Life chocolate chips)
2 teaspoons coconut oil
Melt chocolate and coconut oil over low heat, stirring constantly. Serve over ice cream. (The mixture will harden as soon as it hits the cold ice cream or popsicle.)