Apricot Preserves is a fun homemade recipe to make in the summertime.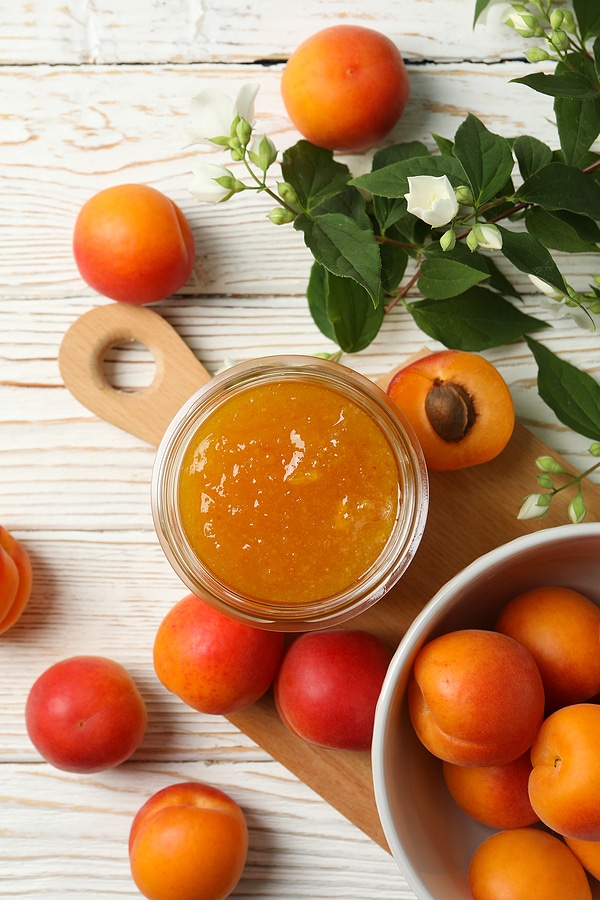 This preserve recipe uses honey instead of sugar and the crushed pits help add additional flavor. You can also add vanilla bean or vanilla extract to bump up the flavor a bit.

Here are some other homemade jam recipes you might enjoy:
Strawberry Jam
Blueberry Jam 
Peach Jam 
Serves: Makes about 4 cups
Apricot Preserves
These preserves are made with honey instead of the traditional white sugar or corn syrup. A light colored honey such as a clover honey works best in this recipe.
Ingredients
4 8-ounce jars with lids
1 cup honey
1/4 cup water
2 pounds apricots, halved and pits removed
4 pits, crushed and wrapped in a piece of cheesecloth
1 tablespoon lemon juice
Instructions
Preheat oven to 230°F and adjust rack to middle position. Wash jars and lids with soap and water and place them on a large baking sheet. Place jars and lids in the oven. Bake for 10 minutes until jars and lids are completely dry. Carefully remove from the oven and set aside.Heat honey and water to a boil in a large non-reactive pot (such as enameled cast iron, or stainless steel). When mixture comes to a boil add half of the apricots and pits wrapped in cheesecloth. Simmer mixture until the apricots just begin to soften. Stir in the remaining apricots. Simmer for an additional 30 minutes until all of apricots have softened and are falling apart. Stir in lemon juice, remove the pits wrapped in cheesecloth, and remove from the heat. Spoon hot preserves into jars and seal tightly with lids. Cool to room temperature and store in a cool, dark place. Once a jar of preserves has been opened, store it in the refrigerator.
7.8.1.2
4170
https://deliciouslyorganic.net/apricot-preserves/
Copyright 2016 Deliciously Organic