Loaded baked potato skins are a favorite game day food and when made with the right ingredients, they can also be a healthy option as well!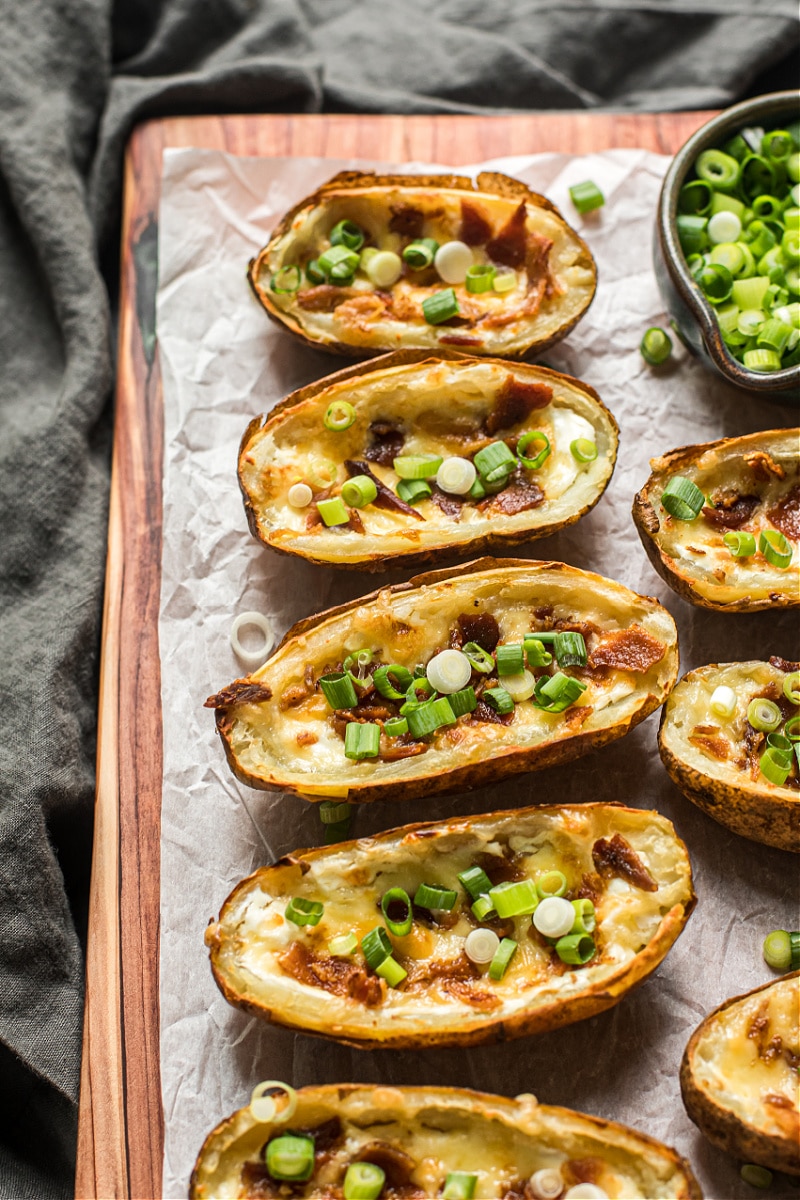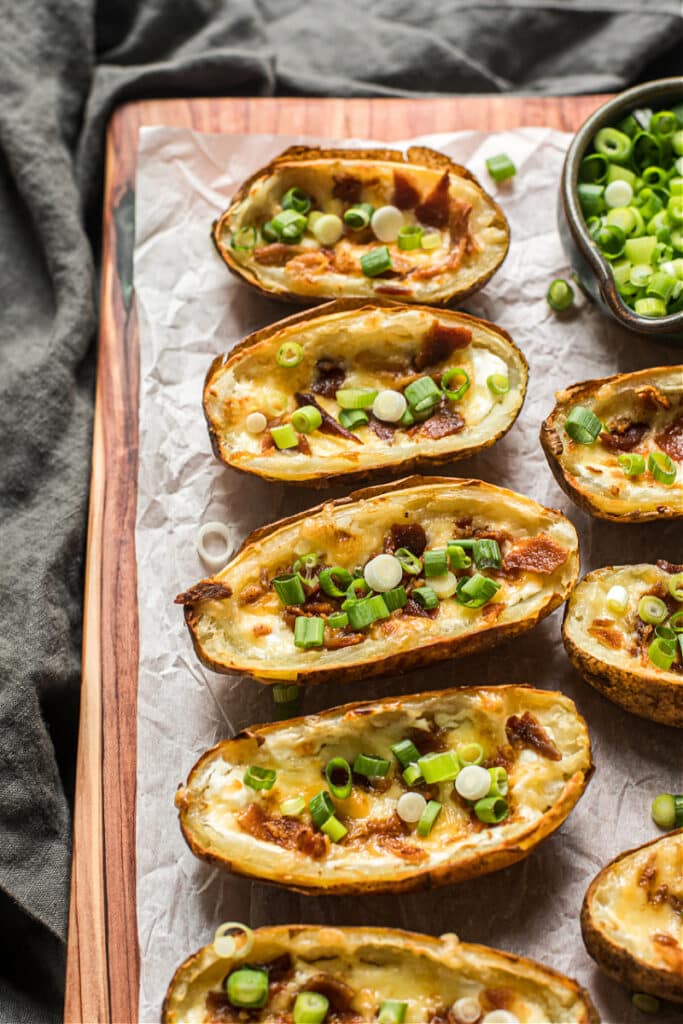 Here are some tips to making loaded baked potato skins a healthy option:
1. Conventional potatoes can contain a lot of pesticides, so paying a little extra for organic is a good idea if it's within your budget. Potatoes contain nutrients such as vitamin C, B6, potassium, magnesium and phosphorus.
2. Choosing bacon that is naturally seasoned and doesn't contain sodium nitrate is a good option. And, if you can, purchasing dry cured or "country bacon" from a local farm or farmer's market can be a better alternative. Good pastured bacon can be a good source of monounsaturated and saturated fat, protein, selenium and phosphorus.
3. A cultured sour cream is not just delicious, but also a healthy option. Some of my favorite brands are Good Culture and Kalona.
4. Raw cheddar cheese is easier to digest, contains protein, and bioavailable vitamins, minerals, and enzymes. If raw cheese is difficult to find in your area, then a good organic or grass-fed cheddar is a good option.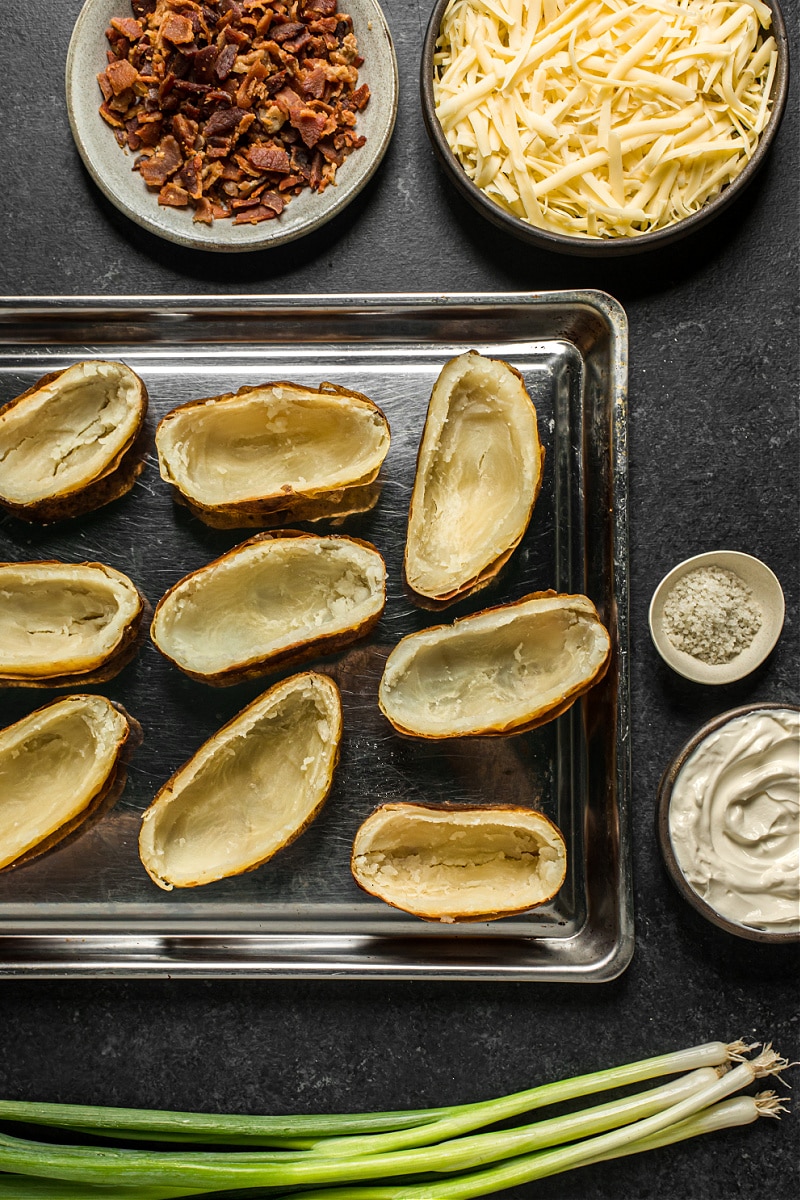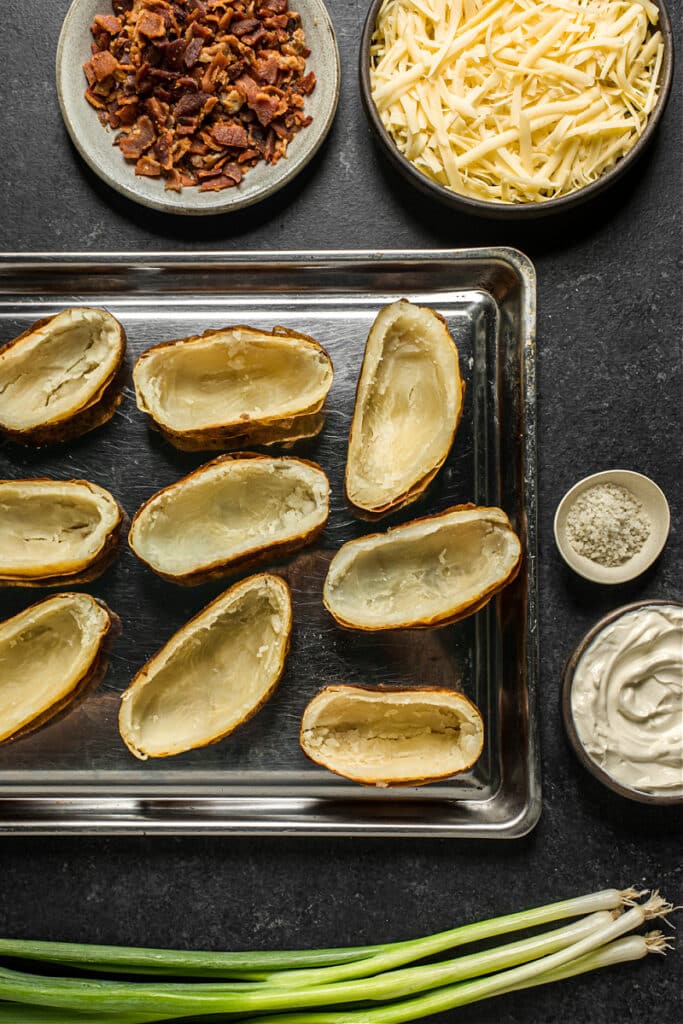 The potato "shell" can be made earlier in the day and then you can load them up when you're ready to put them in the oven. I hope you enjoy them!
Print
Loaded Baked Potato Skins
Author: Carrie Vitt
Prep Time:

25

Cook Time:

1 hour 20 minutes

Total Time:

1 hour 45 minutes

Yield:

Makes 12 loaded potato skins

Category:

appetizer

Diet:

Gluten Free
6 large russet potatoes, cleaned
2 tablespoons ghee
1 tablespoon grey Celtic sea salt 
4 slices bacon (organic, nitrate-free and pastured preferred), cooked and broken into bits
1 1/2 cups raw cheddar cheese, shredded
1/2 cup sour cream
Instructions
Preheat oven to 400 degrees. Coat each potato with ghee (I use my hands) and sprinkle generously with salt. Bake in oven for 1 hour or until a knife can be inserted without resistance. Remove from oven and cool for about 10 minutes.
Cut each potato in half length-wise and carefully scoop out the flesh (I usually keep this and use for mashed potatoes or potato cakes the next day). Sprinkle each potato skin generously with sea salt. Smear 1 tablespoon of sour cream into each potato skin and top with cheese and bacon. Bake in oven for 10-15 minutes or until cheese is golden and bubbly. Before serving sprinkle with green onion.
Keywords: loaded baked potato skins