Cherry Crumb Cake is a fun cake to make when cherries are in season!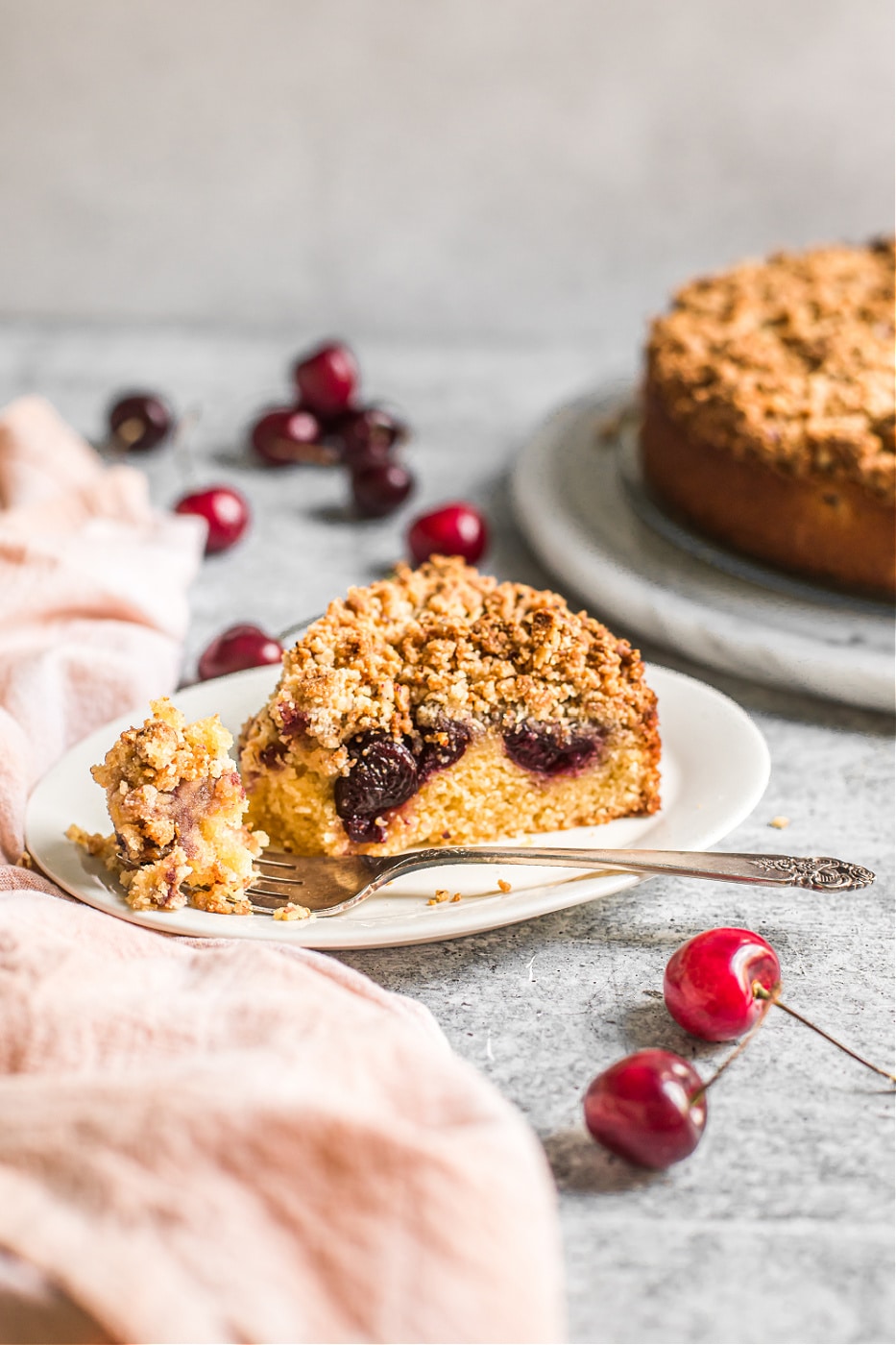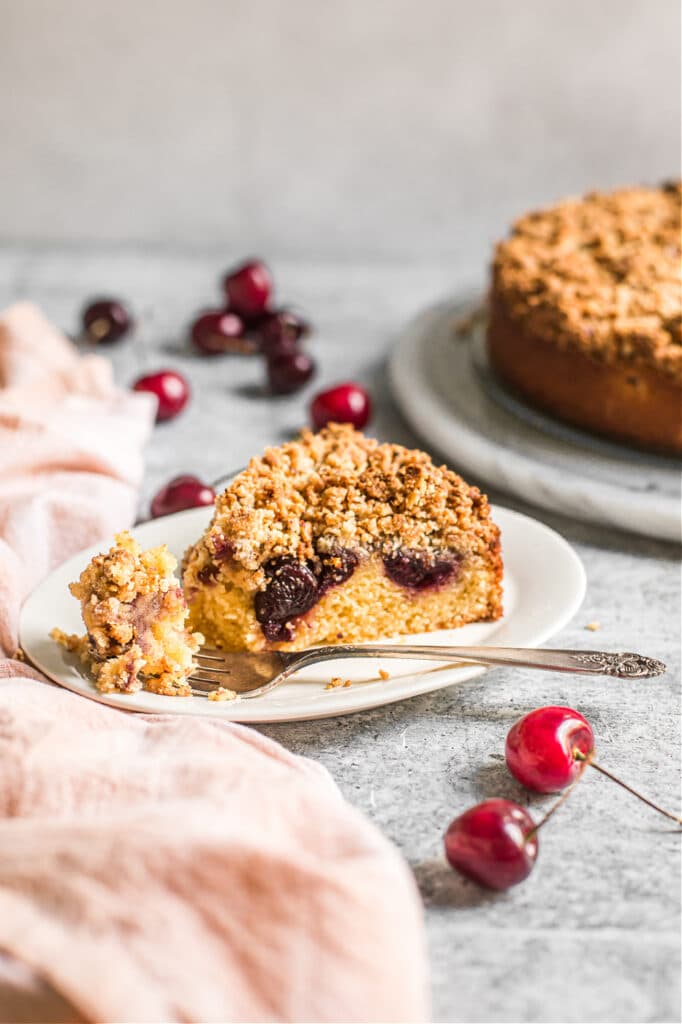 Cherry season goes by fast so I take advantage however I possibly can. I buy pounds and pounds of them, my daughters and I pit them, and then we freeze the berries for cobblers, pies and crisps in the fall.
I also like to make a batch of cherry brandy for Christmastime. To do this, I put 2 cups of cherries in a large wide-mouth Mason jar and top with a good quality brandy. It sits in the pantry until December, and makes for a lovely after-dinner drink.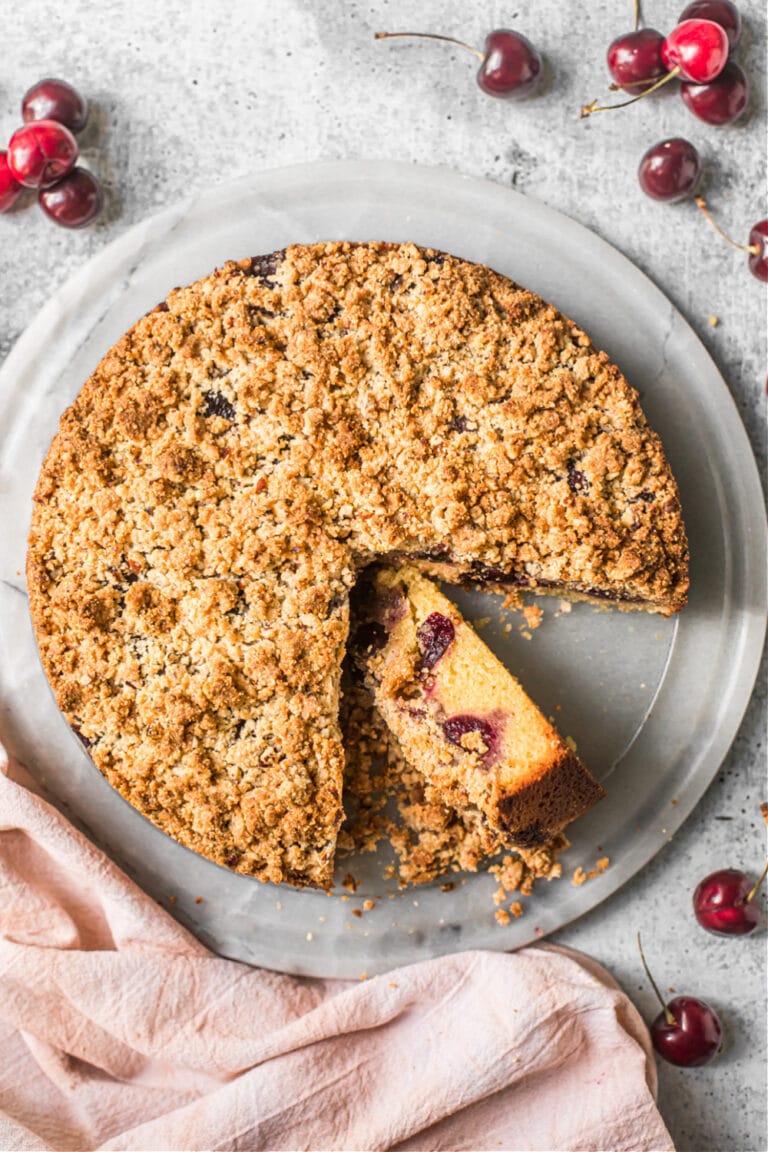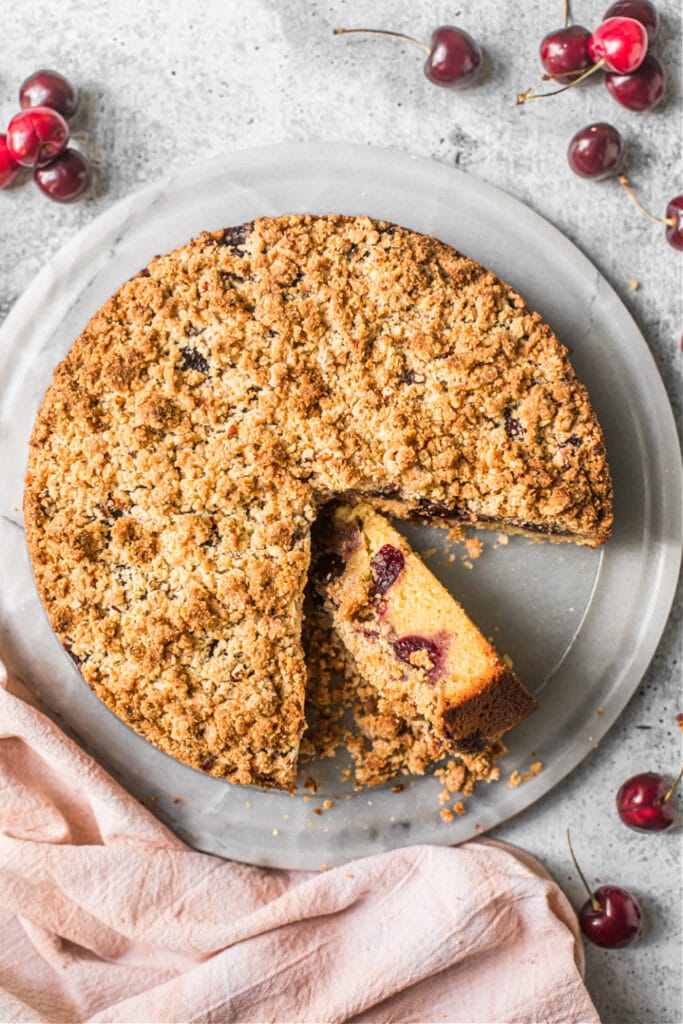 I was at my parent's house when I tested this recipe. I didn't tell anyone the cake was grain-free, and my Dad said it was the best cake he's ever had! He actually told me I had to name it "Dad's 'I Won't Share' Cherry Crumb Cake", because seriously, he didn't want to share it with anyone! 🙂
The base of the cherry crumb cake is a basic lightly-sweetened almond flour cake, then you layer a pound of cherries on the cake batter and finish with a sweet crumble topping. It's best the day you bake it and can be served for a decadent breakfast or summertime dessert.
Print
Cherry Crumb Cake (Grain-Free)
Author: Carrie Vitt
Prep Time:

30 minutes

Cook Time:

1 hour

Total Time:

1 hour 30 minutes
For the cake:
For the topping:
Instructions
Preheat the oven to 350ºF and adjust the rack to the middle position.
Place the butter and maple sugar in the bowl of a standing mixer with the beater attachment. Beat on medium speed for 3 minutes. With mixer on low, beat each egg in until fully incorporated. Mix in almond extract and vanilla extract.
In a small measuring cup, combine milk and lemon juice and let sit while you prep the rest of the cake.
Combine the almond flour, coconut flour, arrowroot, baking powder, gelatin and sea salt in a mixing bowl.
Gradually add the flour mixture to the butter mixture alternately with the milk/lemon mixture, beating just until combined after each addition.
Pour the batter into a buttered 9-inch cake pan (preferably one with a removable bottom). Place the cherries in an even layer on top of the cake batter.
Make the topping by placing the almond flour, coconut flour, gelatin, maple sugar, sea salt and nuts in the bowl of a food processor and pulse for eight 1-second pulses. Add the butter, and pulse until the mixture forms moist clumps. Using your hands, sprinkle the crumble topping evenly over the cherries.
Bake until golden brown, about 55 minutes to 1 hour. Cool for 10 minutes and then remove the cake from the pan. Cool completely and then serve. Best served the day it's baked.
SaveSave
SaveSave
SaveSave
SaveSave