There's few things I love more than a bowl of creamy chocolate mousse! This recipe is easy to make and big on flavor, making it a family favorite.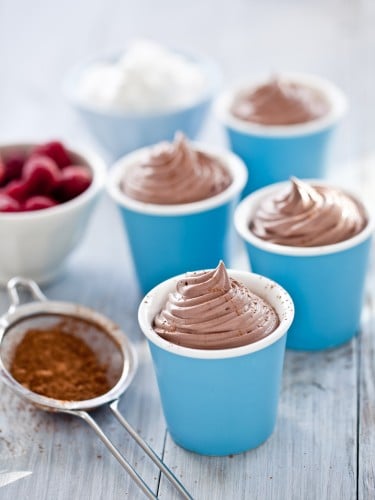 Chocolate Mousse
I would use a coconut oil that doesn't have an intense coconut aroma for this recipe (unless you don't mind the faint aroma of the coconut in your mousse).
Ingredients
For the mousse:

1/2 cup coconut oil
1/2 cup + 1 tablespoon maple syrup
1/2 cup + 2 tablespoons cocoa powder
1 teaspoon vanilla
pinch sea salt
5 tablespoons water
1 teaspoon instant herbal coffee (such as dandy blend)
3 eggs, separated
2 1/2 teaspoons maple syrup
1/8 teaspoon salt
1 cup heavy cream
Instructions
In a medium heatproof bowl combine coconut oil, maple syrup, cocoa powder, vanilla, pinch of salt, water, and herbal coffee. Set bowl over saucepan filled with 1 inch of simmering water. Whisk frequently until smooth and remove from heat.
Whisk egg yolks, 1 1/2 teaspoons maple syrup and salt in medium bowl, about 30 seconds, until it lightens in color. Pour chocolate mixture into egg mixture and whisk until combined. Let cool until just above room temperature.
In a bowl of a standing mixer, whisk egg whites until frothy and then add 1 1/2 teaspoons maple syrup. Increase the speed to medium high and whisk until soft peaks form. Remove bowl from standing mixer. Stir in about 1/4 of the egg whites into the chocolate mixture then fold in the remaining whites.
Whip heavy cream until soft peaks form. Gently fold all of whipped cream into chocolate mixture until no white streaks remain. Ladle mousse into individual bowls. Cover and refrigerate until set and firm, about 2 hours.

Note:

if you don't have any instant herbal coffee you can use 2 tablespoons of brewed herbal coffee (such as teccino) and reduce the amount of water used in the recipe to 3 tablespoons.
7.8.1.2
3421
https://deliciouslyorganic.net/chocolate-mousse-recipe/
Copyright 2016 Deliciously Organic
SaveSave