Pancakes and muffins are two favorite breakfast foods, so I thought it would be fun to combine the two in this recipe for Blender Blueberry Pancake Muffins!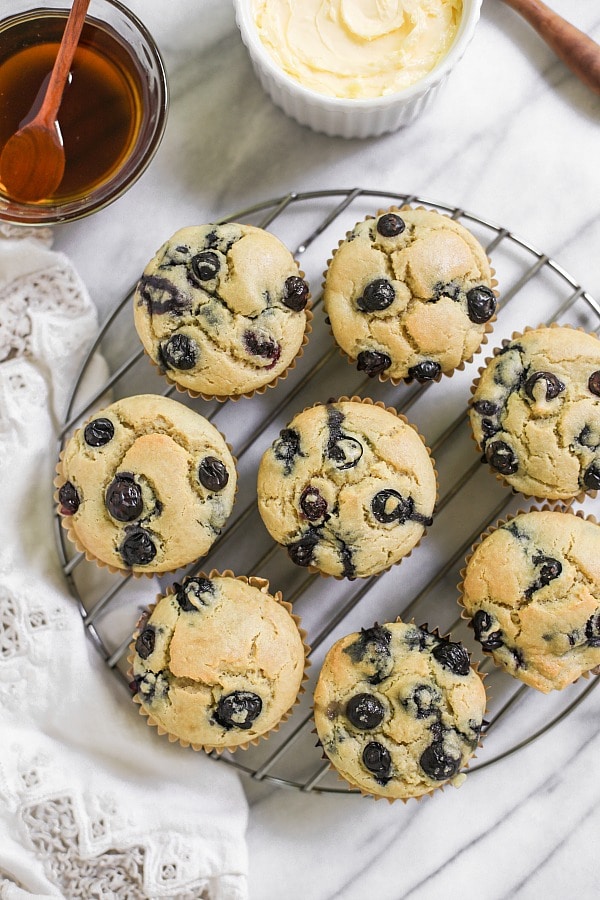 The recipe is so easy to make, because everything is mixed in the blender, and then you just fold in the blueberries and pour into muffin cups. 
You can substitute the blueberries for raspberries, cherries, or any other kind of summer berry.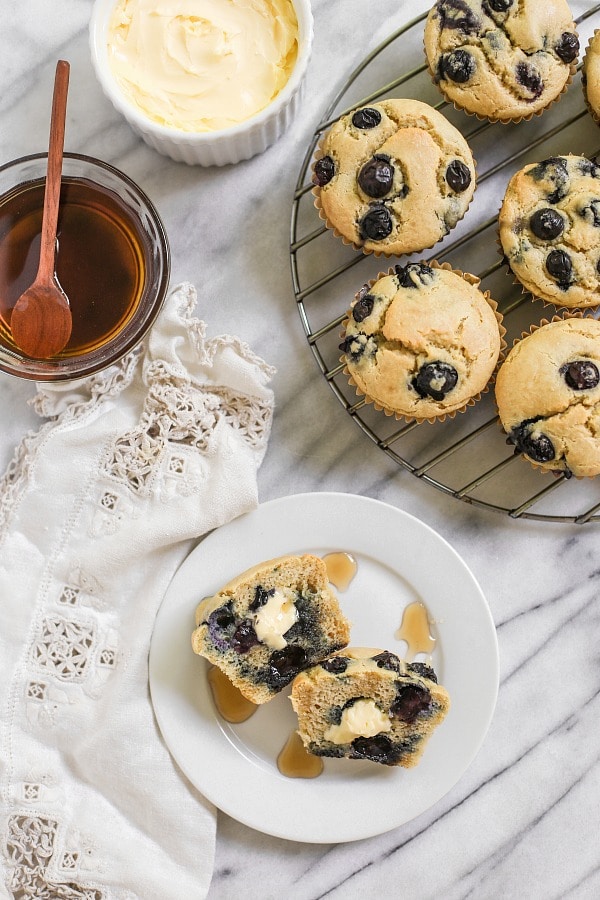 I like to serve these muffins with organic butter, and kids might find it fun to dunk them in maple syrup.
Print
Easy Blender Blueberry Pancake Muffins (Paleo, Grain-Free)
Prep Time:

10 minutes

Cook Time:

30 minutes

Total Time:

40 minutes

Yield:

Makes 1 dozen muffins
2

large eggs plus 1 egg white

2/3 cup

water

1/4 cup

ghee or coconut oil, melted and cooled

2 tablespoons

maple syrup

2 teaspoons

vanilla extract

2 1/2 cups

almond flour

1/2 cup

arrowroot flour

1 teaspoon

cream of tartar

1/2 teaspoon

baking soda

1/2 teaspoon

Celtic sea salt

2 cups

frozen or fresh blueberries
Butter and maple syrup for serving
Instructions
Preheat the oven to 350ºF and adjust the rack to the middle position. Line a muffin pan with muffin liners, or oil each cup.
Please the eggs, egg white, water, ghee, maple syrup and vanilla in the blender and blend until frothy, about 30 seconds.
Place the almond flour, arrowroot, cream of tartar, baking soda, and sea salt in the blender and blend until smooth. Pour the batter into a mixing bowl and gently stir in the blueberries.
Divide the batter evenly among the muffin cups. Bake for 28-30 minutes until just turning golden brown on top.
I prefer to serve these muffins with a pat of butter. You can also pour a little maple syrup in a bowl and dunk the muffins into the syrup.
Photo Credit: Becky Winkler