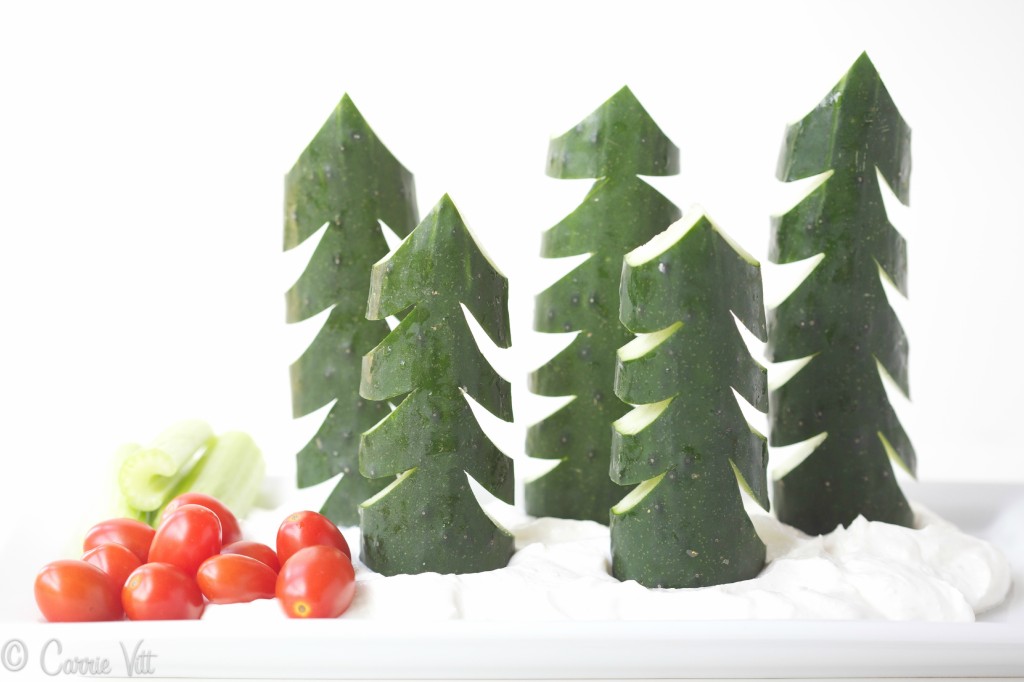 Isn't this such a festive way to display veggies and dip? I can't take full credit, I saw a picture of this in the December issue of Rachael Ray and recreated it for the kids. I cut the cucumbers in half lengthwise, trimmed the bottom of the halved cucumber so it was flat on one end, cut small knotches up the sides and trimmed the top so it came to a point. I placed the "trees" on a plate covered in sour cream and onion dip and served them with cherry tomatoes and celery sticks. So easy!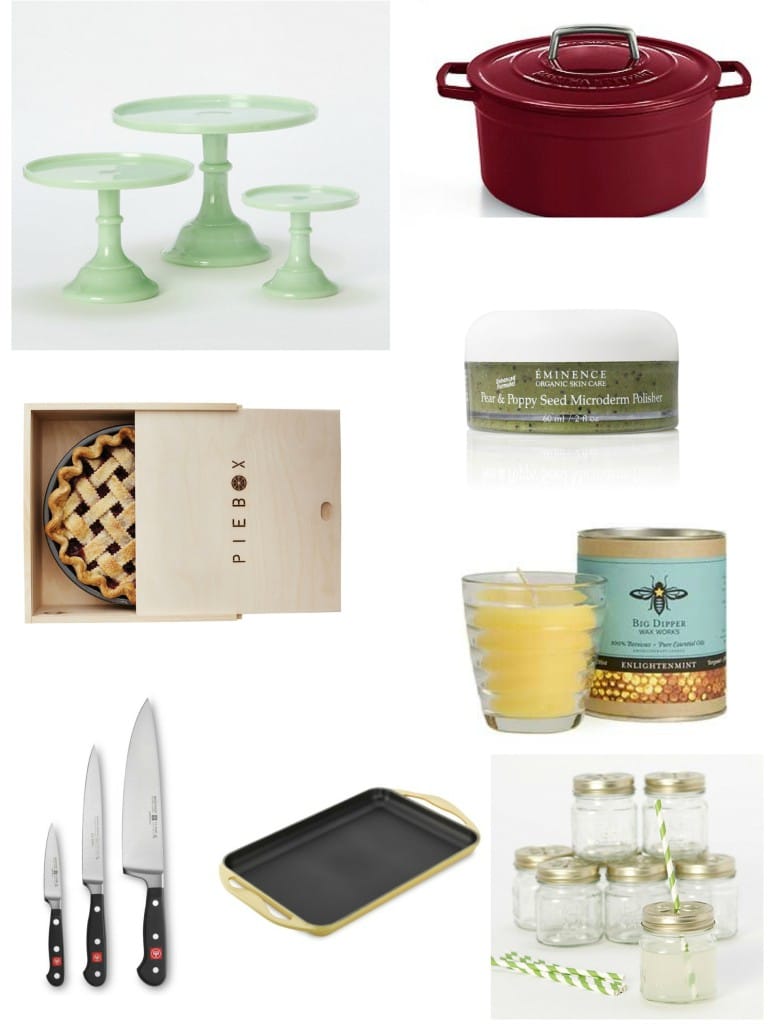 I'm in the middle of holiday shopping and found a few favorites along the way. Here are some of the gifts I'll be giving this year:

Milk Cake Glass Stand  – These come in white and green and are so fun to display baked goods on. (The original ones are no longer available, but there are some beautiful ones on Etsy.)
Color Enamel Cast Iron Dutch Oven, 6 qt – Enameled cast iron is a healthier cooking choice and this pot will last a lifetime.
Eminence Organics Pear and Poppyseed Microderm Polisher – I discovered Eminence Organics a few years back and absolutely love their products. I use this polisher and have given it as a gift many times.
Beehive Glass Beeswax candle  – I prefer to burn clean oils in my home so these candles, made of pure beeswax, are the perfect fit.
The Piebox – What a beautiful way to transport pies and other baked goods! Every PieBox is handcrafted in Chicago and made from chemical-free, raw pine.
Le Creuset Rectangular Skinny Griddle – As much as I love to grill, the weather doesn't always permit. This enameled griddle pan is great for those nights when you want burgers in a flash.
Wüsthof Classic 3-Piece Knife Starter Set – In my opinion, you only need a few good knives. If you're looking for a few well-made knives to get you started, these three will do the job.
Garden Party Drink Jars – I have a set of these and have found so many uses for them. Juice for the kids or margaritas for the adults in a cute, reusable glass jar. (The original drink jars are no longer available, but Terrain has so many other cute options that would make wonderful gifts.)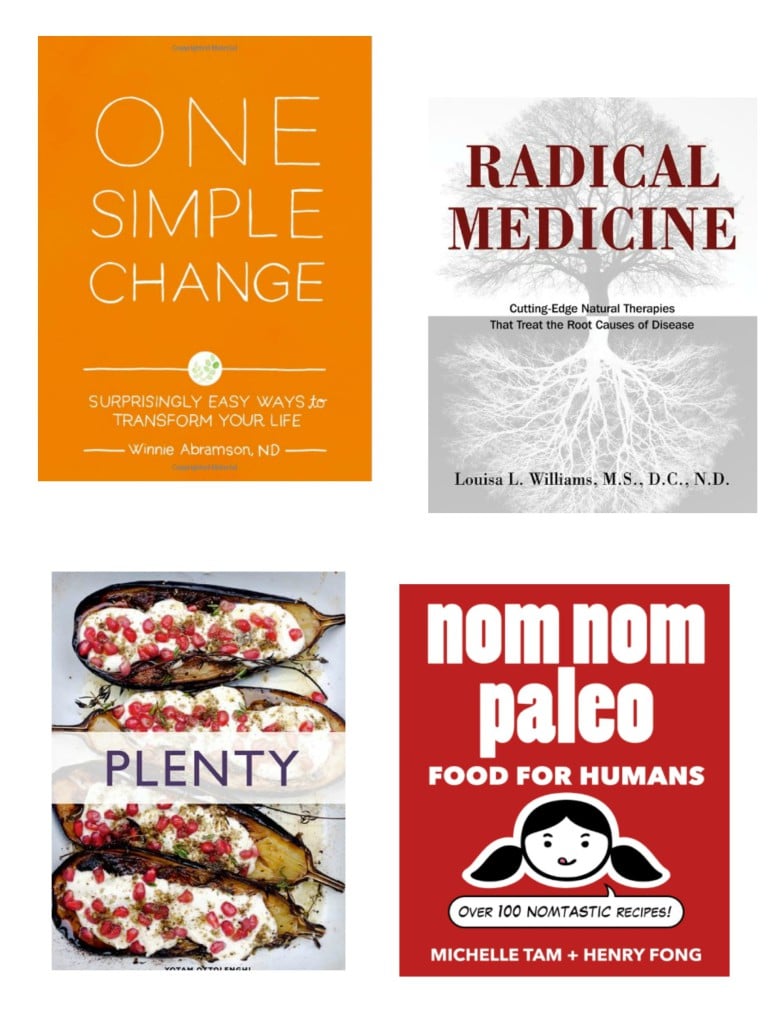 Here are a few books I'll be giving this holiday season:
One Simple Change by Winnie Ambramson – This book is perfect for those who want to make healthy changes, but don't quite know where to start. Winnie makes it all so simple. It's a great stocking stuffer!
Nom Nom Paleo: Food for Humans by Michele Tam and Henry Fong – A fun and lively Paleo cookbook. My girls loved reading through this book and made a long list of all of the recipes they want to try. Michele and Henry did a dynamite job creating a book full of nourishing and healthy foods and as always, they add some humor to the mix.
Plenty: Vibrant Recipes from London's Ottolenghi by Yotto Ottolenghi – I've owned this book for several years and continually go back to his delicious and vibrant recipes. Whenever we have friends come over for dinner who eat a vegetarian diet, I make the Roasted Eggplant and Lentils from this book and it's always a hit!
Radical Medicine: Cutting-Edge Natural Therapies That Treat the Root Causes of Disease by Dr. Louisa Williams – I had the privilege of hearing Dr. Williams lecture a few weeks back and I was amazed her depth of knowledge concerning natural therapies. This book is on my wish list this Christmas.