This homemade "Grape Nuts" cereal is the perfect addition to your breakfast routine.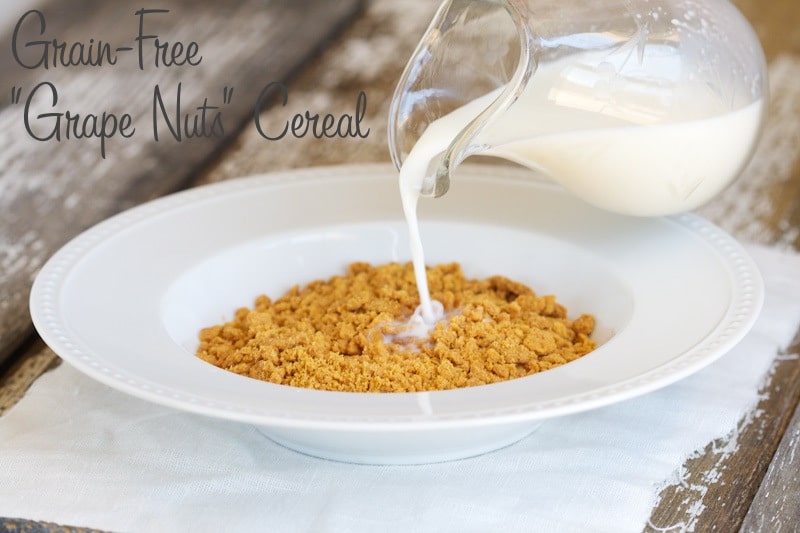 Sometimes my kids want cereal for breakfast. Heck, even I occasionally want a bowl. Unfortunately, I don't know of a single minimally-processed cereal available at the grocery store that I feel comfortable feeding my kids. Even if the cereal only has a few ingredients, the high temperatures and pressures required to form long strands or puffy balls destroy many of the nutrients. Many cereals are expanded and then spayed with sugar and oil so they will keep their form and crunch while sitting in milk. And the little flakes or rings? Those are grains mixed with liquid until they form slurry. The mixture then goes through a machine called an extruder. The extruder applies high heat and pressure to form the rings, flakes or shreds. According to Paul Stitt, a biochemist and author of the book Fighting the Food Giants, the extrusion process destroys many nutrients, denatures fatty acids, and can even destroy the synthetic vitamins which are added to the cereal.
Now for the fun part. Making cereal at home is easy and you can have control over exactly what goes into your morning bowl. It only takes a few ingredients and some hours in the oven to dehydrate while we all sleep. We like it as a crunchy, sweet alternative to our usual eggs and smoothies. It's also great as a crunchy topping over yogurt.
Print
Homemade Grape Nuts Cereal (Paleo, Gaps, Primal, Grain Free, Dairy Free)
I recommend making double the recipe, since it only serves four. Serve over cold raw milk, organic milk, almond milk, or rice milk.
Adapted from Good to the Grain
Prep Time:

15 minutes

Cook Time:

10 hours

Total Time:

10 hours 15 minutes

Category:

Breakfast

Diet:

Gluten Free
2

cups

almond flour (I used Honeyville)

2 tablespoons

coconut flour

1/2 teaspoon

baking soda

1/4 teaspoon

Celtic sea salt

1

cup

coconut milk

3 tablespoons

honey

1 teaspoon

vanilla
Instructions
Preheat oven to 170ºF or as low as your oven will go (you can also make this cereal in a dehydrator). Whisk almond flour, coconut flour, baking soda and salt in a large mixing bowl. Whisk coconut milk, honey and vanilla in a small bowl and pour over dry mixture. Stir until mixture forms a thick, wet dough. Place a piece of parchment paper on a large baking sheet and pour dough onto parchment. Using an offset spatula, spread the dough evenly over the pan. Dehydrate in the oven overnight, about 10 hours. Cool completely.
Break cereal apart and feed through the tube of a food processor with the large-holed grater attached. (Alternatively, place all cereal pieces in a ziploc bag and crush the cereal by pounding the closed bag with the back of a skillet).
Serve cereal with cold milk. Cereal will keep in an airtight container for about 1 month at room temperature.
Keywords: homemade grape nuts cereal