Supporting your thyroid and adrenals postpartum can be very important for both your short-term and long-term health. Taking steps to support your body can help prevent you from developing adrenal fatigue, thyroid disease and thyroid autoimmunity.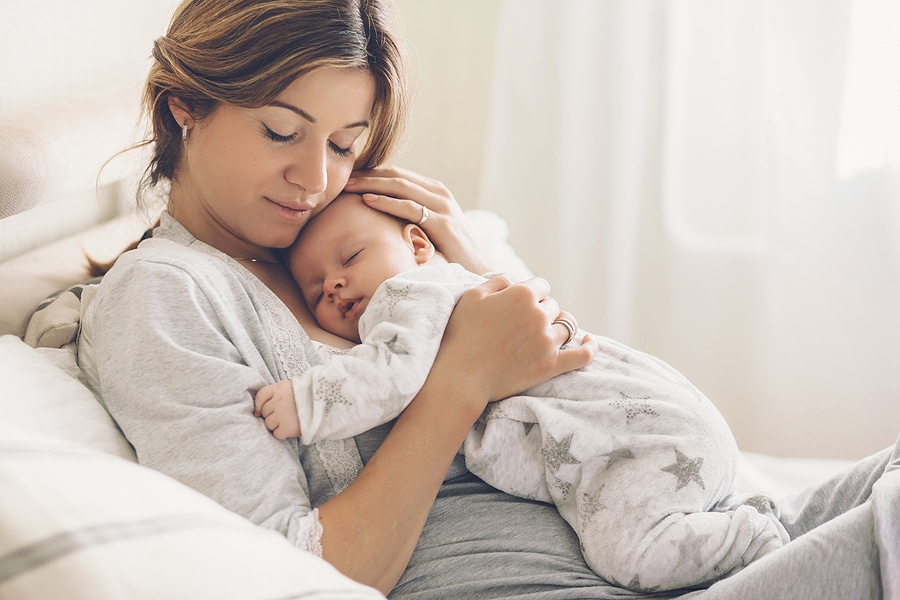 While pregnancy is a wonderful thing, it is also a lot of work for your body. It can be especially taxing on the adrenals, so let's first take a look at what the adrenals do and how they can affect the body. 
What do the adrenals do?
The adrenal glands are the body's emergency system. When the body is under chronic stress, the adrenals will send out cortisol into the bloodstream. Over time, chronic cortisol output can weaken the endocrine system, immune system, liver, digestive system, and brain. It can also cause the thyroid to slow down (aka hypothyroidism) and in some rare cases, it will speed up (aka hyperthyroidism). 
When the adrenals become too taxed and cortisol levels are out of balance, this can often lead to postpartum thyroid disease such as hypothyroidism, hyperthyroidism, Hashimoto's, and Graves'.
Adrenal imbalance is often why you'll see symptoms postpartum such as:
Low blood pressure
Clenching or grinding your teeth
Hair loss
Insomnia 
Waking up in the middle of the night with difficulty going back to sleep (this is outside of your baby waking you)
Feeling keyed up and having trouble calming down
Craving salty foods
Chronic low or middle back pain 
Chronic fatigue
Afternoon headaches or headaches after exercising 
Anxiety
Panic attacks
Dizziness when you stand up
Difficulty losing weight (after a reasonable amount of time after the baby is born)
Stubborn weight around the midsection (after a reasonable amount of time after the baby is born)
Getting upset or angry easily 
Nutrient deficiencies 
Digestion issues
Can you get tested for adrenal fatigue?
The best way to get tested for adrenal fatigue is via a saliva cortisol panel. The panel looks at your cortisol patterns throughout the day versus a blood test that only tests at one time during the day. Seeing the pattern of cortisol during the day will give you and your practitioner a good idea of whether adrenal imbalance is a factor for you.
I would wait at least 6 weeks postpartum before getting a cortisol panel.
Should you get thyroid labs done postpartum?
Yes, I think it's very important to get them done around the 6-8 week period so you can see how things are going. Click here to see a full list of what I recommend and to also read about optimal thyroid lab numbers. 
Here are 20 steps you can take to support your thyroid and adrenals postpartum:
1. As soon as you wake up, drink a glass of water along with 1/4 teaspoon of Celtic sea salt. Then, throughout the day have a pinch of sea salt with each glass of water and also use it to season your food. The 80+ minerals in the salt will help nourish the adrenals and endocrine system.
If you take medications in the morning, talk to your practitioner about taking this step. If you need to delay the water and sea salt until later in the morning, that is fine. 
2. Eat breakfast within one hour of waking. It's important to nourish the body on a regular basis throughout the day. While intermittent fasting has its place, now is not the time for that. Waiting too long to eat in the morning can cause your blood sugar levels to decrease too much and your adrenals can start producing excess cortisol. This can create a cycle of adrenal and blood sugar imbalance.
3. Eat regular meals throughout the day and include some protein, complex carbohydrates and healthy fat in each meal. I know this is a simple step, but skipping meals can put a strain on the adrenals and can create blood sugar imbalance, so it's really important.
4. Remove all processed foods from your diet. Processed foods are a stressor on the body, and the goal is to remove stressors as much as possible to help support the adrenals.
Here is a quick list of foods to eat (choose organic as much as possible):
Pastured meats
Wild seafood
Pastured eggs
Raw or cultured dairy (raw milk, whole yogurt, kefir, sour cream, etc.)
Vegetables
Fruit
Spices and herbs
Soaked grains (if you can tolerate grains)
Soaked nuts, seeds, legumes and lentils
Fermented vegetables (like raw sauerkraut)
Lots of water!
Here are some recipe ideas.
5. Only do low-impact exercise like walking, pilates, gentle yoga or stretching. High impact exercise puts strain on the adrenals, especially when the body is already fatigued. If you're having trouble losing weight, I know this can seem counter-productive, but I've seen clients lose weight by resting and following the steps I'm listing here.
If you'd like to learn specifically more about how to best exercise for your thyroid and adrenals, I highly recommend this class I teach alongside my brother, Dr. Erik Korem. 
6. Sit down to eat each meal and eat slowly. Don't eat on-the-go, when you're stressed, driving, etc. I know that can be tough when you're a new mama! Here's an entire article to help you understand the importance of eating in a slow and relaxed state.
7. Diffuse essential oils throughout the day to help you feel more relaxed. If you can't diffuse the oils, put a drop or two on the bottoms of your feet or on the spine twice a day to help lower stress levels. In fact, this study found that inhaling lavender essential oil can decrease cortisol levels. That's good news for the adrenals! Here is a list of oils to avoid when pregnant or nursing. 
If you'd like to learn specifically what oils to use to support the thyroid click here.
8. Spend more time outdoors. Getting fresh air and being in nature helps reduce the stress response in the body. Going for a daily walk outside is a great way to get outdoors.
9. Avoid a super low-carb diet right now. While a low carbohydrate diet can be very helpful for many health issues, I don't recommend it postpartum because your body needs the healthy carbs to replenish and heal the body. You also need those carbs so the liver can convert fT4 to fT3 (fT3 is the thyroid hormone that goes to every cell of the body, so it's pretty important!).
Here's a short list of carbs that are good choices:
Potatoes, all kinds (make sure to eat with plenty of butter)
Root vegetables 
Fruit – apples, pears, berries, etc.
Soaked beans (kidney, navy, white, etc.)
Fermented sourdough (if you can tolerate grains)
Beets
Peas
Soaked quinoa and oats 
Organic, whole yogurt
10. Go for a walk outside daily. Walking is a great way to balance cortisol levels and calm the body. It's also great for movement and lymphatic flow, sunlight, etc. which are all great for the body!
11. Take an epsom salt bath a few times a week: When you're stressed, the first mineral your body burns through is magnesium (this is why so many people are magnesium deficient!). Soaking in a bath with 1 cup of epsom salts and a few drops of your favorite essential oil will help you relax and replenish your magnesium stores.
12. Get as much sleep as you can. Ok, now I know this is a difficult one, but I felt like I at least needed to point out that sleep is so important to support your health. I know this will be very difficult in the early days, but eventually, as your baby gets older, a regular sleep schedule that you create for yourself is very helpful. 
13. Talk to your practitioner about possibly taking B Vitamins and a good multi-vitamin. I recommend Cataplex B or Catalyn from Standard Process. 
14. Don't try and do everything by yourself. Trying to do everything on your own is very stressful and can make things difficult for your health. I recommend asking friends and family for help. Maybe they can bring freezer meals for you, come stay with you after the baby is born, or come over a few times a week so you can simply lay down and rest. This will look different for each person, but I can't stress how important it is to ask for help. 
15. Drink plenty of filtered water each day. Drinking 1/2 your weight in ounces is a good goal — a 160-pound person should drink about 80 ounces of water per day. Hydration is really important for the endocrine system. Without the right amount of water, the body can't transport the necessary nutrients and hormones to the cells properly. So make sure you're getting enough water.
16. Eat as many fresh organic vegetables as possible at all three meals with some healthy fats. There is no limit on vegetable intake. Often, cooked vegetables, as opposed to raw, can be helpful if you're experiencing digestive issues. Cooking them in some healthy fats, adding them to soups, stews, roasting, etc. are all good choices.
17. Include protein at each meal. Get these proteins from meat, poultry, wild seafood, eggs, etc.
18. Eat magnesium-rich foods. Magnesium-rich foods help support the adrenal glands. Foods such as dark leafy greens, fatty fish, avocado, and soaked nuts, seeds and legumes are all good sources of magnesium to include in your diet throughout the week.
19. Eliminate all caffeine. I know this is a hard one, but your adrenals will thank you! Here's a post about how I kicked the coffee habit — with step-by-step instructions for you.
20. Take one day of rest each week. While it's popular to "hustle", that kind of daily mentality can lead to all sorts of health issues and will strain the adrenals. Taking a day off each week is very important for your health. While taking care of a baby is a 7-day a week job, there are various things you can do to help create a more restful day once a week. 
Here are some examples:
Don't schedule anything or anywhere you need to be on that particular day
Turn off your phone for the day (this can have a huge impact on cortisol levels!)
Spend time outdoors
Make meals in the slow cooker or pick up food to reduce the amount of time working in the kitchen
Read a fun book when the baby naps
Take an epsom salt bath
Light a candle or a fire and create a cozy environment for the day
It's ok. God set the example by taking a day to rest, so I order my week that way, too!
Some other resources for you:
If you're looking for a good holistic resource for pregnancy, childbirth and postpartum, my two favorite books are The Mama Natural's Week-by-Week Guide to Pregnancy and Childbirth, and The Nourishing Traditions Book of Baby and Childcare.
And, if you're pregnant, you definitely need to check out my friend Genevieve's free class about Natural Childbirth! It's packed with helpful info!
Disclaimer: The purpose of this post is to give an overview of how to support the body postpartum from a holistic perspective. This information is not intended to take the place of your doctor's advice.